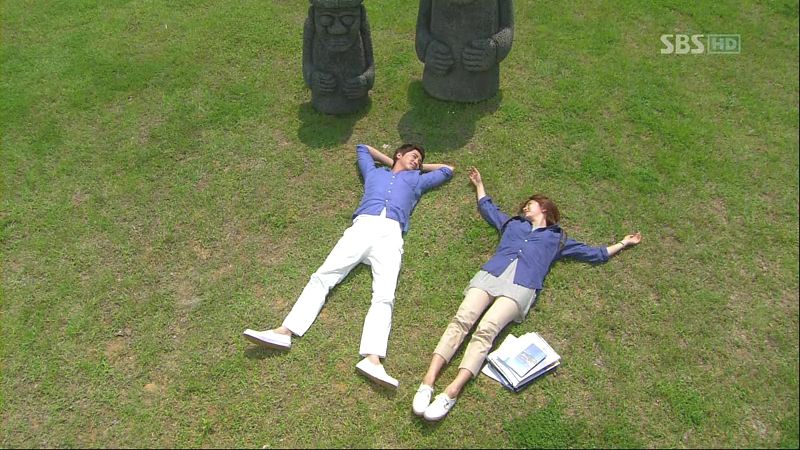 I have discovered that Lie to Me is turning out to be a drama that is considered a failure in storytelling primarily because it's being presented as a K-drama to viewers with preconceived notions of what to expect. If LTM were a romance novel, it'll be one of the better ones out there.
Flimsy and nonsensical plot nothwithstanding, the interactions and scenes between the hero and heroine are funny, sexy, silly, and totally satisfying to watch. Episode 11 was all Ah Jung and Ki Joon, all the time. I loved this episode to pieces, not for the romance (which was cheesier than a plate of chili cheese fries), but for the candid conversations between our OTP.
The plot got moved forward albeit in the broadest of strokes, but the emotional nuance and development between the OTP was given the opportunity to blossom with a trip to Jeju away from the annoying distractions of Seoul. I LOVE that Ki Joon went to help Ah Jung, and that he spent the entire episode pretty much assisting her and watching her be awesome at her job and try so damn hard. The man is head-over-heels for her, and these two need to have complete and utter faith and trust in each other to make it through the impending minefield of Yoon Joo, Sang Hee, and Aunt.
Episode 11 Recap:
Ah Jung answers the Minister that she is married to Hyun Ki Joon. Her just-announced spouse walks up to the group and declares that contrary to what Ah Jung just said, they are not married. Okay, you two need to get your story straight before the leaving the house in the morning. Or better yet, never leave the house and Ki Joon's nice big comfy bed. The Minister and Chairman Chen look around in surprise. Ah Jung once again repeats that they are married, and Ki Joon follows up with yet another "we're not married."
Chairman Chen laughs and tells the Minister that Ki Joon is married to Ah Jung and they are a loving affectionate and loving couple. The Minister says that clearly he's the only one who doesn't know about this. The two old dudes them laugh about how they've been married for so long that there are days when spouses fight and then act like strangers the next day. Crisis averted in the most brain-hurty of ways, but eh, not complaining here.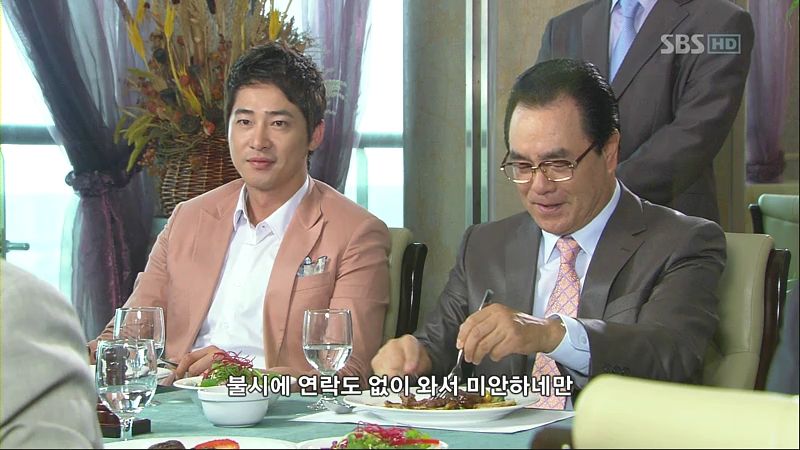 Before Ki Joon can continue his attempt to expose the truth and scuttle his own deal, Ah Jung gets everyone to head off to eat lunch. They give each other a heated look before heading to dine, with Ah Jung wondering what the heck has gotten into him. Ki Joon joins the Minister and the Chairman for lunch, and Ah Jung eats with her co-workers.
Ah Jung is congratulated by everyone for successfully pulling off this event. Her boss finds out the person dining with the Minister is Hyun Ki Joon and wants to go say hello, but is stopped by Ah Jung who says that everyone looks busy over there discussing important matters. Ah Jung's boss gets a call about Jeju.
After lunch, Ah Jung asks Ki Joon why he said they weren't married back there? Wasn't he the one who asked her to lie because of his business deal? Ki Joon turns it around and asks how Ah Jung dared to lie in front of the Minister. How many necks does she think she has? Ah Jung claims that she's just performing her job under the contract for the Chairman's sake. Ki Joon gives a laugh and pulls out the contract and rips it up right in front of her.
Ki Joon tells Ah Jung that the contract is over between them and he never wants Ah Jung to lie for him anymore. AWWWW, so sweet. He wants to start from the beginning now. If anyone asks him, he will say they are not married. Because of Ah Jung's lie, his entire life has been turned upside down. He says he's willing to forgive everything if they can start over. Ah Jung wonders who needs to forgive whom here?
Ki Joon gets all shouty at her, yelling that if he wants to, he'll hold her hand and they'll go see a movie together. And if he wants to even more, he'll kiss her. And if he wants to even more than that……and then Ki Joon loses his train of thought. Erm, you've been doing most of that WHILE the contract was still valid, Ki Joon.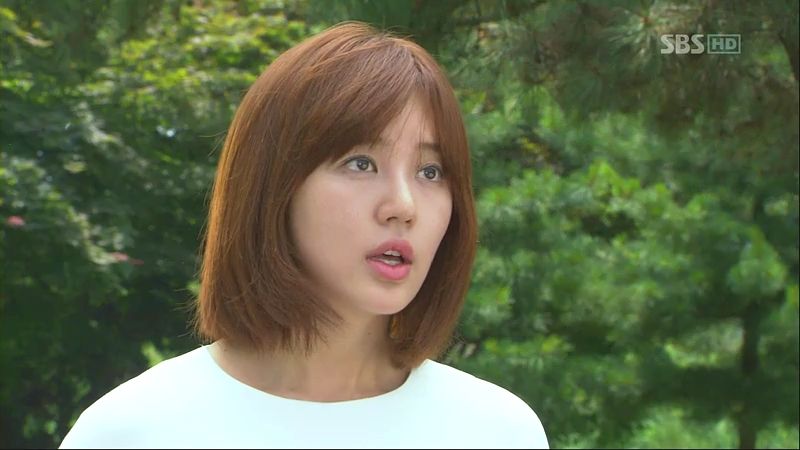 Ah Jung asks if he thinks doing this will make her happy? Ki Joon asks if she doesn't like him? He doesn't wait for her to answer and says that it doesn't matter, he'll just make her fall for him. Ah Jung doesn't like his highhanded methods of dictating what she needs to do. She tells him she won't lie anymore for him, nor will she get involved in his messy emotional world. Ah Jung leaves warning him not to confuse her anymore.
Jae Bum sits at home drunk, clothing and household items strewn everywhere. He sobs as he reads So Ran's blog, where she updated that she's saying goodbye and leaving now. Hhhm, so last episode Jae Bum was all shouty at So Ran, but once she takes off he's super worried and distraught? These two have the most illogical and dysfunctional relationship. But I guess through it all they do love each other in their own weird way. Jae Bum calls the cops and then calls Ah Jung asking if she knows where So Ran went? When Ah Jung's phone rings, we see that her background is still the picture of Ki Joon. So cute.
Ah Jung is at a meeting so she texts So Ran. The co-workers are discussing a tourism solicitation business trip to Jeju which no one wants to go. So Ran calls Ah Jung and informs her that she's in Jeju. Ah Jung tells So Ran that she's headed to Jeju and for So Ran not to go anywhere. Everyone at the meeting thinks Ah Jung just volunteered for the Jeju assignment and are happy none of them need to go.
Ah Jung heads out of the house with her luggage only to find Ki Joon waiting for her outside. He asks if she's off on a trip and she snarks back that she's hardly that leisurely. She's off on a business trip, headed to Jeju on a ship. He offers to drive her, reminding her that he's starting over with her. She declines and hops into a taxi.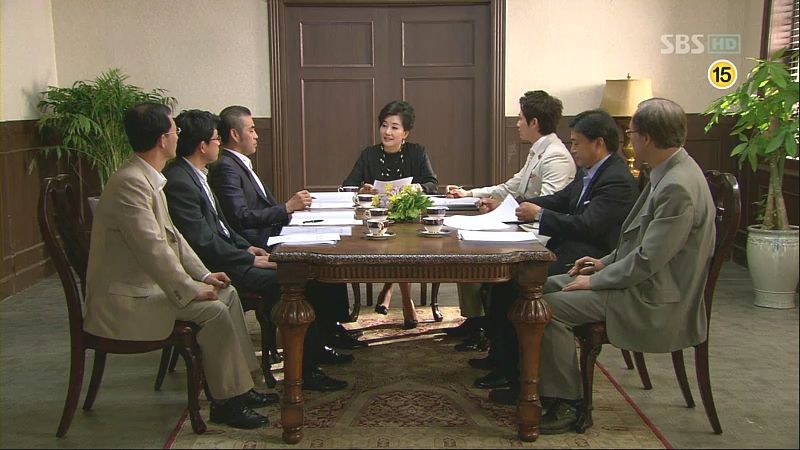 Ki Joon is in a meeting with Aunt and some other hotel directors discussing the China project with Chairman Chen. KI Joon updates Aunt on a secret project going on in Jeju as well.
Park Hoon delivers a detailed report on where Ah Jung is headed and why she's going – to assist the local tourism bureau in lobbying for Jeju to be designated one of the world's seven scenic spots. Ki Joon asks Hoon how to get to where Ah Jung is headed. He calls Ah Jung, who is on a bus headed for the port, Ki Joon correctly tracks her whereabouts. He warns her that she gets her salary from his taxes, so she has to work hard.
Ah Jung arrives at the port terminal and she walks out towards the dock only to find her personal stalker Hyun Ki Joon once again waiting for her. Ki Joon says he's here to escort her to Jeju. Ah Jung walks past him but he calls her "Ah Jung-ahhh" again and again, and she has to warn him again that she doesn't want him being so familiar with her.
Ah Jung tells him to zip it, so Ki Joon turns on the radio in his car which blares a song about Jeju and Ki Joon hilariously lip syncs the song for Ah Jung to express his thoughts because he's not allowed to say another word. Okay, this moment was so darn cheesy, especially with Ki Joon dressed like he raided Don Johnson's wardrobe from Miami Vice, but just so sweet in its abject silliness, seeing Ki Joon without a care about preserving his cool image.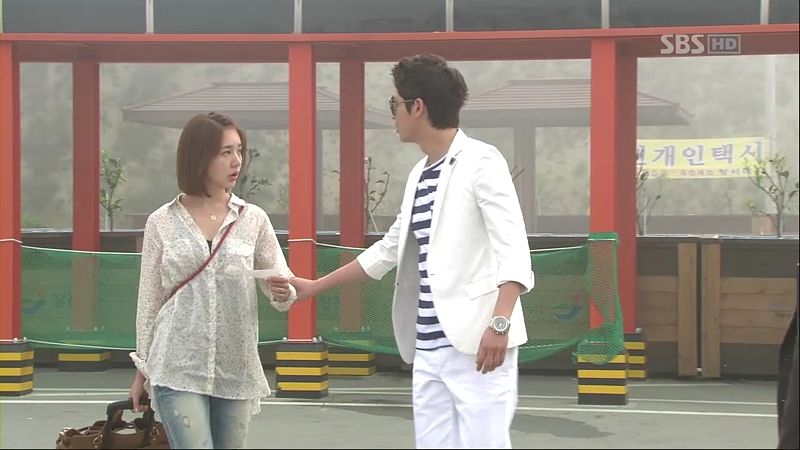 Ah Jung can't help but smile a little at his playacting to tease her. Ah Jung walks towards the ship and Ki Joon catches up to her, asking if she's really going to take a ship. He tells her that he gets sea sick and to wait for a helicopter he chartered to arrive. When he says that, suddenly the music starts blaring and you see Ki Joon act all rich and powerful as he calls to check on the ETA of his helicopter. His ridiculousness is so edifying. Ah Jung stares at him like the freak that he is. She ignores him and boards the ship, so Ki Joon has no choice but to follow her and have Park Hoon cancel the helicopter.
Manager Park wonders where Ki Joon went, but loyal Hoon won't divulge his whereabouts. Hoon decides to sing a song about how two people are taking off on a trip. Manager Park stares at him. She has no choice but to head to a meeting in his stead. The old guys in suits are not pleased to be called to task for their mismanagement of the Gold Resort. They start raging at Manager Park, who stands up and tells everyone that they should have their resignation letters ready.
Ki Joon is massively sea sick on the ship, and Ah Jung reluctantly takes care of him by putting a motion sickness patch behind his ears. We see them sitting together inside the ship and poor Ki Joon looking worse for wear. The ship docks at Jeju and they disembark. Ah Jung mutters that if Ki Joon really wanted to escort her he would carry her luggage for her, but she'll let it go seeing as how he's not feeling well right now.
Ki Joon walks ahead and sees a stretch limo waiting for them. He shoves Ah Jung inside and they take off. Inside the limo, Ki Joon offers Ah Jung some wine, which she turns down because she's on official work business. He's surprised his usually lushy Ah Jung would turn down alcohol when she's working. He then looks down and his eyebrows raise a fraction of an inch, so you know Ki Joon is ready to tease Ah Jung about something.
Ki Joon then takes out a bottle of coke and asks her if she wants to drink coke instead, which he proceeds to shake vigorously. Mwahahaha, oh Ki Joon, how can I ever take you seriously anymore when I can see that the real you is such a cut-up. Ah Jung of course flashes back to their Cola Kiss. Ki Joon continues with operation mentally tease Ah Jung because he next grabs a bottle of tomato juice and asks if she wants that since he knows she drank it before and spilled it all over herself.
Ah Jung grabs a bottle of water, and Ki Joon asks why she's not touched by all the effort made to arrange the limo. Suddenly Ah Jung sees the place she needs to go and Ki Joon has the driver pull over. They head out to the famous Jeju bridge and Ah Jung takes some pictures.
Ki Joon and Ah Jung talk about this trip. He asks her what's the purpose of her trip, and she confirms she's here to lobby some foreign members of an association to designate Jeju as one of the seven scenic spots of the world. Ki Joon names the three guests she's here to see, and Ah Jung is surprised he knows so much. He thinks she'll make a mess of things by herself. Ah Jung confesses that So Ran and Jae Bum got in a fight because of her, and So Ran look off for Jeju.
Ki Joon takes Ah Jung to a hotel and hands her a schedule of the people she is here to meet. Ah Jung's surprised that he's doing this for her. Ki Joon says he's here to help her, and perhaps he ought to pay less taxes because of this. She thanks him and promises to repay him.
Ah Jung wants to leave and stay at her original hotel, but Ki Joon stops her and tells her that staying at this hotel is better since the members are here. Ah Jung wants to find out if the guests have reservations at the hotel restaurant but the concierge won't give out that information. Nor can she dine there because she is not a V-VIP. She turns around to leave and sees Ki Joon standing there waiting for her.
Ah Jung goes up to her room and checks out the view. Ki Joon walks behind her and presses himself right up next to her and casually mentions how this Jeju is clearly a natural scenic wonder. Ah Jung gets flustered and moves aside, asking if Ki Joon isn't going to his own room. He asks if she doesn't have anything to say to him? She finds out that Ki Joon is a V-VIP at this hotel and wants to follow him into the restaurant to meet with the guests. He says too bad he's tired and also too busy tonight to go. Ah Jung tries to call So Ran but her phone is turned off.
Ki Joon does allow Ah Jung to accompany him and meet with the foreign guests. She hands out her business card, almost knocking over the orange juice of one of the guests, which Ki Joon swiftly saves from tipping over. Ki Joon ends up speaking on her behalf, and he can converse in French and Japanese with the members of those nationalities. The Japanese member, Kimura-san, is especially not interested in talking with them. Ki Joon asks if Kimura-san's kids like DBSK? He can get them VIP tickets for the Tokyo show. That perks up Kimura-san.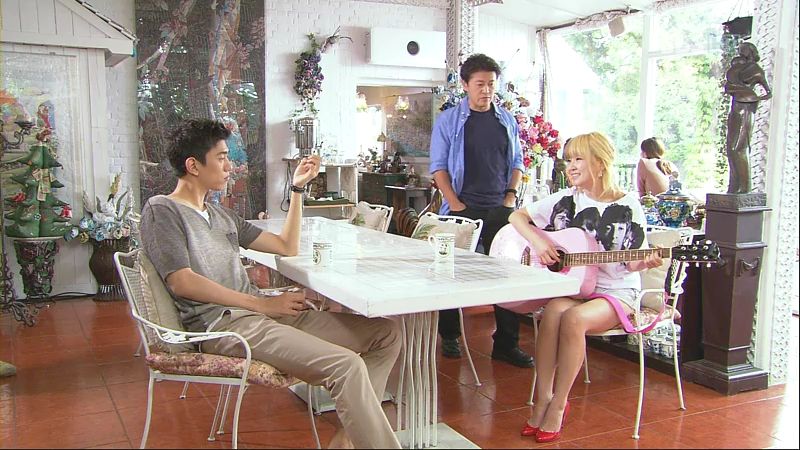 Sang Hee is at the café. Suk Bong wonders where Ae Kyung went, and is told that she's probably out on a date. Because Ah Jung went on a business trip, Ae Kyung is over at Ah Jung's house to keep her dad company. Sang Hee finds out that Ah Jung took a trip to Jeju.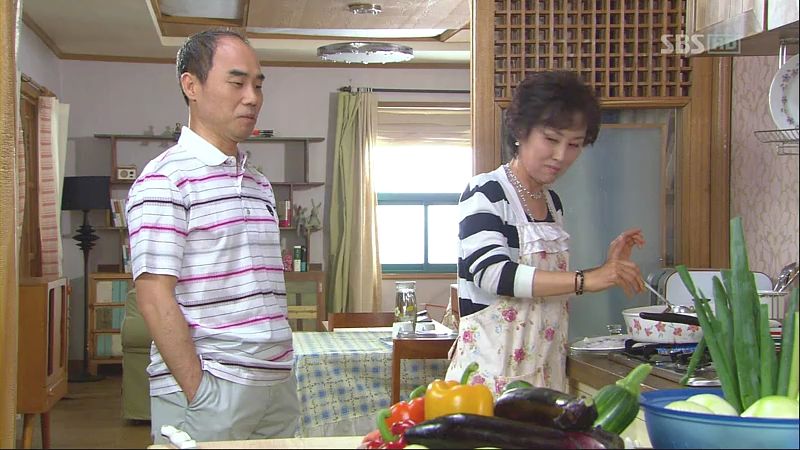 Ah Jung's dad is watching Ae Kyung cook, which makes her embarrassed. He thinks she looks pretty when she's cooking. Dad thinks Ah Jung is too busy worried about her own problems to care if Ae Kyung is hang out around the house. Sang Hee tells Suk Bong to go over there and do something about it, whether eat with them or throw tables.
Ah Jung and Ki Joon walk the members out to their car and make an appointment to meet tomorrow. Suddenly Sang Hee calls asking Ah Jung where she's at? Ah Jung says Jeju, and then Ki Joon takes the phone away from her and tells Sang Hee that they just finished working. Ki Joon wants Ah Jung to relax a bit so she can't talk with right now. He hangs up on Sang Hee.
Ah Jung finally gets around to tracking down So Ran, who pretends to be all weak and losing her will to live (when she's laying by the pool and lounging). So Ran jumps in the water to fake that she's going to drown herself, which is when Ah Jung finds her and is pissed at So Ran for pulling this stunt.
Ah Jung tells So Ran that it was all a misunderstanding (Jae Bum caught her as she was about to fall), and that she doesn't even like Jae Bum a tiny iota. So Ran doesn't believe her, but Ah Jung insists that there is someone else she likes. Ah Jung sincerely wants So Ran and Jae Bum to be happy together. So Ran's eyes suddenly widen as she stares at something behind Ah Jung. Ki Joon walks up to the ladies and says hello to So Ran. Ah Jung calls Jae Bum to let him know that she's found So Ran.
Ah Jung's dad and Ae Kyung are eating when Suk Bong arrives. Suk Bong is in a fidgety mood, and demands to know whether Ae Kyung and Ah Jung's dad are just friends or more than that. Ae Kyung placates him with some more soju.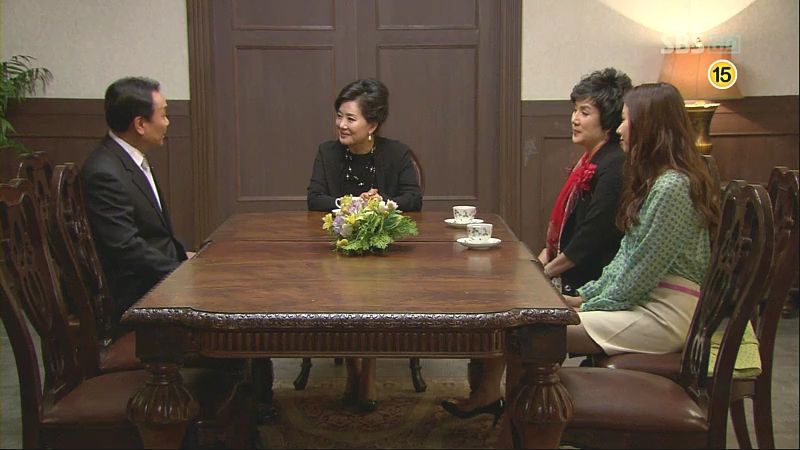 Aunt meets with Yoon Joo and her mother. Yoon Joo wonders if Ki Joon is really busy lately. Yeah, busy being an adorable dork with Ah Jung and busy avoiding you, Yoon Joo. Aunt thinks that Ki Joon and Yoon Joo's "matter" (i.e. marriage) should be take care of shortly. Yoon Joo doesn't say anything but her face falls slightly. When Yoon Joo's dad (a legislator) arrives at the dinner, Yoon Joo asks him to assist Ki Joon with his work.
So Ran sits with Ki Joon and Ah Jung and stares at them curiously. She asks Ah Jung if she's started to date Ki Joon. Ah Jung chokes on her water and spills a bit on herself when she hears this question. Ki Joon grabs some napkins and begins to wipe her cheek and neck and try to clean her up. So Ran stares at this totally lovey dovey display with a smirk. She then recalls seeing Yoon Joo with her arm linked with Ki Joon. So Ran appears to want to tell Ah Jung, but decides not to mention it.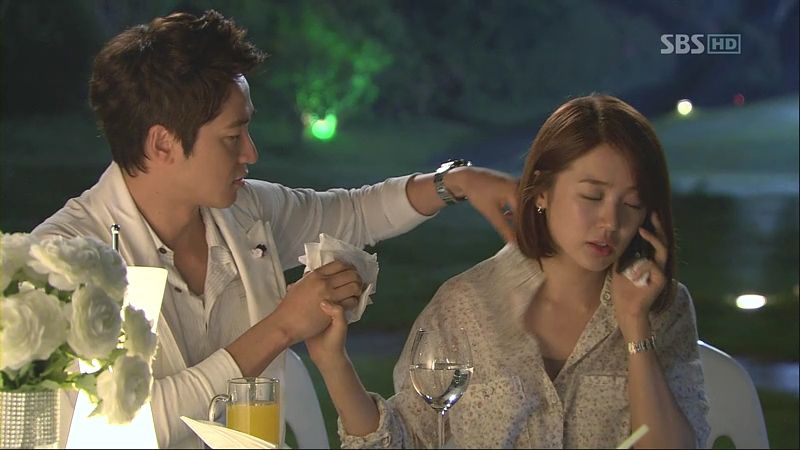 So Ran tells Ah Jung that their misunderstanding has been resolved, but there is still her issues with Jae Bum. She looks at Ki Joon and says that all men are the same. After So Ran leaves, Ah Jung gets a call from her boss asking for an update. Ki Joon continues to try and dry Ah Jung's shirt, or at least tries to fix her collar, and she keeps swatting his hand away. Finally she just grabs her hand and finishes her call. OMG, this was such a typical gender reversal moment here. They look at each other adorably, but Ah Jung gets nervous and rushes back to her room.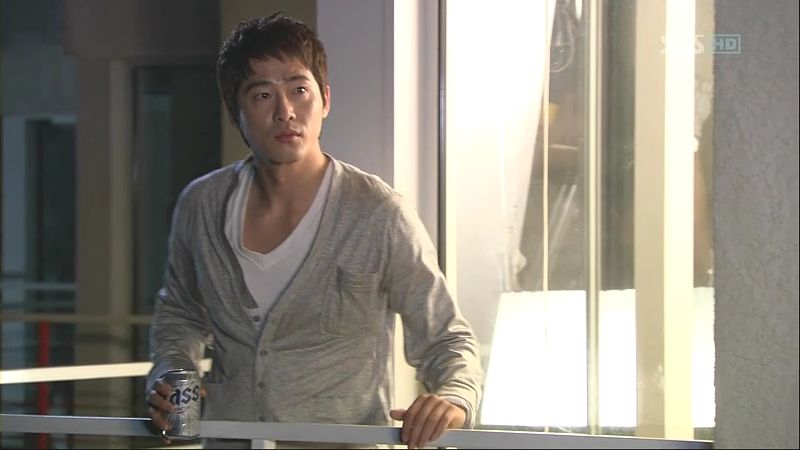 Ki Joon comes out onto the balcony of his hotel room with a beer in hand. He peeks over at Ah Jung's adjoining balcony, and adorably scoots over and then gets on top of the railing to peer out for a closer look. Ah Jung suddenly walks out and Ki Joon quickly scoots further away and pretends he wasn't just trying to Romeo her balcony.
Ah Jung asks if he came here because of her, and he says no, he came here because of himself. He can't grab on to something and its making him frustrated, so he decided to come. She says he's playing hooky from work. Ki Joon asks Ah Jung about whether all women want to marry a man they can show off and use to elevate their own status?
Ah Jung asks if Ki Joon thinks of her as so conventional? He says that she told a lie because she lost her first love to her friend, so she wanted to claim that she met a better man to make herself feel better. Ah Jung tries to say that's not the case, but Ki Joon says that it's no big deal and heads to bed. Ah Jung tosses and turns that night, embarrassed to consider the truth about what Ki Joon said and how it makes her motivations seem so shallow.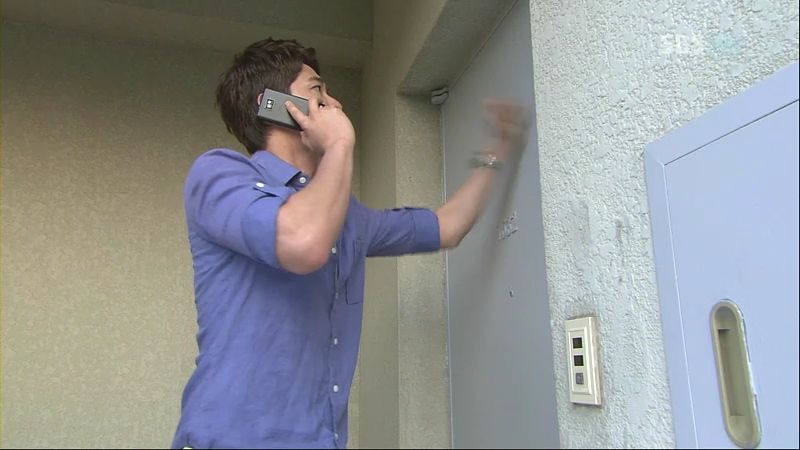 The next morning, Ki Joon pounds on her door and calls her phone to wake her up bright and early at 5 am for a round of golf. Ah Jung follows Ki Joon and the guests as they play golf. She wonders why he called her here to just follow them as they played golf, since she can't even stop to lobby them. Ki Joon pinches her on the cheek and says lobbying is all about showing sincerity, so she just needs to follow his lead.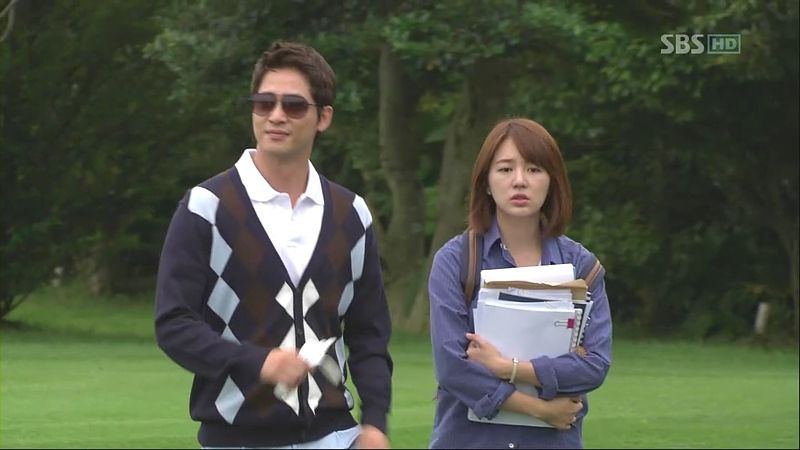 When Ah Jung wants Ki Joon to discuss the lobbying, he instead just talks about golf with the guys. Ah Jung wants to get down to discussing the important things but Ki Joon reminds here that everything has its order. Do people get married first then date? Of course not, couples meet, go to movies, hold hands, then kiss. Erh, yes, just not you two. Tee Hee. Ki Joon tells Ah Jung that for her lobbying, right now they haven't even progressed to the kiss stage yet.
Yoon Joo goes to Sang Hee's studio and finds him lackluster and not painting very well. He knows that she's here because she can't reach Ki Joon. Sang Hee confesses that Ki Joon answered his call, but he wishes that Ki Joon hadn't. Yoon Joo finds out from him that Ki Joon went to Jeju, and that Ah Jung is with him. Sang Hee hopes that they can work out.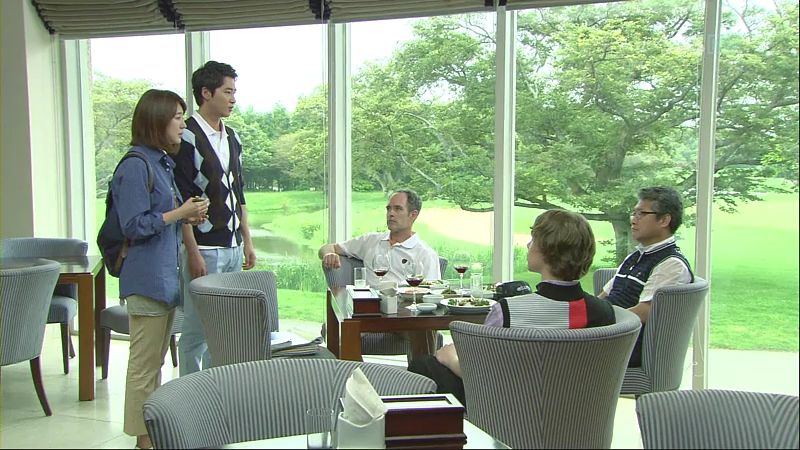 Ah Jung goes to make one final pitch to the guests about Jeju. Kimura-san asks her to describe Jeju in one word. Ah Jung says that Jeju is just like mom. She takes an abalone from the table and describe the women divers of Jeju who dive for abalone using their lives. They do it because they need to feed their children. Jeju has scenery, rocks, and women.
She says that everything from Jeju comes from moms. Because Ah Jung has no mom, every time she comes to Jeju she remembers her mom. She asks if Jeju isn't suitable for being selected? The members all agree that they've seen Jeju in a different light after this trip. They thank Ah Jung and leave. In the limo, Ki Joon claps and congratulates Ah Jung on doing a great job and touching the hearts of the members.
Ah Jung and Ki Joon sit down in the grass outside. She complains that her legs are sore, and he offers to massage them, but she quickly declines. Ki Joon says that it's touching that Ah Jung thinks Jeju reminds her of her mom, though he was hoping Jeju would always remind her of him. He lays down and asks Ah Jung to talk about her mom.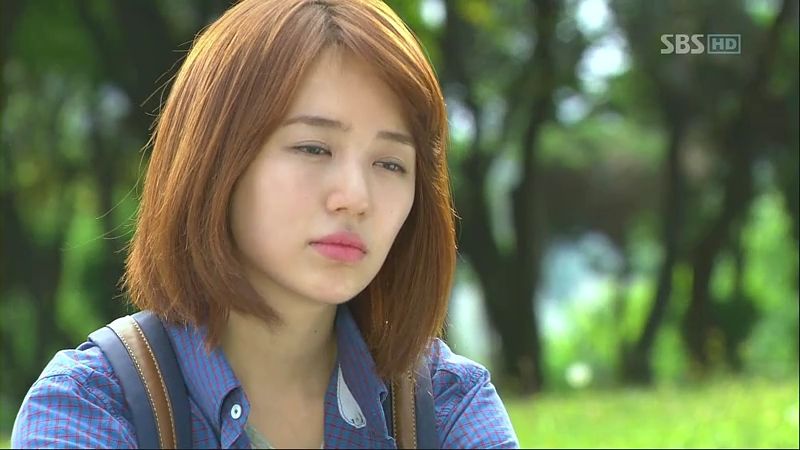 Ah Jung says her mom died when she was in third grade and life was very difficult for her and her dad. She wasn't just her dad's daughter anymore, she had to become the mom of the family, too. She didn't want her dad to see how sad and lonely she was, because it would make it harder for him. Ki Joon thinks it's no wonder Ah Jung turned out to be this brave, independent, forward, and rebellious woman.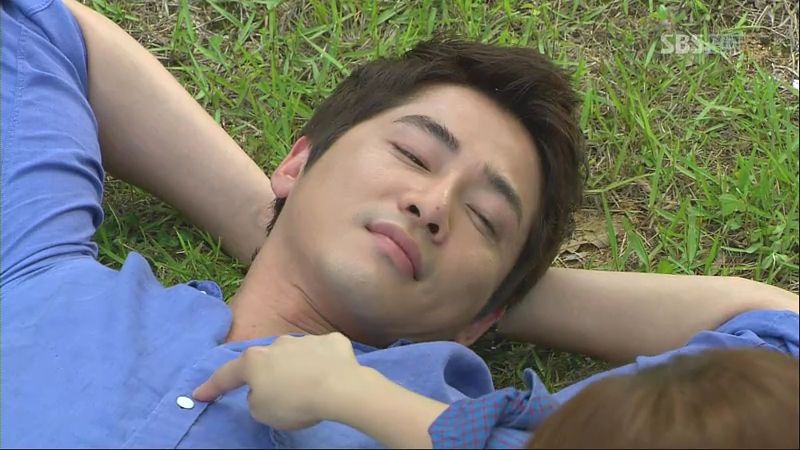 Ah Jung sasses right back, saying that Ki Joon puts up a front of being so capable and so arrogant, yet inside him (and here she uses her finger to point to his heart) there still resides a little boy who loves make toy models. Ki Joon smiles, and now it's Ah Jung's turn to ask about his parents. Ki Joon notes that they really don't know that much about each other (yet). Yes, that's what happens when there is more tongue than talking between you two.
Ki Joon says that his dad died when Ki Joon was eleven, and his mom died a year later. Sang Hee was only five. It was hard, but they made it because his Aunt looked after them. Ki Joon lays back down and Ah Jung follows suits. They turn to look at each other.
Ah Jung tiredly heads back to her hotel room and flops on the sofa (just the way we've seen Ki Joon flop on the sofa before). She gets a call from Ki Joon, who tells her to walk to her bedroom and open the closet door. She follows his instructions and finds a stunning strapless white floor-length gown with a cascading pattern of black in-lay cut-outs. Ki Joon tells her to put on the dress and meet him downstairs.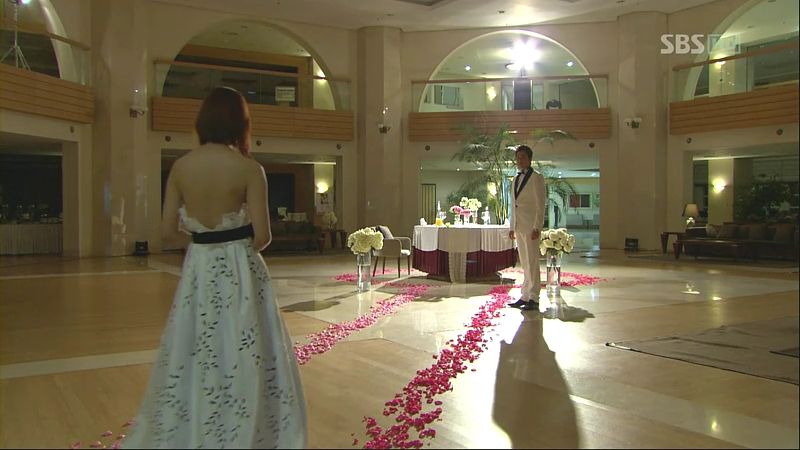 Ah Jung walks into a foyer area that's been decorated with a rose petal walkway and a romantic candlelit table for two set up in the middle. Ki Joon is waiting for her, wearing a white tux with black lapels. Okay, these two are wearing so many couples outfits in this episode it makes me weak at the knees. Plus I love how Ah Jung continues to look so artless and natural even in this gown, because that's just her style.
Ah Jung confesses to feeling a tad awkward with all these grand gestures. Ki Joon sits her down and snaps his fingers to alter the lighting, music, and summon the servers. He toasts her on doing such a great job today, telling her that he really means it. Ah Jung concedes that she couldn't have done it without Ki Joon. She doesn't even know if she succeeded. Ki Joon says it doesn't matter, because she's done her best.
Ah Jung says that it's the first time she's considered what Ki Joon said on the balcony. Initially she lied that she was married to get back at So Ran. But when the person became Ki Joon, Ah Jung felt that it did make So Ran feel even more upset. So Ah Jung did what she wanted and she used Ki Joon in the lie. She apologizes now that she's able to see things clearly.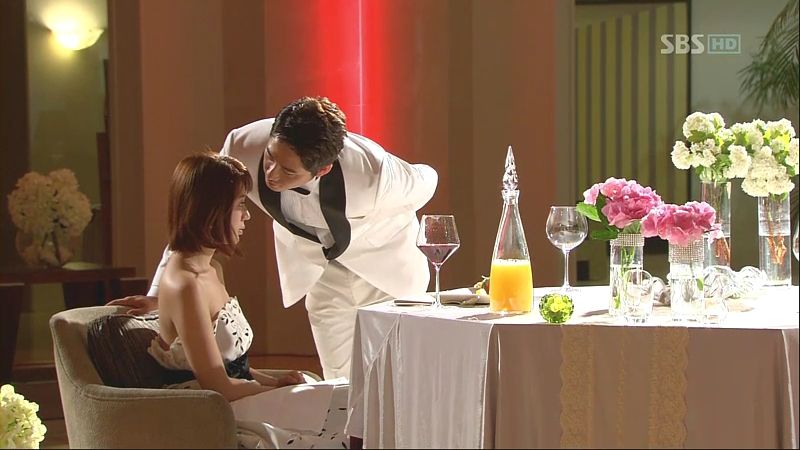 Ki Joon gets up and walks over to Ah Jung. He tenderly leans down to deposit a kiss on her forehead. He kneels down and tells Ah Jung that he's also embarrassed for using the lie to his advantage. Ah Jung starts to tear up, confessing that she saw his true heart when he tore up their contract and when he outed the lie in front of the Chairman. He smiles and wipes away her tears.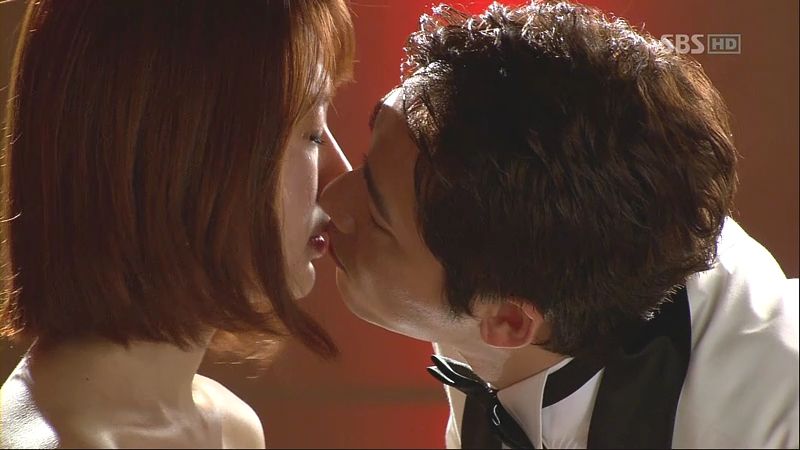 Ki Joon asks her if they can finally forget about all that has happened and start over again? Ah Jung smiles and nods. He leans in for a kiss (Hyun Ki Joon, you are such a kissing bandit!), which Ah Jung allows for a second before pulling away. She asks Ki Joon if they can take it slow, because she's afraid. Ki Joon says he will work hard so that Ah Jung will believe that he has only eyes for her, for a very long time.
Ah Jung smiles and says thank you to Ki Joon. She takes his one hand in both of hers, the both of them staring at each other. The camera pulls back and we suddenly see Yoon Joo standing off in the corner, likely having seen most if not all of what just transpired. Yoon Joo looks in pain, turning around and walking away with a determined look on her face.
Thoughts of Mine:
I can't believe how amusing and entertaining I'm finding the Ki Joon's courtship of Ah Jung. Put aside that fact that Hyun Ki Joon appears to have morphed into a completely different character at first blush, what's happening actually validates all the little clues that the writer laid from the beginning. Though I may be giving her more credit for planning so far ahead, because it's clear the second half of the drama has undergone massive tonal shifts.
I see Ki Joon and Ah Jung as balancing the dichotomy of their own personality in exactly opposite ways. Ki Joon is controlled and efficient to the outside world, but a complete dork and adorably childish inside. How can a guy who loves making model cities not be a closet geek with cheesier than cheesy wooing tactics? Ah Jung, on the other hand, shows the world her ditzy side, but inside she's steely and capable. It's just so satisfying to watch two characters fall in love when you can see why they connect with each other.
It's funny to see how Ki Joon's just so unafraid of pursuing Ah Jung, and being so ridiculously lame in some ways, yet completely mindblowingly awesome in others. But all of that is Ki Joon, and what Ah Jung means to him. Oh, I giggled at and with him when he lip-synced the Jeju Island song, when he tried to get his helicopter to arrive but ended up taking the ship and got sick, when he tried to wipe the water off Ah Jung. But in the end of the day, he and she knows that all the cheesy gestures are just the tip of the iceburg, and it's his desire to help her succeed at her job that means so much in the greater context of their relationship.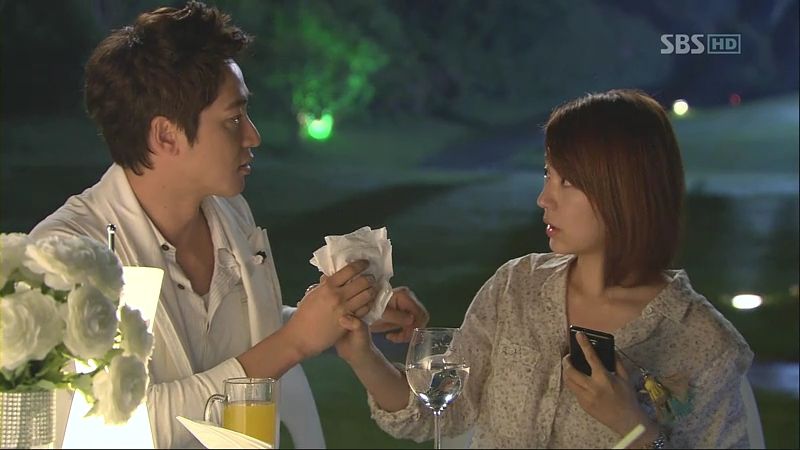 Remember what Ki Joon told his mat-seon date in episode 1? He wants a wife to be the silent partner to Hyun Ki Joon, to support him whatever HE does. Oh how the tides have turned, with our high and mighty World Hotel President ditching work and braving a sea voyage, all to assist a 5th level civil servant sent to procure some tourism business for Jeju Island. Reminds me of how in Secret Garden, Joo Won actually learned to care about how important her stunt double job was to Ra Im, and made an effort to help her land the role in the movie.
I'm finally ready to talk about Sang Hee and why I now think him falling for Ah Jung is actually a very meaningful plot development other than as a recycling of the plot. I see that Sang Hee "likes" Ah Jung, but his feelings for her are nowhere as deep as his feelings were for Yoon Joo three years ago when Ki Joon was engaged to her. While Sang Hee can swan back after three years and just apologize and everyone appears to have forgiven him, but you can see that he hasn't really forgiven himself.
That's the impetus for him trying to help Yoon Joo and Ki Joon reconcile, because he realizes that saying sorry is just so superficial an atonement for what he did. But what he did had consequences that he can't fix now – Ki Joon moved on but Yoon Joo didn't. Life is not always fair, and it's not always easy to fix mistakes. Sang Hee's form of penance now is NOT to push Ki Joon together with Yoon Joo. It's to learn from his past mistake and realize that when faced with the exact same situation as last time – the girl he likes in turn likes his brother – he needs to do the right and mature thing.
The only way for Sang Hee to finally get over his guilt to Ki Joon, and to finally grow up, is for him to become the real fairy godmother to both Ki Joon and Ah Jung and help their relationship navigate any external conflicts. Perhaps that the is why writer didn't make a point to show Sang Hee totally in love with Ah Jung, because the issue isn't his feelings, but how he learns to deal with his own heartache and do the right thing this time around.
I'm not sure how the external conflicts will arise exactly for our OTP, who right now are so blissfully happy they are surely floating on a cloud (and I with them). I know the plot of LTM doesn't really pass even the most superficial of analysis (Ki Joon telling Yoon Joo he'll wait until she gets over him but then they need to take a break and then he's off wooing Ah Jung?), but it doesn't bother me in the least. There are just so many other things I love about the drama which are done so well that it compensates for the bad writing for me.