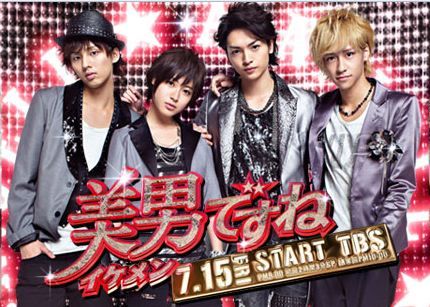 Not sure if anyone is interested in checking this out, but the upcoming TBS J-dorama remake of the popular K-drama You're Beautiful is scheduled to premiere in two weeks. The remake stars a new slew of J-ent idols, which may or may not rocket them to stardom the way HanaDan made Matsumoto Jun and Oguri Shun.
Speaking of which, Ikemen Desu Ne (literal translation Beautiful Man, Yes?) will be helmed by the director who did HanaDan, so expect the same manga-ish vibe. We have relative newcomer Takimoto Miori in the Park Shin Hye role, Tamamori Yuka in the Jang Geun Seok role, Fujigaya Taisuke in the Jung Yong Hwa role, and Yaotome Hikaru in the Lee Hong Ki role.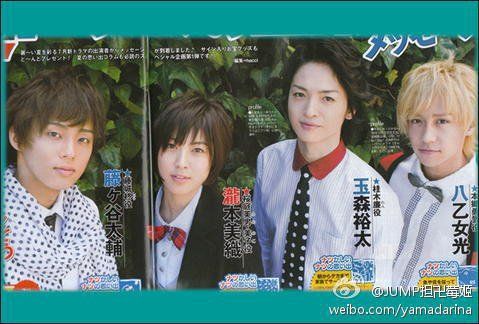 It wouldn't come as a surprise to hear that all three guys are Johnny's, right? Tamamori and Fujiya are members of the group Kis-My-Ft2, and Yaotome is a member of the group HEY SAY JUMP. Apparently there is a possibility that the original Korean cast might make a cameo appearance. Bringing the trailer and BTS interviews from the cast which leads me to conclude that this looks like a scene-by-scene remake.
I'm not holding my hopes too high it'll be good with a cast consisting of newbie Johnnys. Too bad Jun, Yamapi, Kame, Jin, Toma, et. al. are all too old for this idol stuff because I miss them so much onscreen. Compared to Ikemen, I'm actually way more interested in TBS's other Summer offering, the drama adaptation of the manga Arakawa Under the Bridge with Oguri Shun.