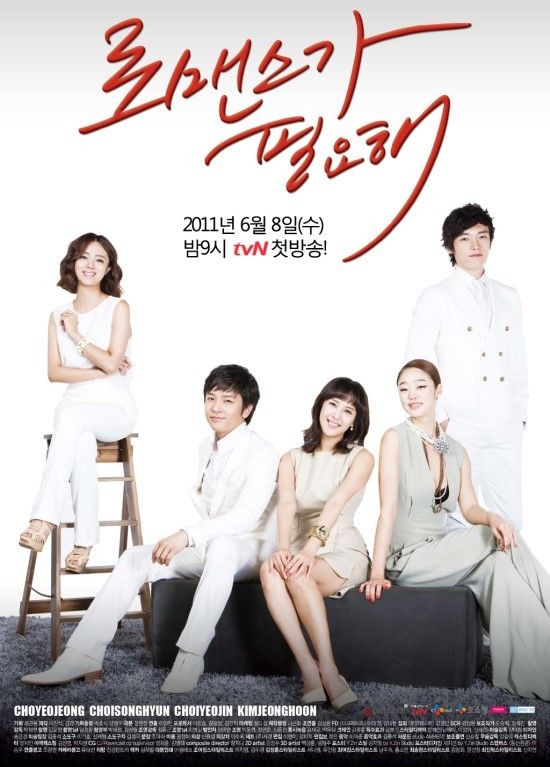 From the very first episode until the very last episode, I Need Romance remained consistent for me. It was consistently different and elegantly presented. Focusing on the lives, loves, and friendship of three women in their thirties living in Korea, INR packed a lot of interesting issues to ponder into each 45-minute episode. For me, all of the characters felt real, and their reactions and relationships were relatable for me. I found myself going been-there-done-that a few times, and even situations that were never first-hand for me, I could empathesize with these fictional people because they reacted like real people would.
I wrote a first impressions review of INR, but never fully loved this drama enough to elect to recap it. The sixteen episodes were so breezy I didn't feel like undertaking the pen-to-paper recap tedium for this drama. I would have never even written this final piece had the ending for this drama not been so divisive. I actually see both point of views, but was curious to see WHY others felt the way they do about In Young's decision. Did you hate the ending? Found it realistic and honest? And does your opinion stem from personal experience? I would love to hear people share some thoughts on romance, marriage, cheating, reconciliation and forgiveness with me. Spoilers about the ending after the jump, so you've been warned.
The ending finds In Young choosing, in an honest, straightforward, and decent way (as she has been all drama long) between Seung Hyun, her new boyfriend, staying single for the time being, and in the end, giving her ten-year relationship with her ex-boyfriend Sung Soo another chance. In Young doesn't actually choose between the two men, she looks at all her choices and says yay or nay to each individually and separately.
So she looks at Seung Hyun first, a good man who genuinely does love her as she loves him, and sees a future fraught with class struggled that might dog her every step of the way. Yes, she can work towards being accepted by Seung Hyun's uppercrust friends and family, and but it's still a tough uphill climb. She doesn't want that. Between love and preserving her dignity and self-respect, she chooses the latter. She doesn't want to take that chance with Seung Hyun. She's a Cinderella who says no to the palace because she'll be living in a gilded cage.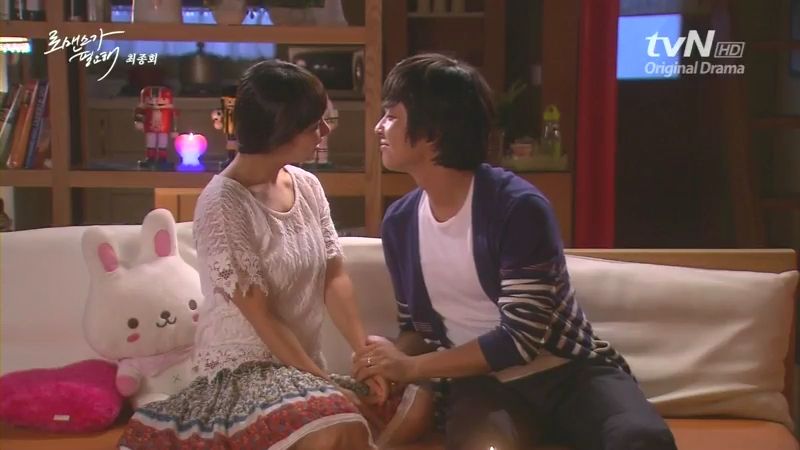 With respect to Sung Soo, who spent the beginning of the drama cheating on her, feeling bad but not really, rationalizing everything and nothing, and only in the end genuinely understanding the depth and breadth of what he lost with In Young, he comes clean with her father about his misdeeds towards In Young and begs for forgiveness. From her father. On his knees. Completely sincere and without any excuse. He explains why (he was young and immature and selfish), but he asks for the full brunt of her father's anger towards him.
In Young hears this, sees this, and takes it into consideration. In the end, seeing Sung Soo outside her house, standing next to that very light pole where they first kissed, she runs into his arms and takes him back. Without any demands or anymore anger, she wants to take another chance with him. It might work out, or it might. But that is her choice.
Between a new love faced with the perils of class disdain and an old love faced with the possibility of retread, she goes for Sung Soo. Because she has never ever stopped loving him, even when she fell in love with Seung Hyun. In Young's journey strikes me as so modern and real, because love is not a one-track road, and feelings have multiple avenues to flower and grow.
I don't know how I would have chosen had I been In Young. Sung Soo cheating on her before multiple times doesn't mean he'll do it again. Seung Hyun having never cheated on her doesn't mean he won't if he's with In Young for ten years like Sung Soo was. Both guys come with the risk it will fail in the long term for various reasons, cheating included, but also bitterness stemming from familial pressures and societal mores. I think In Young chose to take the risk with Sung Soo because he was the one she truly loved with all her heart. Since both choices have its incipient risk, Sung Soo was the one she wanted to take that risk with.
I like Seung Hyun a lot, his personality was truly sincere and charming. I found Sung Soo to be funny and endearing, full of so many flaws and weaknesses, but ultimately he felt like a real person. I don't think relationships are ever black and white, and it's impossible to guess the future. I think In Young went with a combination of her heart and her head. Had Seung Hyun not come with so much family and wealth baggage, she would have chosen him, because she loved him. But she didn't love him enough to accept the weighted package. She looked back at Sung Soo and saw the man she loved for ten years and never stopped loving, and decided to take a chance with him. I'm not sure her choice is wrong, but it's definitely the unpopular one.
What does make me totally perplexed is how the drama threw in some curve balls at the end. After Sung Soo and In Young get engaged, the drama alludes to Sung Soo once again being stirred when meeting a pretty and intriguing girl, AND it also alludes to In Young's heart thumping for another man who might find her attractive. I'm not sure what the drama was getting at, other than trying to show that people will always be tempted. Recall that In Young was already attracted to Seung Hyun even when she was still dating Sung Soo early on in the drama, so she's naturally going to be moved when situations arise. But she flashes her ring and says she's taken.
So we're left with a drama that was surprisingly winning and interesting, executed deftly with really wonderful directorial flourishes that added immense joy to watch, but ultimately the takeway felt so……limp. The ending was so practical and realistic that it didn't deliver the drama catharsis we seek from our entertainment, the feeling of fist-pumping joy or gut-wrenching sadness. Instead, the drama seemed to say to us all "this is how life works, suckers".
Did you like the ending or hated it? Care to share why? I think a person's relationship history might strongly color what they think about this ending. For example, it would be fascinating for me to hear that a youngster hated the ending but a woman with a long relationship history may have loved it. INR is not a story about romance in the abstract, but a story about romance grounded in the frustration of the realistic. I appreciated taking the journey with In Young and her friends, but ultimately this is not a drama I'm going to have a hard time letting go.
Finally, this drama really was such a visual treat to watch, and for that, I'll always remember it fondly. Have some screencaps from episode 16 for the road.