Nicky Wu is the one cast member from Bu Bu Jing Xin to experience the most meteoric rise in popularity from the drama, since his performance as 4th Prince was just so unforgettable. He just started filming his next drama, the period investigative Xing Ming Shi Ye adapted from a novel of the same name, co-starring Wallace Huo. Funny enough, Wallace and Ruby Lin's drama Qin Shi Huang Fe was the drama to follow Bu Bu Jing Xin's airing slot on TV.
I wasn't terribly excited about this drama, until I saw Wallace's costuming for his character. Mwahahahaha, WTF, Wallace? Did you get lost on the way to a pirate convention? Nicky on the other hand, looks way too normal, thereby less interesting. From the looks of it, Wallace gets the crazy flamboyant character while Nicky is the uptight one. I'm already placing my bets on Wallace stealing the show.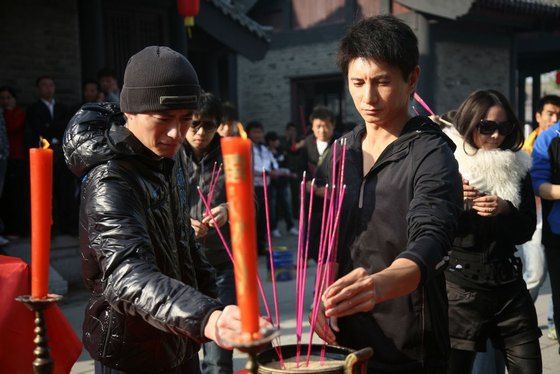 Our two leading men at the prayer ceremony for the drama. They look good together, in a non-romantic sort of way, of course.
Xing Ming Shi Ye involves two very different men who both investigate crimes, but using wholly different approaches. One is methodical and analytical, while the other hands on and scientific. Obviously the story makes them reluctant partners working to crack the same case(s). If Wallace and Nicky have great chemistry, this drama should be lots of fun to watch.
As for Wallace's completely random costume choice, perhaps he liked what Wu Zun wore for 14 Blades and decided to recreate his version of the Asian Jack Sparrow. Maybe if I bother to read the novel I'll understand why his character dresses this way. Or maybe not. It's so random (and insane in the period context of whatever dynasty this story is set it – I think it's the Song dynasty) it befuddles me quite frankly.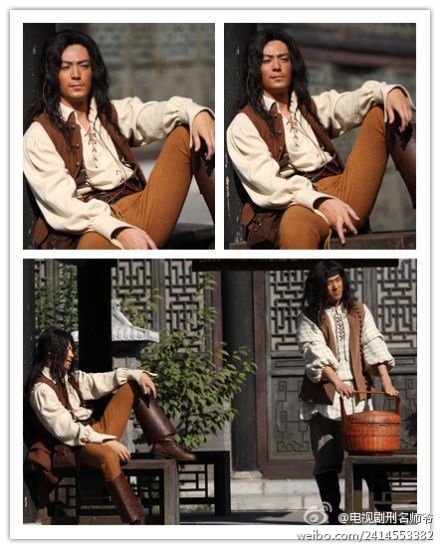 The drama just started filming, so it'll probably get a mid-to-late 2012 release date. Both Nicky and Wallace each have a few completed dramas and/or movies that will come out soon, so fans of either or both will have plenty of new fare to watch while waiting for Xing Ming Shi Ye to premiere.