We've got another Taiwan idol drama baking in the oven. The production company for the currently airing Ring Ring Bell will be partnering with CTS for the upcoming drama I Love You So Much (Chinese title is the laughably lame 粉愛粉愛你, which is a pun for I love you so much but using the characters for putting on make up), starring Blue Lan, Tom Price, singer/first-time-actor Nick Chou, and singer-actor Modi. The four guys will comprise the J4 of this drama, playing top-notch makeup artists in the fashion industry. Interesting. The drama held a press conference yesterday to announce the commencement of filming, and may end up as the drama to take over for RRB in 2 months.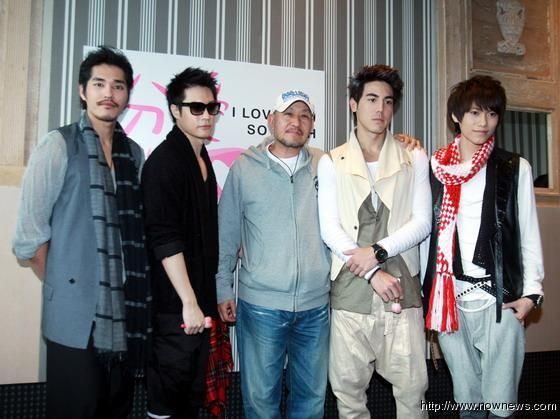 From left to right: Blue, Nick, Director-nim, Tom, and Modi. Apparently the four guys are sporting their exact looks for the drama. I'm confused as to why Blue looks like a sleazy ahjusshi, and why Tom and Modi are sporting hammer pants. Nick looks cool enough in all black (hard to screw that up), but really none of them scream out "I am a top makeup artist" to me. All I know beyond this basic set up is that Nick is playing Blue's half-brother in the drama. They definitely share the same sharp chiseled features. The production also announced that Blue will be singing the theme song for this drama. I just hope this drama doesn't turn into the hot mess that was The Magicians of Love. I still have nightmares about that one.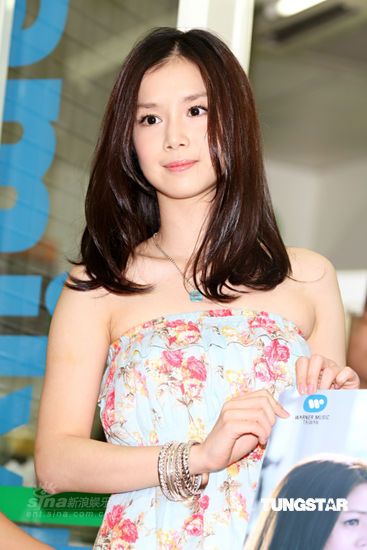 Only the men attended the press conference yesterday, and there was no mention of the leading lady. But the grapevine says the lead actress will be played by Ivelyn Lee, who was most recently the lead in the woeful Love Recipe with Kenji Wu. I've not seen Ivelyn in any drama or movie, but I hope to be pleasantly surprised by her, much like the way I've been with Alice Ke in Office Girls.