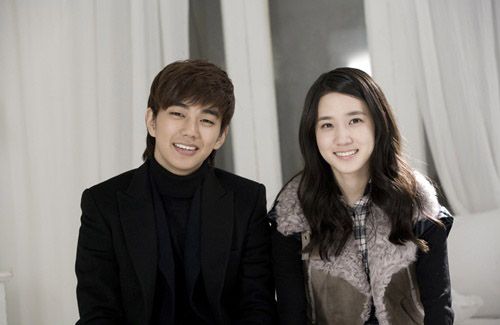 The upcoming K-drama remake of Yamapi's Proposal Daisakusen starring Yoo Seung Ho has quietly started filming already. Airing on the new cable network TV Joseon come February 2012, Operation Love will co-star Park Eun Bin, who has quite a tangled history with Yoo Seung Ho. Both were the child OTP counterparts in Legend with Bae Yong Joon and Lee Ji Ah, and later co-starred in Queen Seon Deok as teenage characters. In addition to their TV starring roles together, they've also done MVs and endorsement campaigns together.
Clearly the casting agents are aware of their adorable chemistry together and decided to fan service everyone. For once I have to say thank you, because I think this pairing is brilliant. ProDai is about the flimsiest most redundant story and can only be resurrected in a new incarnation by a sizzling OTP plus some snazzy new angle. The production released an official Christmas themed BTS clip, which both makes this Yoo Seung Ho loving noona happy, and gets my toes tapping to Christmas music just in time.
For those of you unfamiliar with ProDai, the leads are childhood friends who grew up together but remained platonic besties. At the wedding of the girl to her college professor turned sweetheart, the guy finally acknowledges his romantic feelings for the girl. A wish granting fairy shows up and gives the guy a chance to change the past. He gets to zap back to a specific moment in their shared history, but with his current soul, and try to do things differently so he can win the girl. This groundhog day scenario goes on for multiple episodes and the guy is never able to change things despite having the knowledge of what's to come. Will they end up together in the end? Watching Yamapi and Masami, I hoped the hell not. But with Seung Ho and Eun Bin, I'll be rooting for them the entire way.
Operation Love Official BTS:  http://v.youku.com/v_show/id_XMzM1MzMwOTM2.html
In the video, Seung Ho and Eun Bin show up in the latter half, wearing Santa and Mrs. Claus matching outfits. So. Cute. This remake might actually work now.