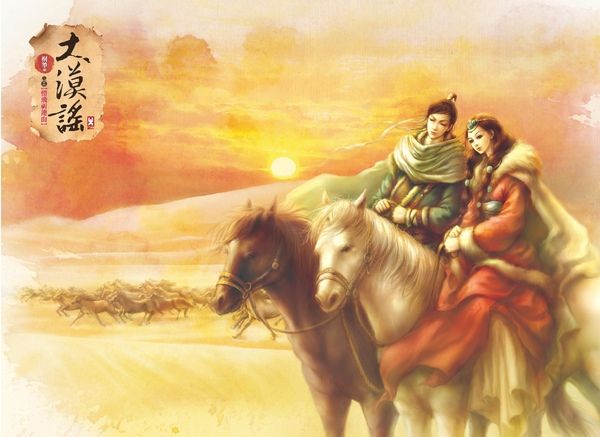 My takeaways from marathoning Da Mo Yao (Ballad of the Desert) the novel this weekend are this: (1) General Huo Qu Bing is about to become the best character Hu Ge has ever played in his career (EVER) and (2) oh my lordy was that a love story (and love triangle) for the ages. Between squealing, gasping, holding my breath, and then crying tears (whether happy or sad, I'll play coy and not reveal just yet), I think I just found a period romance political intrigue novel better than Bu Bu Jing Xin. Of course, the fact that DMY is also written by Tong Hua says something for my appreciation of her writing talents and my love of her storytelling. I can tell you that if Tangren doesn't royally F-up the drama adaptation, DMY can easily be even better than BBJX the drama. It's more sweeping, has tons more action scenes, everyone will be smoking hot in their Han dynasty attire (no Qing queues for the men, yay!), and the love story between the OTP makes me blush like a school girl just recalling scene after bone meltingly romantic scene.
I actually read a few chapters of DMY awhile back, with the introductory sections interesting but nothing that would compel me to keep reading. I liked it, but there was no indication of the epicness to come. I don't think I've fully digested everything I just read, but oh holy I CANNOT wait for this to become a drama. And If Tangren dares to redact any of the eyepopping romantic scenes in this, imma going to have words with their puritanism. This is not your momma's period political romance novel. And I'm going to call it right now: General Huo Qu Bing, aka the single most awesome ass-kicking romantic hero ever written on paper, is MINE. Which means right now that Hu Ge, who is slated to play Huo Qu Bing, is by default also mine. *rubs hands gleefully* I'm actually considering summarizing the novel chapter by chapter, but it's only fun if folks participate in the book discussion with me. Anyone up for it?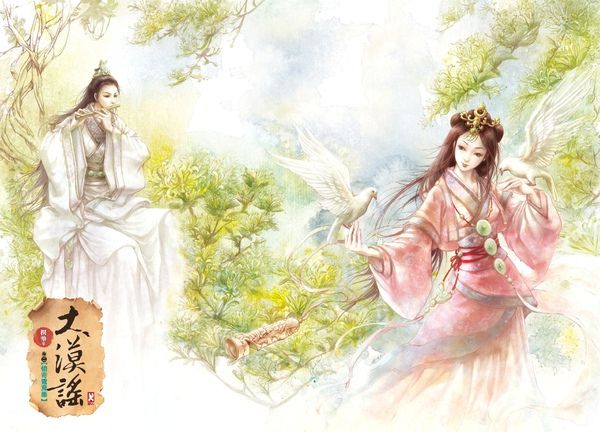 This is just a introduction to Da Mo Yao. If I end up recapping the novel, don't worry, I'll translate word for word when it gets to the good (i.e. juicy) stuff. Hee. DMY is wholly different than BBJX in almost every way, except for the overarching thread of political intrigue centering around imperial succession. Set in Western Han Dynasty (founded by Liu Bang after defeating Xiang Yu, hence the Emperors of that dynasty all carried the surname Liu), the novel is dense in actual political history, with one of the main characters that is General Huo Qu Bing an actual historical figure. Though Tong Hua takes tons of liberties with her characters and historical accuracy, she uses the general crux of the geo-political warfare during that era as the backdrop for her story.
A wolf girl grows up amongst the wolf pack of the Xi Yu desert region of Western China, where many different tribes existed which sought to remain independent from the encroaching military forces of the Western Han empire. This wolf girl saves a man dying of thirst in the desert, and he in turn kidnaps her. A Han scholar who is an advisor to the Dan Yu (Leader) of the Xiong Nu tribe, this man becomes this feral wolf girl's adoptive father. He forces this child of 7 or 8 to learn to walk upright, speak the human language, and live amongst the people, namely the Xiong Nu tribe. He names her Yu Jin. She resists initially, howling at the moon to be freed, but she eventually settles into the human world and grows up amongst the sons, daughters, and tribesman of the Xiong Nu.
Yu Jin is but a child of 12 when she is forced to face the grim reality of the ruthlessness of political succession as there is a change of leadership within the Xiong Nu. With her father dead, Yu Jin manages to return to her wolf tribe, were she is welcomed back and finds solace in the leader of the wolf pack, whom she calls Brother Wolf. They roam the plains together, with Yu Jin a girl who is no longer completely a wolf, but cannot return to the human world because the only one she knows is gone. A few years pass before one day, Yu Jin decides to steal some supplies from a traveling caravan. She is caught, but the leader of the caravan is a young man whose beauty and serenity captivates Yu Jin. He offers her the supplies she wants, but because she's been wearing the same tattered clothes for the last few years, she asks for a skirt if they have one. The young man gives her a beautiful Luo Lan (another ethnic tribe) outfit.
As Yu Jin continues to roam the plans with Brother Wolf, she runs into another group of travelers, this one seeking her assistance in getting out of the Xi Yu desert. In the group is another young man, with twinkling eyes and a piercing gaze. Yu Jin leads them to the edge of the desert, and she demands payment of coins for her services. Meeting these two groups finally convinces Yu Jin that she can't hide in the desert forever. Her adoptive dad wanted her to learn Han history and language, because he was a Han citizen and wanted her to become one. Yu Jin decides to use the coins to travel to Chang An, the capital city of the Han dynasty. There she will not run into the Xiong Nu, and she can finally fulfill her dad's wish for her to return to her motherland.
Yu Jin arrives in Chang An and hereby starts her story which will span years with so much colorful and stunning trials and tribulations. She changes her name to Jin Yu (her loved ones call her Yu Er or Xiao Yu) and tries to forge ahead with just her brains, derring do, and audacity. She runs into the two young men she met in the desert – the man who gave her the Luo Lan outfit is Meng Jiu (real name Meng Xi Mo), the reserved and contemplative owner of the largest business in the city, and the other guy is Huo Qu Bing, the all-around brash and decisive young general who is also nephew to the Emperor. Jin Yu's life in Chang An takes her into close orbit with both men, and with it develops a love story fraught with choice, unwavering commitment, and sacrifice.
After reading DMY, I felt like a lot of my (and other folks) minor quibbles with BBJX the story were somehow resolved through this completely different story. Jin Yu as a heroine is direct and dares to love. Unlike Ruo Xi, she does not over think anything, whether it comes to her love life or her personal history. While others are mired in personal and ethnic vendettas, Jin Yu actually learns to let go of grief and wrongs done to her, preferring instead to treasure her current happiness and not risk it for meaningless conflict. The two male leads in DMY reminds of of a mash up of the four main Princes in BBJX. Meng Jiu is a cross between 4th Prince and 8th Prince – refined, artistic, thinks carefully about everything, keeps thoughts close to his vest, prefers hidden gestures of care over direct communication, and a man who believes that love sometimes means silent sacrifice. Huo Qu Bing is a blend of 13th and 14th Princes – a master tactician and warrior, arrogant and proud, a man who refuses to be governed by anyone else, who loves once and for all time.
The novel isn't just about the three main characters and their love story, but instead weaves in a very compelling cast of secondary characters who create tension and drive plot movement forward. After Jin Yu reaches Chang An, she discovers that her past with the Xiong Nu isn't that easy to let go, sometimes the past catches up to a person. Her new life is also fraught with political intrigue, much of it of her own making at times. The three leads are around the same age when they first meet, in their late teens. As they grow up together, the characters are written in such vivid ways with much of Tong Hua's trademark humor intact. I felt like I lived and breathed Jin Yu's colorful life and passionate love story. To be loved like she was by both men was just a treat to read for the diehard romantic in me.
The novel is split into two books, with book 1 consisting of 16 chapters and one addendum, and book 2 consisting of 24 chapters. The transition between the two looks was stunningly well-written, leaving me literally ripping open the next book to start devouring. Here's a tidbit to whet your appetite. The final chapter in book 1 ends with Jin Yu writing a short letter to Huo Qu Bing:
Xiao Huo,

I'm going back to Xi Yu. I'm sorry but I won't be going with you. When you see this cloth, it should be a few months later already, when you return victorious yet again to the Palace. Perhaps I will be off chasing a sheep with Brother Wolf. Or maybe doing nothing except watching the sun set over the West. You asked me, are tangled vines really how complicated life ought to be? I thought about it, and perhaps life really is like the gold silver flower vines. But it's not about being tangled up. Flowers bloom and flowers wilt. When the gold silver flowers meet, it twists and turns, like meeting and then departing. Fate binds and fate separates, this vine is but a representation of life's many gatherings and partings. This time my decision is to turn and leave. This parting might lead to never meeting again. I wish you all the best.

Xiao Yu.
In response to receiving this letter, Huo Qu Bing's reaction is thus:
He already decided in his mind that he was going to succeed. Or more accurately, the word "failure" has never appeared in his mind. Anything he wants to accomplish, he does so, except….no, there is no except. Huo Qu Bing's life has no impossibles, much less her. He stares at the letter and smiles a cold proud laugh. This is her first letter to him, but it will not be her last letter to him. He stands up and calls out to the attendants outside the tent to prepare his horse. Yu Er, you can't possibly be harder to chase after than those wily Xiong Nu.
And with that, I leave you with a glimpse of Da Mo Yao. I don't know how long it'll take to stop thinking about Xiao Yu, Xiao Huo, and Xiao Jiu (which are their nicknames). Book 1 is wonderful enough already, but book 2 pretty much imprinted itself on my heart forever.