This episode was a bit rough, and the exposed seams where the narrative borders on unrealistic starts to unravel a bit. Where The King 2 Hearts excels at is delving into the personal relationships between characters inhabiting a fantasy world that involves royal families, a Romeo and Juliet love story based on one culture split into two countries, and the possibility that a wastrally Prince would fall in love with a tough military girl. But all of that works in TK2H, but when the story wants to manufacture more conflict between the North and South, as orchestrated by Bong Joo, it just falls spectacularly flat. Jae Ha continues to step up and this time around he doesn't even doubt Hang Ah for a minute. But sadly Hang Ah's still got the emotional scars from his proverbial shot to her heart back in episode 4, and this time it's she who doubts Jae Ha's trust in her.
Episode 9 recap:
Bong Goo meets with Jae Ha and acts obsequious and solicitous. Despite his crazy eyes and over-the-top crying for the death of King Jae Kang, Jae Ha doesn't act freaked out that he's face-to-face with a madman. Bong Goo says its nice to see Jae Ha again, but Jae Ha doesn't recognize him. Bong Goo is taken aback, asking if Jae Ha doesn't remember him? He then laughs it off, saying it was over twenty years ago, of course Jae Ha doesn't remember.
They sit down to eat and one dish in particular brings up Hang Ah. Bong Goo asks if the King likes his North Korean fiancée? Jae Ha chides him for referring to Hang Ah that way, since it's not like Bong Goo knows her, plus the woman in question is going to be the future Queen. Bong Goo brings up the issue of trust, saying that there is a proverb that distrust must first come before developing trust.
Jae Shin is in the hospital, listening to music on her headphones and reading. Shi Kyung arrives bearing something covered in a white cloth. She doesn't notice him and he doesn't make his presence known right away. He notices one of her legs draped outside the blanket and hanging off the bed, so he tries to discreetly tuck it back in.
Jae Shin finally notices him and gets upset, continuing her behavior of not wanting to see Shi Kyung. She tries to move her own leg back and almost topples off the bed, and Shi Kyung goes to help her but she pushes him away.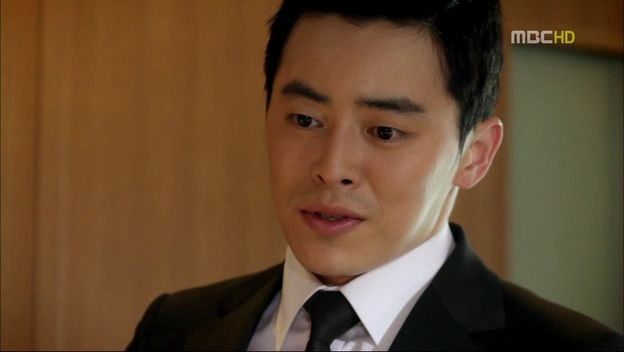 Shi Kyung pulls off the cloth on his present, and it's a bird cage containing a cute colorful parrot. This boy gives the best gifts! What's even sweeter is that this bird was once lame with a leg injury and everyone wrote him off. But the bird prevailed against the odds and began exercising by itself, and subsequently made a full recovery. This upsets Jae Shin, who asks if Shi Kyung is telling her to exercise harder then?
Poor Shi Kyung stammers, trying to get the bird to sing to change the subject, saying it sings like the Princess does. Sadly the parrot won't sing and instead squawks out the word "cripple" which is even more awkward. But this gets Jae Shin to laugh, saying the little parrot is more honest and courageous that the guy next to it? When the parrot is taken out of its cage, it climbs on her neck which makes her happy. She asks the parrot if its owner used to call it a cripple?
Bong Goo, whose motivations and actions continue to elude me, hands Jae Ha a present. It's the pen he used to stab little Jae Ha with during the fight where Jae Ha was protecting Jae Kang, and he's giving it to Jae Ha now as an apology of sorts. Jae Ha brushes it off as something he doesn't remember before tossing the pen back and walking away. Jae Ha says there is no way Bong Goo could have injured a member of the royal family. Jae Ha's response clearly riles Bong Goo.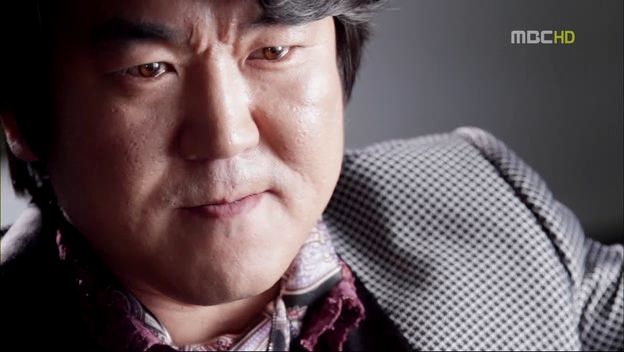 Bong Goo goes back to the old school and looks at the window. He tells his guard about him writing "I Am KING" on this frosted pane. He wonders why Jae Ha reacted back there by not reacting, claiming he doesn't remember it. He's been racking his brain to think of ways to teach that useless but arrogant Prince a lesson. Bong Goo vows to make Jae Ha remember, and he will show him who is the real King. Bong Goo decides to continue with his plan until he gets Jae Ha to remember. Dude, get a life, will ya?
Jae Ha grumbles to Secretary Eun about having to meet that clearly unstable Club M owner. Secretary Eun says Club M donated a large sum of money to the royal family for Jae Kang's memorial park. Jae Ha is really no dummy and he grills Secretary Eun on why Bong Goo suddenly donated so much money to the royal family? Jae Ha accepts it openly.
Secretary Eun calls Club M and speaks to Bong Goo's partner, asking what they really want? The man says they are just mourning the death of the King. The man tells Secretary Eun not to worry, he won't be asking questions like the whereabouts of the King's vacation destination. Secretary Eun hangs up the phone. Sigh, he's both stupid (in revealing the destination in the first place) and cowardly (refusing to come clean about it now).
There is construction going near the vacation home where Jae Kang died. The crew unearth a box buried in the dirt. What is this? A dinosaur dig?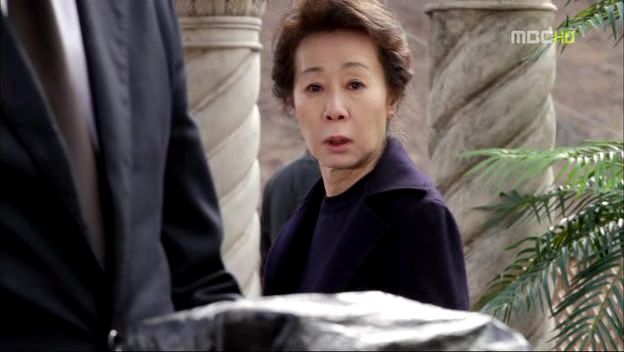 The Queen Mother is visiting the vacation home, where she stands before the sofa where Jae Kang and his wife died in their sleep. As she is leaving, she sees the black box being handed to Shi Kyung and asks what it is?
Shi Kyung goes to see Hang Ah and shows her the find. She opens the box to see a cell phone inside, and Shi Kyung asks her if this type is used by North Korea special ops. Okay, these elementary, nay kindergarten level bad guy antics are starting to annoy me. Unless it was a deliberate plant, which baddie (especially one with the ability to assassinate a freaking sitting King) would bury incriminating evidence. OMG, my heart hurts now, I feel brain cells dying.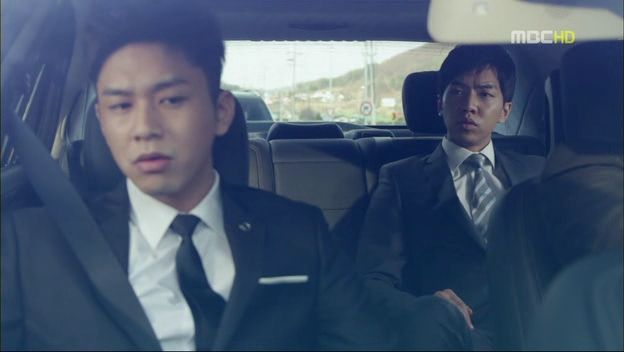 Jae Ha is headed somewhere with Dong Ha as his guard, leading him to ask where Eun Shi Kyung is? Dong Ha awkwardly informs him that Shi Kyung went to see Kim Hang Ah. Immediately we see Jae Ha looking slightly peeved, and then he immediately changes their itinerary and says he's going to see Hang Ah. He tells Dong Ha that matters related to Hang Ah, he wants Dong Ha to go in the future.
Hang Ah is still processing the contents of the black box when Jae Ha walks into her room. She immediately stands up to block the box, which brings her very close to Shi Kyung. Jae Ha teasingly asks if they are secretly eating choco pies behind his back. Thankfully Shi Kyung knows when to take his leave.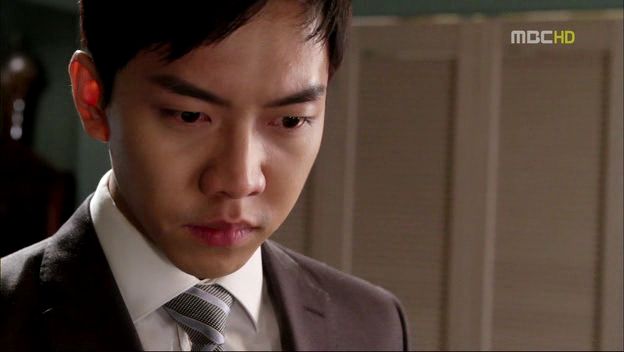 Hang Ah moves aside and shows Jae Ha the black box containing charcoal and a cell phone with it, along with what Shi Kyung told her about finding it. Jae Ha is stunned and takes the black box with him, but not before telling Hang Ah that this will lead to an investigation.
Queen Mother and Jae Shin watch the news, which is reporting on the discovery of a box at the site where the King died, containing charcoal and a North Korean cell phone. In the cell phone, it contains a high tech chip the EP-070 allowing for data to be transmitted without any phone or internet connection. Supposedly the North has announced to the world that it's created such technology. Jae Shin immediately goes to confront Hang Ah, asking if she wants to be Queen so badly she would off the King to make Jae Ha the King. Jae Shin further accuses Hang Ah of having such an ulterior motive when she is being nice to Jae Shin.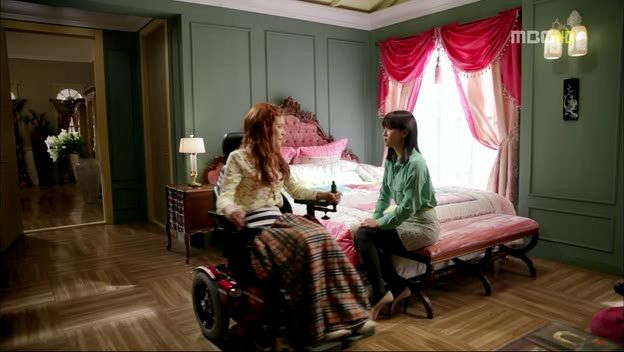 Hang Ah still had her wits about her and asks Jae Shin if she really doesn't remember what happened on the night her accident. Perchance she saw something at the King's vacation house? Jae Shin doesn't remember still and doesn't think it matters. Hang Ah says that she will not protect the North if her country truly did this.
Bong Goo confirms with his skanky female assassin about what went down with getting rid of Jae Shin that night. Assassin truthfully explains that she didn't touch Jae Shin, but it was outside of their control when Jae Shin unexpectedly jumped off a cliff. But since Jae Shin has lost her memory of that night, they have nothing to worry about.
Jae Shin and the Queen Mother are in the hothouse tending to the plants. Jae Shin tells her mom that she trusts Hang Ah and believes she is not involved with the death of Jae Kang. There is music playing that leads Jae Shin to have a flashblack to the female assassin, though it's fleeting and she doesn't see her face. This triggers Jae Shin to feel like retching, but sadly it does not bring back her full memories of that night.
Secretary Eun meets with prosecutors who discuss bringing Hang Ah for questioning to determine her involvement in the death of the King. Her appearance was shortly followed by the death of the King, what are the odds? Secretary Eun remains quiet and does not speak up. When Secretary Eun brings this up with Jae Ha later, Jae Ha immediately shoots down any possibility of Hang Ah being connected to the murder.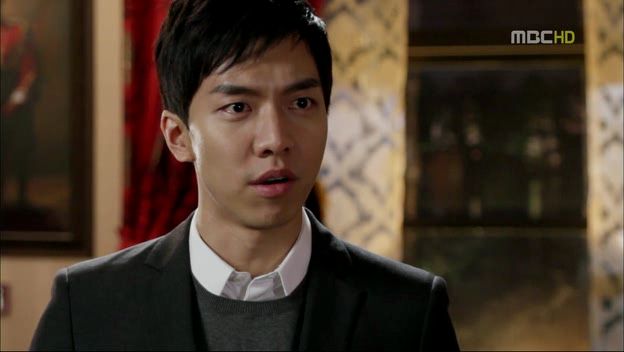 Secretary Eun openly says he didn't block the news about the discovery of the black box because he was never in favor of this marriage with a North Korean woman. Right now the public needs a scapegoat. Secretary Eun wants Jae Ha to send Hang Ah away, but Jae Ha flatly refuses because Hang Ah is part of the royal family now. Secretary Eun points out that Hang Ah is still a North Korean, and Jae Ha is supporting her because he likes her. Jae Ha wonders if there aren't too many coincidences dropping down, and its too early to say the North did it. Secretary Eun thinks Jae Ha is trying to protect Hang Ah because he likes her.
Hang Ah sits in her room and reads the media frenzy about the possible North Korean involvement in the death of the King. She hears a noise and thinks her dad is calling, and she tells the serving ladies that she won't be taking any calls from the North at this time. But its Jae Ha who walks in, asking her to have a drink with him.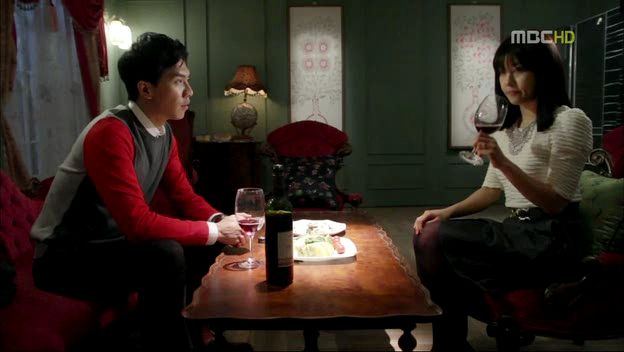 Jae Ha teases that the room still smells like alcohol from the last time they drank and got drunk. He discusses how her dad caught them kissing, and how he thought he was going to rightfully get a beat down for that. Hang Ah says she was so embarrassed she wanted to dig a hole and crawl in there. Jae Ha thinks she ought to hide since she's so easy. Hang Ah blames him, saying he gave her those longing looks first. Plus he was the one who made them drink with their arms entwined, which even she knows from her communications post means a wedding toast between a couple.
Jae Ha asks why Hang Ah concealed the black box when he first walked into the room, and Hang Ah honestly replies it was because the cell phone was used in North Korea. Hang Ah offers to go clear her name and to resolve the frustration in the minds of the people. If there can clear up this misunderstanding, that is all that is needed. Jae Ha agrees and tells her that he believes in her. But in the tiny possibility that this investigation unearths that she is even remotely involved, then he'll hate her so much he'll want to kill her. Hang Ah says she understands. She asks if she can call him by his name when they are alone, and she promises it won't come to that because she's not involved.
Hang Ah is dressed to go before the inquiry panel and she has to take a deep breath, telling herself that she's ready. The Queen Mother asks to see her. She tells Hang Ah that she believes the North may indeed behind this. But then the Queen Mother assures Hang Ah that she's not planning to give her up as a daughter-in-law. This is nothing, so Hang Ah needs to make sure she's pretty for her appearance and not cry since she's a member of the royal family.
Hang Ah sits before a panel of South Korean investigators as they grill her on her background as a special ops instructor in the North Korean army. Hang Ah declines to discuss specifics since its classified information in her country. She is asked about her dad coming to South Korea a few times, and communicating with her. They ask what was discussed.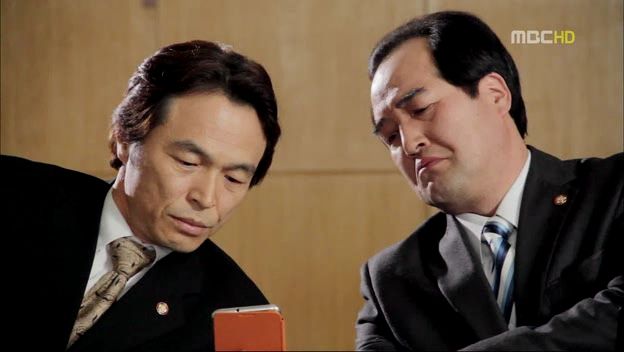 Hang Ah shows them her cell phone text from her dad, telling her that she is to follow the laws and customs of South Korea from now on. This is the reason she agreed to be investigated, she's following South Korea procedure from now on.
Hang Ah's father video conferences Jae Ha and reveals that the North Korean investigation into the treadmill bombs revealed that it was placed by Club M. This shocks Jae Ha, who tries to find out more information about Club M. Hang Ah dad scoffs that Club M is pretending to donate money now when they are likely more complicit. He reveals that Jae Kang was worried about Club M when he was alive, and must've kept records of that group.
When Jae Ha goes to access Jae Kang's files, its locked as confidential. Secretary Eun tells Jae Ha that the password would be something that Jae Kang has long wanted to accomplish. When Jae Ha tries inputting "reunification" or "children", he still can't crack the password.
Hang Ah finds Jae Shin waiting for her after she's done with her grilling. Jae Shin asks if Hang Ah yelled at the royal family when she was being grilled. Hang Ah teases that she didn't have time. When asked where Jae Ha is, Jae Shin says her brother locked in his room, likely sleeping since he's so lazy.
The North and South Korean officials are having a joint pow wow and involves arguing over whether the evidence was planted and who was really involved. A North Korean high official finally reveals in a closed door meeting that it couldn't possibly be the North which killed the King. Despite all media bluster about having developed high end cell phone technology, in truth it's all just lies and North Korean hasn't yet developed particular semiconductor chip found in the cell phone. They will soon, but not at this time. The North Korean official says that if South Korea leaks this news, North Korea will attack because this information cannot be revealed to the public. Shi Kyung and Secretary Eun are told about this revelation.
Bong Goo is bathing in his weird tiny little egg-shaped tub. Seriously? This is one character who should not get a bath/shower scene. EVER. He's unhappy to hear the investigation has stalled due to lack of concrete evidence to prove North Korea assassinated the King. He's upset that he believed the North Korean media boasts about developing EP-070.
When Secretary Eun and Shi Kyung meet with Jae Ha, Secretary Eun does not tell Jae Ha about the North Korean revelation that they have not developed the cell phone technology. His omission shocks Shi Kyung, who steps forward and contravenes his father, telling Jae Ha this new development. Secretary Eun orders Shi Kyung to step outside. This confirms for Jae Ha that the North is not involved, and he doesn't know why Secretary Eun keeps bad mouthing the North left and right.
Secretary Eun says that this exonerating evidence cannot be revealed otherwise the North will wage war on the South. They need to find another way to exonerate the North. The only way is to have Kim Hang Ah go through a public hearing and get this matter cleared up. Secretary Eun points out Hang Ah is smart and can handle herself. Jae Ha refuses, and he has to say no twice. The first time was already hard on Hang Ah and almost drove him crazy, he won't let her go through with it again. Afterwards Shi Kyung tries to talk with his father but Secretary Eun tells him to leave. Shi Kyung looks slightly distressed. Sorry sonny boy, your daddy is an evil loser.
Hang Ah is told her dad is calling but she doesn't want to answer to not make more complications. Her serving lady says the Queen Mother has okayed Hang Ah speaking with her dad. Hearing her dad's voice will make it more bearable on her right now. Hang Ah talks with her dad, who is upset for what his daughter is going through. He tells Hang Ah that the North has already provided evidence that its not involved, so putting Hang Ah through this ordeal is in insult to the North.
Hang Ah ends the conversation with her dad when Secretary Eun comes in and asks her agree to a public hearing. When Hang Ah asks if this is what Jae Ha wants, Secretary Eun lies that Jae Ha has tacitly agreed to it since he didn't object.
Hang Ah knows that all of South Korea hates her right now. She's scared to be before all those people. Secretary Eun tells her that she cannot be scared since she will one day be their Queen. Secretary Eun tells her to just say the truth. Hang Ah agrees to do it. When Hang Ah asks if this is what Jae Ha wants, Secretary Eun lies that Jae Ha has tacitly agreed to it and Jae Ha always to confirm that Hang Ah is telling the truth. Hang Ah agrees to the public hearing, she will do whatever it takes to satisfy them.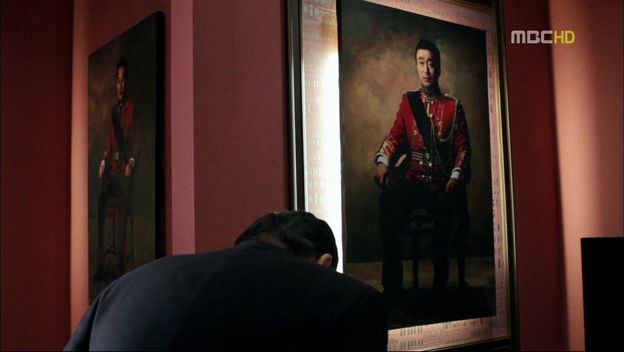 Secretary Eun bows before a portrait of King Jae Kang, apologizing and saying he's done his best. Secretary Eun tells Jae Ha that Hang Ah agreed to the public hearing, omitting his duplicity in getting her to that point. Jae Ha tells Secretary Eun to inform the prosecutors to treat Hang Ah with respect during the public hearing. The Queen Mother is so nerve wracked she doesn't want to watch the hearing on TV, but Jae Shin insists they watch to support her.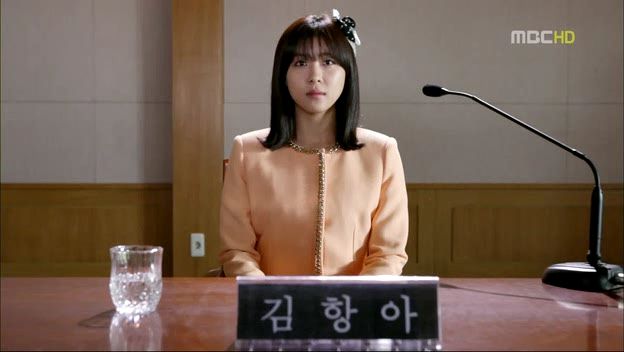 Hang Ah is asked about her impression of South Korea. She candidly answers that it's a country popular with its girl idol groups and has very warm and affectionate people. The questioning moves to the hard line where Hang Ah is asked which side she would support if there was a war between the North and South.
This line of questioning pisses Jae Ha off so he stalks off to corner the Prime Minister and pressures an end to this public hearing. He wants the information about the North not inventing the technology to be made public, there is no way the North will go to war for this. It's wrong to put Kim Hang Ah in the line of fire when they know she's not involved. He orders the information revealed otherwise he won't approve the upcoming salary increase.
Secretary Eun continues being a sneaky douchebag. After the hearing, when Hang Ah asks where Jae Ha. He says that the King left during the middle of the public hearing and went to meet the Prime Minister. Later Jae Ha meets with Secretary Eun and happily says that he did a good thing. He got the Prime Minister to seriously considering revealing the exonerating information. When Jae Ha asks to see Hang Ah, he's told that she's on the phone with her dad. Jae Ha says must be tired after the ordeal today and asks that she be well taken care of..
Hang Ah's dad calls Hang Ah and he bitches out Jae Ha for not protecting her and caring about her feelings. Hang Ah tries to defend Jae Ha, but it's clear there are cracks forming in her belief in him supporting her. Jae Ha comes to see Hang Ah and takes her elsewhere. When she enters the room, he suddenly turns around and fires a gun to her chest. Hang Ah wakes up from this nightmare.
The next morning, Jae Ha adorably brings breakfast to Hang Ah and looks around her room for her. He finds her sitting at her desk and asks if she's playing hide-and-seek with him so early. He jokes that her legs look quite long when she's sitting like that. She turns to stiffly to face him and asks where he was yesterday during her public hearing. Jae Ha teasingly says it's a secret and he'll tell her later. But this just hurts Hang Ah even more, thinking that he doesn't support her and care about her.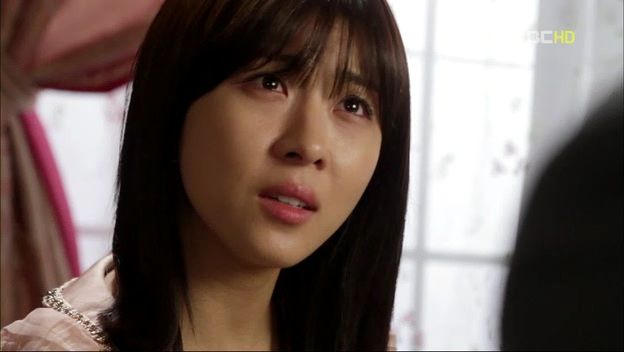 Hang Ah asks if Jae Ha was out drinking and with woman all night. That's him, right? He spent thirty years as a useless playboy who just knows how to have fun and now he's King in the blink of an eye. No, not a playboy, he's garbage just like he called himself before. She sarcastically apologizes for using the word garbage since Jae Ha must be sensitive to that. But perhaps it should be made public to the people of South Korea that their King is just trash.
Hang Ah asks Jae Ha if he likes her? Jae Ha replies that he likes her. Because she's gullible and easy to mock since she came from the North. Calling himself garbage in front of her was because he trusted her and showed her his weakness. But now she's using this as a weapon against him. He gets upset and says that in the end she is just a North Korean woman who dares to now mock the King of South Korea. In that case, she needs to go back to North Korea now. Hang Ah stares in shock and calls him Comrade Lee Jae Ha (as opposed to Your majesty), but Jae Ha turns and storms out.
Thoughts of Mine.
No, I don't think Jae Ha sent Hang Ah back to North Korea for her own good. I genuinely seeing these two having a long overdue spat about the issue of trust. Hang Ah is nowhere near getting over Jae Ha shooting her, and Jae Ha hasn't seriously delved into stepping in Hang Ah's shoes and seeing how difficult things are for her. He's still playful at times, and charming when he wants to be, but ultimately he hasn't matured so quickly as to shed his tendency to lash out when he's hurt and attacked. Hang Ah picked at his insecurity and self-doubt about himself, Jae Ha reacted by saying hurtful words and then sending her away. He still places his own feelings first, and hasn't yet learned to understand Hang Ah's reaction could be stemming from something much greater than what she is saying.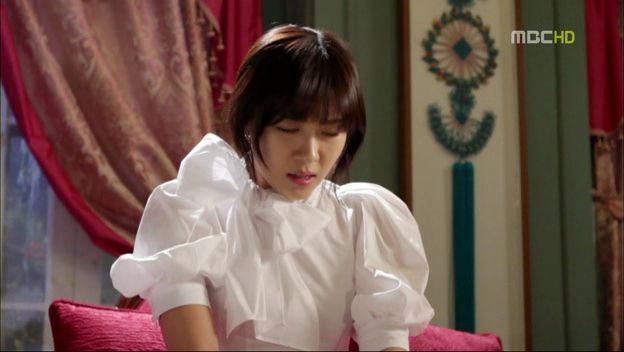 I just hope the story doesn't have Hang Ah coming to South Korea, going back to North Korea, and then repeating this ad nauseum in order to generate a separation of the OTP. I think Hang Ah needs the support network of her comrades, and a trip home is probably good for her emotional well being. I was really happy to see Hang Ah being so strong in the episode. When she is doubted, when she is questioned, when she is placed in the line of fire, she reacts with her head held high and doesn't crack under pressure. That is the North Korean kick ass soldier in her that we are seeing. But there is still the very girly and emotionally inexperienced side of her which comes out when she's alone, which makes her doubt Jae Ha's trust in her.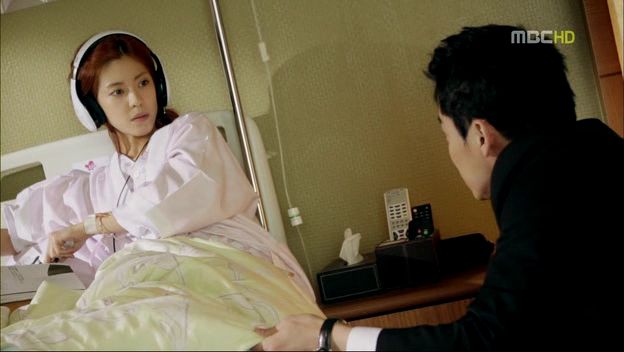 I continue loving all the side characters (aside from the villain posse), from Jae Shin and the Queen Mother's support for Hang Ah, to Shi Kyung's attempts to draw Jae Shin out of her withdrawn shell. His gift of the parrot was considerate and sweet, and his straight laced personality makes many scenes with him filled with unintentional laughs. I'm so looking forward to Shi Kyung and Jae Shin becoming friends, and then falling in love. I think once Secretary Eun's misdeeds come to light, it'll really test their relationship and hopefully they can weather it.
Its becoming increasingly hard to ignore the laughably manufactured political intrigue with respect to Club M (the North-South tension remains well done). Bong Goo isn't scary, or as smart as I thought he would be. With his motivations still unclear, it becomes a chore to slog through his scenes. The planted black box evidence is SO FREAKING DUMB I simply have no words. Who would even believe for a second that a hard core North Korean special ops team who assassinated the King of South Korea would then bury a box containing all the evidence conveniently pointing to their misdeeds? And who buries evidence in this day and age? Rage at the stupidity in writing this sequence of events. What's really anchoring the drama is in the discussion of North-South political and cultural divides as expressed through the lens of Jae Ha and Hang Ah. They are bridging over 60 years of differences and a relationship that is at times volatile but always emotionally raw. I just want to see them united to kick some Club M butt, along with the rest of the WOC team.