I'm so invested in the WOC storyline in The King 2 Hearts its not even funny. Initially I thought it was a hokey way to bring the leads (and North-South Korea) together, but in truth the first four episodes showed how compelling the premise could be. The united Korean WOC team is totally like the Jamaican bobsled team, not supposed to exist and mightily out-classed, but gosh darn it they are going to give it their all. I eat such feel good stories up like cat to cream. Doesn't hurt that wuri King Jae Ha looks smoking hot in his WOC uniform, has his wifey Hang Ah by his side as a fellow teammate, and gets to goof around with the rest of the gang like they are heading to scout camp rather than competing in war games. I suppose this will have to do for the next few hours. TK2H episode 13, come to momma!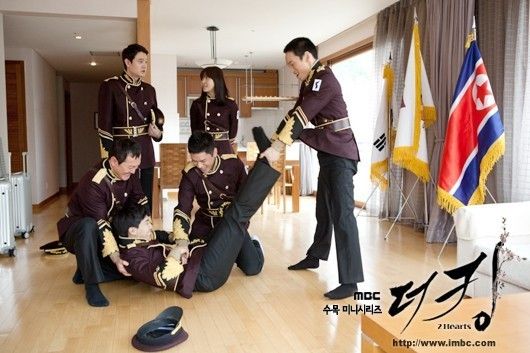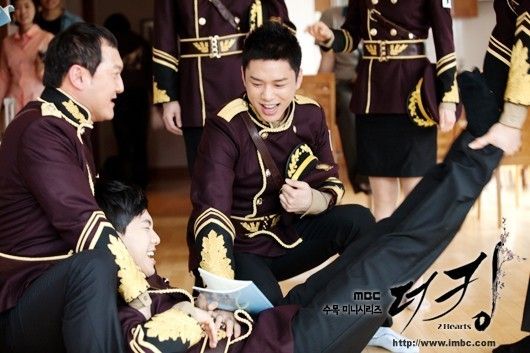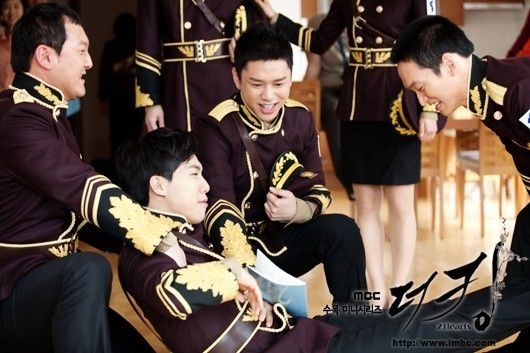 *giggles* Oh Seung Gi, you really can't keep you hands off her, can you? The c-netizens have compiled a laundry list of moments called "Look at Jae Ha's hands", which pretty much show the boy touching Hang Ah anytime he gets a chance. It's brilliant. Pictures can't lie.
Looks like Jae Shin will become the Queen during Jae Ha's participation in the WOC. I hope the royal constitution allows temporary abdication. Oh who am I kidding? Bring it on, drama, even if it makes no sense!