Not all dramas are created equal, but some dramas are more equal than others. Got that? Don't make me slap you upside the head with a big stick of Orwellian allegory. Heh, just having a bit of fun because I'm in a cheeky mood. As I've been swept up into a fervent appreciation and affection for The King 2 Hearts, naturally desire to watch other dramas decrease. It doesn't hurt that I find most of the other currently airing dramas middling-to-dreadful, so I don't feel like I'm missing out by being an one-drama kinda Koala. But I have been covertly hoarding a drama to start once TK2H got close to wrapping up, because it was a drama I was fascinated by when the previews were released and has only gotten rave reviews from the general drama watching population since it premiered.
I finally caved this week and marathoned Queen In Hyun's Man, and by golly sweet molly is this one fantastic drama. Exquisitely presented, intelligently written, and lovingly nurtured, even half-way through QIHM looks on track to be a keeper and winner. Ji Hyun Woo, who I've always liked since I watched him in Invincible Lee Pyung Kyung, hits one out of the park as Kim Boong Do, time traveler and sensible yangban extraordinaire. It wouldn't be an exaggeration to crown him as one of the best male drama leads ever written. This drama rises and falls on his trials and travels, but the unexpected and wholly grounded love story between him and modern actress Choi Hee Jin brings the heart flutters needed to cook up an unforgettable love story in the making.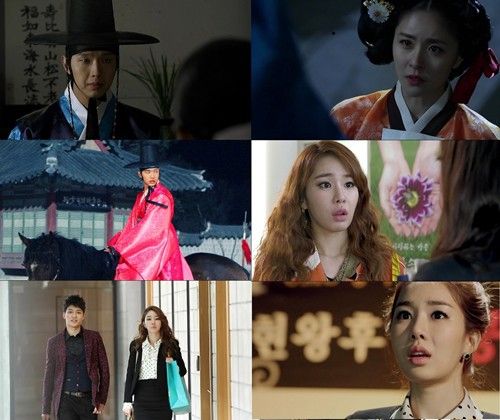 The drama expertly balances the modern and Joseon era stories, both of which are engaging and entertaining. QIHM works as a cohesive fantasy story because it takes its time to develop the characters as opposed to cooking up one quippy interlude followed by another to generate plot. I'm not a fan of screenwriter Song Jae Jung's last drama Coffee House (okay, I hated it, even more so because it was so full of itself), but she's completely tossed out her penchant to be quirky with the realization that sincerity is what sells characters and gives a story its heart. The dialogue in QIHM isn't peppered by one-liners and shocking revelations, its simply people conversing in the normal course of what they are doing. It feels honest, allowing the fantasy elements of the story to take center stage.
The story revolves around Joseon scholar Kim Boong Do. I keep seeing his name miswritten here and there as Bong Do, and normally that's a minor mistake, but here it makes a huge difference. "Boong" is a very very old-fashioned character in a person's name, and in the drama Boong Do is constantly being subtly mocked by the modern characters around Hee Jin when they hear his name. It's like meeting a modern man with an old-fashion Colonial-era name. Calling him Bong Do just doesn't have that extra added "he's a country bumpkin" kind of association with Boong Do, though in Joseon times his name is perfectly appropriate and respectable for a yangban.
Living during the reign of King Sukjong, Boong Do is a supporter of cast-aside Queen In Hyun, a combination of being on the side of moral right and because his entire family was killed when the Queen was deposed. In the beginning of the drama, he discovers a plot to murder the Queen and he heads to protect her. Before he leaves, he's given a talisman by a gisaeng Yoon Wol, who was formerly the maid of his dead wife. She's gotten it from the temple and says it will protect Boong Do. When Boong Do goes to save Queen In Hyun from the assassination attempt, he's placed in mortal jeopardy when the assassin gets the upper hand on him. Just as Boong Do is about to get a sword through the chest……vroom, he zaps 300 years into the future and lands on the set of a drama about the life of Queen In Hyun.
What makes QIHM so compelling and well-plotted is that the modern and Joseon-era storylines progress in tandem and both are so interesting. Boong Do might be the most logical and practical hero I've watched in god knows how long, calmly and sensibly approaching even the most baffling of impossibilities – time travel. When he lands in modern Seoul, the first person he meets is Hee Jin, and thereby starting their intertwined fates. In short order, Boong Do bones up on the history books and reads about what happens to Queen In Hyun. Then he figures out how he managed to time travel and how to use the talisman to go back and forth through time. Hee Jin also quickly believes his story about being a Joseon scholar due to his understated and hilarious fish-out-of-water reactions. She finds herself helping him time and again because he asks so nicely, and she'd be deaf and blind not to notice what a stellar guy dropped into her lap from the sky.
Watching the drama, I'm struck by how enchanting it is. The cinematography is to-die-for and the OST is magnificent. This drama comes across as beautiful, inside and out. It's not glitz for the sake of covering up a lousy story, nor is it a good story buried underneath shoddy directing. It doesn't aim beyond this finite world of a time-traveling Joseon scholar who falls in love with a modern actress, but that is more than enough story to fill the four-corners of this narrative. All the secondary characters serve a narrative purpose, but are not painted to be caricatures aside from distinct personality flourishes. I especially love Hee Jin's manager and her ex-boyfriend Hallyu star Han Dong Min.
But let's not lie and say we're watching this drama for anything other than the OTP of Boong Do and Hee Jin. What they have is something special. A connection borne of something impossible, but a romance growing from something real. Set aside Boong Do and Hee Jin being from different eras, and what remains is a completely understated yet oh so sweet and tender story of two people falling in love. He's polite and capable, she's kind and sparkling. He's amused and appreciative of her, she's intrigued and attracted to him.
Despite all signs pointing to "No, do not fall in love when time traveling, nothing good will come of it", they gradually fall in love in non-angtsy ways. She likes him and she tells him. He absorbs it and accepts it, willing to take a chance on a romance that shouldn't have happened. I love how functional they are, walking the path of two people falling in love like it's normal, filled with positive possibilities, and comes equipped with all the heart pumping moments where a look or a smile can just light up the heart. They don't fight against their feelings, they acknowledge the attraction and try move forward with it.
I've watched half of this drama, finishing episode 8 and then sitting back with a satisfied sigh. It's so rewarding to be captivated by a story, to connect with characters onscreen, to be invested in the outcome of a drama. What's even better is that I have complete faith in the screenwriter to build on her story and then bring it to a compelling conclusion. The acting has been solid across-the-board, with the two leads evidencing copious amounts of chemistry with each other and really bringing their characters to life. This is the most attractive I've ever seen Ji Hyun Woo onscreen, and Yoo In Na fairly radiates sunshine and sass.
What more is there to say about QIHM? This drama is DAEBAK, flushing that other time-travel atrocity Rooftop Prince down the drain where it ought to reside, in the bowels of forgotten dramas that suck. I can't say the time travel logic in QIHM's is airtight, but at least it's integral to the story and the screenwriter doesn't just use it as a convenient plot device. Boong Do needs to time travel to save his life, and in doing so he's discovered that he can use it to accomplish his purpose to right the wrong perpetrated on Queen In Hyun and avenge his family's death. And within eight episodes, he does just that. My hero. *swoon*
Then the drama takes an unexpected turn and drops the time travel bit on its head. At the end of episode 8, we're left with a big "what if" moment and a possible redux of everything that has happened since the OTP met. What's marvelous is how the drama has sucked me in by then, so I'm flailing around dying to know what's to come and wondering how it all ties together. Boong Do, ever the man of careful thought and rational analysis, wonders early on why he met Hee Jin when he time traveled. It's a question I'm sure will be answered, but has greater ramification than a plot device to make them fall in love.
QIHM's creates realistic interactions despite its fantastical premise, and that is the hallmark of a great fantasy-based story. The fantasy element is a plot trigger, but what drives the story forward are the well-written characters and their fates. Beyond caring about the OTP getting together, I care about Boong Do's future in the Joseon era just like I care about Hee Jin's reinvigorated acting career. We have two main leads that are decent and good people, with nary a hang up or neuroses. They are refreshingly down to earth and watching them interact actually turns me into a blushing school girl smiling widely from cheek-to-cheek. With eight more episodes to go, I'm treating QIHM like the rarest of treasures – a drama that just might be fantastic from start to finish.
* Note – Haha, no, I didn't forget the apostrophe in "Hyun's" above in the post title. I'm not that terrible at grammar. I left it off on purpose since an apostrophe in the title disables the comment tracking function, which folks appear to love.