It's spine tingling to consider how far we have come since that scene at the end of episode 1 of Big, when Da Ran asked in shock whether he was Kyung Joon, and her face fell when he answered yes to her question. How can I not love a drama that spends the majority of its time actually showing us an OTP that falls in love so believably that when Da Ran asks Kyung Jae at the end of episode 10 if he was Kyung Joon, and he answers yes, the way her entire body and soul just sags in relief made my tear ducts break open and started watering my keyboard.
Since I'm on a roll with analyzing Big, parsing all the clues and sussing out the connection between Kyung Joon and Yoon Jae, it's time I dropped my prediction for the ending. I don't care if I'm right or not, but I worry that if I'm right and people aren't prepared for it, there might be shrill screaming and sharp knives whipped out. I went through this with 49 Days, and my gut tells me Big is in fact going down the same path and following the same trajectory. So its probably time to start bracing ourselves. Good or bad, I firmly believe this drama has got its act together and the remaining six-episodes will bring everything to a meaningful conclusion.
I've not thought much of the similarity between Big and 49 Days since the premise is so very different and the lesson it wants to impart wholly unrelated. 49 Days was telling the story about treasuring the miracle of life. Instead of dwelling on the past or shallowly wasting the life we are given, watching the drama we are forced to acknowledge how messy interpersonal relationships can be yet come away with the realization that the very gift of life should be treasured even when it comes with pain, suffering, and unfairness. I won't go into discussing that drama in depth since I recapped it and there are 20 episodes worth of my thoughts on it. Suffice to say I loved the ending, because I knew it was coming and understood the writer was setting it up that way. Those who hate it felt betrayed, but I saw it differently.
The last 2 episodes of Big have really popped a light bulb in my brain, inching closer towards the strong possibility that the Hong Sisters want to borrow some narrative conceits from 49 Days while delivering their own distinct message. Hear me out – I think the ending of Big likely will involve Yoon Jae dead (body and soul) while Kyung Joon remains living in his own body. Why? Because this was the point of the soul swap in the first place. It wasn't just to save Kyung Joon from literally drowning at that moment, it was the Heaven's way of setting up Kyung Joon to take Yoon Jae's place permanently in a non-fantasy way though sacrifice and love.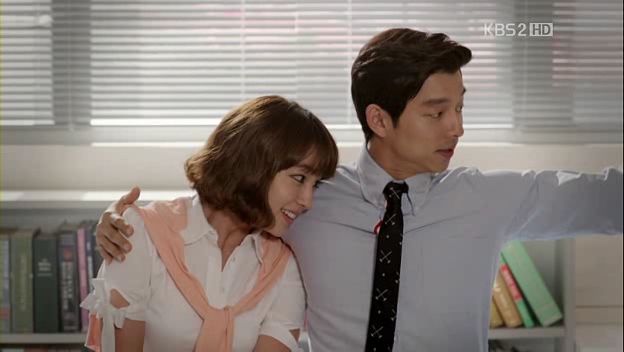 What's the basis for my theory? This gut feeling that Yoon Jae is sick. Again. That is the real reason he was hesitant about marrying Da Ran, why he kept blowing her off time and again, why he was going to LA. He was going to find Kyung Joon again and perhaps convince his younger brother to save him. Or maybe not, maybe he just wanted to bring Kyung Joon home since pretty soon his parents would be without a son. If he was just going to LA to look for his younger brother Kyung Joon and Yoon Jae wasn't getting sick again, it's not terribly convincing that he would keep Da Ran in the dark. He's not a cheater (I never thought he was), and he just doesn't strike me as a non-committal douchebag. But his decision not to tell Da Ran the truth hurt her, and perhaps he thought a hurt in the short term was better than one in the long term should he marry her and then kaput off and die.
Kyung Joon was conceived to save Yoon Jae's life, which means Yoon Jae already got a Miracle at the age of 12 that allowed him to now live an additional 18 years beyond when he should have already gone to meet his maker. Yoon Jae's life was a gift, and he has made the most of it. He is shown to be kind and giving, and I don't discount that. But my gut tells me Yoon Jae is living on borrowed time, and whatever disease he had, the transplant might not have been a permanent cure. Remember Yoon Jae's mom telling Se Young "As long as Yoon Jae didn't get sick again, I planned to never see that child (Kyung Joon) ever." This was a loaded declaration not just to show us how cold Yoon Jae's mom is, but a foreshadowing.
The genius of the 49 Days soul-sharing-one-body narrative worked in so many ways. On the surface it was about Ji Hyun earning resurrection, but in truth it was about Ji Hyun learning the true value and meaning of her life. By choosing to use Yi Kyung's body, we discover later that they are sisters, and Ji Hyun's second chance at life had the additional purpose of bringing Yi Kyung out of her severe depression and reuniting her to their parents. When Ji Hyun died at the end, it was Yi Kyung who took her place and brought comfort to their parents. And all of that was premised on the very unchanging fact that Ji Hyun was always supposed to die on a certain day. Her accident sped up her "death" so she had a chance to earn resurrection, but in doing so, she discovered that when her scheduled day arrived, she still had to go. But she spent those 49 days putting everything in order so that she left having done everything she needed to do.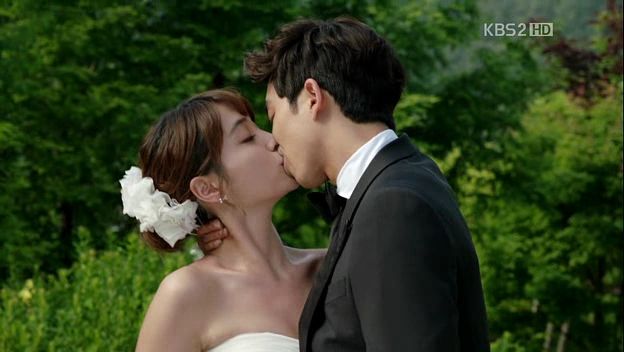 I see the soul swap in Big having the same purpose, albeit for a different reason. If we accept that Yoon Jae is going to die regardless, then the soul swap was both to save Kyung Joon from drowning as well as for Kyung Joon to take his rightful place with the Seo family. Kyung Joon was a full-blooded son of Yoon Jae's parents that was conceived and then discarded. Now that his surrogate mom has died, Kyung Joon needs to learn that his real set of birth parents are around and he still has a family. This soul swap allowed Kyung Joon to spend time with his real mom but in the guise of Yoon Jae. This will matter later when Mom tries to act like she doesn't care about Kyung Joon, but will be floored to discover that she's lived with Kyung Joon for the last year. Mind. Blown.
Similarly, if Yoon Jae is going to bite it, leaving Da Ran at the altar would be a martyr way of keeping her from more pain. But the soul switch set up Da Ran to fall in love with Kyung Joon in a way that could never have happened without it, because of their teacher-student label and age difference. Of course Da Ran's parents overcame it, but Da Ran doesn't quite have her mom's moxie and I can't see her defying convention to be with Kyung Joon. But now I can see it. I don't care if Da Ran will try to suppress her feelings for Kyung Joon, because she's not going to succeed. I think in the end, she will be asked to deal with her feelings for both guys, and the realization that despite any guilt she may feel towards Yoon Jae, it's Kyung Joon that she loves.
I don't think the drama will end with Kyung Jae as the end game anymore. It's just too unfair for Kyung Joon to wear his brother's body for the rest of his life, and be known as Yoon Jae to the world. I also don't think Kyung Joon was meant to be a doctor, though he might go down that path. I think the doctor calling was always Yoon Jae's dream after being saved when he was young. With the soul swap, Yoon Jae is setting up Kyung Joon to take his place – with their parents, and with Da Ran. I have a feeling Yoon Jae's body keeps trying to kick out Kyung Joon's soul maybe because the body is failing. I still have this niggling sensation that Yoon Jae is either is his own body as a silent observer, that he somehow knows everything going on.
Kyung Joon probably can move in Yoon Jae's body because Yoon Jae's body contains part of Kyung Joon from the donor surgery. Whereas if Yoon Jae's soul was in Kyung Joon's body, maybe he can't "live" in it because the same element doesn't exist the other way. Kyung Joon's body does not contain anything of Yoon Jae, hence Yoon Jae cannot operate that physical shell. Remember the nurses saying that Kyung Joon appears perfectly fine so they are all confused why he doesn't wake up? I think THS has really put a lot of thought into their story and all the clues have been baked into the details so that when the shit hits the fan, it will all make sense.
I've said this since episode 1 – this drama is about Kang Kyung Joon the character. Forget Gong Yoo, Lee Min Jung, Shin Won Ho, just let go of the actors, of the outer shells. Gong Yoo is doing an ahhhhhhmazing job so far as Kyung Jae, but I don't think as a thespian he'll insist that his face gets the girl at the end, either as Yoon Jae or as Kyung Jae. He strikes me as striving to be an actor's actor rather than an idol movie star, so I can't see him insisting the writing be subverted so he is the end game. This drama rests on Gong Yoo's shoulders, to be sure, but the heart of it is the soul of 19-going-on-20 Kang Kyung Joon. If my theory is right, when Yoon Jae wakes up is when I'll finally be able to see his character as more than just wallpaper.
Despite what THS did in Hong Gil Dong, I don't find them sadistic for the sake of grounding in the pain and suffering. Big is about growing up, about Miracles, about sacrifice. We see Kyung Joon maturing before our eyes, we see him sacrifice for Da Ran. We see Da Ran maturing before our eyes, we see her sacrifice for Kyung Joon. This OTP is fundamentally walking the journey of life together even if they don't yet believe or acknowledge it. If this was a dark melodrama, I would say THS would kill off Kyung Joon at the end, making his life a complete and utter dark pool where he was conceived to save another and in the end gives his life fully to save Yoon Jae again. But I don't believe that will happen. Because if it does, somewhere a rocket will be launched towards South Korea with the coordinates set to a certain writing duo's home.
I'm fairly convinced that Yoon Jae's life was at risk again and this soul switch was to allow Kyung Joon to step into Yoon Jae's place – as son to the Seo parents and as the man who Da Ran loves. And no, I don't think this is unfair to Yoon Jae AT ALL. Without Kyung Joon, Yoon Jae would be dead at 12 and that would be the end of our story. I think Big is about sacrifice and love, just as Professor Bang said about the story in the Miracle book. Kyung Joon was sacrificed to save Yoon Jae, born and then given away. The soul swap is Yoon Jae's sacrifice for Kyung Joon. And when they both are awake and back in their own bodies, they will learn the full truth and deal with the consequences.
In what I postulated above, that is actually the easy way out. I think the harder proposition would be if both Yoon Jae and Kyung Joon survived. Imagine if Kyung Joon can once again save Yoon Jae, and he does so thinking that his Gil Teacher wants Yoon Jae back. But his Gil Teacher wants Yoon Jae alive merely because she cares about the poor guy, but she's now in love with Kyung Joon. So imagine the mess of epic proportions if both brothers end up alive AND Da Ran fights for the chance to be with Kyung Joon. I can imagine the apoplexy fits from both the Gil and Seo families. To be sure, this scenario is what I would like to see. Because there is nothing wrong with Da Ran and Kyung Joon falling in love. Relationships should not be premised on guilt, and Da Ran can end things properly with Yoon Jae so that she can be with Kyung Joon. We all know she barely did anything with Yoon Jae, I'd say the awkwardness meter should be quite low.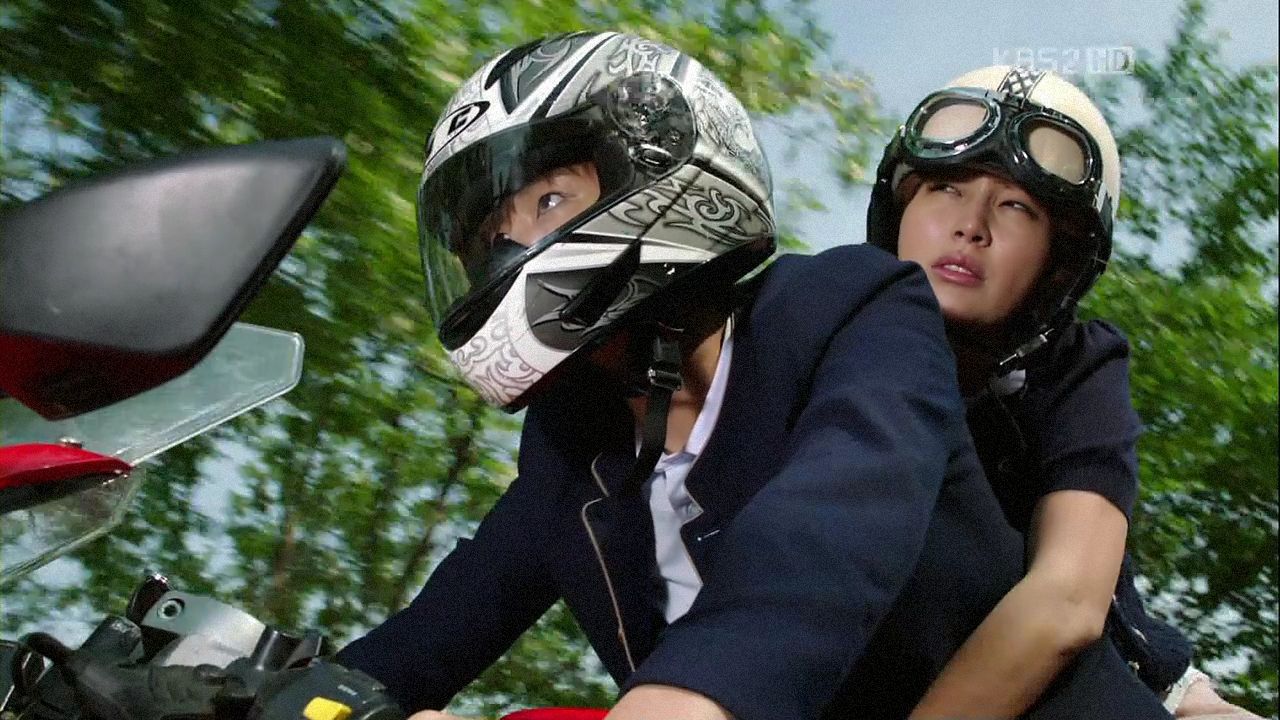 Even if Yoon Jae lives, he would want his younger brother and the woman he loves to be happy since they are in love with each other and he's the odd-man out. Like I said before, Yoon Jae is the quintessential second male lead. A hallmark of a second male lead is that he gets shafted, plain and simple. He might be better for the girl, love her more, be more considerate of her, but at the end of the day, the girl doesn't like him back. What appears to get many Big viewer's brain's in a twist is the fact that Gong Yoo's drama character Yoon Jae is the second lead, but Gong Yoo is still the main actor in the drama since he spends the majority of it as the male lead Kyung Joon. I'm actually rooting for THS to allow both guys to survive, and make Da Ran and Kyung Joon break through every single obstacle so they can be together.
I'll share a not so surprisingly fact – I've been rewatching episode 1 of Big at least once a week since it aired. It reminds me that Kyung Jae is really just Yoon Jae's face but that precocious 18 year old boy's soul inside. The time jump back in episode 5 was to bring him thisclose to legal adulthood, and with it THS set up the student-teacher relationship only to tear it right back down themselves. Big was never a standard rom-com despite looking like one on the surface, and it was definitely far outside THS's usual repertoire. Is it good or bad is not for me to declare. It startlingly works for me, and that's really all that matters in forming my own opinions.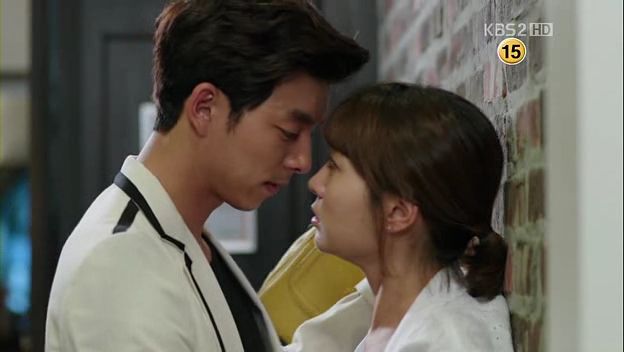 I was never a fan of their works because of their puns, quips, and hyperactive slickness. I liked some of their dramas because of the leads, others for a fun story, and most of the time it was like a fast food meal that hit the spot but would never leave an indelible memory. Big is their outlier, and has become a treasured little gem in a sea of drama built on dialogue driven banter for the sake of getting characters to form shallow connections. I feel like THS might be in that awkward adolescence phase with Big, but I see it less for its flaws and more for what it aims to be. Just like teenager Kyung Joon aims to be an adult for the sake of the woman he loves, so too have THS tried to share a beautifully touching story about love and sacrifice with us all.