Hold your horses people, the recap for episode 4 of Rich Man, Poor Woman is a-coming. Until then you can whet your appetite on the preview for episode 5, which shows us that the challenges are mounting for Hyuga and his grand personal data registry. One one side is Asahina, clearly peeved about Hyuga blocking his strategic alliance with the more established IT company, and on the other side is the emergence of competition for the project itself. Just because Vice Minister Fujikawa likes Makoto doesn't mean Next Innovation has a lock on being the winning selection. But I'm not worried, because Hyuga strikes me as a man who relishes competition and doesn't back down from unforeseen complications.
In this mix of thrumming business activity comes the growing love triangle between Makoto, Hyuga, and Yoko. I love how nebulous it all is, where the interest is clear but not overpowering, so that the characters can spend time together without a lot of nervous expectation. I would say Yoko has a head start and clean shot at Hyuga, so I expect Makoto to stop just crushing on him and start being a little more proactive on the romance side. She's already one kiss behind, and if she wants to stop being so meek, she needs to grab the next one before her love rival scoops up the man of both their dreams.
Written preview for episode 5:
Hyuga and Makoto take the same elevator and Makoto is unusually quiet as her mind flashes back to seeing the kiss between Hyuga and Yoko. Which is when Yoko enters the elevator and the unsettled Makoto finds an excuse to quickly get off. Which leaves Hyuga and Yoko in the same elevator where there the atmosphere is prickling.
Hyuga starts to test the new interface for the personal data registry and heads to the countryside for beta testing with the team. They discover Aoyama growing tomatoes in the countryside, and he turns out to be a programming genius that suddenly retired years ago. He also happens to be Makoto's online pal.
A few days later, Makoto and Hyuga's beta testing at the countryside gets very unfavorable responses since people are not familiar with computers and don't understand how to use it. As everyone is worried about what to do, they hear that the other IT company has formed a project team much larger than Next Innovation's to develop their own personal data registry interface.
Asahina is surprised by something and tumbles down the stairs. Hyuga visits him in the hospital and is very worried about his accident. Hyuga tells Asahina that he's met with Tono, one of the original employees of Next Innovation. Makoto does a favor for Asahina and brings books to Yoko's restaurant, where she sees a smiling Hyuga there……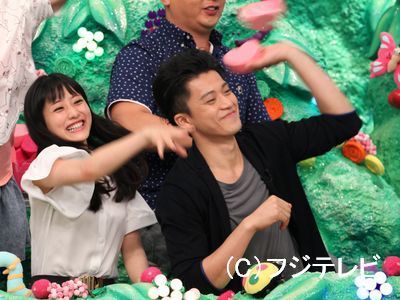 Now for some cuteness from the cast of RMPW. Here they are promoting for the drama on various talk shows. Ishihara Satomi revealed that she first worked with Oguri Shun on the Taiga Yoshitsune back in 2006 when she was a teenager so its rather weird for her to now have a chance to play his love interest. Shun confirmed that this drama is Japan's take on Pretty Woman (clearly minus the whole being a prostitute part), and can I say how thrilled I am he's back playing bona fide leading men. Tokyo Dogs was really his last legit television character. Check out the picture below and squee over how tinycutetiny Satomi is next to Shun. She's one of the shorter actresses in her generation, and he's easily one of the tallest leading men around. I need them in the drama to stand next to each other more. Sigh.
For those of you new to J-ent, Oguri Shun was the original flavor Hanazawa Rui in HanaDan before Kim Hyun Joong did it in Boys Before Flowers, and truly it was by the grace of pure acting intensity that Matsumoto Jun was able to sell us Domyoji because on looks and height…..no comment. It's such a travesty that the first time Shun was able to work with Inoue Mao again was in Summer 2010's giant stinker Juui Doolittle (brain = died). Anyways, the media is totally harping on how RMPW is Shun's first project since he and Yamada Yu admitted they had secretly gotten married earlier this year, after not-so-secretly dating for the past four years. This was the biggest 2012 couple's news in J-ent until scandal-prone Akanishi Jin announced his shotgun marriage to Kuroki Meisa (who worked with Shun in Crows Zero, come to think of it). I don't know why, but the way Yamada Yu smiles resembles Satomi a bit and I think its cute Shun gets to work with his wifey's little mini-me. Anyways, there is Yu flashing her ring and her smile at the press conference where her marriage to Shun was confirmed earlier this year. That girl could not possible smile any wider with her happiness. Lucky wench, heh. *so jealous*