Whenever I travel around Asia I love to watch network television not for the programs but for the CFs. The commercials are always fun and colorful, and also gives me a better idea of who and what is popular. Mike He has been notably absent from TW-dramas for the past year since he wrapped Love Keeps Going (so bad I don't even want to talk about it), so it was a happy surprise to see him pop on the screen together with hottie-du-jour Chris Wang hawking Men's Biore skin care products. Since I'm neither a man nor a user of Biore, I'm not exactly the demographic these two are meant to appeal to, but I'm wondering if men would clamor for those products in hopes of morphing into ridiculously good looking Mike or hot cutie Chris. Or maybe the ladies of the household will watch the CFs and run out to the nearest Watsons and buy Men's Biore to turn their man into dreamboats like those two. I think its cute that the two of them are paired up for this particular ad campaign, because I have pretty much the same impression of both of them. Good looking nice guys with decent onscreen presence who act well only when picking the right part. It's also funny that both of them released photobooks last year that included almost-nude pictures that I'm sure sent the housewives tittering well into the night. I hope to see both of them back onscreen soon, though come to think of it, Mike ought to be enlisting soon since both Joe Cheng and Ethan Ruan have finally enlisted.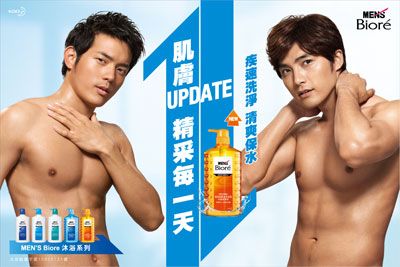 That's, uhm, a whole lotta naked chest on display. Not that I'm complaining. No sirree.
Men's Biore CFs:
© 2012, ockoala. All rights reserved.