Sometimes I wonder what would have happened to Jang Geun Seok's career had he not starred in You're Beautiful. That drama may have tanked in domestic ratings, but was a raging overseas success that catapulted Jang Geun Seok into widespread recognition. It also introduced the world to crazy hair/attire Jang Geun Seok, a sort of cross between a Johnny and Lady Gaga. Perhaps it introduced him to that look as well, because he's stuck with it for the last three years and appears to be as interested in pursuing a singing career as an acting one. If he hadn't made YB, I think we'd be seeing more of the Jang Geun Seok that did Beethoven Virus and the movie The Case of the Itaewon Homicide, a rising young actor picking grittier fare with an eye towards working with experienced and lauded co-stars. I look at his just released pictorial for the October issue of Bazaar Korea which was shot on location in Paris, and I'm feeling ambivalent about what I see. I love the sepia tinted Paris backdrop, and I see Jang Geun Seok trying to project a more manly image, but he's just so physically scrawny these days I can't take him seriously. I think the answer is for someone to feed him for a few months and then release him back into the entertainment world. I'd love to see a buffed up short hair version of Seok again.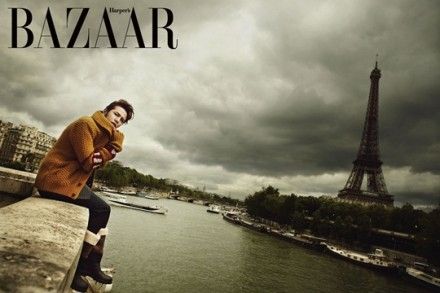 [Credit: Bazaar Korea]
© 2012, ockoala. All rights reserved.