This true story celebrity friendship is just too good not to share. C-actress turned director Zhao Wei (Vicky Zhao) made her directorial debut last week as she celebrated her 37th birthday while making the rounds promoting her new movie So Young (Literal title is To the Youth that is Fading Away) adapted from the popular novel of the same name. She was on a talk show with her movie production team when mega C-actor Huang Xiaoming made a surprise appearance that also took a turn for the sweetly nostalgic and playfully romantic. They were college best friends in college and Huang Xiaoming has been vocal over the years about how he fell in love with Zhao Wei on first sight. During the show, he was staring at her so adoringly and so solicitous that Zhao Wei said that whoever becomes his wife is bound to be so happy. He brought out a cake for her birthday, and she stood up to give him a hug. Huang Xiao Ming arrive on crutches since he injured his foot filming and he actually tossed the crutches aside and picked Zhao Wei up for a princess carry that made the audience go crazy. Might I point out that Huang Xiaoming has been dating Angelababy for the last 3 years while Zhao Wei is married to a private citizen Mr. Huang and has a baby girl with him. But these two have never shied away from PDA in public, though of the cheeky chaste kind. After this appearance, fans swarmed weibo and dropped some amazingly sweet commentary on this very long-lasting friendship that makes their fans both happy for them and sad it never could be. Huang Xiaoming now has also gotten a new moniker – Real Life Li Da Ren (Bolin Chen's BFF character from In Time With You). So cute! Read on for more swoony sweetness. And its truly a shame these two have not worked together before in a drama or movie.
A fan wrote: There is a type of friendship called Zhao Wei/Huang Xiaoming. There is a type of first love called a college confession. There is a type of steadfastness that says 16 years later I am still here. There is a type of man that says I have a broken bone but I'll still carry you. There is a type of quietness that says smiling contently when embracing you. There is a type of companionship that says I am here when you need me. There is a type of hope that says I'll wait for you another 16 years. There is a type of distance that makes you Mrs. Huang but not married to Huang Xiaoming. There is a type of memory that says To Our Youth That is Fading Away.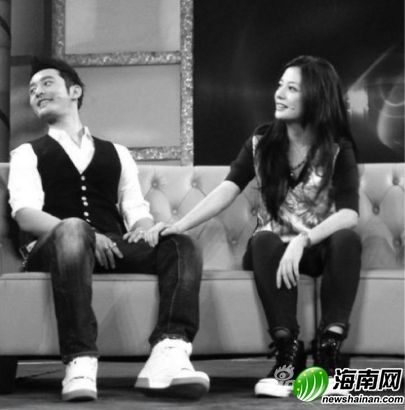 Two years ago on Zhao Wei's 35th birthday, Huang Xiaoming posted the following birthday greeting on his weibo. Read it and weep. "The Summer of 1996, you appeared just like that. Your lean silhouette and long hair billowing in the wind. You turn around and smiled with your heart-stopping wide eyes that seem to speak………Everything was as perfect as a fairy tale, imprinted deeply in my mind. You, 15 years later, still with the long hair, still with the same silhouette, still so beautiful. The sense of happiness has only increased, that blinding brightness belonging only to you. Today is your birthday – one greeting, one wish, one hope that all your dreams come true, a lifetime of peace. Happy Birthday!
And for this year's birthday, crashing her talk show appearance with a cake and a hug wasn't enough, Huang Xiaoming weibo'd the following. "Everyone's youth is unique. The happiest thing is having it once before, so no need to be sad that it's gone. Thank you, for leaving your imprint on my youth. I hope today you can still be as you once were that year – bright, happy, optimistic, and beautiful. Happy Birthday!"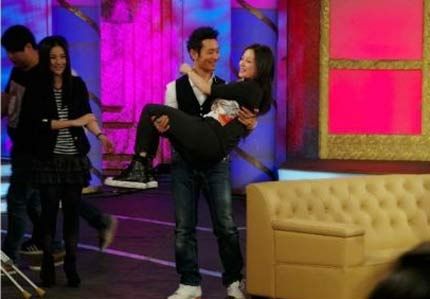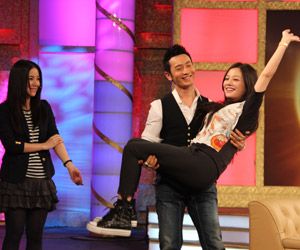 Huang Xiaoming weibo'd this picture of him and Zhao Wei through the years.
And not to be outdone, Zhao Wei doesn't just one super hot guy best friend from college – she has 2! Voila, her and Chen Kun through the years. Yup, this shiz is so not fair, how can one girl have it all?