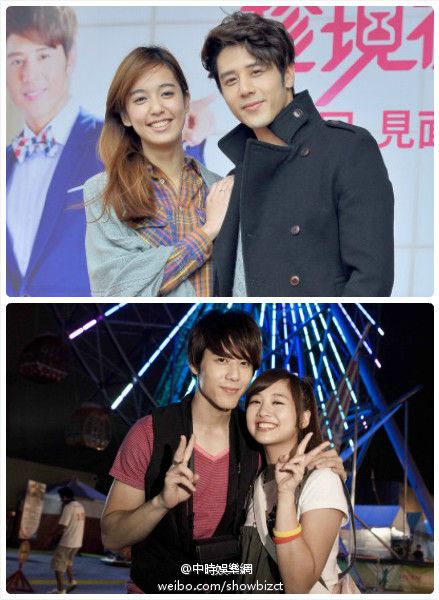 Love triangles never get old in dramas, probably because every time it happens in real life one can't help but be fascinated. Hot on the heels of the last love triangle in Taiwan entertainment (between Roy Qiu, his now-ex Tang Yan, and his maybe fling Tia Li) comes another trio that has been causing all sorts of heated speculation in the press. George Hu had two dramas airing simultaneously last year, his completed drama Summer Fever with Gui Gui and his live-airing drama Love, Now with Annie Chen. The two dramas aired on different networks and time slots so it was a double win for George to get double the exposure. Looks like it was also double the offscreen romance because this week new broke that George may have been dating Gui Gui (since they filmed their drama the prior year) and then cheated on her with Annie when they filmed LN. Gui Gui's mom, who has been estranged from her daughter, gave an an exclusive to a tabloid magazine that her daughter has been dating George (and the relationship kept a secret), and Annie was the Xiao San (interloper) in that relationship. She gave the magazine pictures of a topless George posing with a make-up less Gui Gui in a selca and other at-home shots, which pretty much does confirm those two dated. That was the rumor all last year after George and Gui Gui did Summer Fever the prior year, but then his great chemistry with Annie in Love, Now caused the media to start speculating on that possible pairing. Gui Gui's manager says she's quite upset at her estranged mom for giving that interview while George and Annie attended a fashion show doing a couples endorsement (and wearing a couple's outfit by the designer) and brushed aside the controversy. George didn't confirm or deny the relationship with Gui Gui, while Annie also played coy and said her relationship with George could be more or less than just co-stars but that is up to them and not the fans to encourage. All I can say is…..uh, you're the man, George? I can ship him with one or both of his great co-stars but honestly whatever goes on in real life with the celebrities is up to them to sort out. But in Taiwan, it's harder to keep a lid on things but conversely fans are less ridiculous and accept these juicy scandal updates with a wink and a yawn.
Gui Gui's mom's scathing interview with Apple Daily also accused George of being a bad influence on his formerly filial daughter Gui Gui and turning mother-daughter against each other. The tabloids caught George driving Annie home during the filming of LN which really fanned the flames of the dating rumors between them. I think George is lucky to get either girl, but both girls are also well-known for having dating scandals with many of their former co-stars so who knows in this case what is truth and what is rumor. I thought he had equally great chemistry with both ladies in their respective dramas so I'm sure fans of either are pulling for one or the other.
© 2013, ockoala. All rights reserved.