I know how preposterous King Flower is, and honestly its silliness is a part of the charm. But the main reason I love it is how much this drama has stakes for me, real emotional stakes that most TW-dramas can't figure out lately. Miss Rose is a shining example of having no viable stakes and then forcing stupid ones down our gullet for the entire second half. The OTP there could be together easily, so the drama made everyone behave out of sorts and threw pointless obstacles at them. Here, if Da Hua and Guan Jun are the end game, then their road is pretty far from the end, what with Da Hua spending day and night with another guy and drifting farther and farther from her beloved oppa. If Da Hua and Terry are the end game, then I can't even begin to list their obstacles – he just lost Liang Yen, she now looks just like her, they have agreed not to fall for each other, she's the lynchpin in his future not collapsing, and he's the reason she can't (doesn't want to) go home to her family. It's a maelstrom of cannot, will not, and should not keeping them from exploring a romantic future together, and that is exactly what makes it so juicy. That and the HOMG chemistry between Chris Wu and Nikki Hsieh.
It is so striking the more I watch this drama the more I'm convinced Terry narratively is the main character (forget male lead issues) because everything either happens to him or he's the driver of it happening. Instead of Jin Da Hua's Extravagant Adventure, it should be Ouyang Tai's Messed Up Wild Ride. But if this drama is written to explore Da Hua's extravagant adventure into a new world and new life, then the person who walks it with her is Terry, so how can I as the viewer not be invested in that. In TW-dramas, when there is a contract marriage, fake engagement, pretend dating plotline, it's always between the OTP. Yes I am conceptually fine with switching it up, and principally I have nothing against Guan Jun other than his character is currently so one-dimensional. But I watch a drama for the journey, and here I hope that the couple I am emotionally journeying with get their happy ending. For now, Guan Jun finds out the truth and immediately launches into action to get Da Hua home without asking what she wants or checking out if his actions will have far-reaching consequences. Sigh, it's hard to sympathize with a character so utterly lacking in careful deliberation  but hopefully he's headed in the right direction of figuring things out with respect to Da Hua's own wishes.
Stage 10 recap:
Sheng Da is holding an employee birthday celebration and Kai Le corners Cheng Hong to confirm her suspicion that the current Liang Yen isn't who she appears to be. Cheng Hong slips up a little so Kai Le is even more sure something weird is going on. She looks around the party and appears to be plotting a way to out the imposter. Lady, no one cares about you, please get off my screen.
Guan Jun, himself having confirmed that the current Du Liang Yen is in fact Jin Da Hua, drives Terry and Da Hua to the party. Terry gets out and holds his hand out for Da Hua as usual, which totally annoys Guan Jun at seeing the casual skinship. Da Hua takes Terry's hand with a smile and they walk inside.
At the party, Kai Le asks Da Hua to make a speech and she awkwardly goes up and delivers a rather inelegant one but is warmly received. Guan Jun runs inside wanting to see what is happening, which is when Kai Le goes one step further and asks Da Hua to play the piano for them. Da Hua can't play but stumbles towards the piano and is about to out herself. Guan Jun decides not to help since he wants her real identity exposed. At the last minute, Terry offers to play instead while Da Hua sings and this the disaster is averted.
Guan Jun drives Terry and Da Hua home and finds her cellphone in the car. He brings it inside and stands by the door watching Da Hua and Terry comfortably chatting inside. She thanks Terry for bailing her out earlier and is impressed with his piano playing skills. Terry says bailing her out is bailing himself out so no need for thanks. When Da Hua laments never learning the piano, Terry offers to teach her even if he's not as good as Liang Yen.
Da Hua thanks him profusely while Guan Jun hears from her own mouth that she is in fact Jin Da Hua. Terry points out Liang Yen is good at a lot of things, such as speaking English. Da Hua adorably drops some English which makes Terry laugh. He also offers to teach her English and she grabs his shoulder and calls him her Doraemon, always doing things for her and making her wishes come true. Though he's less blue, taller, and more handsome than Doraemon. Guan Jun rolls his eyes at seeing all of this.
After Guan Jun slinks away, Da Hua sees Terry laughing at her Doraemon comparison and wishes he can keep smiling like this in the future. She wants him to keep getting stronger and happier, because once the year is up, she can't stay beside him anymore as she needs to return to Guan Jun's side.
Terry asks if she really likes Lin Guan Jun that much? Da Hua says for sure, and it'll never ever change. Even better is that Guan Jun confessed that he liked her back. She smiles broadly and Terry musters up a smile for her happiness as well.
Guan Jun goes home and starts drinking. Da Li sits down and wonders what has gotten into him? Xiao Fei arrives to warn Guan Jun that her dad is annoyed at him so he needs to be careful. Guan Jun asks her as a girl whether she might fall for guy who is rich and handsome and treats her well? Xiao Fei likes a man based on her own decision regardless of how he treats her, case in point she likes Guan Jun and he treats her terribly.
Headed to work the next day, Guan Jun picks up Da Hua and Terry and watches as Terry catches Da Hua who almost trips in her high heels. He suggests she wear flats from now on, which Da Li thinks is such a considerate gesture. Guan Jun hands Da Hua her cell phone and Terry takes it, telling Da Hua to let him know in the future if she misplaces her phone so he can get her a new one. The two men have a mini-staredown moment.
At work, Guan Jun asks to speak with Terry privately and the two men go up to the roof. Guan Jun cuts to the chase and asks if the current Du Liang Yen is Jin Da Hua? He has seen the proof in her bracelet so Terry admits it. Guan Jun vows to get NT 2 million to bring Da Hua home and says he likes Da Hua. Terry wonders if he will still like her had she not gotten plastic surgery and is pretty now? Guan Jun says yes, she is one-of-a-kind to him and he just never knew how he felt until she left.
Guan Jun grabs Terry by the collar and accuses him of being the devil and changing Da Hua's appearance which he had no right to do. Terry admits what he did was wrong to her, but it was a contract she entered into willingly. If her dad hadn't gambled away the store, and if Guan Jun had the money to pay off the debt, then she wouldn't have had to do this. How dare Guan Jun act so righteous right now! Guan Jun quits his job and vows to take Da Hua home as soon as possible.
Terry goes back to his office and Da Hua pesters him to know what Guan Jun said. Terry reveals that Guan Jun knows her true identity, thanks to the bracelet, and he quit his job. Da Hua rushes out to talk with Guan Jun but Terry grabs her arm and asks with a hint of fear whether she is going to leave with Guan Jun? Da Hua reminds him with a smile that she would have left earlier if she wanted to and she promised to stay for the year.
Da Hua finds Guan Jun and begs him to keep quiet about this charade. She plans to finish up the contract. Guan Jun insists that he will get the money and bring her home. He can't stand watching her pretend to be Terry's fiancee, seeing their skinship in public and how close they are in private. Dude, it's not all about you and how you feel. Did you ask her what she wants?
He kisses Da Hua and tells her to wait for him to bring her home. Da Hua seems very blase for someone who just got kissed by the love of her life. Da Hua watches him leave but doesn't tell him that she could leave at anytime but chose not to. I think you needed to tell him you are the one not wanting to leave Terry and go home, otherwise this guy is going to mess Terry up to get you home.
Terry sits in his office and when the door opens, her turns with a smile of relief expecting Da Hua, but his smile disappears when he sees its his cousin Johnson. Does Terry even have a second where his world isn't crumbling around him and he's reminded of it? The slimy bastard slinks in and snarks about how Terry still hasn't sealed the land purchase and the Board of Directors is going to be soooo disappointed.
Da Hua hurries back and notices Johnson in Terry's office. After Johnson leaves, she hurries inside and asks what he wanted? Terry asks if she found Guan Jun, and what he said to her? Da Hua demurs and says Guan Jun said nothing important, and turns around to ask him about the state of the land purchase. Terry says she needn't worry, he'll find a way. Cheng Hong walks inside and reveals that the land owner has decided to hold a public auction for the land due to the interest.
Guan Jun walks around town trying to figure out what the do. He walks by the park where the thugs attacked Terry and he took a blow to the head for him, which leads him to wonder what beef Hu Jing Biao has with Terry?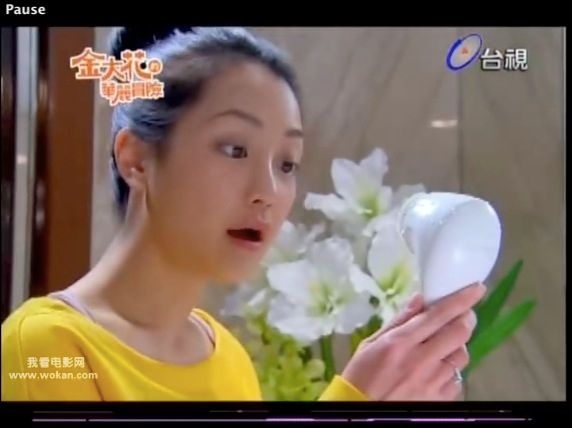 Da Hua sits in her room wondering what to do about Guan Jun. She decides to deal with it tomorrow. She heads to the bathroom and the drama decides to throw in the world's most ridiculously obvious Clarisonic product placement.
Da Hua can't sleep and heads down to make herself a snack. She notices Terry working late and turns out he's doing her work of reviewing the architectural blueprints. She offers to make him a snack and he accepts with a smile. Gurlfriend, for someone professing to love Lin Guan Jun forever and ever you are way too nice and comfortable with Terry. He is a unrelated man of adult age, you remember? Da Hua places her stuffed animal Guan Jun on the sofa and heads to the kitchen. Terry's smile vanishes when he sees the stuffed animal and he casually tosses a finished blueprint over it as he turns back to work.
Hu Jing Biao is getting frustrated with his daughter Xiao Fei's interest in Lin Guan Jun and wants to lock her up until she agrees not to see him again. Guan Jun meets with Hu Jing Biao and offers his services with a surefire way to win the land auction for him. Is this "the enemy of my enemy is my friend" going on here?
Terry and Da Hua are at work and called out to a lunch with Liang Yen's dad. At the lunch, Dad urges Terry to plan the wedding and he says its being planned. After lunch, Da Hua worriedly asks if Terry is seriously wanting her to marry him as part of this charade? Terry tells her not to worry, she doesn't need to marry him and he'll take care of things.
Later that night, Terry sits by the pool and remembers with a smile how Da Hua thought he was committing suicide and jumped in the save him. Then his smile disappears as he remembers Qin Mo saying that Da Hua can just pretend to be Du Liang Yen for the rest of her life, it's better than her old life anyways. Terry tells Qin Mo that Da Hua doesn't want her life to change, she was perfectly happy with her old life. Qin Mo then tells Terry to be preparing for all the thousands of Sheng Da employees to suffer once the truth comes out and Terry steps down and Johnson becomes the Managing Director of the company.
It's land auction day! Hu Jing Biao is confident he'll win and sits down next to Terry to bid, using sneaky ways to try and keep Terry from bidding. But Terry has come prepared and reminds him that the bank he was counting on for a loan has rejected his application. Hu Jing Biao slinks off and everyone breathes a sigh of relief that Terry will win the bid. Which is when Guan Jun and Xiao Fei walk in arm-in-arm and he raises the bid. Dude, so not kosher.