Big Flower alert! I need extra eyes on this one, so heeeeeelp me chingus. Filming wrapped on King Flower yesterday for leads James Wen, Nikki Hsieh, along with secondary leads Yao Yao and MC40. James posted the above picture celebrating the wrap of filming with some genuine happy posing. From the backdrop it looks like this scene was shot by the river. I have to caution folks not to read into the ending because these four filmed a scene and it happened to be the last scene for their characters. As you all know, drama and movie making is always filmed out of sequence depending on what is needed for that day, so there are many times when one half of the OTP of a drama has wrapped filming but the other one is still toiling away. Chris Wu followed up James Wen's post with an update on his own FB page stating that his final scene was taking place the following day and then its a wrap for him. With the drama wrapping up by May 10th, I'm guessing we have another 4 episodes to air, meaning KF will end at episode 21 (maybe 22). I'm hoping for some adorable cast pictures at the wrap party in a few days. The wedding day pictures posted by James showing the three leads Da Hua, Terry, and Guan Jun all wearing wedding finery have indeed lit the drama fans on fire.
People have taken to analyzing the boutonniere to see which one might be the groom – one rose v. two orchids. I think attire-wise Terry's classic tux pairs much better with Da Hua's 20's inspired veil and one-shoulder princess gown. Spectators at the hotel where the wedding was filmed have said that the following character were there attending the wedding: Cheng Hong, Terry's parents, Da Hua's parents, the busty secretary, Da Hua, Terry, Guan Jun, Xiao Fei, Da Li, and Ah Xi. Read into it what you will. I was looking at the filming wrap picture posted by James and I suddenly noticed the big honking ring on Nikki's finger. People, is it the same ring that Terry gave Liang Yen and Da Hua wore when she was pretending to be Liang Yen? I noticed in episode 16 that Da Hua went home with the ring, and in many scenes the camera makes an effort to capture it. Terry took his ring off after he got back home, and likely Da Hua did as well, but that ring is still with her. I am like the worst sleuth in the world so you guys help me. Below I've posted various screencaps of the ring on either Liang Yen or Da Hua's finger so y'all tell me if Da Hua is wearing the same ring again in that picture above, or I am completely off-base and its a different ring? The answer will pretty much reveal the ending.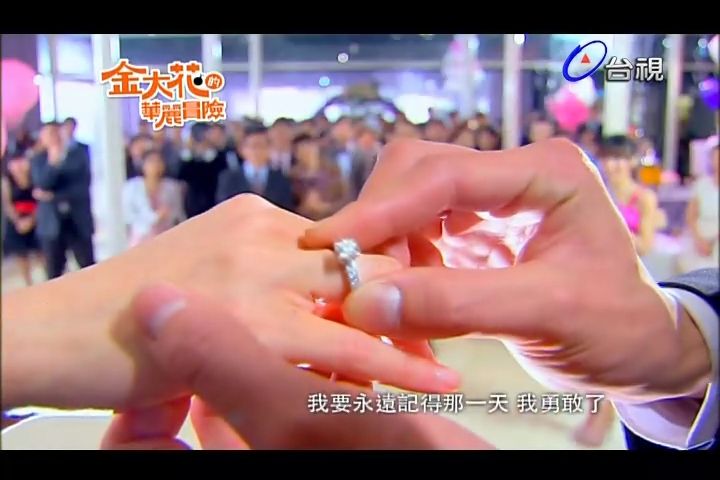 I can't believe this drama drives me so nuts I've taken to analyzing a FREAKING RING. *headdesk* I put the picture in the body of this post again for ease of comparison. It……looks like the same ring to my untrained eye. Or else I am seriously projecting. In my happy fanfiction, Da Hua marries Terry but is still best friends with her beloved Guan Jun oppa, and hangs out with the family all the time, including her silly brother Da Li who has managed to make an honest woman out of Ah Xi.