A somber week in the real world parallels the sadness that Episodes 11 and 12 deliver. I search for any hints to satisfy my optimistic view of things, and I may have found a glint or two of hope.
All along, Sun Jae has held his lantern high trying to show Hye Won the way out of her darkness. He reminds me of that seatbelt sign that won't go off, ever. It stays lit constantly, and from time to time makes noise. All of the mentions from Sun Jae about classic composers or pieces force Hye Won to look at another reality from her Seohan hell. He brings up Mozart's choice to give up commissioned works to compose what he wanted and reminds of her words, as Online Hyung, that only music matters. For his encore, he played for her a Brahms piece that the composer dedicated to the older woman he loved, Clara Schumann, who of course was married to Robert Schumann. As his Mozart idol, he shows Hye Won his ideal beauty – Maria João Pires, an active 60+ year old pianist. He wants to know if she has read Aimez-vous Brahms? It is the story of a divorced woman with a much young lover who chooses to remain unmarried and independent.
When Sun Jae references the histories of these folks, it brings into focus another theme of the drama. These works of art presented as characters in the story that show up and swirl about and pound themselves into my memory were created by weak, imperfect people. The music may feel like divine gifts now, but it didn't fall from the heavens. It's music born from such different times and circumstance but it resonates still, proving its genius by staying relevant across centuries. From the pen of the composer to his students to the next generation, it traveled down hand to hand to Hye Won and now to Sun Jae – like the musical version of a bucket line. Nothing stopped it, not wars nor plague or natural disasters, and there is no present crisis that could prevent the chain from continuing. Not Seohan's greed and corruption, nor Hye Won's marriage. Not even an investigation from the Supreme Prosecutors Office of the Republic of Korea. The music will go on.
Episode 12 recap:
Hye Won readies for her day in front of the boudoir mirror.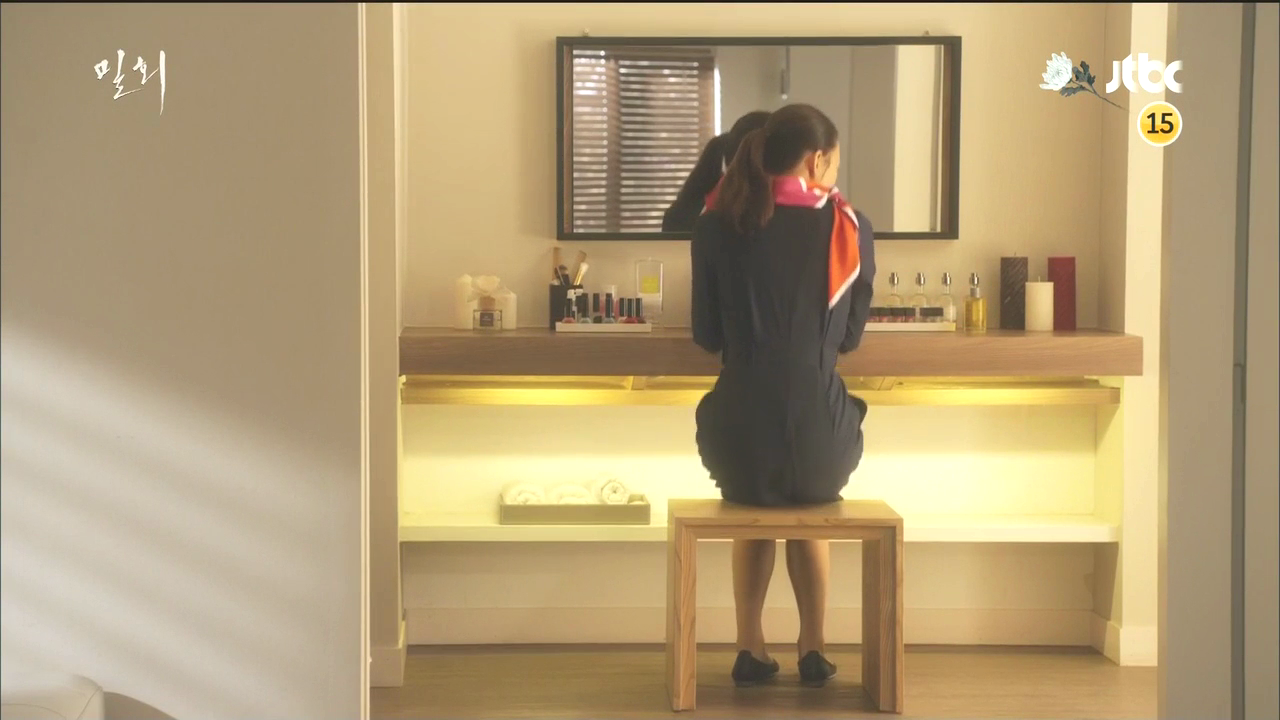 Walking over to pick up her bag, she waits, continuing to rub in her hand lotion, then adjusts her scarf. We see why when Joon Hyung approaches, stopping her. "I thought about it a lot. Don't get caught by other people and end it at this point. Then I'll forgive you. He's naïve so he may not be thinking of the consequences, but at your age…"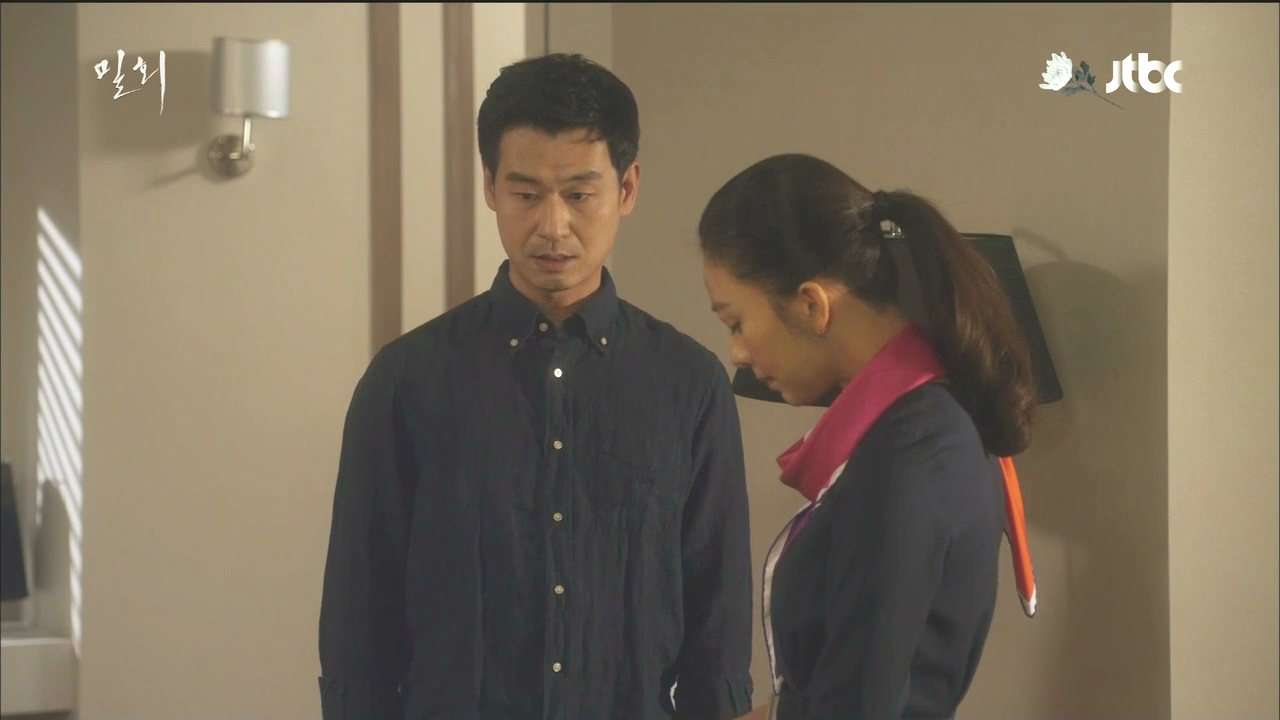 Hye Won takes this all in, head bowed. She tries to interrupt him, but he continues, "I know you probably want to avoid it. I know how you feel, but know one more thing. I won't ever grant you a divorce. It's something that can never happen." He reminds her he is 4th generation Christian, and that his mother leads the praise music in a large US/SK church.
Lightly, almost gently, she touches her husband's arm and tells him, "I don't have time now. Read the news." Joon Hyung, sitting in Hye Won's sunny spot, checks out his phone. What he reads troubles him.
Sun Jae takes his dried socks off the clothes line in his apartment. As he puts them on, we see he is still upset.
In some hotel a hoard of reporters gathers. The person in charge tells them they have to request (an interview) on the same day, one hour before (the visitation.) It is only possible when the family members are not visiting in the morning.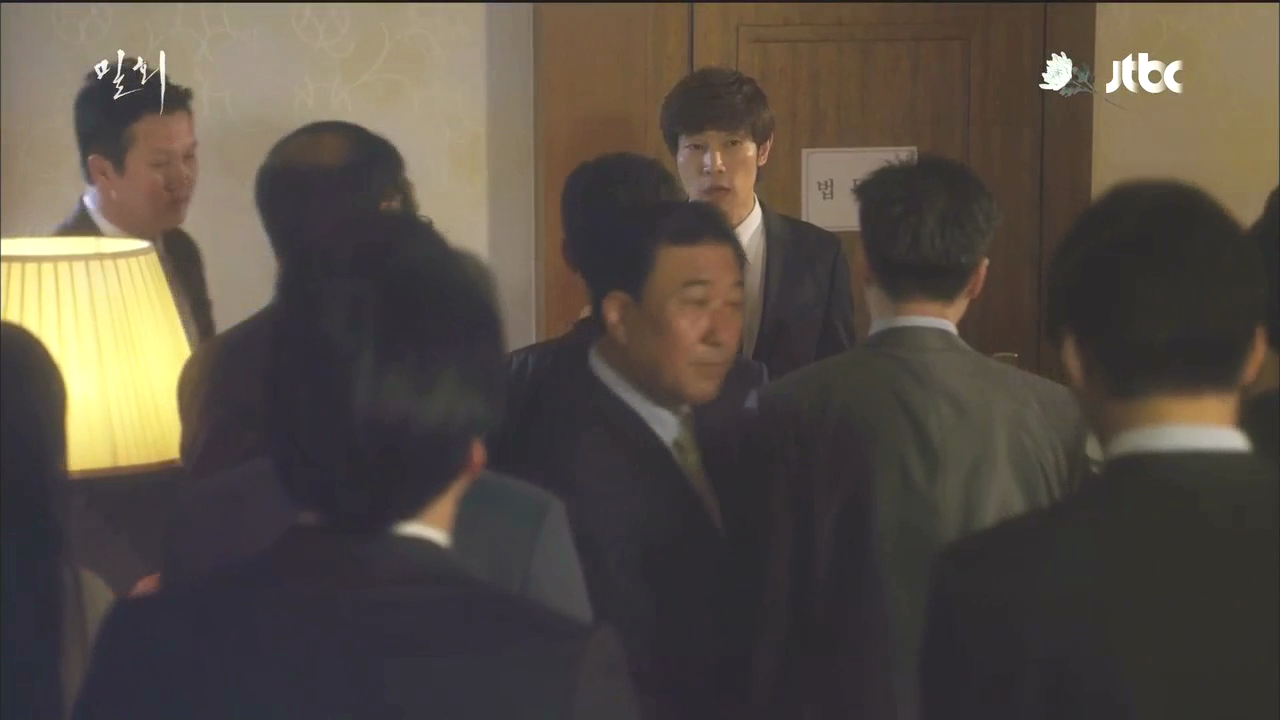 He further clarifies the rules as Mr. Young Woo comes out from a door behind him, then enters a room with a temporary sign that reads "Family." Inside, Hye Won stands off to the side of the seated Queen Han and Princess Young Woo. Prosecutor Husband assures them that the noise from the press will die down soon enough. It's always messy at the beginning. (This foretells Hye Won and Sun Jae's future, I hope.)
Visitations, he explains, are limited to every three days. Family and relevant personnel, including him, have to take turns. Since the brothers have yielded, the mother/daughter team goes first. Young Woo protests, of course, that they have to go together. Seo tells her to grow up. Prosecutor Hubby lets Hye Won know he will contact her after speaking to Seo.
Standing in Hye Won's brightly lit office, Sun Jae is waits for the secretary to finish a call.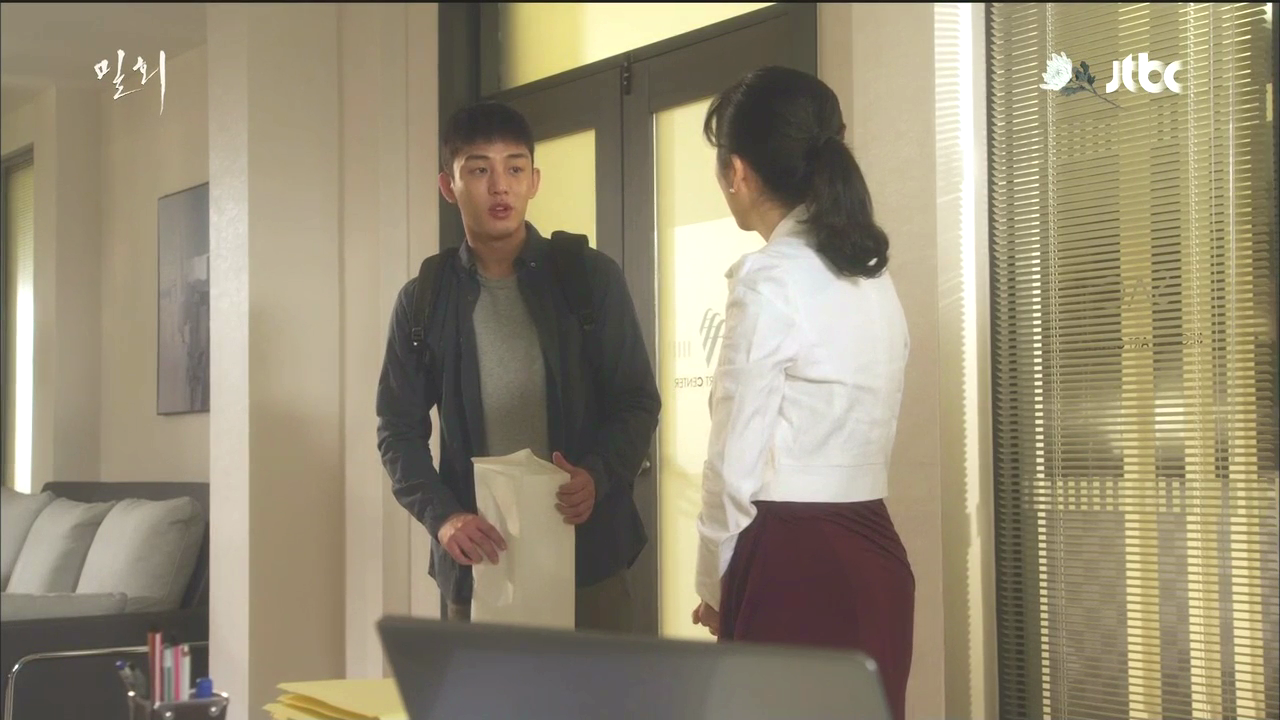 There is a pile of DVDs and his face shot on her desk, from which she takes several and places them into an envelope.
"The deadline is different every year." She will take care of mailing them, so he doesn't have to worry. He smiles as she tells him "It turned out well. The recording is very clean, too. Congratulations." He asks about Teacher
"Vice CEO hasn't seen it yet." Diplomatically explaining, "There's some unfortunate business with the Chairman" that has kept Hye Won out of the office since yesterday, as she is responsible for such important duties.
When he asks where Teacher is, the secretary tells him he must not have read the news today, (oh boy…)
Hye Won stands in the one spot of light in the "Family" room. She is speaking to a peon and tells him "It can't be helped. If the two of them visit separately, then the others outside of the family will have reduced access. She declines his offer to have lunch together, telling him she will eat when the ladies come out. Once alone, she lets out a big sigh.
Sun Jae, in the halls of SH, echoes that sigh putting on his backpack. The cell phone has no news of Hye Won for him, so he texts her. "I got the DVD. Even though it was made with Hannam-dong money, I will use it well."
Mde Han and Young Woo are visiting Seo in jail, separated by the clear perforated wall.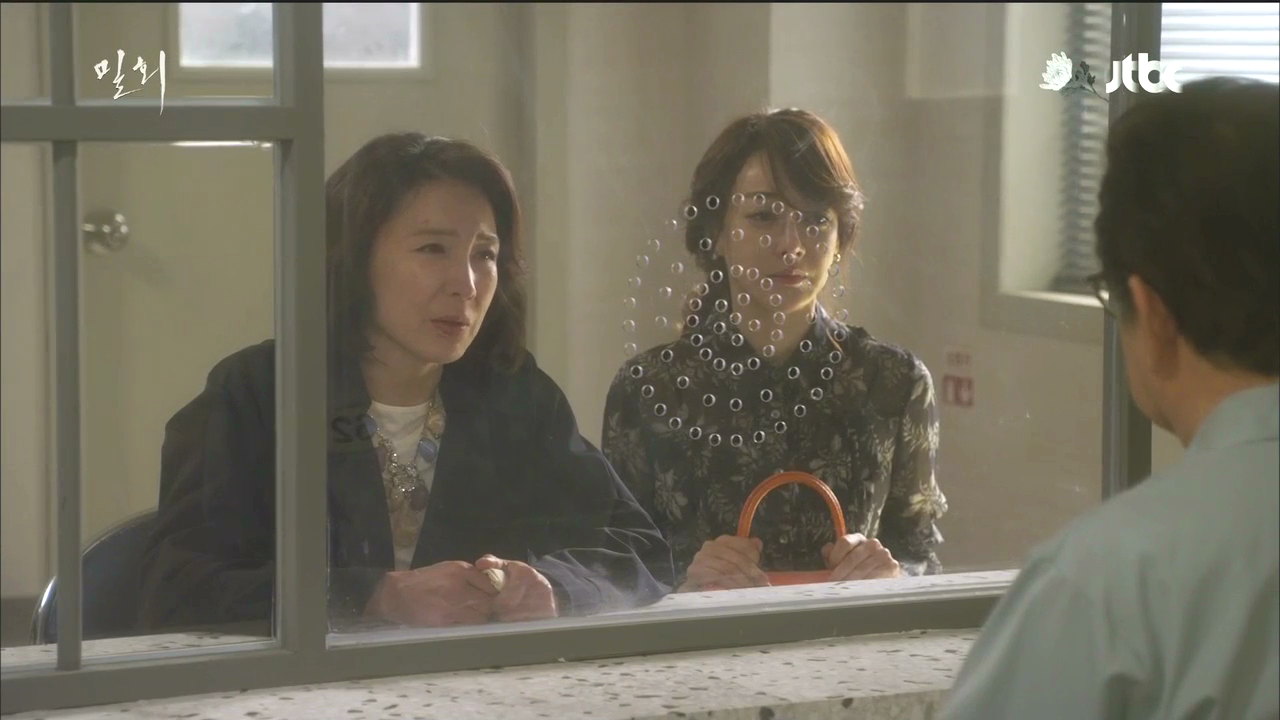 He doesn't know if he slept or passed out. Jail is a nasty place, reducing him to panic. "Hurry up and get me out. I can't tolerate it one second longer. Tell him that I'll confess everything. Their stunned reactions are revealing, "What?!"What exactly is he going to tell? His wife advises him to toughen up, that the executive team is working on a plan. He informs them he only needs Dir. Oh. He wants to see her tomorrow. Young Woo wants to know why not her? Why Hye Won? Mde Han sings her Lily song very softly, turning the handkerchief over and over in her hand. Young Woo covers her face, disgusted. "I can't watch it, really."
Hye Won waits. She gets a call to go. On the way, she meets Prosecutor Hubby. Before taking the ladies home, she wonders, "Is there anything he wants to say to her?" Han been selected Hye Won above all to meet right after the Prosecutor. "He has the utmost trust in you." She deflects "Well, I'm merely a landlord's agent." He asks her to update him on Seo later.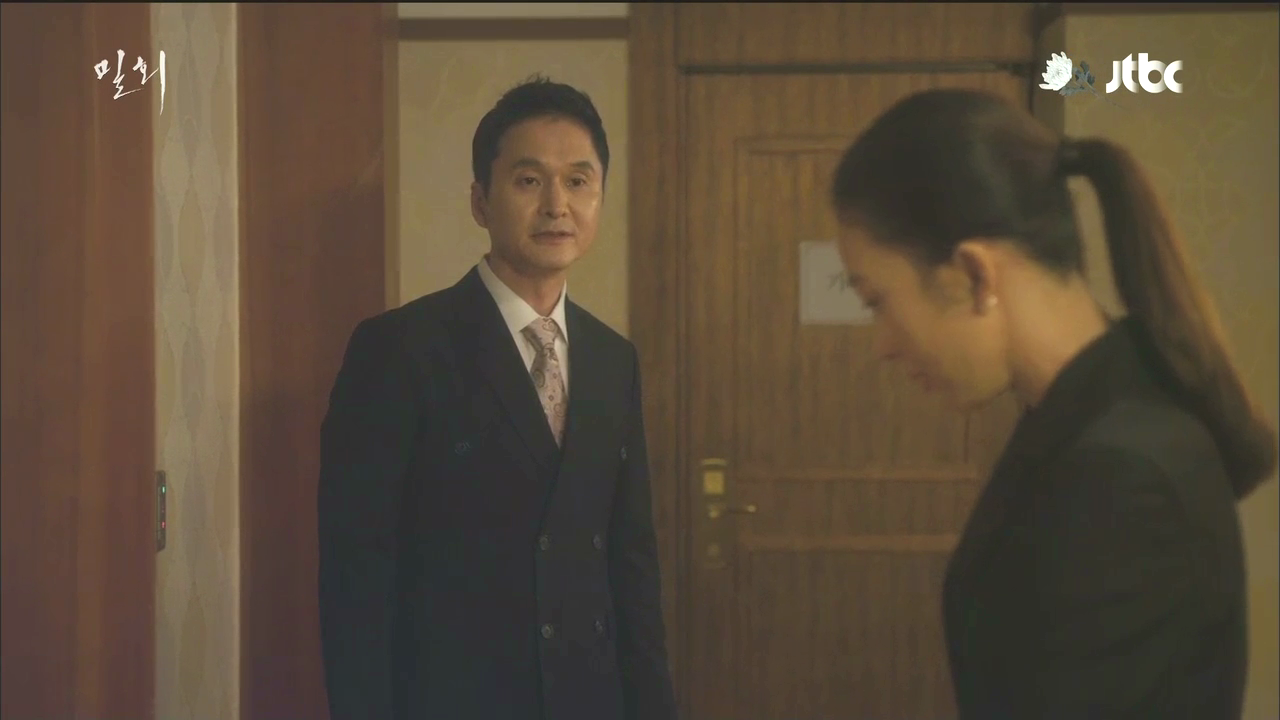 After she leaves, his face hardens. What does this man know? It worries me for Hye Won's sake.
Sun Jae visits Joon Hyung's TA asking for the original copy of his audition performance, which he happily hands over, complimenting Sun Jae.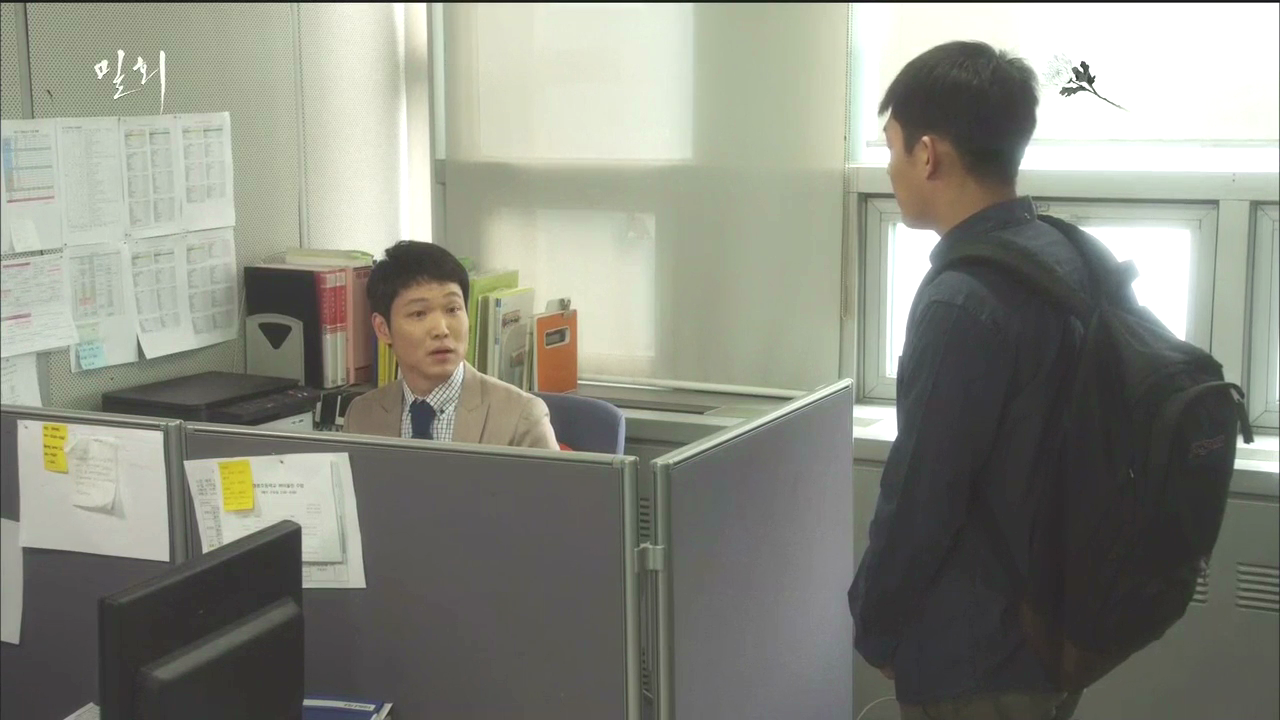 The young man bows in thanks, then asks about taking some classes, specifically English and German.
Hubby and Sun Jae meet in a backlit hall of Seohan.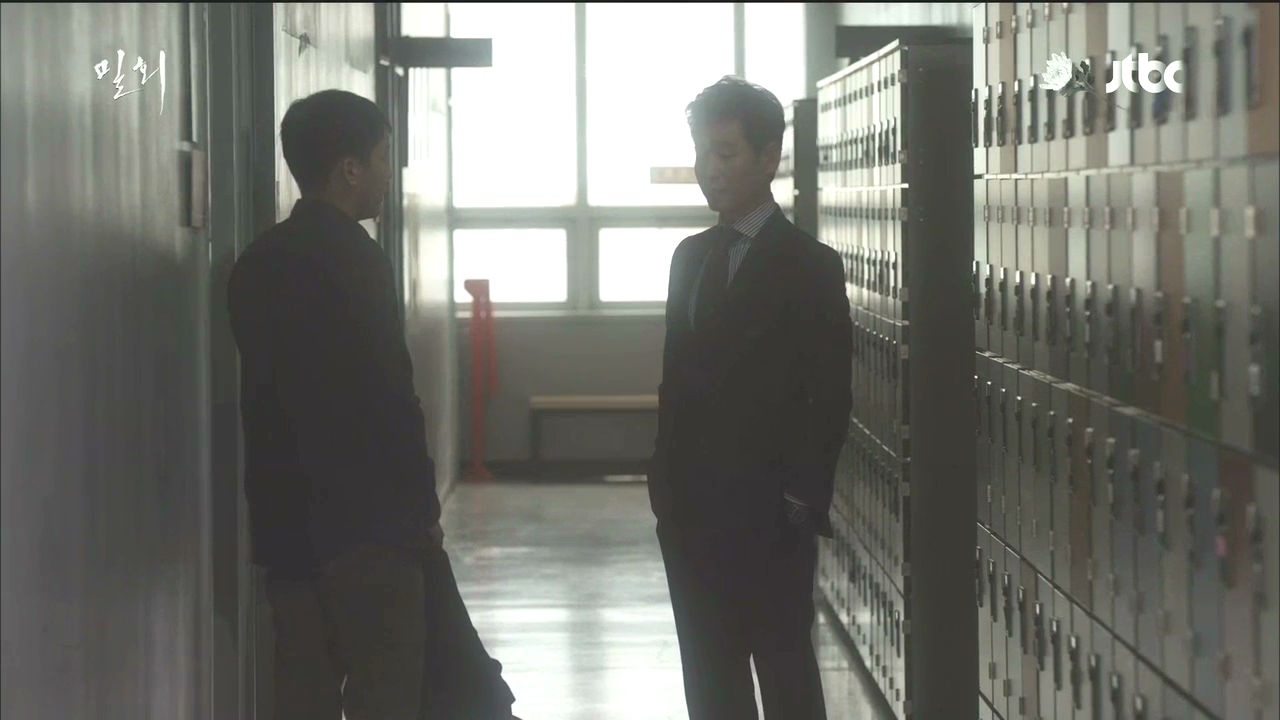 Joon Hyung smiles broadly, "Still reeling from finishing the concerto, right?" Joon Hyung advises his student to try faith, that this helped him through some hard times. (I wonder what hard times he went through and I wonder how conservative his upbringing was.) Sun Jae promises he'll take it under account and bolts.
Joon Hyung finds out Sun Jae wants to learn German and English.
Sun Jae sits outside on a bench working on papers. The cello student that Cello Snob dropped approaches him and asks to play together sometime. She really enjoyed his concert.
Yoo Ra shows up and sidles up next to him on the bench. Her bare legs sticking out all over the place from under her short skirt. Sun Jae noticeably moves himself away while she states "Beauty salon isn't your girlfriend, is she?" He starts to collect his belongings. "I dated your fake college friend very briefly." He completely ignores her. "I hear that Prof Kang's wife treasures you." Aaaand he walks away. She seems unperturbed and puts on hand lotion.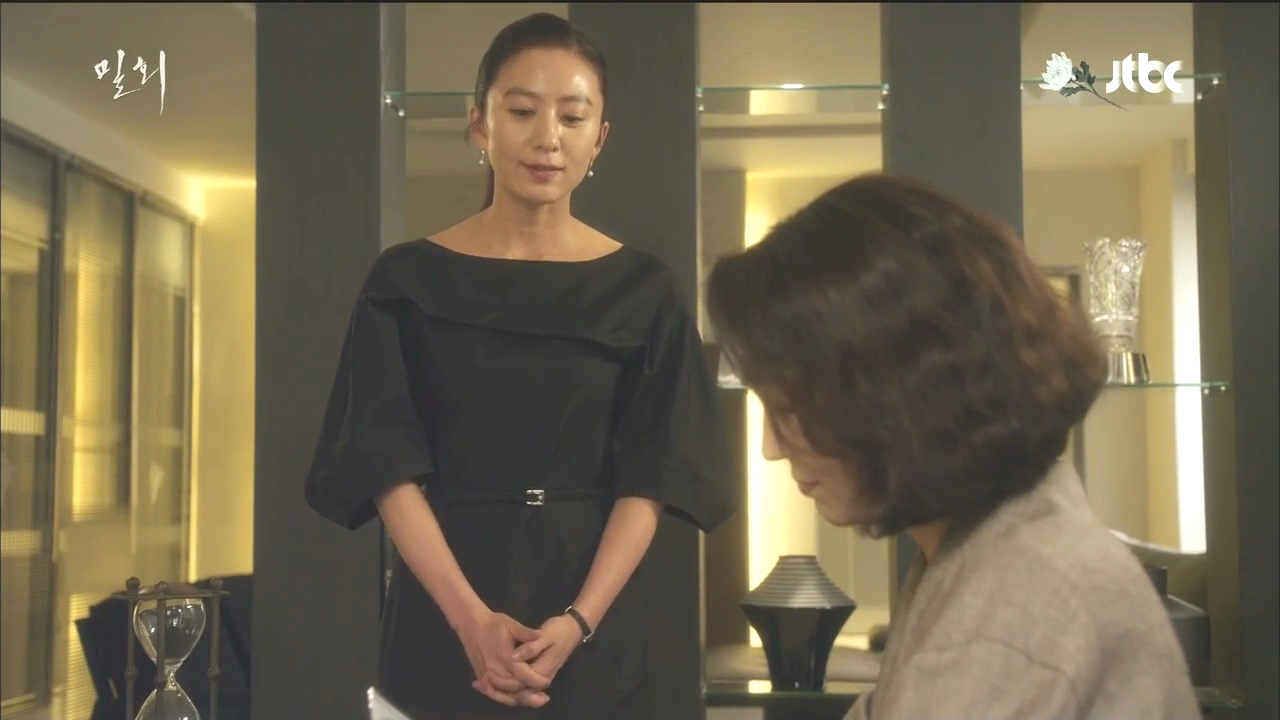 Hye Won gives Han the DVD of Sun Jae. Han wonders why she took so long to give it to her, although they have been busy. Hye Won explains that she has sent it out to a few competition committees. Han is hopeful for good news, and Hye Won agrees. "What about the school side?" Hye Won replies that she heard Lee Sun Jae handed it to them. Han comments, possibly ironically, "You should have bought him a meal at least." Hye Won keeps her head down and replies, "Because I couldn't meet him." And Han admits that they have been keeping her busy lately. Still the kid must be a bit disappointed; he doesn't have any family. Hye Won changes the subject bringing up the fact that she has to go visit the Chairman. Hye Won bows deferentially and smoothly leaves.
Min comes down the hall, and the secretary escorts him to the door. At that moment, Hye Won steps out. He sympathize with her, "You're having to suffer a lot, aren't you? Have you visited the old man?" Hye Won excuses herself. They politely say their goodbyes, but remain wary as they part. Hye Won even shakes her head when she is out of view. In disgust? In surrender? Back in her office, she packs her things up into her purse. And pauses in thought.
Han complains that the order of visitation is supposed to reflect the true rank. It bothers her that Hye Won is ahead of her. Min tells her not to worry, there is an (incriminating) file on Hye Won somewhere. Min reminds her that Hye Won was Seo's before she was Han's. If they go by history, it was when Young Woo went abroad. It'll be fine if she does well this time. The whole situation is surreal. He asks about the old man.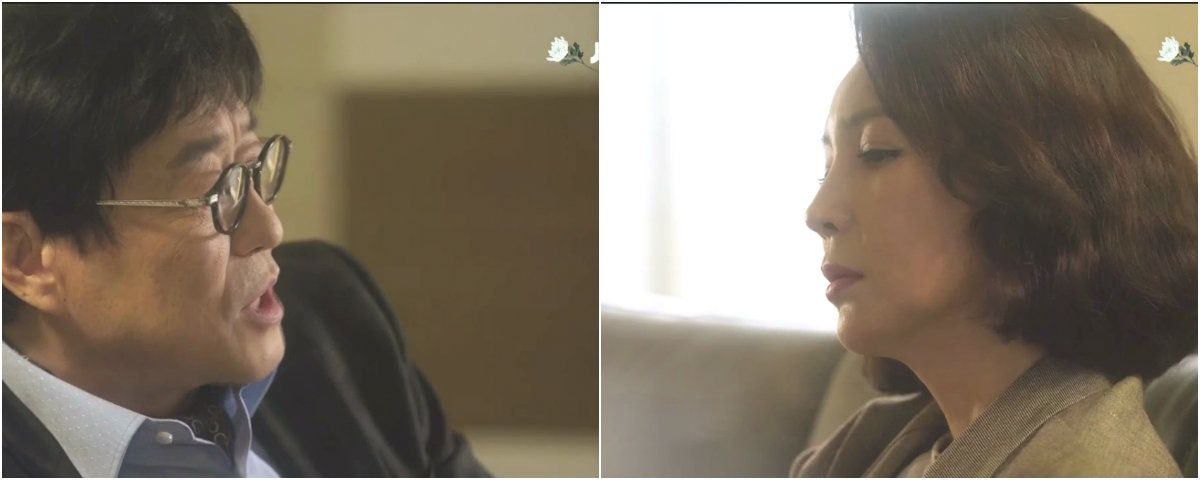 Han replies, "Although he's raising a ruckus pronouncing he's going to die, who knows? Who would know what he's like on the inside? Min is impressed, if not even Han Seong Sook can figure it out, how secret (black) is it? She protests, "Stop it already. This isn't funny." But he laughs at her discomfort insisting it IS fun.
Hye Won sits across from Seo in jail. She is relieved he looks better than she had expected.
Young Woo's heartbroken face worried her. He tells her he came to his senses. He realized everyone was expecting him to collapse, so he got mad and his appetite came back. Hye Won offers to read to him from a book Director Hong suggested. but he declines. Silently, she puts the book away, expecting something. "I heard you had something to say," Which he admits he did, but then thought about it and changed his mind overnight. It's not the right thing to do. He decided to hang in there longer. Meanwhile, he predicts that others will be watching her closely since she visited him – snooping around trying to uncover something. She promises to be careful. Seong Sook's brain is the busiest, calculating things. But Hye Won demurs, "I don't know," looking down. "Be on guard." She agrees, then sighs deep.
Baek chats while Han is getting a massage. "Leave her alone for now. Just tell her you trust her 100%."
Han wonders "How much do you think it would be? It probably couldn't even be compared to the chocolate money, right?" Baek has an evil smile, "Wouldn't that be the case?" "Director Oh will keep it from me to the end, right?"
Baek suggests that they will have to make Hye Won open "that mouth." Once they secure enough evidence, it won't be too difficult to manipulate her.
Hye Won and Jo are having tea. "I'm going to worry about Sun Jae so just listen." He has no choice but to do so.  She asks him how long he studied in Germany. "Seven years." "After you got our diploma in the States?" No, he went there for two years as an undergrad, then he went back. Jo wants to know why she's asking about Germany. What did that have to do with worrying about Sun Jae? She asks if he would be willing to talk to Sun Jae about going to Germany? "Me?" She starts to look upset.
"It's because I haven't been able to see him lately…" Jo watches as emotions overwhelm Hye Won. She weeps silently, cradling her head in one hand.
At Home Sweet Jo Home with his wife, they chat about the children and swimming and midterms. The conversation comes around to Hye Won and he wants his wife to come sit with him, but she has to cook the anchovies. "This is for four people." Jo reports that Hye Won looks half dead, and talks about her desire to send the young musician to Germany. Jo's wife knows Kang will never let that happen.
A plan is hatched to send Sun Jae along with Min Woo in the next month. That way Kang can't object. Everything is so unsettled. Joon Hyung, because he has a goal in mind, said he will bury this for now, but it's not going to last for long. Ji Soo begs him to talk Joon Hyung into it. He agrees. Hye Won's friend frets, "I don't know what I have been doing all along for Hye Won to get this bad."
Sun Jae peers through a round window where Jo and Min Woo are chatting. He goes in and they greet each other. Min Woo passed the first round of the Geneva competition, and will be leaving in a few days. He invites Sun Jae to a party; Sun Jae give a noncommittal answer.
When Min Woo is gone, Jo expresses his concern at how thin Sun Jae has gotten. Poor Sun Jae looks down and around, feeling again all the pain that made him so.
They sit in front of a wall of sun filled windows, drinking coffee.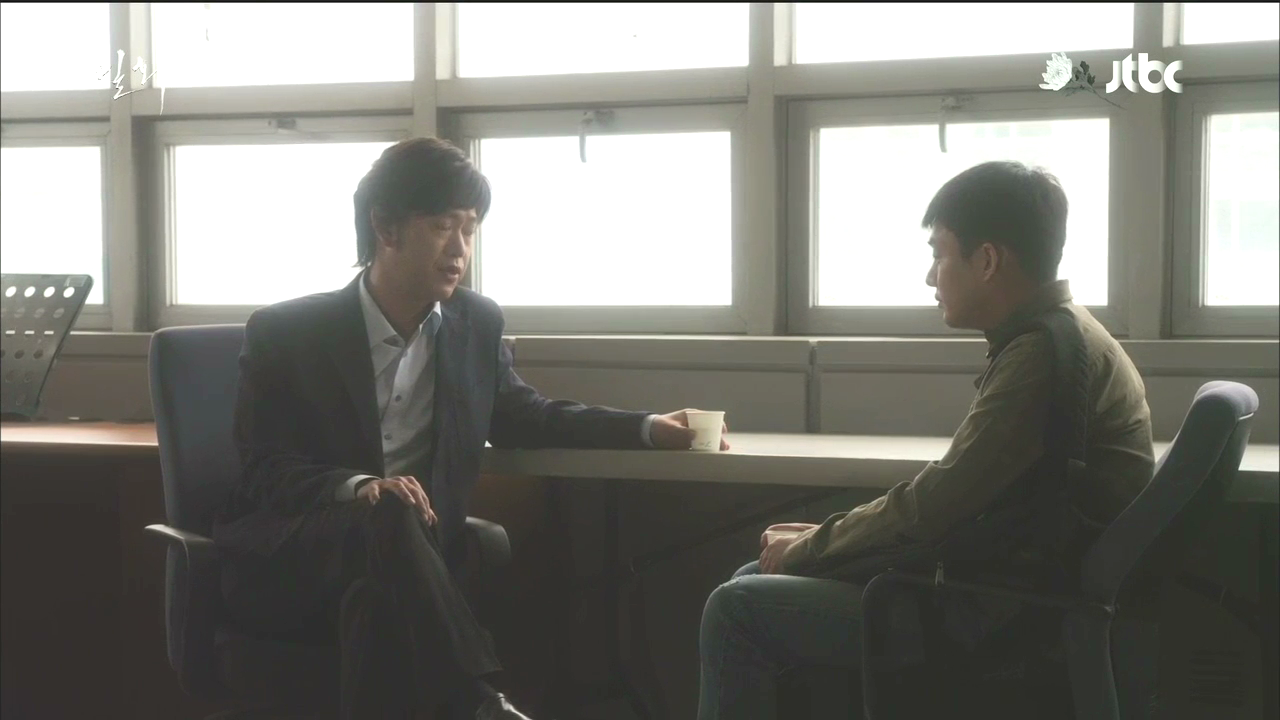 Jo advises Sun Jae use intense study of his music to endure the hard times. He's speaking from experience, but if things become too difficult, he can always go abroad to study, or do an exchange program. "Your teacher wants you to go to Germany." "What?" This is the first time Sun Jae has heard this. Jo lets him know how worried Hye Won is about him. Sun Jae pulls himself up, looking more confident that he actually feels. "Tell her to stop worrying about me." Jo likes his bravado. "Really? That's good to hear." This makes Sun Jae smile the most adorable smile, but you know he doesn't believe it either.
Joon Hyung walks by and catches the pair together. Ahh! This betrayal is worse.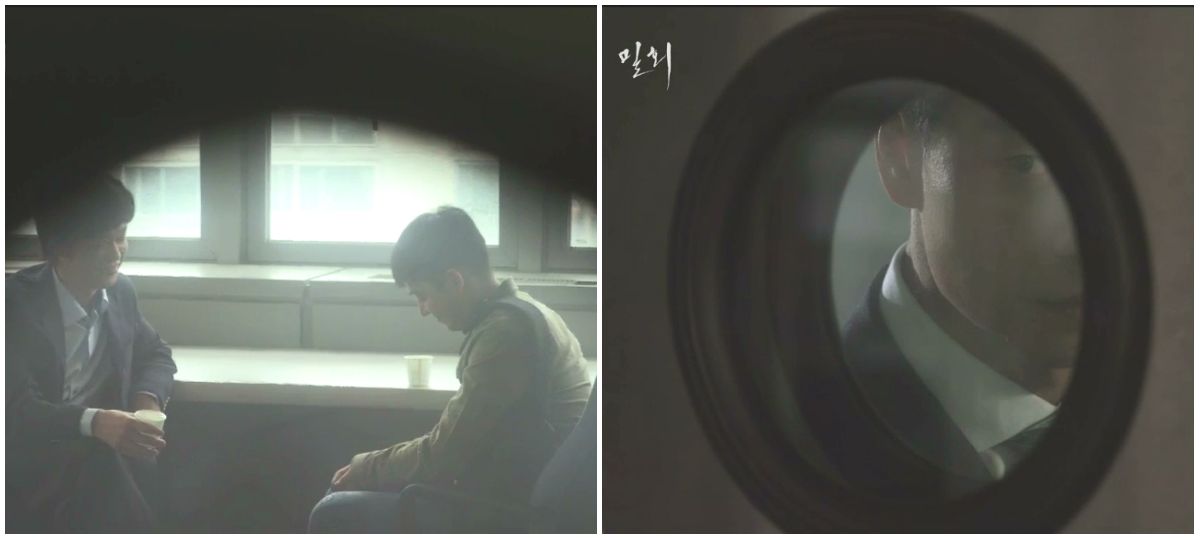 He heads straight to Min's office. The Dean allays his fears by reminding him that the kids like Jo. Just leave it. Joon Hyung should be more generous. Joon Hyung pretends he is worried that Jo will have a negative impact on the boy.
Min insists he be patient and keep quiet, telling him how bad it would look if he makes noise. Especially with Jo and he vying for the next Dean position. Min asks about the wife. Joon Hyung insists there is no problem, it was all a misunderstanding. (I don't what Min's game is here, but he's not helping!) "It's because they didn't show up at the after party, isn't it?" Joon Hyung assures him nothing untoward happened. "It's all good, then." With the election coming up, Joon Hyung needs to be careful.
Hye Won sits in her office at the end of the day holding her cell phone, looking miserable and alone. She puts her head back and burrows into the cushions. Sun Jae plays a lonely piece in his apartment feeling the same separation.
Hye Won breathes deep, holds her phone, and closes her eyes. Sun Jae continues to play.
Sun Jae comes down his outside stairs and enters the restaurant sitting in front.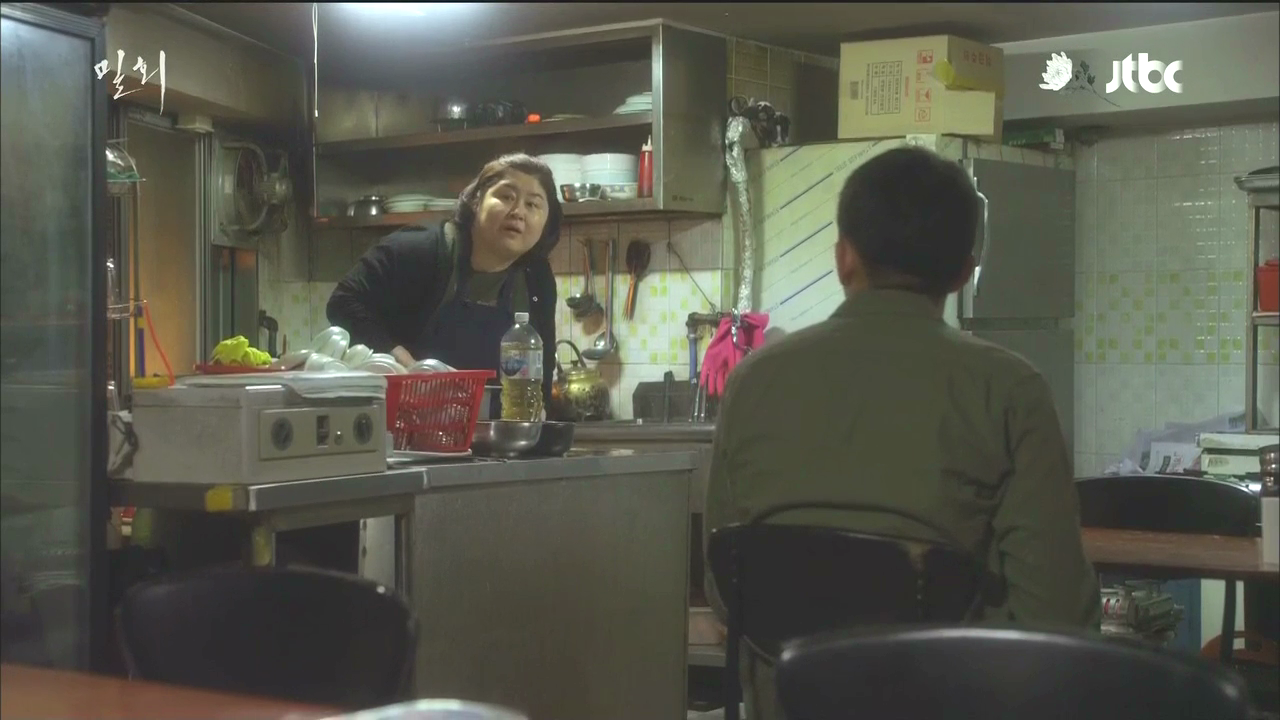 The ahjumma looks at him expectantly and he gives her a look. She indicates behind him with her head, and he turns.
Hye Won, in the back of the restaurant, is eating at a table near the wall. His amazement – is he imagining things? – turns to happiness and gratitude to whichever gods brought him his goddess. His eyes well up with tears and a brief smile appears. Hye Won sits silently eating. As if it is the most normal thing ever, Sun Jae goes to her, putting down his bowl of rice. He sits across from her, grinning, taking out utensils, "Where's your car?" She left it at work. We still don't see her face, the camera stays on Sun Jae, who really looks like the best birthday present ever showed up. Quietly, they share the stew, Hye Won eating as if her life depended on it and pointedly NOT looking at him, as Sun Jae's face lights up just being there across from her.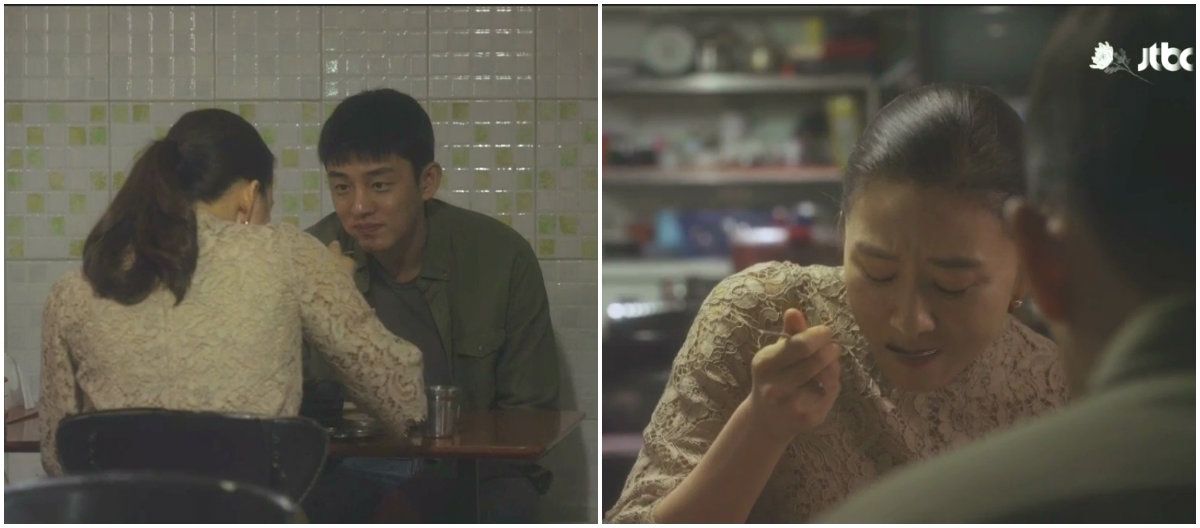 A bus ride takes them to a traditional style inn in the country. Hye Won leans against the wall, weary from the day. Sun Jae busies himself bringing her clothes, setting up the sleeping mats. He informs her where the bathroom and kitchen are and what free food they can help themselves to, "The plates and utensils are clean."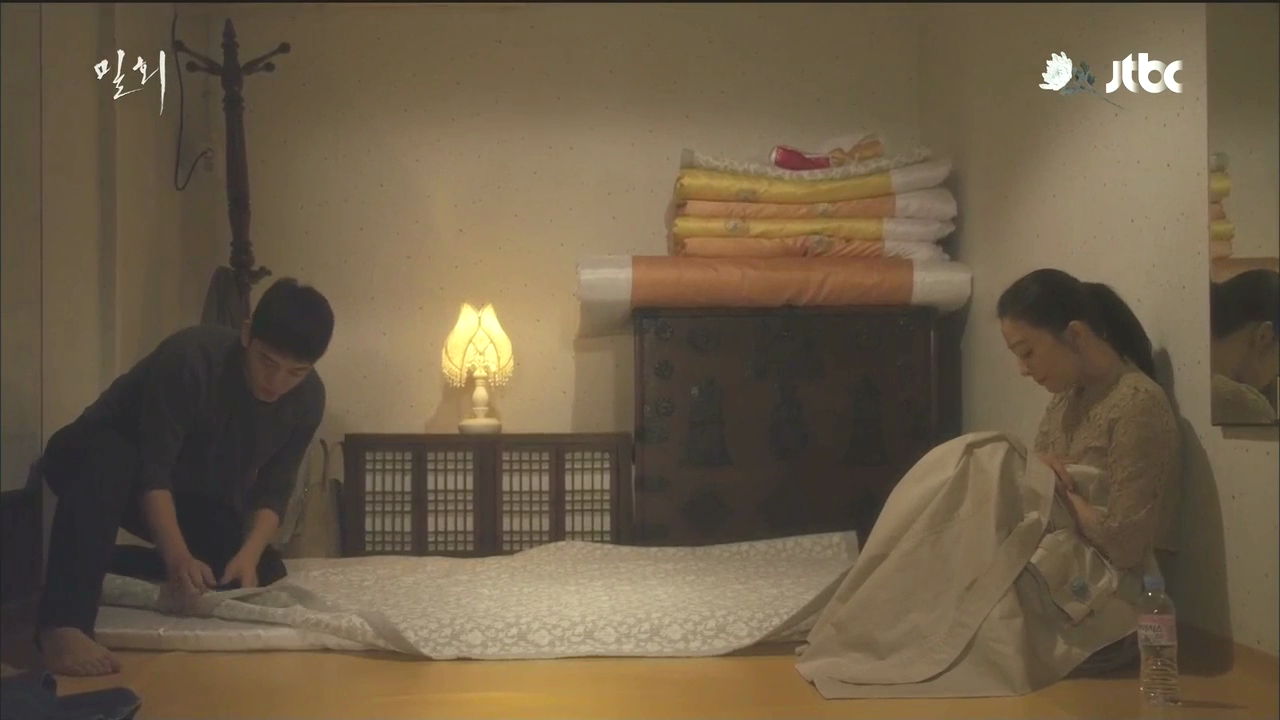 She teases that he is always the hygienic one. Ever the thoughtful one, he lays down blankets and pillows with great care and she observes. His mat, however, has to go over there. He shoots her a surprised and disappointed look. "Are we animals? At a time when we're about to be dragged out and stoned." Not responding, he keeps layering the bedding while she hangs up her coat on the clothes tree. "Why are you setting your bed so carelessly?" "Because I'm an animal," he retorts impolitely, showing how much her words stung. Touché, ma boy!
She laughs. He digs through his backpack for her clothes, which touches her that he thought of it. "Are you hungry?" She is and has been since the taxi ride from the bus. "There must be a hungry ghost inside." They sit across from each other without talking and she sips from her water bottle.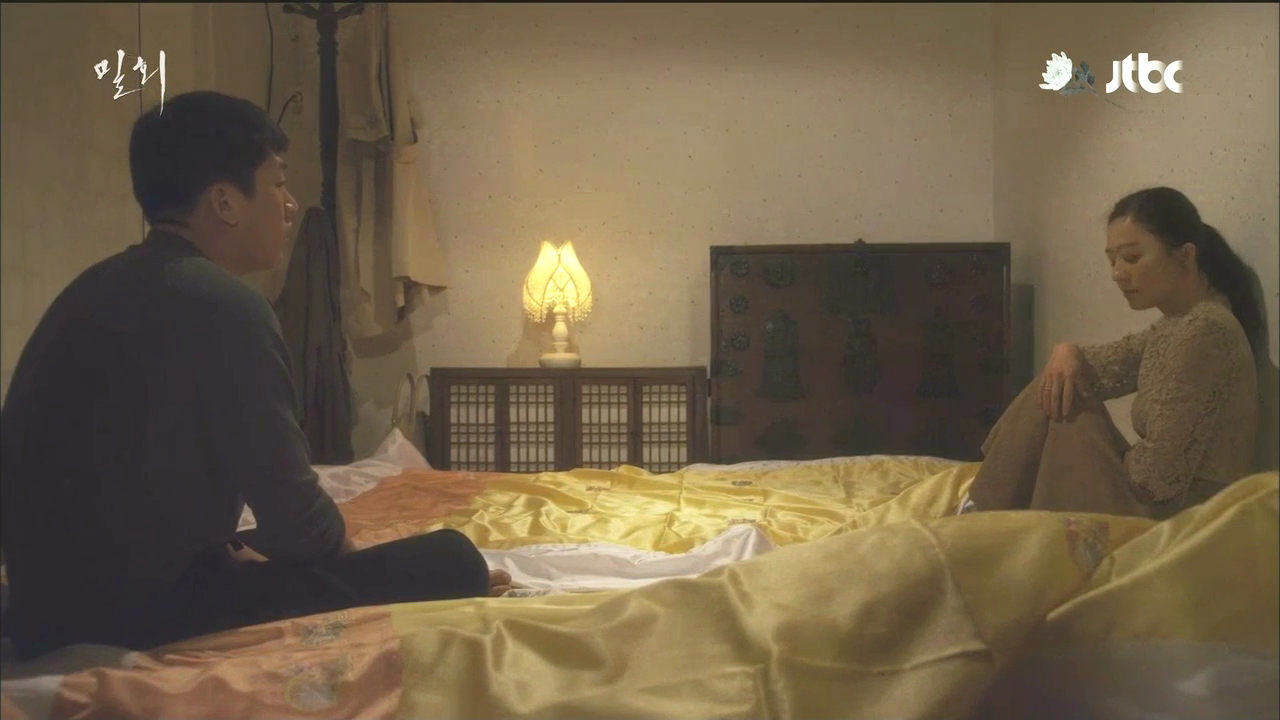 A visit to the kitchen to eat is thwarted when he finds another couple eating there.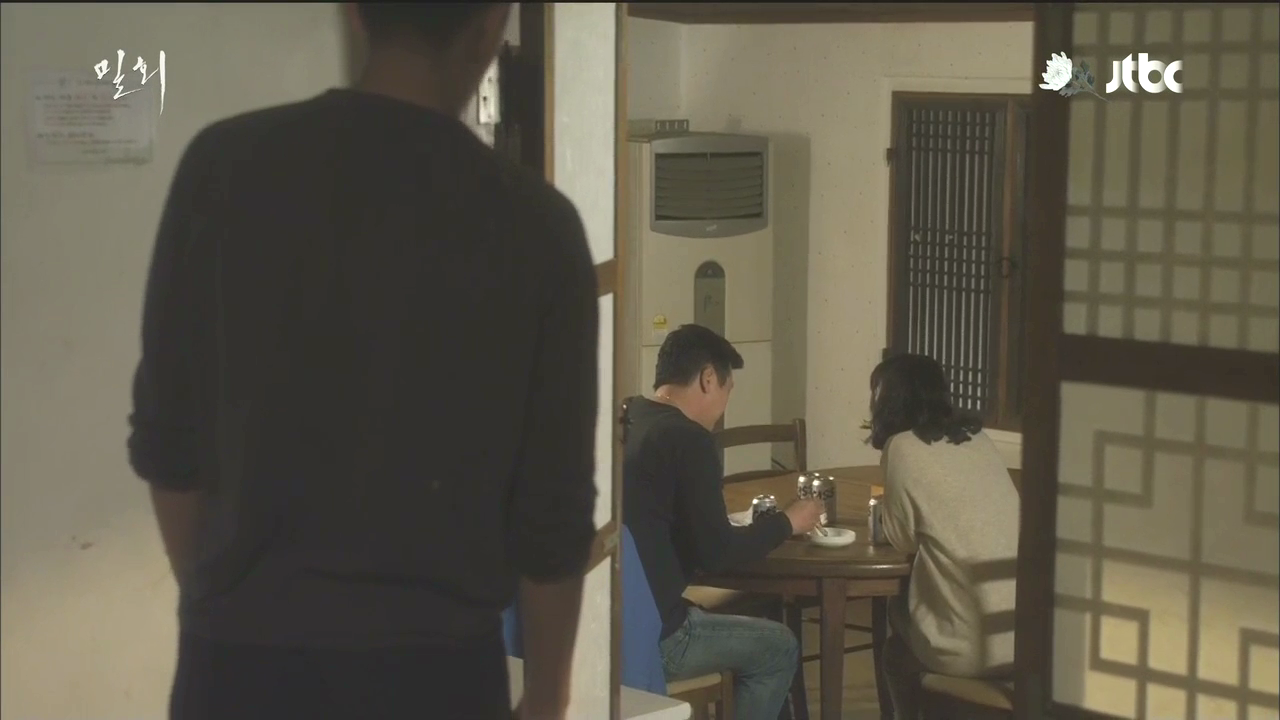 As he returns to their room, he goes outside, doing surveillance maybe? He spots their shoes, side by side, then decides to hide hers.
Joon Hyung receives a lie text from Hye Won that she is with Ji Soo and will be late. "Have fun," he replies ironically, and I LOL.
Sun Jae returns and lets her know there were people eating, so they couldn't go out, and that he hid her expensive shoes. They leave the room, she asks he stand guard while she is in the bathroom.
Joon Hyung goes into a bar to hang out with Cello Snob and Young Woo, who tells them she wants to talk trash about Joon Hyung's wife. Thanks to Hye Won, they don't fight, despite being in-laws with bad tempers. Joon Hyung refuses alcohol and orders a juice. Hmmm… They ask about Hye Won. "What's up with her?" He doesn't answer.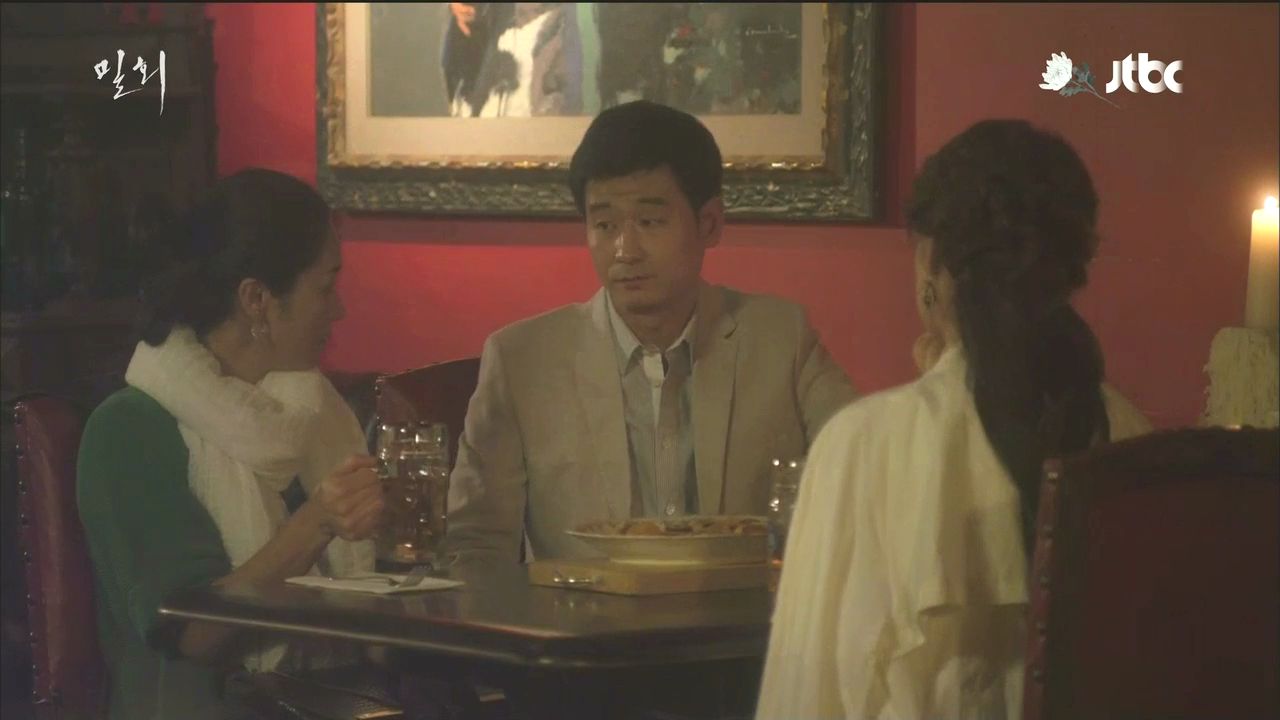 Cello Snob wonders why he didn't come with her and he claims that she is sleeping. Young Woo will NOT let go of the missing hour after the concerto. She wants to know if the three of them met up and talked. He feigns shock, but Cello Snob admits this sort of situation is not unheard of. Young Woo adds "It not only happens, it happens all the time in the artistic community." But Joon Hyung sticks to his story "Don't you guys know Hye Won?" Cello Snob tells him they're just trying to console him, to which he responds, "Console, my ass." A text arrives that takes him away from the table. His spy notices that another spy is on the scene. Joon Hyung urges him to try to stop them, whoever they are, he needs to be the first one with evidence. He'll even pay more.
In his corner, Sun Jae is fiddling with the two cells. "Are you having fun with the toy?"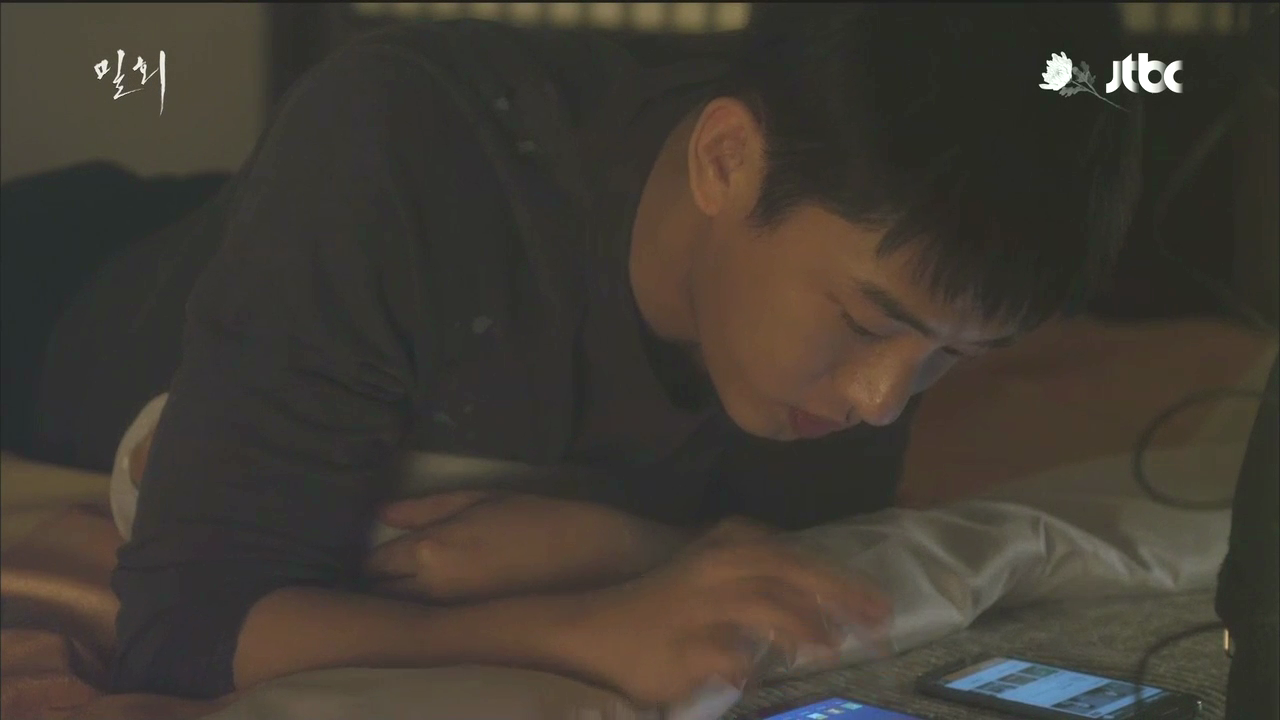 Hye Won asks from her corner. "Hang on," he says in a sing-song voice. She is impatient. "Please excuse me, even though I am animal, I'm coming over." She grins, lying on her side holding her head up with one hand. He brings both phones over to her mat to show her an app that lets Oh Hye Won share music with "Home home home,"
"Why the emphasis?" she wonders, and he explains that one letter names won't work. Oh Hye Won only shares with Home, since his number isn't secret, someone could look at his unless he blocks them. They can share lists, read reviews, send gifts.
"What are you sending me?" she asks.
"How about oldies? There are songs from the 90's here." She gives him a secret smile, probably at how adorable he is, because he is. She tells him she hasn't have any memories since she had no time to enjoy things like that. Then she remembers, when she went to school in the States – she had two jobs then – TA for the dean in charge of the visiting Korean students, and the other was watching over the one he called "Strange." "Oh, that CEO person." She was her attendant even back then. The idea upsets him and brings his head down. "Is it funny?" she asks. "No." He definitely doesn't think it's funny.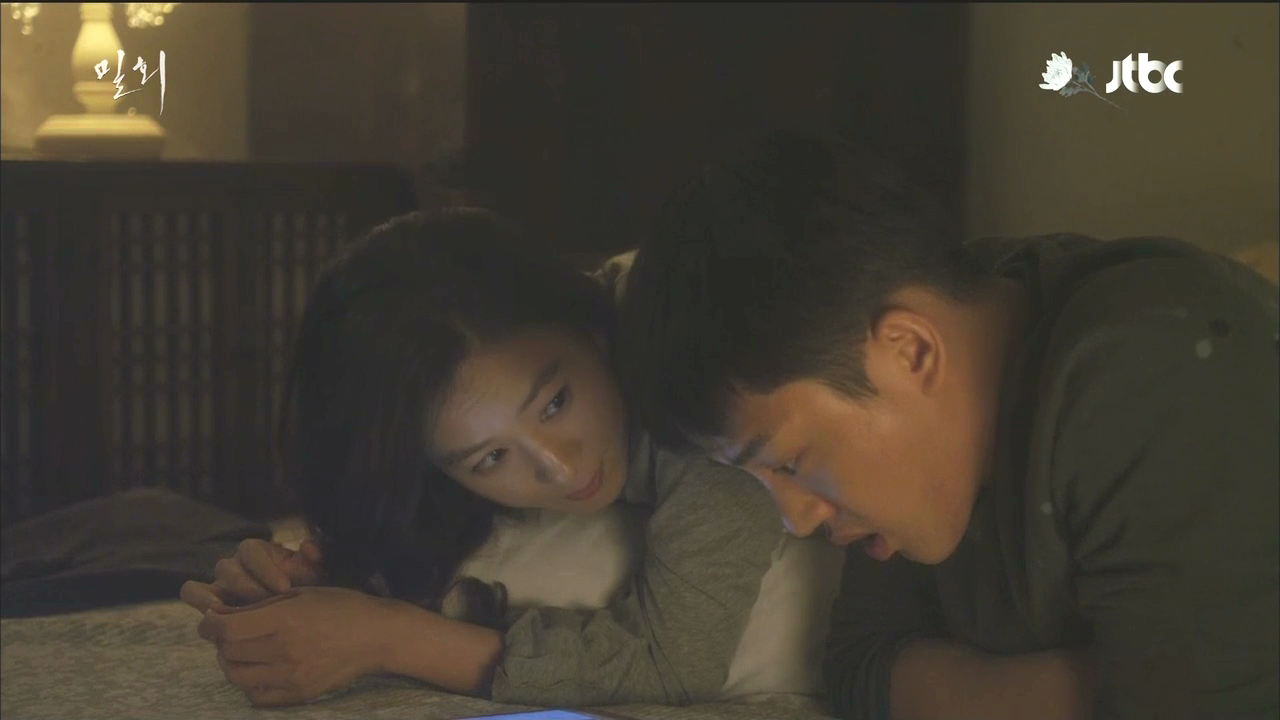 Stalker Spy One listens in from the hall, while Stalker Spy Two from outside. I get chills down my back.

Hye Won and Sun Jae have moved over to the wall where he sits beside her. The picture of her life comes into focus a little. She used to hang around a café for Young Woo who would go to a nightclub nearby. "The song I listened to was.." "It's strange," he interrupts her, shaking his head. "What is?" she wonders. He thinks a little, then decides, "Never mind. What song?" She describes the café as rundown, it was near Grand Central Station. "They mostly come in alone and have a cup then leave. They are the people who stop by before leaving Manhattan from work. Queens, Brooklyn…But the owner always puts on the same song at nine o'clock everyday. It was an old song. It was before both of our times. She asks him to look it up. "I want to hear it. The artist's name is… B-I-L-L-Y J-O-E-L" he finds the third one down as instructed, hands her ear buds and we hear the 1973 song Piano Man.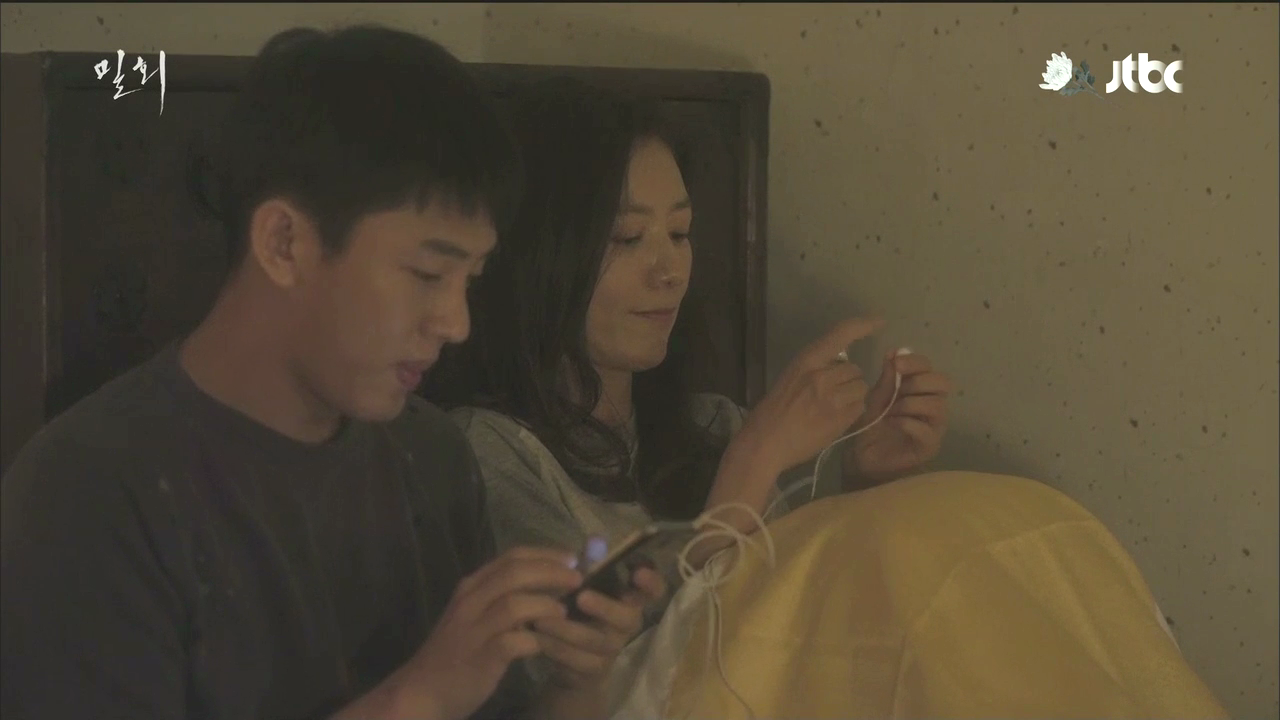 (The lyrics are here.) We listen to the whole song, and Hye Won reminisces sadly.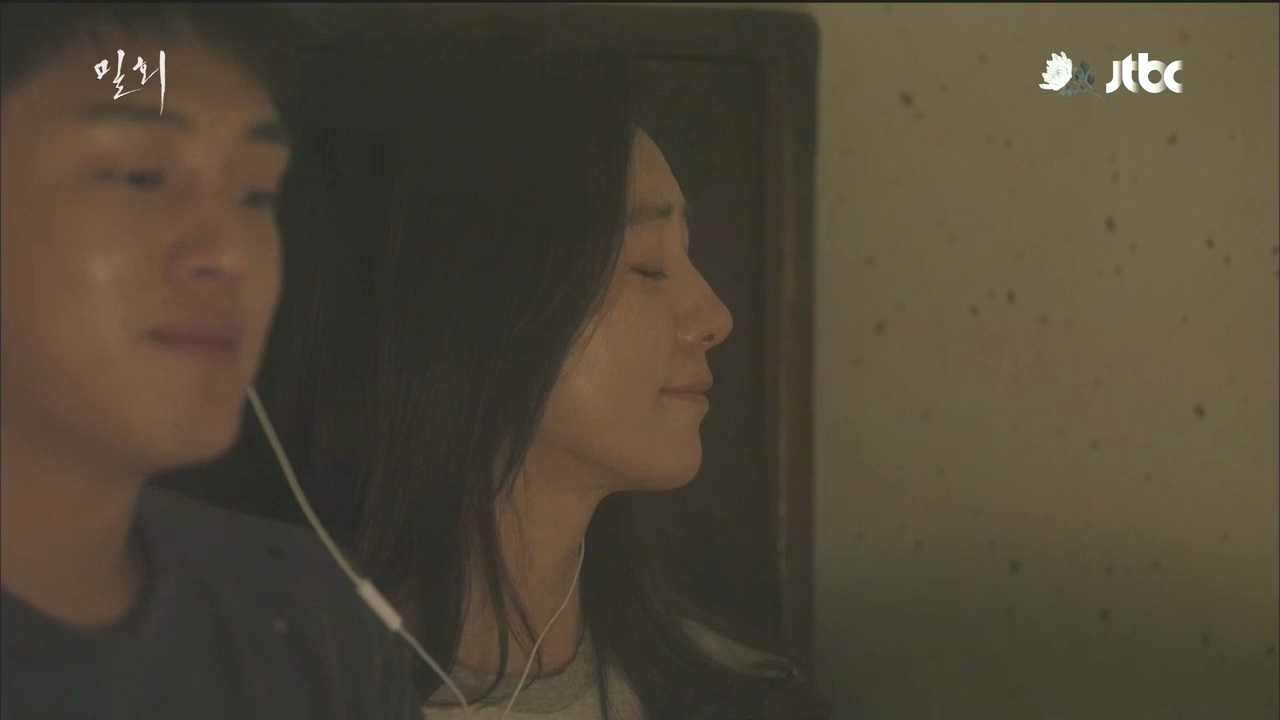 Sun Jae understands how the story of the people in the song compare to her, no, their situation. People who have found themselves in lonely, unfulfilled lives in quiet desperation because they either lost or gave up on their dreams. "They sharing a drink they call loneliness cause it's better than drinking alone."
Outside, a spy shoots a photo of Hye Won's hidden shoes.
Inside, the song continues, "The manager gives me a smile, cause he knows that it's me they've been coming to see to forget about life for a while. As they sit at the bar and put bread n the jar saying, 'Man, what are YOU doing here?'"
The refrain makes me think of how Sun Jae affects Hye Won.
"Sing us a song, you're the piano man. Sing us a song tonight. Cause we're all in the mood for a melody an you've got us feeling all right."
The song finishes, and Hye Won uses that as evidence that her life is fine. "See? Everyone lives like that."  But he disagrees. "It's not too late. I can… take the beating. It's not too late to confess –"    She cuts him off with a "Geez!"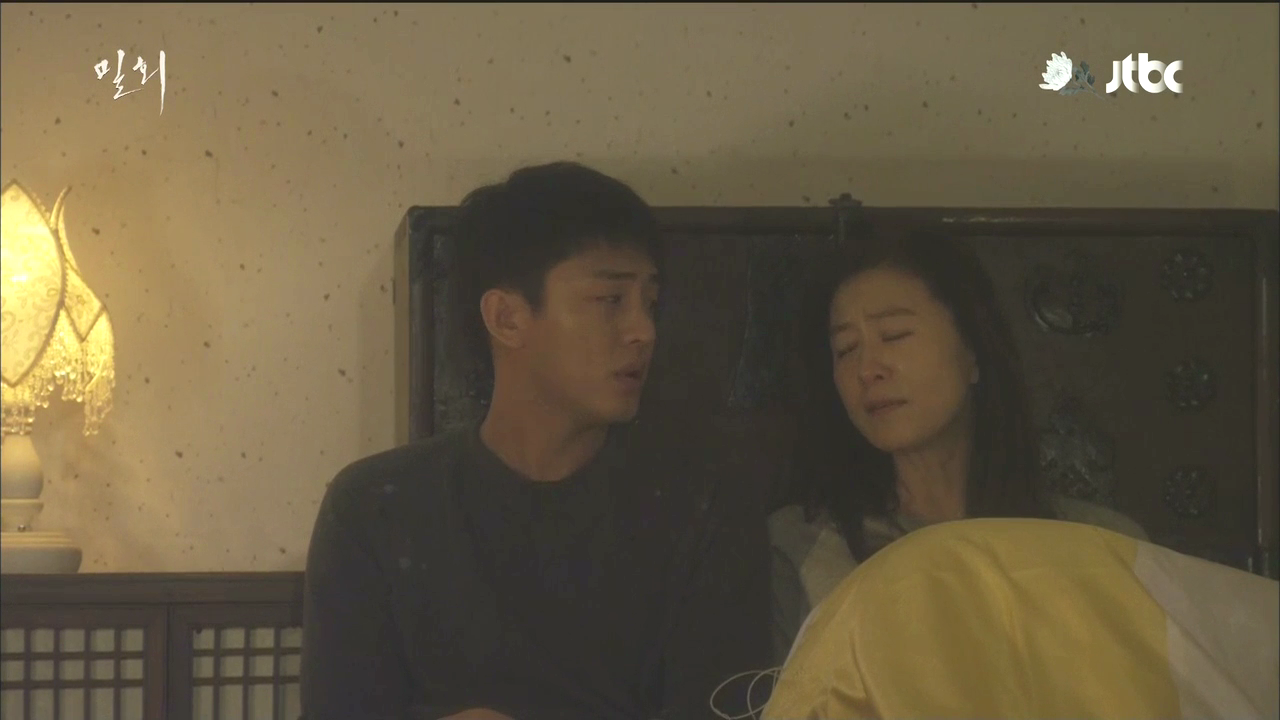 "Living doesn't cost that much. Sure, if everyone lived like me the economy would be ruined, but not everyone lives like me.  And you have that choice." THE BOY IS TALKING SENSE HERE.
She counters his wisdom with "And waste your talent?"
"It doesn't have to be that way," he replies.
"You talk as if you know everything—" He stoppers her words with a passionate kiss, she responds in kind, gripping the back of his head.

Unf. Hunger problem solved.
Morning arrives at the Love Inn. Equilibrium reestablished between them. Sun Jae goes out to move his and Hye Won's shoes, unaware the have been discovered. He faces them out, ready to leave and goes around the corner to the outside door to their room. She can hear him and asks what he's doing.
He's watching the scenery, he answers, and they decide to go out to the village to eat. She asks him to leave the door open and he complies.
Out in town, they feast on a simple meal of soup and rice. "I hear you told Jo In Seo to tell ME not to worry." He says yes. "Where do you find the confidence?" He tells her worrying won't help anyway, but she makes fun of him for being a kid who knows nothing.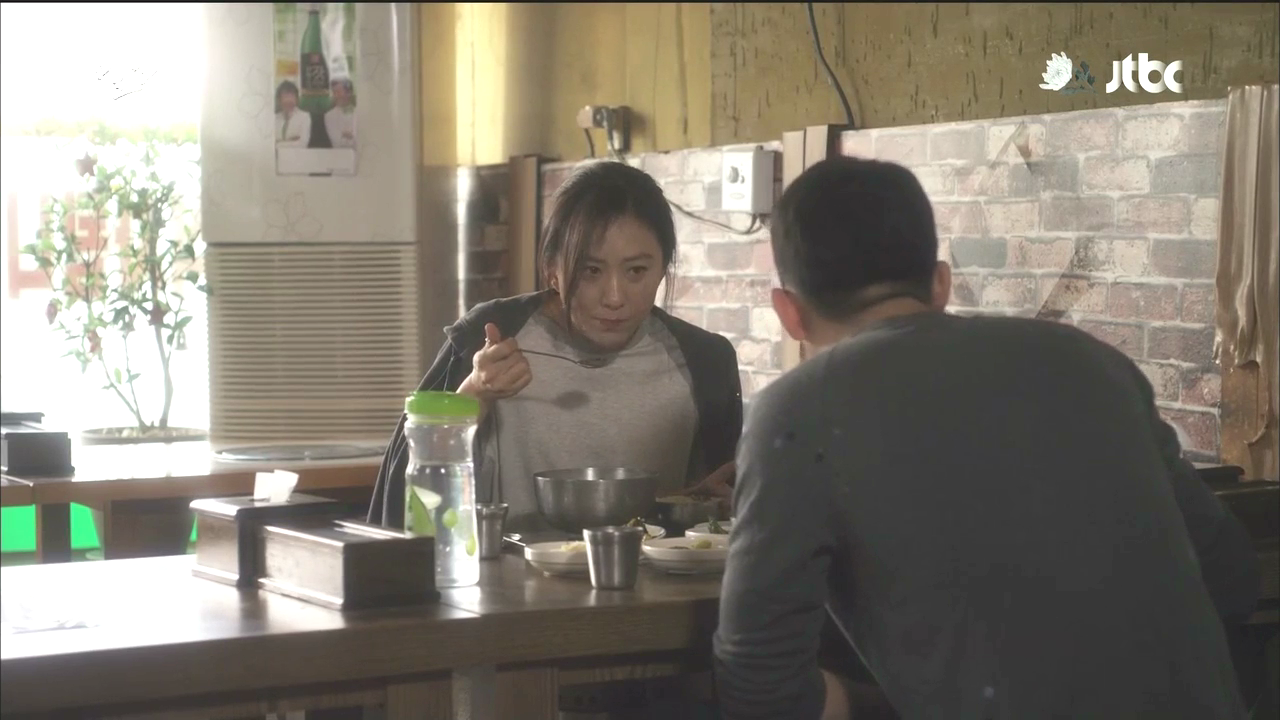 "What good would it do if I did know things?" She's got no response and tells him so. They chat about lunch choices they could cook. He wants to know the best thing she has ever tasted. "German bread." Pass.  "German sausage and sauerkraut." Pass!!  But she insists it would be easy and they can eat it with rice.
One of the Stalker spies invades their room, taking samples from their bedding with a roll of lint tape. Eww ewww and ewww.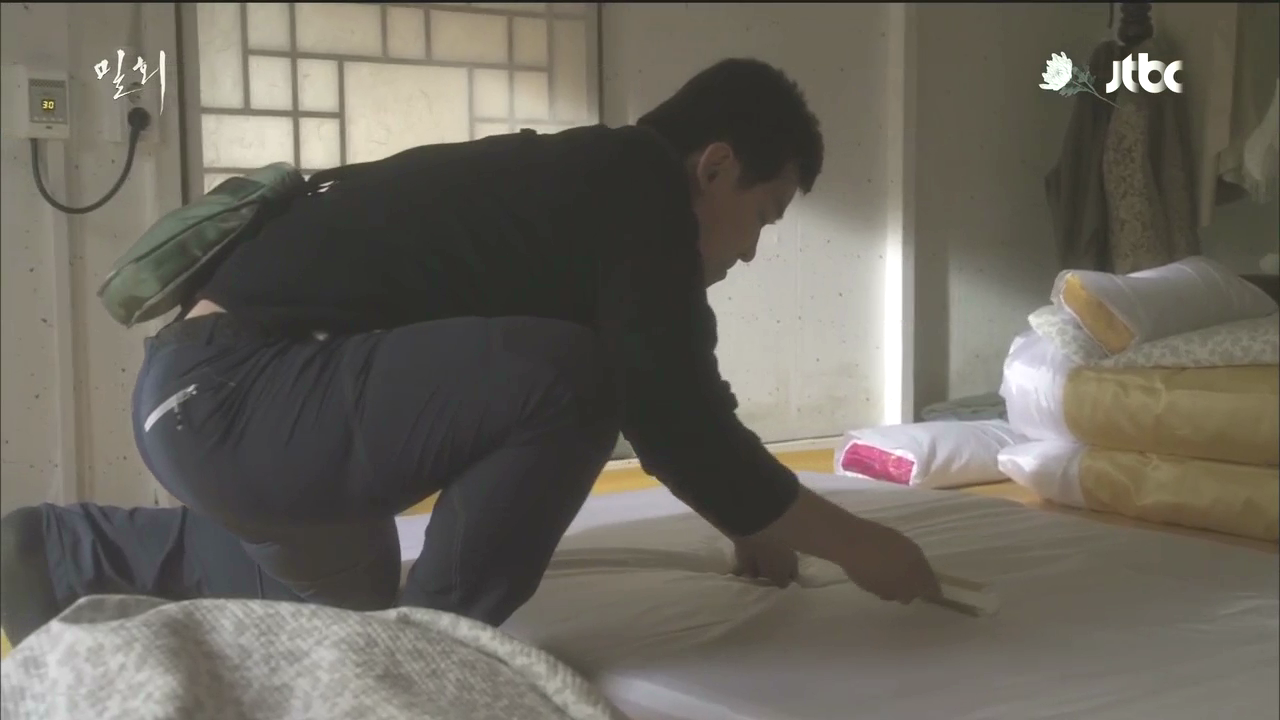 When Sun Jae goes to pay, the ahjumma asks if he is with his aunt or mother. "We're a couple," he declares firmly, daring her to criticize. They hold hands leaving the restaurant, and we watch their domestic bliss cooking side by side in the brightly lit kitchen. She is looking for the whole peppercorns. He schools her, "You're a master only if you can make it work with what you have." She compliments that he would do well living abroad with that attitude. He is not going alone, he declares. "I sent emails and videos to all the famous teachers," continuing to chop the vegetables.
She stops what she was doing and gets closer to him.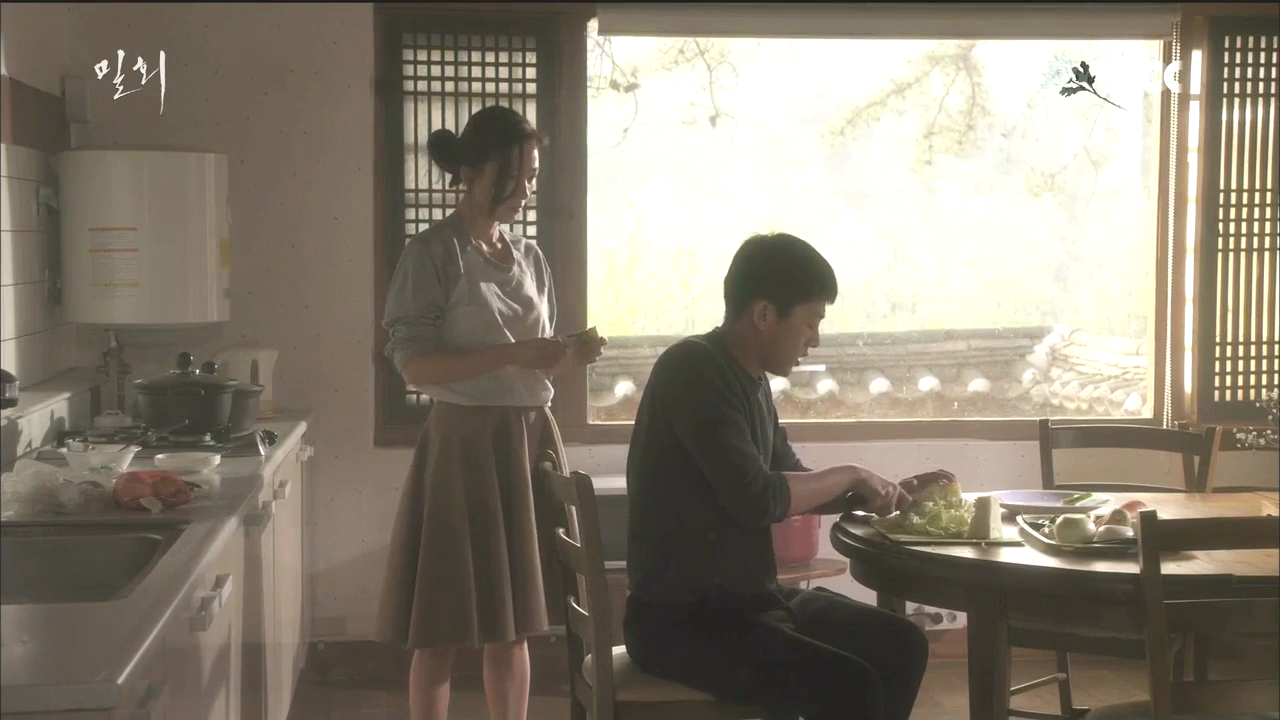 "'I'm this good. And I want to study with a girl. Can you accept me?'"
"What?" What has this boy been up to?
"It was so hard because my English is terrible. I got help from the English essay writer in my neighborhood." She sits across from him, stunned.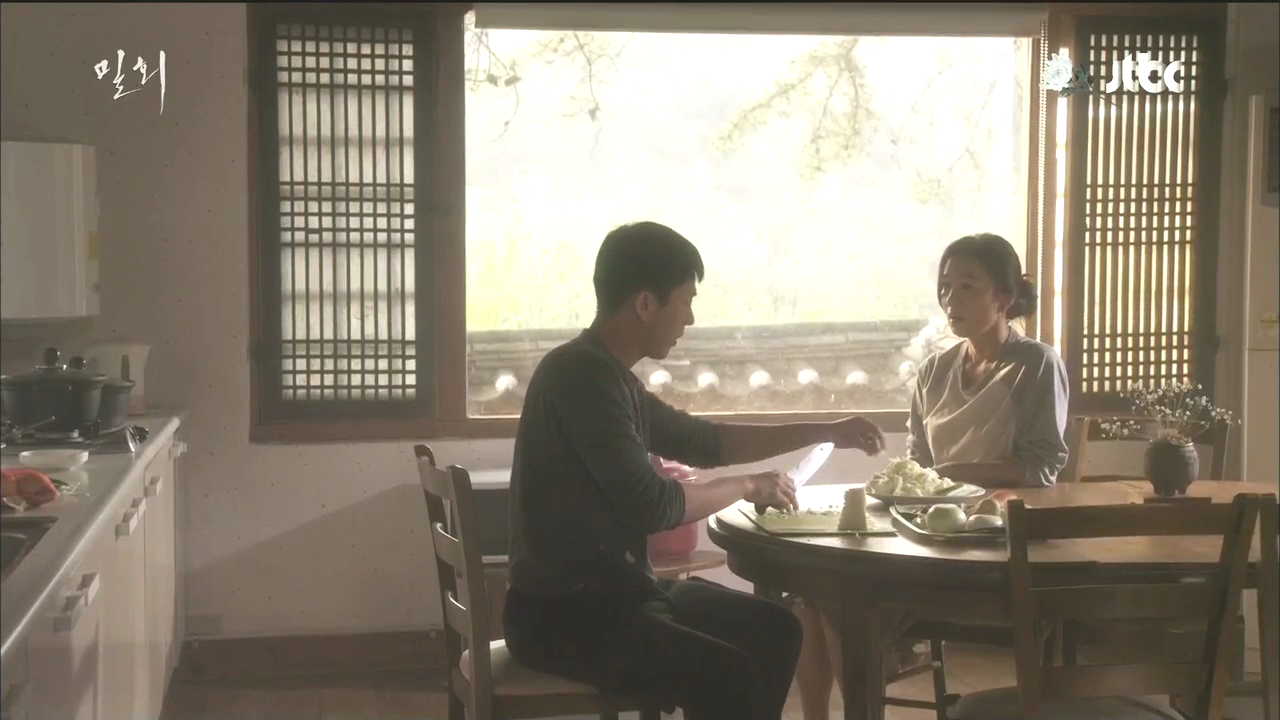 "The concerto DVD and the video. You told me to use the money from Hannam-dong wisely." Chop chop. Hye Won looks out the window, back at Sun Jae, and laughs in disbelief.
Lackey reports to Prosecutor Hubby that he didn't see her today and that the mother-daughter team will be arriving after their jail visit. The aforementioned arrived and Young Woo immediately complains that Hye Won isn't there. Han denies sending her on an errand. She also defends Hye Won's right to take a break when Young Woo voices her shock that Hye Won isn't standing by 24/7 in this emergency.
Young Woo could learn a thing or two about handling employees. Young Woo with a bone is still disconcerted that Daddy chose Hye Won to consult after his lawyer. Prosecutor Hubby announces his intention to apply for Seo's release. He asks Han to unify the channels.
"Channels? What channels?" She tells them she is going home to rest. Young Woo warns Hubby that the two women are up to something, he should investigate. "Be quiet, won't you?"
Han gets Hye Won on the cell.
"Ah CEO Oh," she begins, but Young Woo shouts.
"VICE CEO!" LOL
Han hopes she rests well, and Hye Won tells her she's sorry. She went out for fresh air. She'll be back Monday.
Sun Jae is right outside their door taking the sun, while Hye Won sits in the doorway.
'It's not getting fresh air. It's making fresh air. Right?" Viki tells me this is a pun about having an affair.
He laughs in agreement. She complains about an exposed tube outside grumbling it insults her sensibilities.
Sun Jae wants to know the difference between that sight and his apartment, which is 100 times worse. She states that she is blind to his house, but here they are selling its image, and his house has so much history. Sun Jae points out that is a part of the history and progress of the place. You can look at everything from that point of view.
"Don't you feel funny using those words? 'History, progress, sympathy, fate'?"
What about them? They're in the dictionary, aren't they?  She calls him out for trying to lecture her, The very idea that he could teach Oh Hye Won makes him laugh.
She realizes he has been teaching her from the beginning. "Then why don't you learn?" She can't see his face and his impish grin.
"I wish one of the places I emailed would answer me," he sounds wistful.
The Foundation needs him, she proclaims, he has to reach the finals of at least one competition. He shouldn't be making other plans. "Can't we just ignore that?" He researched Seohan online. It isn't as if the money is all that clean. His expression clouds, like a little kid who finds out Santa works for Wal-Mart. Hye Won reminds him,"I told you to stay out of it. Doing nothing helps me."
"You should go, right," he says reluctantly.
"Before the sun sets," she tells him. This makes him remember something. Maybe from the Little Prince? "The hardest part of the day is when the sun sets."
"I guess that is why I went to the restaurant last night, when I should be old enough to know better." He reaches out and holds her hand across the threshold.
Her imminent return to the bad world of Seohan depresses them both. They linger as long as they can in the moment.
Lonely and aggravated Joon Hyung waits for Hye Won to return. We hear a bustle in the entrance. Ji Soo is there with Hye Won, groceries and a good cover story.  Husband and Best Friend haven't seen each other in a while. He asks about the kids, while Hye Won goes to get a bottle of wine. When he says goodbye and walks away, Ji Soo calls him back. Isn't he going to take the bags of groceries right there on the floor? He apologizes and mumbles something about ahjumma. After he leaves, she gives him a disapproving face and shakes her head.
Ji Soo takes the bottle of wine, warning her friend that a storm is coming.
Hye Won promises she's got this, and Ji Soo departs still apprehensive for her friend.
Sun Jae returns home, it looks shabbier and lonelier now that he is back. He closes his eyes, leaning on the doorway and goes into his bathroom.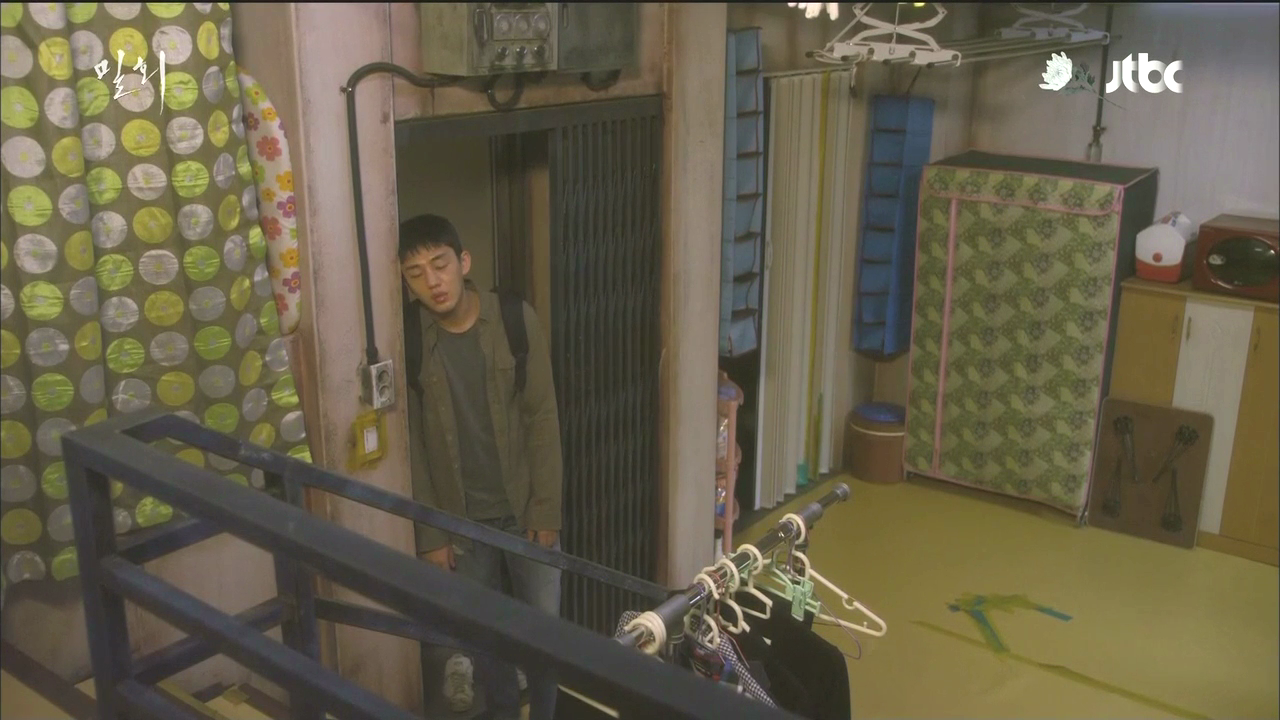 Hye Won does her bedtime beauty routine, preparing to face Hubby's wrath.   He appropriates Hye Won's sunny spot on her white couch.
"Be honest with me," he hesitates, "Lee Sun Jae…Are you planning something with Jo?" Of course that is all he cares about! Not the affair, but keeping the credit for teaching Sun Jae…
"I don't know what you mean?"
"Are you two conspiring to send him abroad?"
We didn't plan anything together," she says.
The scholarship rules clearly state that the primary professor has the last word on any travel abroad. She asks what he is worrying about then, if it is up to him.
In a fit of pique, he throws a magazine, which startles Hye Won, and she cowers.
I am starting to think that this isn't the first time she experienced fury like this, maybe from someone else, though.
"That punk should have discussed it with ME first."
With her hands covering he face, she gives no reply, and he storms off, and she catches her breath for a minute.  Hubby takes his sleeping pills,
calls her a rotten bitch, and goes to bed. Slowly she makes her way down the stairs to her office, pausing to lean against the wall.
Sun Jae is online looking for Hyung. "I feel like I left my bride in someone else's room on my honeymoon."
Hye Won is there to respond that she's no newlywed but rather a two timer, but tries to reassure him that perhaps his bride is not sharing the bed with her husband. Married couples don't do that after many years. "My older Oppa is like that, too." Quickly, she changes the Oppa to Hyung.
"You think?"
She waits, then sends, "You never know. Your bride might be missing you, already, too."
He thanks him, but that doesn't really make him feel any better. They log off.
Poor Sun Jae sobs himself to sleep. This is heartbreaking.
Next morning, Han asks about Hye Won's weekend.
Han describes Seo's variable mood – one moment he announces he'll spend all his money to be released, then claims he isn't all that scared. Han is losing patience with Hye Won's vague responses about the old man. "So ask me a specific question," Hye Won says. Han needs to know how much money was embezzled from Young Woo's company, a question Hye Won deflects.
"Not that much."
Always angling for more, Han suggests all the money from Young Woo be moved into her own account. "I told you work strictly for me."
"I'm not the accountant, I just hold the keys."
"Think about it," Han suggests/threatens, "I am the queen of espionage."
Hye Won returns from the scary woman's office into her own, only to find the most scary woman ever in there.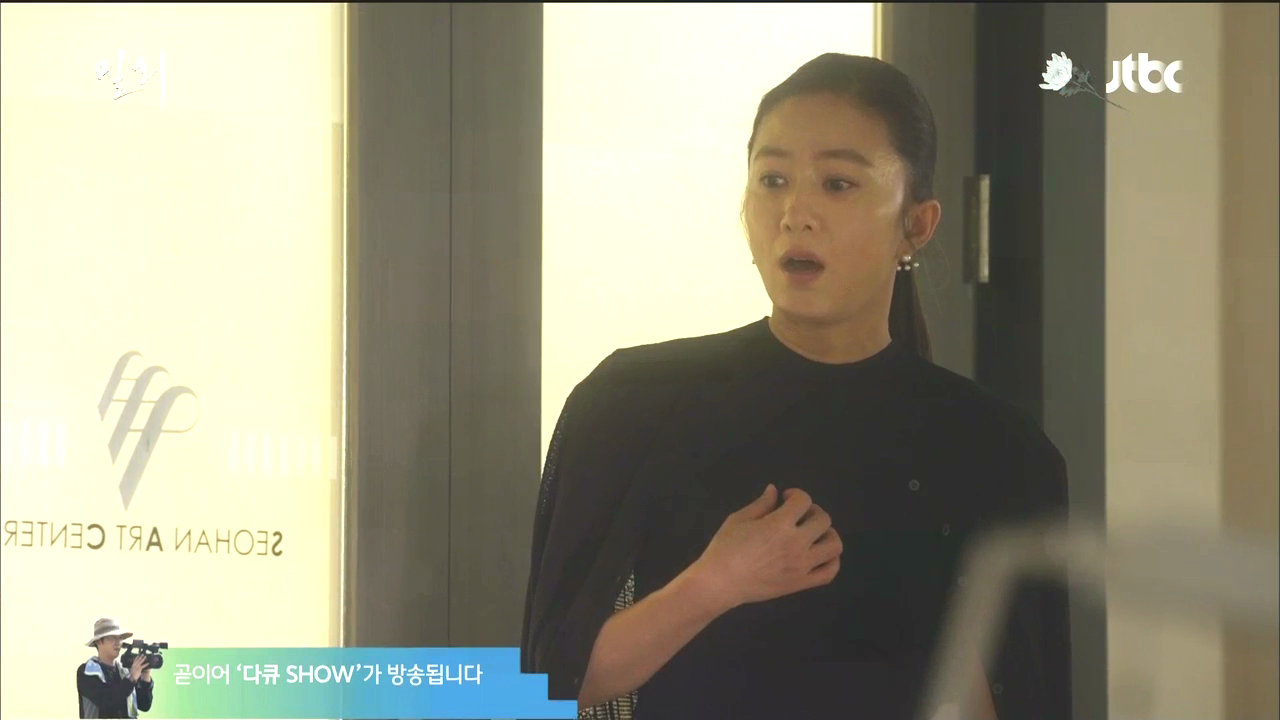 Da Mi frightens Hye Won breathless with just her "Hello."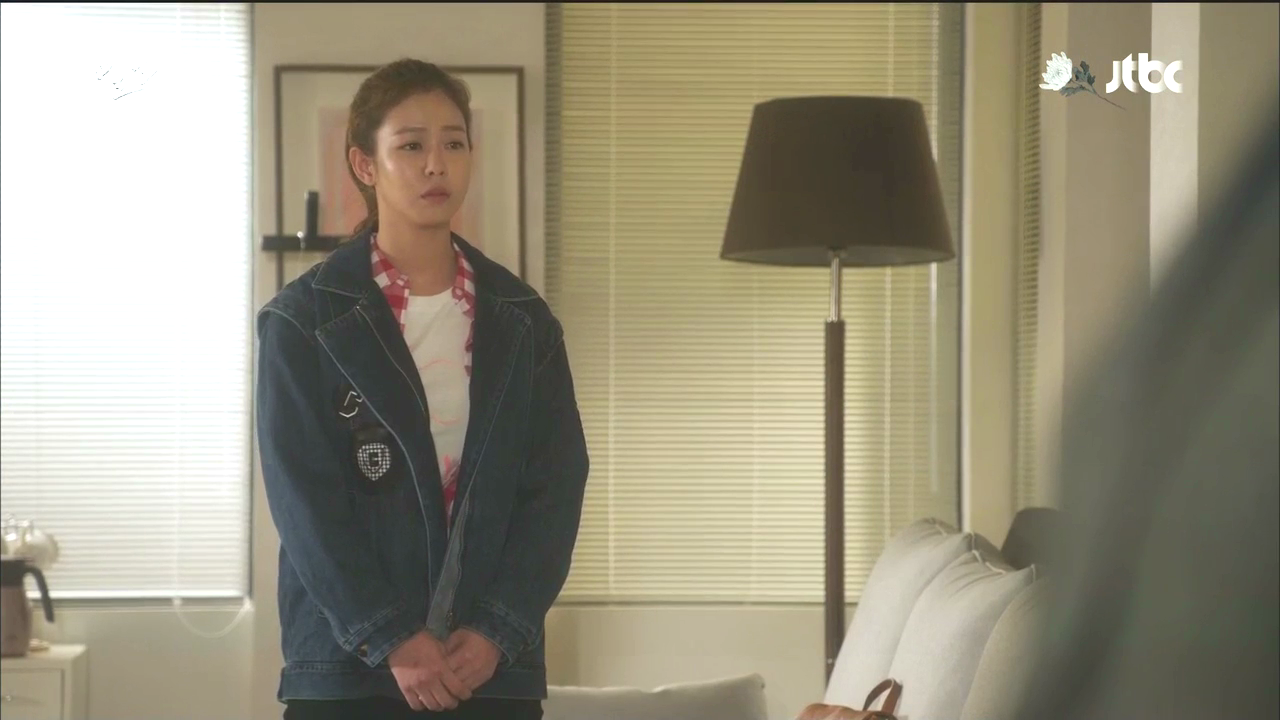 She is here to talk about Sun Jae, she states. Secretary makes herself scarce fast.
Hye Won walks toward the younger woman.
End
I agree with Koala that recent episodes have made me a little less enchanted with the series overall. Even so, my favorite moments of this drama season = ♥ HW+SJ ♥ Especially when Sun Jae asserts himself with his teacher, and she acknowledges he is right. They make a good pair of sense and sensibility; I need them to be with each other for the rest of time. Their limited hours together still smell of an impossible paradise, with the hounds of hell closing in with the search for evidence.
Speaking of which, what is the goal of this proof? What happens if Hye Won and Sun Jae get found out? Joon Hyung has already declared he will not divorce her. What does have to threaten her with? Break up with Sun Jae or I will tell everyone in the world that you are cheating on me and I am fine with that. So there.
The only horrifying thing I can think of is that Han and The Gang will somehow hurt Sun Jae? The kid has already been to jail once, and offered to stay, so he isn't as afraid as they think he is. Hye Won, on the other hand, wouldn't be able to handle the guilt of him hurting because of her. I dunno. There's a USB somewhere with all the bad things on it. Call me crazy, but I would have destroyed that by now, instead of shuffling from safe to purse to office. Here's hoping for an ending like (spoilers!) the Sting, where the Good Guys pull off some sort of switcheroo. Don't laugh at me, I am 99% sure there will be a happy ending. There HAS to be.
Click here to watch Secret Love Affair.