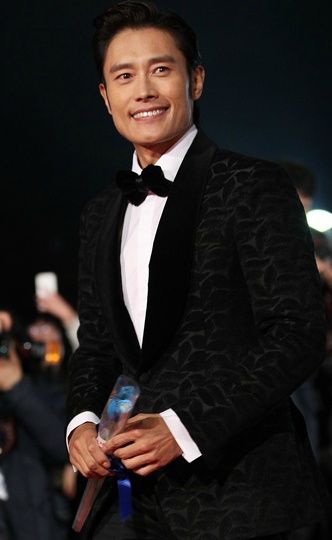 There's a new twist in the Lee Byung Hun blackmailing legal matter that doesn't exonerate the accused young ladies but does paint him in an even worse light if the information is true. The two accused are 20 year old Dahee of the girl group GLAM and a model named Lee Ji Yeon who is 25 years old. Scrutiny had been focused more on Dahee since she's the more publicly known of the two ladies but now Lee Ji Yeon has stepped forward through her lawyer to proffer a reason for the blackmail attempt. There is always a reason for something, and almost always the reason is important to understand the full picture. Lee Ji Yeon claims that she had a three month long affair with Lee Byung Hun which he recently broke off and her attempt to blackmail him arose from being hurt that he was ending things with her.
The lewd recording at the heart of the blackmail was recorded by Lee Ji Yeon's friend Dahee and happened while Lee Ji Yeon was not present. Apparently the three were drinking but Lee Ji Yeon left the house to buy more drinks and when Lee Byung Hun and Dahee were alone is when the conversation took place. Dahee secretly recorded it and only after Lee Ji Yeon was unceremoniously dumped did she use the recording to blackmail Lee Byung Hun. Being dumped or pissed is no defense to blackmail so Lee Ji Yeon at most is bringing this up to explain why she broke the law as well as paint Lee Byung Hun in an even sleazier light. Lee Byung Hun's attorney has vigorously denied his client had an affair with Lee Ji Yeon and calls her assertions completely fabricated. I don't know why but this entire mess makes me want to take a good long shower and scrub off the slime. The only person I remotely empathize with is Lee Byung Hun's wife Lee Min Jung.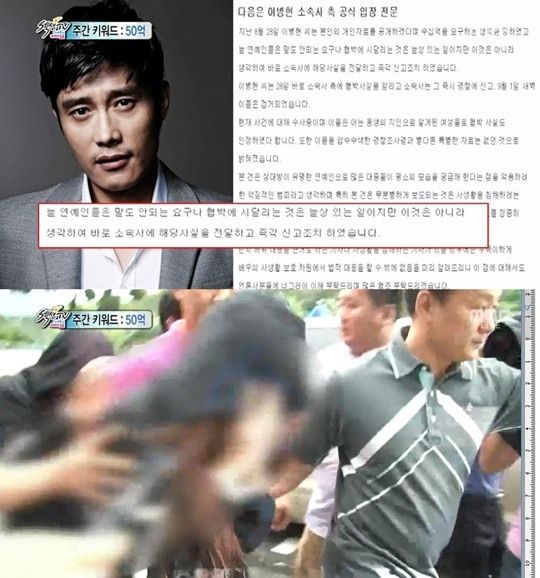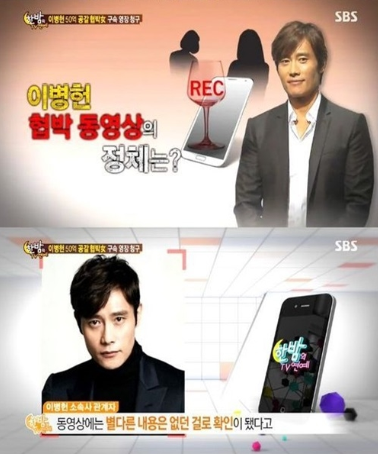 Prior to Lee Ji Yeon's claim that she had an affair with Lee Byung Hun, late last week he actually penned a handwritten letter to his fans where he apologized to everyone around him including his family and fans for letting them done.
"This is Lee Byung Hun.

I know that many of you are very disappointed because of this recent incident. My mind and my heart are not working properly now and I'm merely breathing to pass the days.

Regardless of whether the incident was planned or I was threatened, before blaming such things I know that it all started because of my carelessness and lack of virtue, and I deeply regret my actions and am spending my time reflecting. As an actor who received love from many people, I feel the weight of the responsibility to my bones.

What is most important and most painful for me is that I disappointed and hurt those I love and care for the most. They are receiving so much unwanted attention and going through a difficult time because of me. I'll try my hardest for the rest of my life to not again disappoint my family and wife that stood beside me.

Though I can't take back the disappointment I caused, I'll use discretion for everything going forward. I'll try to live by doing my best with the work I'm given, and I will always reflect on how big the responsibility of the love and interest you give me is."