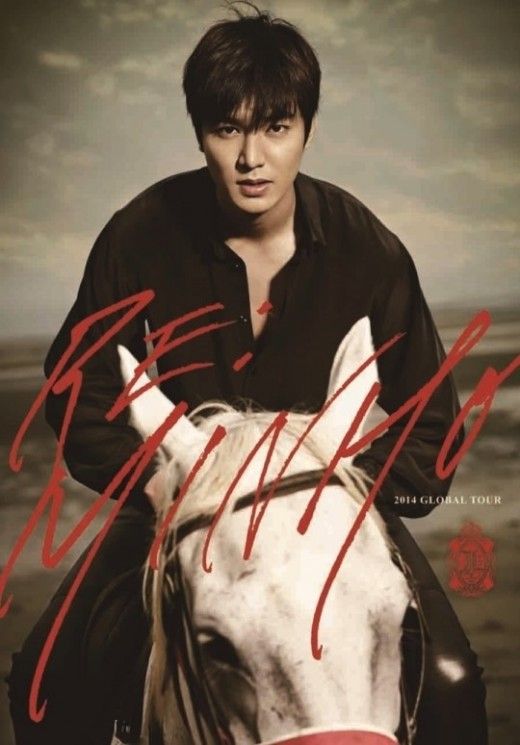 I'm not going to fault Lee Min Ho for doing this since there is clearly an audience for whatever he's selling. Lee Min Ho is spending October and November on a series of Asian fan meetings with all of October devoted to hitting up four of China's biggest cities. He's calling it the Re: Minho Tour, but I think it's more aptly named Do You Have Money You Want to Give Me Tour. His fans will be thrilled because he's debuting new original tracks for the fan meeting to go along with singing songs from his last mini EP My Everything.
The new songs will be released in mid-October on a new mini EP called Song for You. I burst out laughing upon hearing that album title because the original drama name for the currently airing Rain–Krystal drama My Lovely Girl was actually Song for You. Talk about a quick recycle. The post topping picture was released by Lee Min Ho's agency as part of the promo for the Re: Minho Tour, and if the image of Lee Min Ho looking like a romance novel hero riding in on a white steed doesn't scream the appeal he wants to convey, then I don't know how much more obvious he needs to get. Have a listen to all the tracks below.
His devoted fans will think nothing of gobbling up the tickets to his fan meetings even as I can't imagine attending even if I was comped the ticket and someone paid me. Crowds are not my thing nowadays and if I have to brave the throngs it better be for an epic show like an U2 concert or Bey and Jay-Z's On the Run tour, much less for Lee Min Ho's brand of vanilla singing and dancing.
Official teaser video for the Re: Minho Tour:
Okay, I get the whole English gentleman concept, what with the tux riding a horse on the beach and even the Hunter boots he's wearing. But why is he holding a shotgun in one scene? Is he going grouse hunting to feed his damsel? And if he's an English country gentleman then why is he living in a mobile home on the beach as well?
Have a listen to the just released full mini-album below. I actually like it as much as I liked his first mini-album, all the songs are really easy to listen to in a pleasant but unmemorable way. Sadly Lee Min Ho's ability to sing hasn't improved, it's barely passable and his voice isn't one of those smexy ones that can overcome a mediocre delivery. Even with his singing I still feel like he's King of Vanilla.
Track list:
1. Paradise In Love
2. 노래할게 (Song For You)
3. Stalker
4. Travel
5. Burning Up
Lee Min Ho "Song for You":
Lee Min Ho "Burning Up":
Lee Min Ho "Paradise in Love:
Lee Min Ho "Stalker":
Lee Min Ho "Travel":