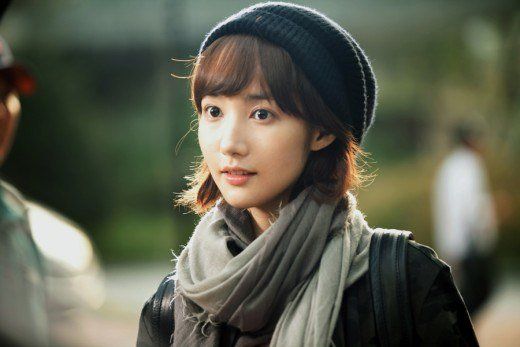 I'm a little bit rooting for Park Min Young's career now that she climbed back out of a major nearly two year long slump. She's not a fave of mine and frankly the only performance of hers I've ever liked was in the horrible written KBS drama Man of Honor (Glory Jane). That drama tried my brain cells and patience as my recaps got more and more ragey, but in the first half of the drama when the narrative still made sense Park Min Young was really wonderful playing a Candy that managed to not feel stale.
Her comeback this year has been very smartly crafted with back-to-back promising drama choices. First came a serious drama with a great lead like Kim Myung Min in A New Leaf and now her upcoming drama is with hit screenwriter in Song Ji Na behind Healer, which is also stacked with two solid leading men in Yoo Ji Tae and Ji Chang Wook. I also think she looks ridiculously adorable in her character stills for Healer, I've a penchant for long hair but Park Min Young is rocking the short messy bob in ways that elicit hair envy from me. The cute beanie and scarf complete the look perfectly.
One reason I'm inclined for her to really comeback as a drama leading lady is because she was basically K-drama's "It Girl" during the dramas of Sungkyunkwan Scandal, City Hunter, and Man of Honor only to stumble with Dr. Jin and then basically disappear off the radar for nearly two years. It also wasn't easy dating Lee Min Ho for a few months and being persona non grata to his legion of fangirls. Being the "It Girl" sucks because it's all hype and too much expectation, whereas I think Park Min Young is actually a decent actress that was never meant to be the next big thing but could have had a solid career but for the over-exposure. I thought she was decent in ANL but that drama was all about Kim Myung Min's character so she didn't have much chance to stretch herself. I hope she can shine in Healer the way she really impressed me in MoH, and this time the drama will likely be a smarter story.