I always go into Kim Eun Sook-penned dramas with optimism. She's written my favorite K-drama of all time so how can I begrudge her a few misses here and there. Now that the male lead is basically confirmed (99.9% at least) for her upcoming drama Descendants of the Sun, the optimism level has skyrocketed for me and is parked somewhere in the vicinity of the star called euphoria. Song Joong Ki is going to be Kim Eun Sook's next leading man, y'all! That's a position that virtually guarantees ratings and/or buzz, though it also comes with the high probability of playing a grabby asshole off the bat who needs to learn to love and mellow out.
Song Joong Ki has reportedly met in person with screenwriter Kim Eun Sook and after the lengthy discussion of the drama and role, he accepted the offer from her and is a virtual lock to star as the leading man. The production company and his agency are playing it safe by saying the final final confirmation will come only after Song Joong Ki is discharged from the army this May, but the reality is that he's basically doing it barring some unforeseen last minute hiccup. This is one K-drama production that had to lock in the leads early (and I expect the female lead to be signed soon as well) because the story reportedly has over 80% overseas location shoots and will be fully pre-produced with filming taking over this entire summer with an early fall premiere date on KBS Wed-Thurs.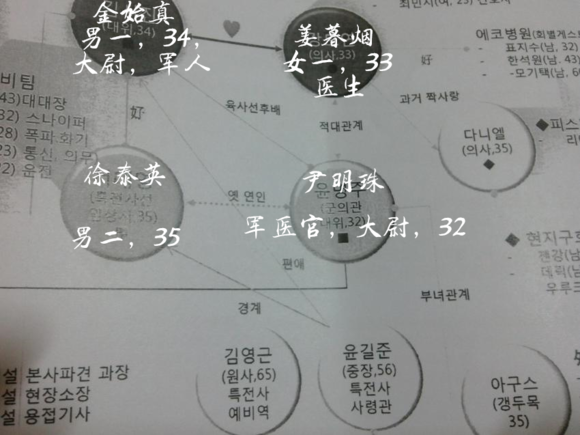 Much has been said about Song Joong Ki considering this drama role which requires him to go from one real army service to playing in a fake one. It's not only going in with the most substantive immersion training behind him, it also makes a nice transition back to the acting world after being a real life soldier for nearly two years. Kim Eun Sook dramas are always sprawling, with big casts and extremely complicated character charts, and this one is no exception. The character chart above is a leaked draft that shows the four main leads and some of the immediate surrounding characters.
The male lead is a commander in the UN peacekeeping forces (34 years old) while the female lead is a doctor (33 years old) from Doctors Without Borders who works with the peacekeepers. The second male lead is a lieutenant (35 years old) reporting to the male lead while the second female lead is an army doctor (32 years old), and the two are former lovers turned exes. The second female lead is the male lead's hoobae in the army and her father is a general. The two female leads are antagonistic towards each other. The central romance is described as starting in dislike and bickering but growing to love while working in dangerous situations to help those in need in conflict zones. All I can say is – YESSSSSS to Song Koong Ki and please please please give him a leading lady I like!