This drama casting news was a day late to join in the circus atmosphere from yesterday's information dump, but maybe KBS was saving the potential best for last? The upcoming KBS Wed-Thurs drama Masked Prosecutor, following after the currently airing ratings leader Unkind Women, has pulled back the curtains to reveal both leads in consideration for drama and to say I am whooping and hollering with glee is an understatement.
As you can see from the spliced still above, and from the very handy title to this post, the drama is courting Joo Sang Wook and Kim Sun Ah for the two leads! Woo hoo, hallelujah for a sensible and promising casting selection. I love Kim Sun Ah and like Joo Sang Wook probably to the edge of turning into love, both are so full of life and energy on screen, not to mention can generate chemistry with even inanimate objects. I'm also happy KBS provided the casting news of the two leads together so that I can start imagining the pairing together.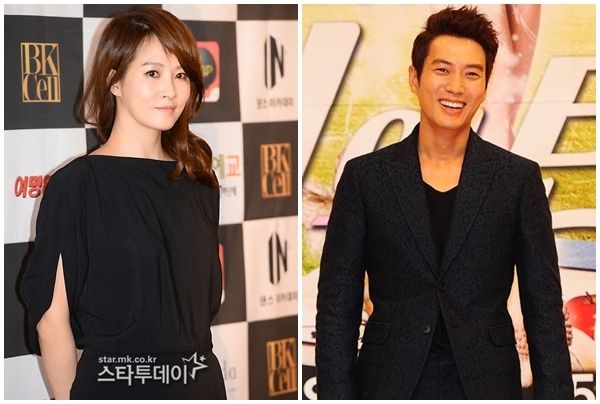 Masked Prosecutor is the followup drama from the production team behind well-received KBS drama Big Man. It follows in the footsteps of BM's storyboard about the average man getting justice from the rich and powerful, but in this case the leading man isn't so average and may even have some powers of his own. Joo Sang Wook is up for the male lead who is a prosecutor by day and a masked vigilante by night. Not sure if he's the Batman kind of vigilante, no superpowers but lots of super gadgets, or the Superman type who has superpowers to help him in the fight. I hope this drama has equal measure intensity with bouts of comedic breaks, Joo Sang Wook is awesomely talented at spot on comedy.
Kim Sun Ah's leading lady character will be the police detective head of the major crimes unit, and I can so see Sun Ah as a kickass police woman. Remember She's on Duty? I hope there's some serendipity coincidence in my recent post bemoaning the prolonged absence of Sun Ah from the small screen and then hearing so soon after that she's primed to make a drama comeback. She can sell any type of role, but like so many talented actors and actresses often finds herself saddled with mediocre to poor story lines. She's also that rare actress who generates equally believable and compelling onscreen romance with younger leading men (Hyun Bin, Lee Dong Wook, Lee Dong Gun) as she does with older smexy ahjusshis (Cha Seung Won). Here's to hoping KBS confirms these two as soon as possible and locks this one down.