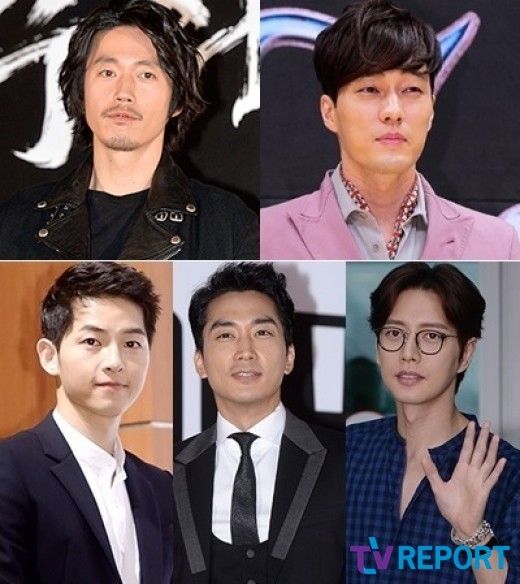 Thanks to TV Report running an article this week about the Korean actor male gods returning to drama land this fall, specifically naming five profile actors in So Ji Sub, Jang Hyuk. Song Joong Ki, Park Hae Jin, and Song Seung Heon, it got me thinking of which actor I was personally most interested in checking out. It's hands down Song Joong Ki with his acting return in Kim Eun Sook's Descendants of the Sun after a two year hiatus from the acting world to fulfill his military service. But my wait will likely be longer than expected to see his return as the pre-produced DotS may end up airing in early 2016.
TV Report also named the return of So Ji Sub with rom-com Oh My God as a project audiences are excited about since it's been two years since his popular last drama The Master's Sun. Jang Hyuk is coming back with sageuk God of Trade: Innkeeper 2015, but his returning isn't as buzzy since he did two dramas last year with Fated to Love You and Shine or Go Crazy. Next up is Park Hae Jin who has been inked for the manhwa adaptation of Cheese in the Trap since forever and now he finally has a rounded out supporting cast. And last but not least is the just confirmed casting of Song Seung Heon as the leading man in Lee Young Ae's comeback sageuk drama in a decade with Saimdang: The Herstory. That one might end up must-watch television but for the wrong reasons, heh.
In addition to the five actors TV Report discussed, also coming back this fall to dramas are Park Seo Joon with She Was Pretty, Song Jae Rim in weekend drama My Daughter, Geum Sa Wol, and last but not least, Yoo Ah In headlining a long sageuk in Six Dragons Flying.