C-ent wedding watch has been on top star couple Fan Bing Bing and Li Chen, for good reason based on their marriage ready age and how sweetly public they've been with the year long relationship. Another star couple might beat them to the gun and do so in a speed dating rate if the rumors are to be believed. Romance of the Condor Heroes (2014 version) lead costars Chen Xiao and Michelle Chen not only share the same last name but might be sharing a lifetime together based on the recent hot rumors that the couple is engaged.
Last month they took a very public European vacation together, which continued to spawn C-netizen jokes about how much cuter, skinnier, and hotter Chen Xiao is than his girlfriend based on a picture of them walking side by side in Paris. All the commentary about Michelle's looks/figure/aura with respect to her casting as RoCH's Xiaolongnu was one issue, but it's sad for her that she's never going to live it down in real life based on this miscasting that riled so many novel fans the wrong way. I think Michelle and Chen Xiao are adorable together in real life, and am more worried about her holding down a man with a very big C-ent reputation as a total player.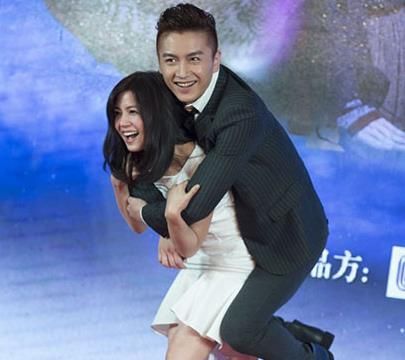 The rumors about the couple getting engaged came from Chen Xiao being spotted buying a honking diamond ring, and Michelle spotted wearing said ring by fans. Her agency has responded to the engagement rumors by saying that she's really happy in love and everything is going well. Good for them if they are engaged, but then I suspect C-netz will try to chalk up any weight gain on her part to sporting a baby bump, or something like that.