Recently a panel of experienced entertainment veterans ranging from the former head of SBS to an acting professor at Seoul University got together and critiqued the pure acting ability of the top-paid stars in Korean entertainment. I found all the criticisms valid, the rankings based on acting ability pretty much dead on, and some of the critiques so funny I was rolling on the floor.
If you think that liking a star means not being able to be honest about your beloved's skills, then I suggest you not read on. Otherwise, check out the sad but true reality – some stars really aren't great thespians. But at least they all try hard. The post tags will show which 10 actors got the full scrutiny.
I'll translate in the order they were ranked.
Jang Dong Gun: pros – has a masculine charisma and a great ability to convey it, the performance is honest, is not a poser; cons – kind but cannot do vicious, needs to strength the ability to make a dramatic impression and to touch the viewers hearts. (Next up – play a serial killer, Jang Dong Gun – leave the President stuff to someone else).
Jung Woo Sung: pros – exceptional ability to understand and convey a character; cons – like a long time lover or a "newbie" who has been in the industry for quite some time, feels somber and without passion. (Tru dat).
Yoon Eun Hye: pros – finding the right character, can surpass any acting threshold; cons – after Coffee Prince, has lost her way, cannot rely on being cute. (She's so hit – dead center, or miss – not even hitting the target, much less the bullseye).
Bae Yon Joon: pros – everlasting Hallyu star image; cons – always and forever there are two performances, wearing glasses and not wearing glasses. (MWAHAHAHAHA!, I'm dying here).
Kim Tae Hee: pros – in My Princess, showed a glimmer of hope that acting can improve; cons – appears to have a fundamental confusion about the skill of acting, expressions of anger, expressions of sadness, its always locked into a form. (I definitely see the glimmer of hope).
Shin Mina: pros – has the potential to express any character naturally; cons – always puts the other side in a passive position, dry line readings and expressions makes even the best male actor unable to fully engage.
Choi Ji Woo: pros – has a unique, pure charisma; cons – since Winter Sonata, with her aging, her allure has decreased, needs to learn to act with her entire body rather than just with her face. (So true, but that crying face does work well).
Song Seung Heon: pros – since Happy Together, the freshness has carried over to subsequent projects, acting is mature; cons – acting does not leave a strong impression, whether dialogue or characters. (He usually skims the surface of his characters, which is why most don't make an impression).
Kwon Sang Woo: pros – has experience and honesty in his acting; cons – its very immature to think that he can overcome his line reading impediments by choosing to do physical roles.
Jeon Ji Hyun: pros – for CFs which require an instantaneous explosion and concentration, she displays an incredible charisma and connection with the camera; cons – has an aura of mystery, even giving off a sense to the viewer that she fades from the screen and into the background.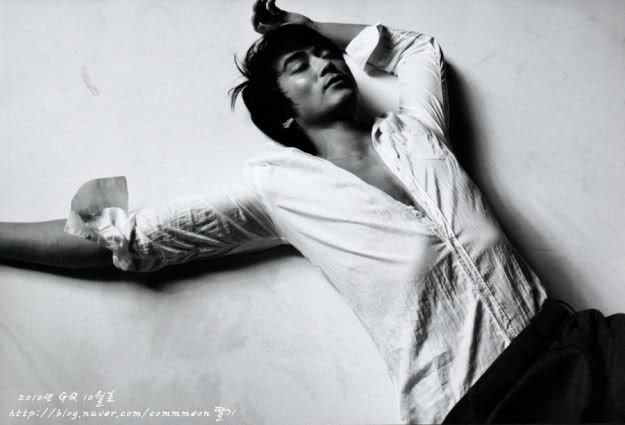 Whenever idols-turned-actors get eviscerated for their limited acting ability and fans counter that people should cut them some slack, I contend that acting is hard hard work. Even the most experienced and highest-paid actors are judged on their talent and improvement. I love an honest look at my favorite actors, because liking someone means being cognizant of their shortcomings.
[Credit: Chosun Ilbo]