I'll be the first to argue that the quality of mangas has been on a steady decline since the late-90s. But as an addict of the original brand of crack, I can't help but still read them regularly. Call it a habit, or perhaps just a fervent hope that occasionally I'll hit on that one jackpot (such as I did with Atatsuki no Aria earlier this year). Before I read AnA, I actually read a few passable teen school mangas that were not steeped in misogyny or random groping (Hot Gimmick, imma talking to you), and I'm here to talk about one that I actually like very much. It's not great, but being solidly good is quite a feat in itself these days. I hereby present Faster than a Kiss (Kisu yori mo Hayaku) by Tanaka Meca.
The first time I read it, when only 6 books had been published, I told my sister that I was reading a manga that was just perfect for a live-action adaptation. Back then I didn't have anyone in mind for the roles of the OTP, a 24 year old glasses-wearing high school teacher who is a reformed delinquent and the 16 year old student he marries out of compassion and protective instinct. But now I do. This story is tailored made to reunite Daito Shunsuke and Kawaguchi Haruna onscreen again. Japan, you make it happen! As for the story itself, read on for a quick synopsis of its cuteness.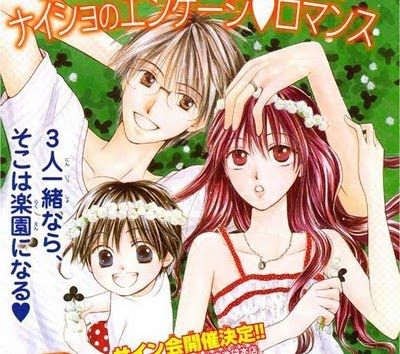 The story centers around a 16 year old girl Kaji Fumino, who loses her parents in a car accident and finds herself and her 5 year old brother shunted from relative to relative. Tired of depending on the goodwill of others, and not much of a student in school, Fumino decides to drop out of school and work to raise her little brother Teppei herself. Her English teacher, 24 year old Ojiro Kazuma, overhears her making this decision and offers to help Fumino if she won't quit school. Fumino asks him what he can possibly do for her! In frustration she asks rhetorically if he can he marry her and take care of her and Teppei? Kazuma smiles and says yes, he'll marry her if she stays in school. So therein starts the world's most chaste and illicit marriage between a teacher and student.
We discover later that Kazuma, a former delinquent who turned his life around because of meeting a great teacher, takes a deep concern into the welfare of his students. So when Fumino is at the brink of throwing her future away, he steps in and marries her purely out of compassion and a sense of protectiveness. Their marriage is purely so she can live with him, but remains chaste because neither are expecting to consummate the marriage for real. But through the course of the story, gradually Kazuma and Fumino fall in love, with Teppei as the world's cutest cupid any chance he gets.
What's great about this story is that while there is a lot of romantic tension, Kazuma knows how young Fumino is and how her feelings can be unreliable due to her age, so he makes a very concerted effort to keep his respectful distance from her. Kazuma is a wonderfully cheerful guy, and has lots of quirks that add much humor to the oddball family he created with Fumino. For instance, because he enjoys the illusion of a family life, the only requirement he asks of Fumino and Teppei is for them to cosplay cute outfits to welcome him home. What follows is really a study in relationship development between two people who clearly adore each other but aren't quite sure what do in a situation that is so odd.
I like Faster than a Kiss because the story, however simple, is told in a sweet, humorous, and tender way. There are no gimmicks, and Fumino behaves like a teenager while Kazuma is just so swoonworthy as the perfect teacher/husband. There are plenty of interesting side characters to liven up the story, which is pretty much a series of vignettes dealing with school issues that run parallel with the growing affection between Fumino and Kazuma.
Later in the story, Kazuma's younger half brother Shoma makes an appearance, and to no one's surprise, he becomes a potential third party interloper between Kazuma and Fumino's paper marriage that is fast becoming a real one in emotional attachment. But the author does not create unnecessary angst and all the characters behave rationally and admirably no matter how complicated their feelings are getting. By the end of book 8, Fumino is studying hard so she can become worthy of being with Kazuma in the future, and Kazuma tells Shoma point blank that if Shoma likes Fumino, he should compete directly with Kazuma for her. Oh hells yes, things are getting soooo good.
As for any live-action adaptation, which this story is perfect for (the school setting, the marriage-secrecy hijinks, the cute kid Teppei, the chaste but romantic developments between Kazuma and Fumino), clearly this story screams out for Shunsuke and Haruna, whose 9 year age difference makes them perfect for the roles of Kazuma and Fumino. Plus they even look the part! As for little Teppei, they totally need to get that cute little Piitaro from Zenkai Girl over here. Gah, why can't I have this now! Until my dream becomes a reality, I'll just insert their faces into the manga as I read it. But all kidding aside, Faster than a Kiss is quite a cute little thing that I recommend as a breezy read without much brain hurting angst and plenty of squeeworthy moments hidden within.
Compared to the other famous teacher-student married manga My Wife is a High School Girl (Oku-sama wa Joshi Kōsei) by Kobayashi Hiyoko, I like Faster than a Kiss much better. It's less melodramatic and convoluted. Plus the relationship in My Wife had the guy actually watching the girl grow up before marrying her, which was totally squicky now that I think about it. I like how Fumino and Kazuma really start off as student and teacher and through a situation caused by a tragedy, they forge a new and different family together through honesty, respect, and emotional growth as a couple.