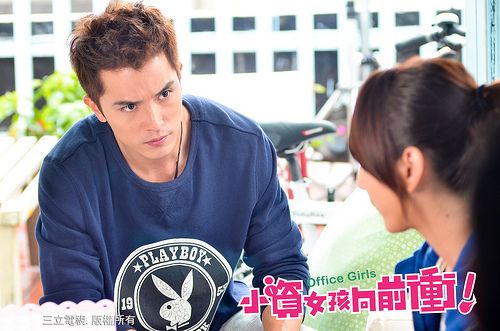 It was epiphany time for Zi Qi at the end of episode 10 of Office Girls. Will Xing Ren follow suit in episode 11 and then we can spend the rest of the drama with them playing house? Eating pasta with broccoli, and finishing up with some almond tofu. 😛 Man, this drama is turning me into Stallone with all the punny puns. So far the drama hasn't dipped yet in energy or charm, and I hope it continues to deftly balance the zany with the swoony, all the while kicking Kai Er's ass to the moony. And dost my eyes deceive me, or is Zi Qi wearing a Playboy sweatshirt up there? Roy Qiu must've dug it out of his closet, mwahahaha~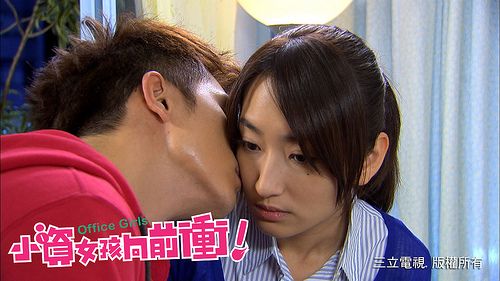 What kind of (love) confession can cause a person's heart to beat faster? A look? A kiss? Or a word? Xing Ren is worried about Zi Qi's injury and hurries to tend to his wounds. Their close proximity causes both to feel the nervous tension between them. The long suppressed feelings Zi Qi has for Xing Ren causes Zi Qi to lean in and kiss Xing Ren on the cheek. Time stops at the very moment, so will Xing Ren accept Zi Qi's confession?
The kiss with Le Le causes the outwardly gruff but inwardly sissy Stallone to start feeling something for her. Too bad Le Le only has disgust and distaste towards Stallone. Zi Qi puts his promise to Xing Ren inside the dollhouse and gives it to her as a present. Xing Ren is moved by his gesture and feels her heart touched by him.
Mama Shen suddenly comes to visit, asking to review Zi Qi and Xing Ren's love report card and assess their achievement. Kai Er just so happens to visit Zi Qi, bringing toilet paper and even a microwave. How will Zi Qi reject Kai Er's expectations. Xing Ren's feelings are like a roller coaster of emotion. Will Zi Qi use honesty and care to bring the two of them back to the sweetest of moments?!?
Newest preview for episode 11:
http://www.youtube.com/watch?v=qEGZwPlx4EA
Le Le to Zi Qi: When you get some money you just take Kai Er out to dinner and a movie. Our Xing Ren treats you so well, cooking for you, washing your clothes, and even being your driver, yet what have you ever done for her?
Zi Qi to Xing Ren: I know I don't have any money right now, and I don't have any ability to change anything, but at least with this, you don't have to be disappointed anymore.
Zi Qi to Kai Er: Actually…..I like Shen Xing Ren.