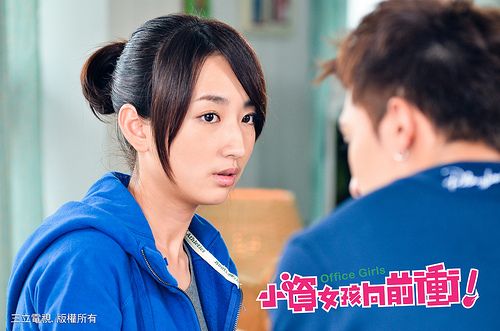 You know who I relate to the most watching Office Girls? I feel like I am Mama Shen, watching and prodding my two kids Zi Qi and Xing Ren to get together and be happy. This drama has turned us all into Mama Shen, hiding around the corner and peeking at Zi Qi putting Xing Ren's head on his shoulder because she's sad and telling her that she can borrow his shoulder for a bit.
I feel as proud as Mama must feel to see these two take their first tentative steps in love. I started tearing up with happiness when I watched the preview for episode 12. And episode 11 was awesome enough as is. Enjoy this OG appetizer (preview for episode 12 plus with my translation of the dialogue) til the recap main course comes along. This drama is so good I have to pinch myself to believe it.
Preview for episode 12:
Zi Qi to Xing Ren: I know I approached Kai Er first, but I've already told her…
Xing Ren to Zi Qi: I believe you.
Le Le to Xing Ren: Shen Xing Ren! You can't be having a relationship with Qin Zi Qi, are you? That's so incredible!
Mina to Yu Cheng Feng: I don't want the PB booth space anymore, I'm giving it back to you. I agree to have the Yu Cheng Feng brand placed in another booth (at the department store). But the entire placement and design must be handled by Shen Xing Ren.
Stallone to Mama Shen: It's so rare to have you here (in Taipei), Mama Shen. Your son-in-law (pointing to Zi Qi) should take you two (Mama and Xing Ren) out for a nice meal. What do you think?
Mama Shen: Mom will take the MRT there, why don't you two ride the scooter and meet me.
Zi Qi (talking in a funny stuffed animal voice): Shen Xing Ren, I've discovered Qin Zi Qi is a genuinely good person. Sincere, down-to-earth, and hard working. Tall, well-built, and good looking. If you let him pass you by, be forewarned that you'll regret it for the rest of your life.
Xing Ren: Hi, Qin Zi Qi, good night.
Zi Qi watches the video and smiles.
*my work is done here*