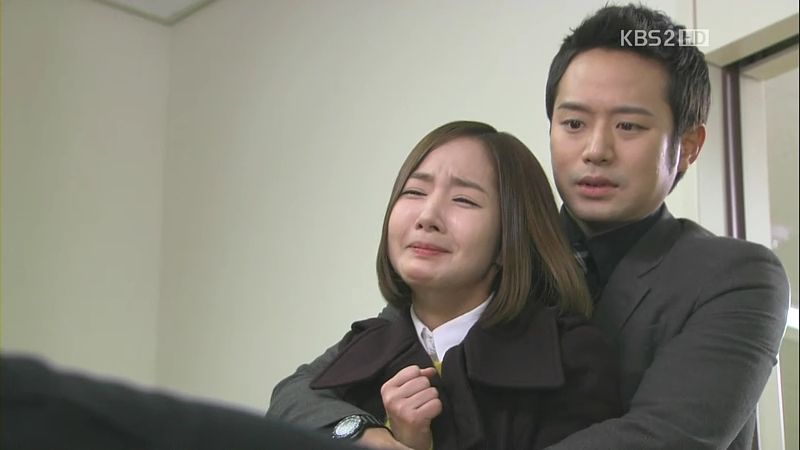 Episode 18 of Man of Honor got better in the sense that more stuff happened. But considering one major scene involved Jae In's barely recovered formerly comatose mom stabbing Woo's dad's arm while looking like a rabid beaver, then perhaps it's not so good. Though it was excellent for the lulz-factor. Yes, this drama has officially gone off the rails, as plenty of dramas have done before. Fairy beggar grandpa was acceptable since he was introduced so early, but grumpy shoe shining tent grandpa who is secretly wealthy is such a 13th hour add I'm just dumfounded. It's too late to kidnap my precious PIE and Min Young from this pit of insanity, so I shall ride it out with them. Everyone finally knows everything now (at least 6 episodes too late), and their reactions are all as expected.
Episode 18 baby recap:
Jae In rushes into the hospital room to find it empty. She's once again too late to find her mom. When In Chul arrives, Jae In takes out her frustrations and anger on him, accusing him of orchestrating all these despicable acts. He manages to restrain her long enough to explain that her mom is fine and is on her way to Geodae right now (despite Jae In biting him to try and get away). Kyung Joo calls In Chul to alert him to the board meeting getting moved up to this morning, so Jae In's mom must rush to arrive in time.
Young Kwang and Young Do watch as board members arrive at Geodae for the board meeting called by the Chairman, and Young Do is told about how Jae In signed papers for In Woo's dad in exchange for the deed to the noodle restaurant. Jae In apologizes for biting In Chul while he drives her to Geoday, and we see her mom is barely hanging in there.
In Woo's dad stands before the board and announces that he got the consent to transfer all shares owned by Chairman Yoon. That means those shares are now available to be purchased, and of course he intends to buy it up so he lawfully owns Geodae going forward. He gets no dissent so he announces the board approval of his resolution, and that is when the door to the conference room opens and Jae In's mom is wheeled wanting to cast her opposing vote. She announces her identity as the wife of the former Chairman Yoon and a current shareholder of the company.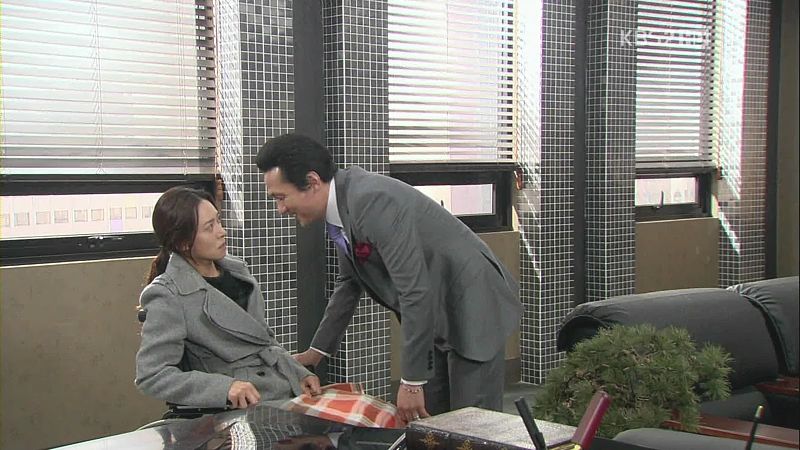 Everyone finds out Jae In's mom is alive and here at the company. In Woo's dad and Jae In's mom move their pow wow to his office. She vows to not let him get away with his evil future plans and he will get retribution for causing the death of her husband and making her daughter an orphan. He snarls and snarks that there is nothing she can do to stop it. The vote passed already. He derides her for being so pitiful and weak.
Jae In and In Chul arrive and they hear screaming from inside the office. Kyung Joo and others are worried about what is happening inside. In Chul barges in and everyone sees Jae In's mom stabbed In Woo's dad's arm with a letter opener. That made me laugh so hard. She managed to hoist herself out of the wheelchair and take a few steps forward to grab the weapon.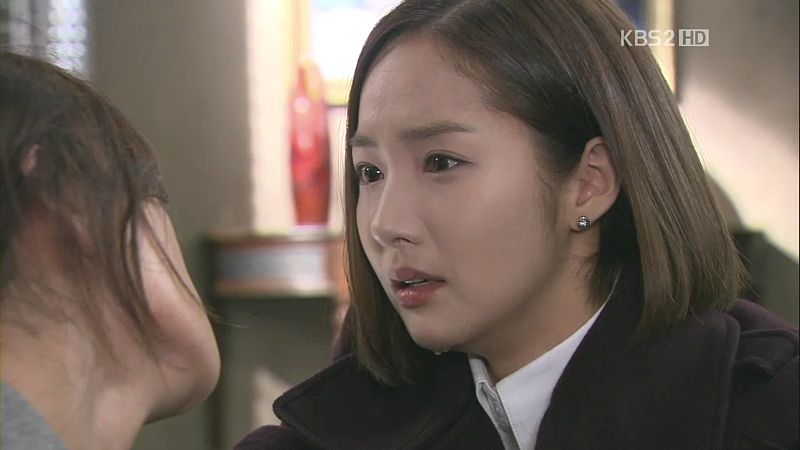 In Woo's dad shoves Jae In's mom off him and she lands in a heap against the wall. He's assisted off by his minions for medical treatment, while Jae In walks up to help her mom. Mother and daughter tearfully reunite, while Young Kwang has arrived and sees the moment. Jae In's mom is rushed back to the hospital after she passes out. Her condition is serious so Jae In cries while Young Kwang holds her as they watch the doctors tend to Jae In's mom.
In Woo's dad is also getting treated for the wound on his arm. Turns out In Woo's dad is also being treated by the sleazy doctor at the hospital, who mentions some problems with the medication In Woo's dad is currently taking. In Chul finally connects the dots that In Woo's dad is indeed quite ill from the chest and breathing pains he noticed before. Which would explain why In Woo's dad is in a mad rush to get the company affairs in order and hand it off to In Woo.
In Woo goes to speak with Jae In but she's not in the mood to deal with him. She's furious he lied that her mom was dead. If he had told her the truth, Jae In thinks she could have prevented this from happening and her mom wouldn't be back in critical condition again. She doesn't want to see In Woo until (and if) her mom wakes up.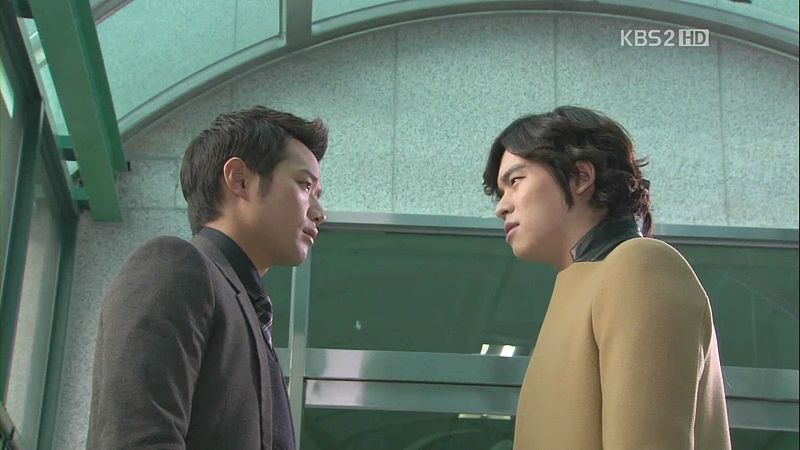 Young Kwang pulls In Woo aside to have their obligatory face-off. This time Young Kwang has the upper hand, asking In Woo how he can face Jae In after what In Woo's dad did. In Woo pretty much says Young Kwang's dad is no better. But Young Kwang is certain that he can give his life for Jae In – whether in exchange for her getting her original life back or as a sacrifice to save her. Can In Woo? I suggest Jae In find a new guy, one who doesn't have a daddy that did her wrong.
The prosecutor is pleased to have finally found Jae In, safe and healthy. Team Young Do discusses all the crazy stuff that happened at the company today, what with Jae In being the daughter of the former Chairman. Tell me about it. In Woo's dad wants In Chul to find out who has been the turncoat on his side telling Jae In's mom what is going on. He's standing right in front of you, In Woo's dad.
In Woo's dad is back to plotting around the return of Jae In's mom. Jae In tries to confront him but In Woo pulls her aside, correctly telling her that now is not the time for head-on confrontations. He apologizes but she's still pissed. Young Do meets with Young Kwang and they conclude that boatloads of money is the only thing that can stop In Woo's dad now. They need money to buy up the shares so it doesn't fall into In Woo's dad's hands.
In Woo's dad goes to see rich grandpa but is turned away by the assistant who says grandpa isn't in at the moment. Turns out rich grandpa is pretending to be shoe shining grandpa and is currently hanging out with Young Kwang at his shoe shining store. Young Kwang shares his worries with grandpa, that he needs a lot of money right now to save the girl that he cares for who had led a very sad life and is in a dire situation right now. Grandpa finds out In Woo's dad's plot and that Jae In is alive.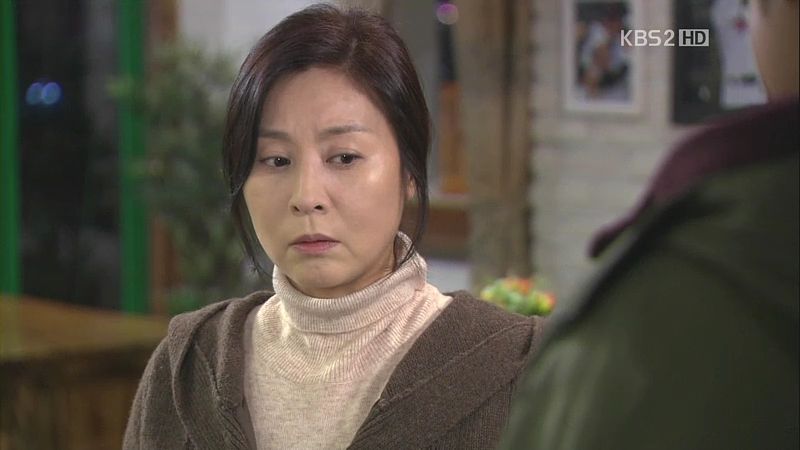 Young Kwang goes to the restaurant and tells his mom everything that has happened. He rushes to head back to the hospital to take care of Jae In, who is holding a vigil by her mom's bedside. Mom looks sad to know Jae In's mom is in critical condition again, while Grandma can only give money to Young Kwang so he can feed Jae In. Jae In sits at her mother's hospital bedside and cries. She finds out from the prosecutor everything that happened to her family was likely caused by or the result of In Woo's dad's wrongdoing.
Young Kwang arrives at the hospital but thinks someone is following him. He discovers it's a man who has been told to bring Young Kwang to meet someone. Turns out rich grandpa wants to see Young Kwang. Rich grandpa asks why Young Kwang is here to borrow money with only the words in his mouth? Grandpa tells Young Kwang that if he wants to borrow money from him, he needs to bring a guarantor (or guarantee).
Jae In walks into In Woo's dad's house and proceeds to lay down the gauntlet with him. In Woo's dad continues with all his million and one lies about Jae In's dad causing the ruin of the company and how he took care of Jae In's mom in the hospital for the last 17 years. Jae In is through with his lies and vows to make him suffer like her family suffered. She will never forgive him. In Chul watches this with a pleased expression. How come no one ever notices In Chul making these devious plotty expressions all the time?