Another solid if not spectacular episode of The Moon that Embraces the Sun. I've given up hoping for the return to the cohesive clarity of the earlier episodes or for some much needed secondary character development. I'm still entertained, but I've accepted this is about as deep as it's going to get. As the drama continues to steer its trajectory away from the events of the novel, I'm left knowing things will happen but unsure of how and when. Because she's gotten so little screen time, it wasn't until this episode that I finally realized just how magnificent Kim Min Seo's performance as Bo Kyung is. She's animated without being forced, digging deeper into a character written without nuance, pulling out emotions that hit all the right notes and makes me interested in her. That is how great acting can compensate for shoddy writing. Kim Soo Hyun is lucky to have the best written character in the entire show, and his performance equally matches up. Poor Han Ga In is left hanging out to dry, with Wol being either a cipher or a too-good-to-be-true heroine the way Yeon Woo was created. MoonSun feels like a show with alternating bites of spicy and bland, depending on who pops up on the screen at any given moment.
Episode 10 recap:
Hwon tells Wol to help him forget his lonely pain and ease the hurt in his heart. Can she do it? Wol wants to, she wants to block the ill directed at the King. Hwon orders Wol to raise her face to him. Bo Kyung cracks open the door to the King's inner chambers and briefly glimpses Hwon standing there staring intently at his human amulet with a look that is clearly of a man to a woman. Before she can barge in, Woon slams the door shut. End of that peep show, lady. Bo Kyung leaves under the pretense that she was just worried about the King's health and wanted to check on him.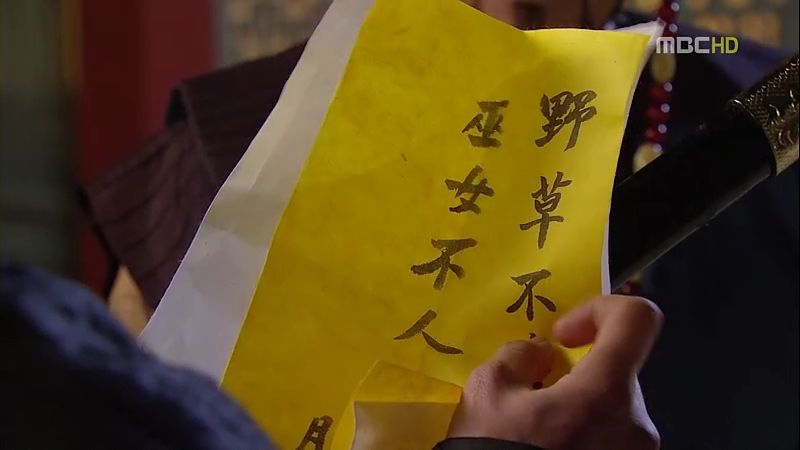 Hwon calls Hyung Sun in to summon the royal physician. Not for him, but to treat Wol. Hyung Sun hesitates since the royal physician is allowed only to treat a member of the royal family. Hwon argues that the human amulet is absorbing his ills, so if she is sick, it might harm him. He yells at Hyung Sun to summon the royal physician immediately. Woon walks outside and his subordinate hands over a note Wol had written to the King which the subordinate confiscated from Wol. Bo Kyung sits in her chambers and seethes with rage, knowing that Hwon was clearly interested in his human amulet in very primal ways.
Wol is treated by the royal physician while Hwon reads a book off to the side. He can't help up but sneak a peek, but when Wol meets his gaze, he nonchalantly turns away. Hyung Sun is aware of this frisson of interest from Hwon to Wol. Later that night, Hwon sleeps while Wol keeps vigil over him as usual. Morning comes and Wol leaves, which is when Hwon immediately wakes up, clearly pretending to be asleep this entire time.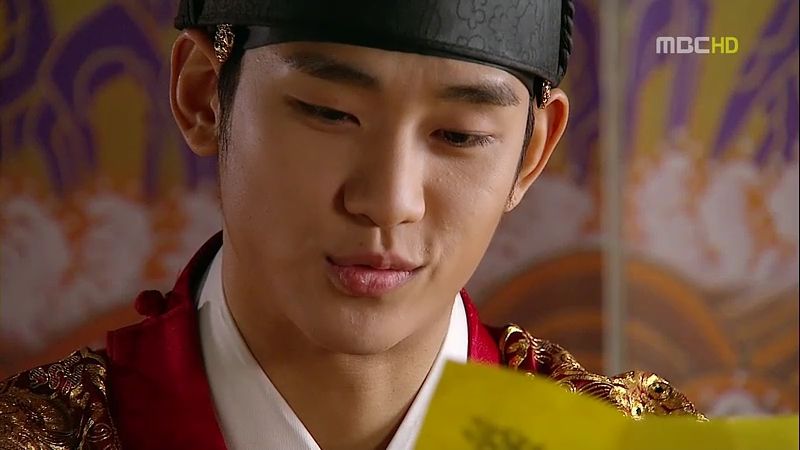 Woon hands over to the King the note from Wol, indicating that she wants to be of service to him as a citizen of this country. Hwon takes that as a rebuke of his acknowledgement of Wol as merely a thing and not an actual person. Hwon smiles a tad at Wol's effective and to-the-point note. Hyung Sun sneaks a peek, explaining his surprise to find a shaman knows how to write Han characters, and write such poetic words at that. Hwon snarls at Hyung Sun, but then remembers his wonder at reading 13 year old Yeon Woo's first note to him. Hwon remembers how his reaction to Yeon Woo was that he could never forget her.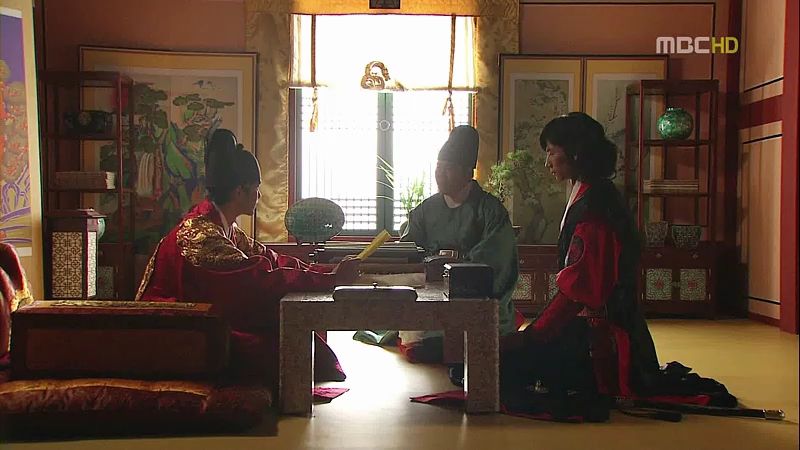 Hyung Sun takes the opportunity to remind Hwon that Wol is but a shaman. Hwon understands that his servant is warning him not to be interested in Wol. Hyung Sun dares to remind the King that Wol is not Yeon Woo, no matter how much she looks like her. Hyung Sun reveals that Bo Kyung visited last night, shaking off her pride and coming to see him. Hwon ought to consider how she must feel right now.
Bo Kyung is moping in bed when her servant comes to get her, revealing that the King asked to see her. That immediately rouses Bo Kyung, who dresses up await her husband. Hwon's visit to Bo Kyung doesn't go unnoticed, as his mother reports to Queen Yoon that the King appears to be showing interest in his queen. Queen Yoon chalks it up to the magical powers of the human amulet. She orders that a new date for the marriage consummation be selected. Since Hwon is feeling better, getting them to sleep together will also increase their burgeoning feelings for each other.
Hwon sits with Bo Kyung, asking if she has any worries on her mind since she doesn't look so good. Bo Kyung claims that she is worried about the King so she couldn't sleep. Hwon knows she went to visit his chambers last time, asking directly what she intended to spy on him about. Did she see or hear anything last night? Whatever she saw or heard, it is with a human amulet. Hwon reminds Bo Kyung that their marriage consummation will occur one month later. Until then, they cannot see each other, because he needs to remain undisturbed. Bo Kyung understands Hwon's warning to stay away. After Hwon leaves, Bo Kyung is even more suspicious, wondering what exactly Hwon is trying to conceal from her? Is it his heart? A dead woman's spirit is not enough, he is even placing a lowly shaman in his heart above her. Bo Kyung summons her servant and demands a spy close to the King to report back on the female shaman who spends every night with the King.
Yang Myung goes to the paper seller and tries to find information about Wol. The guy doesn't know anything other than Wol is a shaman. Yang Myung leaves dejected. On his way out, he passes a group of shamans from the Royal Astrology Office, among them is Jang Shil. She immediately recognizes Yang Myung and chases after him. Yang Myung wonders who is lying to him, the minister who claimed Wol was being punished for practicing the dark arts, or Wol who claimed to be in a safe place now. Jang Shil catches up to Yang Myung, calling him orabeoni and grabbing him for a bear hug.
He pushes her off, noting that she doesn't look like a gisaeng. Jang Shil says she is a shaman from the Royal Astrology Office, mentioning how Yang Myung saved her years ago. He finally remembers her, and then realizes where she now works is the safest place for shamans in the entire city. Yang Myung asks Jang Shil is there is a shaman named Wol? Jang Shil is about to answer but then remembers Nok Young's warning for her to never mention Wol again. Jang Shil has no choice but to lie that there is no such shaman named Wol. She quickly runs off before Yang Myung probes any further.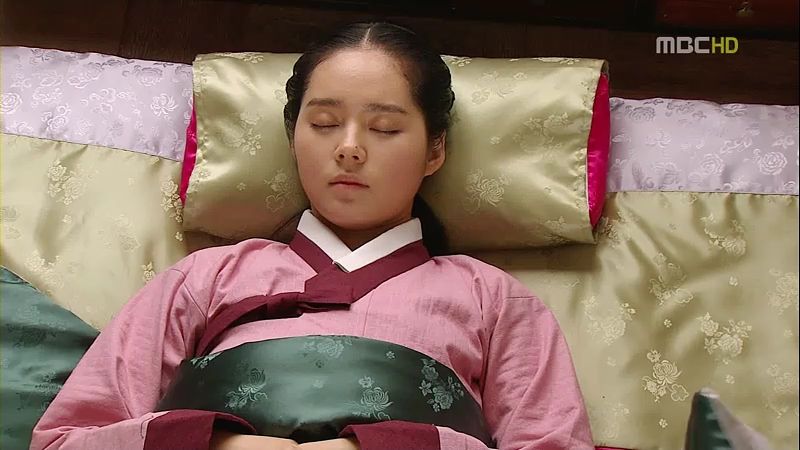 Wol sleeps during the day now since she is awake at night watching over the King. When Wol sleeps, Seol keeps her company. Jang Shil walks into Wol's quarters all mopey and sad. She looks at the sleeping Wol and apologizes to Yang Myung in her mind. Seol suddenly notices that Wol is having a bad dream, which is actually the incident when Hwon wore a mask and then pulled her away. The dream ends right when Hwon is about to pull off the mask. Wol wakes up and confirms to Seol that she had the same bad dream, and just like all other times before, the dream ended before she could see the masked man's face. Seol thinks to herself that the masked face is not that important, because Wol is watching over him every night now.
Wol arrives for her nightly vigil, passing Woon and Hyung Sun on her way in. She takes off her robe and finds the King seated at his reading desk. Wol sits down facing Hwon, who breaks the silence by bringing up his surprise at finding out how much Wol was secretly upset at him. Wol tries to explain that she's not, what she wrote was her sincere feelings. It was not a rebuke of the King. She wrote that as a citizen, she wanted to try her best at serving the King. If the reader of the letter had some preexisting prejudices, then her words would be misconstrued.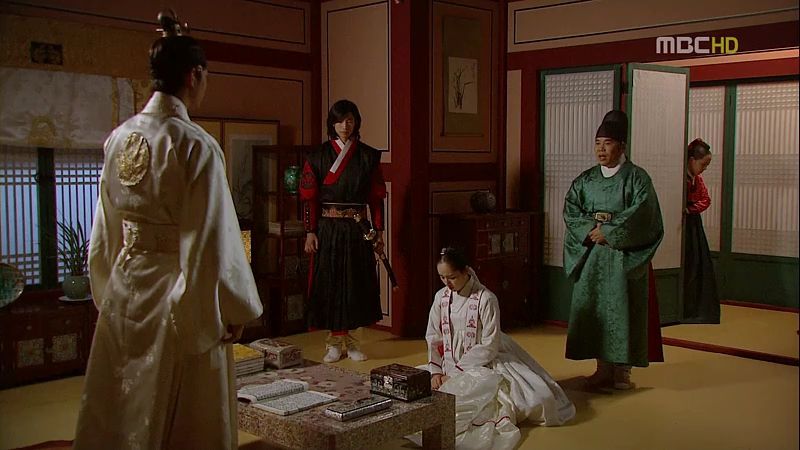 Hwon gets riled up still, thinking Wol is calling him prejudiced, and hence not a good ruler. He's about to state that he is Joseon's……when he suddenly remember his teenage self telling Yeon Woo that he is Joseon's…… Hwon stops mid-sentence, and then gets up and announces that he wants to go out for a walk. As he passes the still sitting Wol, he asks why she's not following as the human amulet to absorb his ills. Hwon marches off and Wol quickly follows.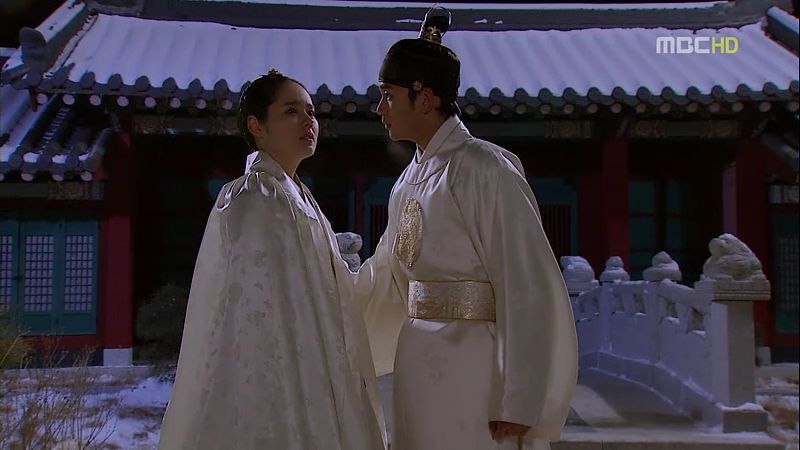 Hwon and Wol walk through the Palace, following by Woon and all the retainers. Hwon orders everyone to back up a few steps. Everyone starts backing up, including Wol, but Hwon pulls Wol back because as his amulet she has to stick by his side. The walk takes them past the Hidden Moon Chambers, which are forever sealed since Yeon Woo resided there. Wol looks up at the sealed windows and suddenly has flashbacks of her leaving the Palace and Hwon crying out for Yeon Woo. Wol asks if this place has painful memories for his majesty. Was he the person who was crying here?
Hwon grabs Wol and demands to know what she saw? He pulls Wol tightly up against him, using his hand to hold her face, asking if she saw things because of her shaman powers. Everyone averts their eyes at this intimate gesture. Hwon asks if her shaman powers can tell her what he intends to do now? Hwon asks if he ought to embrace a female shaman such as Wol. As he leans closer, and sees everyone lowering their heads even more, he suddenly turns and takes off running with Wol behind him. By the time the retainers react and give chase, Hwon's got a head start and manages to pull Wol inside a private room with him.
Hwon asks Wol again who she is? Wol gives the same answer, but this time Hwon doesn't believe it. Wol was someone without a name until the King bestowed one on her, so who else could she be. Hwon grabs Wol, asking tearfully if she doesn't recognize him? Does she really not know who he is? Wol asks if the King is looking for the memory of someone through her? Is it someone named Yeon Woo? Did Hwon allow her to stay by his side because Wol resembles her? But the truth is that Wol is not Yeon Woo.
Hwon yells at her to be quiet. She has overstepped her bounds now. Just because he allows her to stay, doesn't mean he has given his heart to her. She is nothing but a shaman who casts away ills. He is about to rebuke her even further but stops, knowing that his heart is already messed up because of her. Hwon orders Wol to keep her distance from him.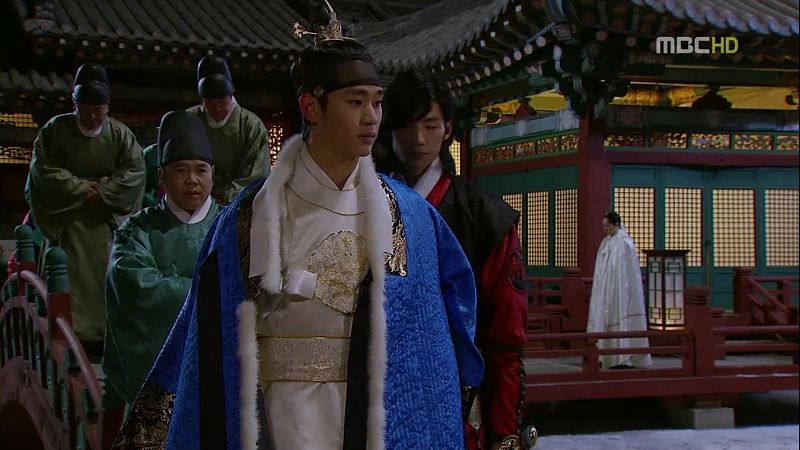 As Hwon leaves the room, he announces that he intends to sleep alone tonight and Wol need not come. As Hwon leaves, he quietly orders Woon to make sure Wol gets home safely. Wol returns to her chambers, but she stands outside looking up at the moon.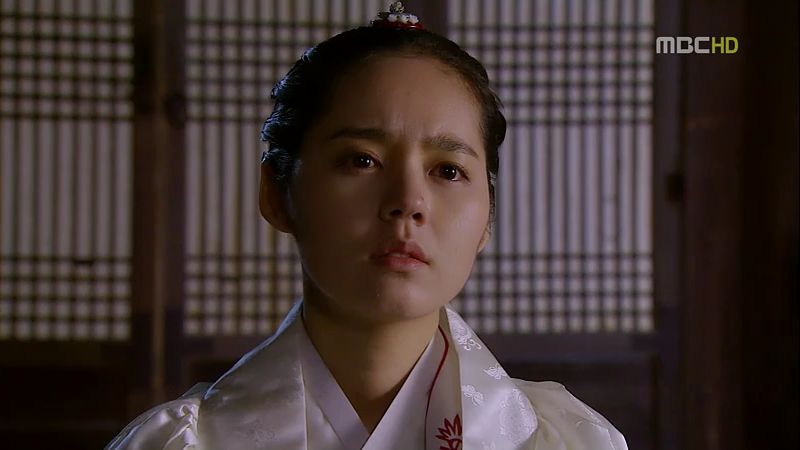 Nok Young asks why Wol is here instead of keeping vigil over the King? Wol asks Nok Young who she is? Supposedly she got lost from her parents because she was filled with shaman spirit. But is that true? Why does she keep having these memories. If the memories belong to someone else, why does it feel like it's her own memories? Nok Young looks frightened to hear this, while Seol wipes away a tear.
Seol peeks at Yeom over he wall at his estate. Yeom suddenly senses a presence, which turns out to be Yang Myung, who is rebuked again for climbing the wall to enter. Suddenly another person shows up and freaks both of them out, the person being Woon. He gets yelled at for climbing a wall and being all silent and stealthy. Woon delivers the message that the King wishes Yeom to enter the Palace tomorrow. As Woon is leaving, he suddenly sees a letter written on yellow paper. Yeom explains that it was a birthday letter Yeon Woo wrote to him.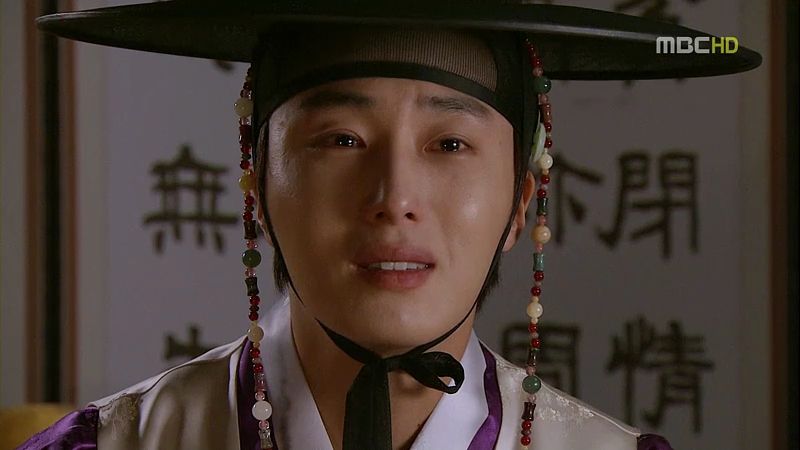 Woon leaves the estate and sees Seol, the two of them getting into a sword fight because Woon thinks someone has sent Seol to spy on Yeom. Seol manages to get away. Yang Myung and Yeom stay and catch up, with Yeom wanting to know about Yang Myung's new lady love. Yang Myung gets serious and suddenly brings up the night eight years ago when he jokingly asked Yeon Woo to run away with him instead of going into the Palace for selection. Because Yeon Woo was dead set on doing it, Yang Myung did not push any further. Had Yang Myung been braver that night, and seriously asked Yeon Woo to run away with him, then today Yeon Woo might still be alive and by his side.
Seol returns to the room she shares with Wol, who asks where Seol went and why she's been injured. Seol lies that she got hurt while training. But when Wol presses further, Seol tells the truth, that she went to visit her former owners who treated her not as a thing but as a good friend. Yeom decides to go visit Yeon Woo's old room. He opens the drawer in the Go box and then flips the lid, where he finally locates Yeon Woo's farewell letter to Hwon.
Yang Myung is walking home when he's waylaid by Jang Shil. She immediately apologizes to him. She was wrong, the person he wants to find, she will help him meet her. Jang Shil grabs Yang Myung for a bear hug, crying that he is the man who saved her life, so she would give her life for him. He will be able to see the person he is looking for, so he needn't be sad. Yeom holds Yeon Woo's last letter to Hwon and contemplates what to do. Hwon lays in bed, tossing and turning, remembering what Wol said to him about how he was looking for another person's memory through Wol.
Princess Minhwa is stitching with her mother-in-law, vowing to keep her company until Mom cheers up. Yeom arrives dressed in his court robes, informing his two ladies that he is going to the Palace. Minhwa is annoyed he didn't tell her early otherwise she would have accompanied him. Minhwa reveals that she's worried about her husband entering the Palace, and it turns out her worries are for good reason. Yeom enters the Palace and immediately all the court ladies fawn over him.
Hwon happily welcomes his esteemed teacher to the Palace, ordering snacks and wanting some privacy to catch up with his teacher Yeom. The court ministers are bitching about how Yeom dared to enter the Palace. The husband of the Princess is historically not allowed to participate in politics. They discuss that his very existence is a threat, a focal point for other ministers to rally around. Yoon Dae Hyung worries that Yeom may have greater influence than even his father did, wondering why he entered the Palace today.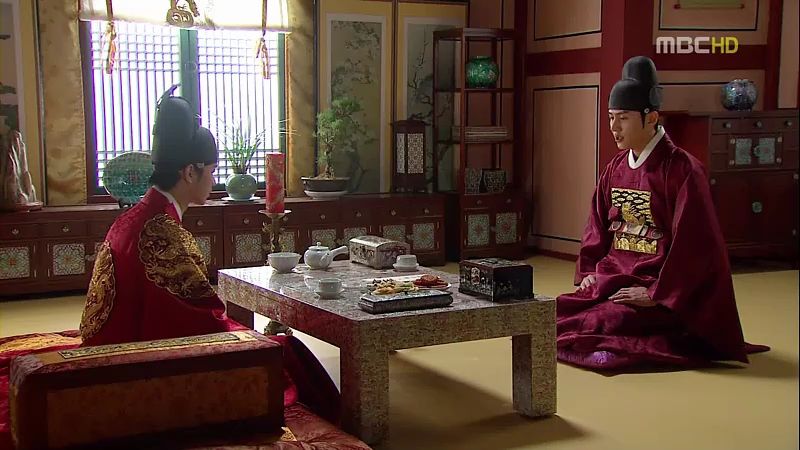 Yeom delivers Yeon Woo's letter to Hwon, explaining that he thought long and hard but decided the letter belonged to the person it was addressed to. Hwon confirms that his bride Yeon Woo wrote this final letter to him. Yeom tell Hwon to dispose of the letter as he sees fit, whatever he does, Yeon Woo will be happy from the after life. Yeom bows and asks Hwon to forget Yeon Woo now, because he has a wife in the current Queen. If he doesn't move on, Yeon Woo will surely be sad. Hwon tearfully reveals that everyone has been asking him to forget Yeon Woo.
Hyung Sun walks Yeom out, asking him to visit more often because the King misses him. Yeom states the sad truth that he's not supposed to be in the Palace, asking Hyung Sun to keep Hwon company. After he walks away, Hyung Sun sighs that it ought to have been Yeom who keeps the King company.
Hwon sits with the letter for a good long while before he picks it up to read. The letter is Yeon Woo saying that she wrote this letter with the final remaining ounce of energy she possessed. She doesn't know if he'll get it but she still wants to write it. Meeting Hwon one final time before she passed was of great comfort to her. She asks Hwon to make her a memory now. Her father is coming soon with medicine, and then she will never be able to see him again. He must forget her, and be healthy for her sake. He must become a great King for the people.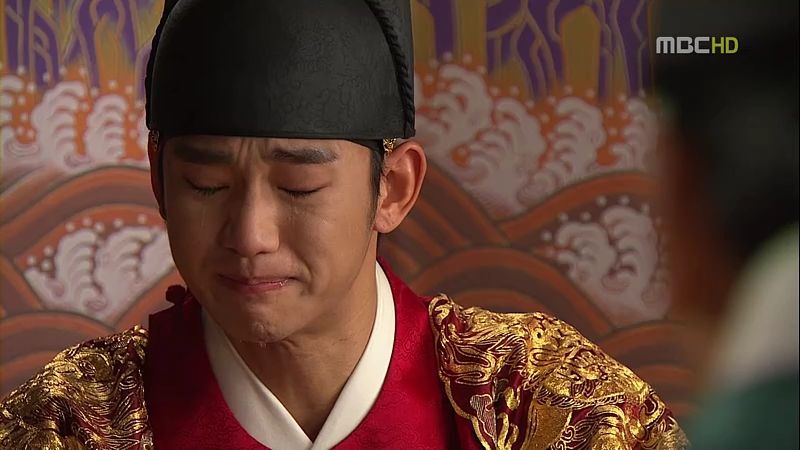 Hwon cries, chocking back sobs that Yeon Woo's final wish was for him to be healthy. She used her final bit of energy to write this letter. She must have been in such pain and agony. Hyung Sun cries with his King. Hwon notices that even with no strength, Yeon Woo's letters are still so beautifully written. Hwon orders that Yeon Woo's past correspondence be brought to him now. He cannot remember her writing anymore, so he wants to read it all again.
Bo Kyung gets her report from her spy, who says that the King went for a walk with the human amulet, and after the walk forbid her from accompanying him back to his chambers. She also reveals that Yeom visited today, and the King asked for a box with the character rain (Woo) carved on it.
Hwon opens the box and takes out the letters he exchanged with Yeon Woo years ago. Woon sits across from him as Hwon reads. Hwon suddenly pulls out Wol's letter to him and puts the two letters side-by-side. He orders Woon to bring Wol immediately.
Wol is walking to the King's chambers when suddenly she is pulled aside. It is Yang Myung, who pushes Wol against the wall and asks if she knows him?
Hwon stares intently at the two letters with identical handwriting, clearly making the connection between Yeon Woo and Wol.
Thoughts of Mine:
Okay, that was an AWESOME episode ender. In fact, the entire second half of this episode was just pure awesome courtesy of Hwon, who kept reaching deeper and deeper into his hidden reservoir of sadness over the loss of his beloved Yeon Woo. He finally sold it for me on why he can't let her go. Not only did he genuinely love her for who she was inside, her death was just so sudden and wrenching that the traumatic loss clearly isn't something he has properly grieved. Moreover, after losing Yeon Woo, everyone else went down the crapper. Yang Myung took off, Yeom couldn't be his teacher anymore and later on couldn't even come to the Palace, and he was forced to marry scheming Bo Kyung and gain slimy Yoon Dae Hyung as a father-in-law. By trying to suppress his memories of Yeon Woo, so much so that he can't remember her handwriting anymore, he ended up being unable to let go of her.
Just like Lee Min Ho before him, Jung Il Woo is really selling Yang Myung's pining for Yeon Woo. It doesn't make much sense logically, but then the affairs of the heart don't and rarely make sense. He loves her, and her death is also something he hasn't gotten over. Sounds like he feels some guilt for not talking her out of going to the Crown Princess selection, though we all know he wouldn't have been able to change her mind regardless. I like how the drama is slowly (and finally) weaving all the characters together again. Seeing Yeom, Yang Myung, and Woon gather together, albeit briefly, was like taking a walk down memory lane. Seol and Woon finally cross paths and swords, plus Yang Myung and Jang Shil reunite and then promptly sent the drama into overdrive. I love how Jang Shil decided to go with her heart and tell Yang Myung about Wol, seeing how much he wanted to find her. But what I loved the most was Hwon figuring out on his own the connection between Yeon Woo and Wol.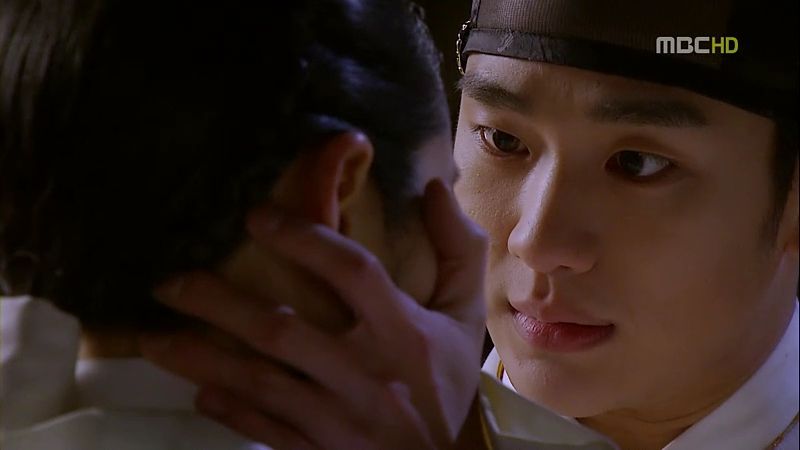 I knew his realization would involve writing, since the love affair between Hwon and Yeon Woo blossomed during the period when they wrote to each other. I hope he doesn't take one step forward and two steps back and try to rationalize away the identical handwriting. I'm glad the drama decided to let both Hwon and Yang Myung confirm Wol's identity at the same time, because I think this story can and ought to have a viable love triangle. I want to see Yang Myung fight for Wol, because he loves her and because he wants to keep her safe. Whether as Wol or as Yeon Woo, she will never be safe in the Palace with Hwon because of those conspiring against the King. After what happened to Yeon Woo, it's clear this time Yang Myung won't let her be placed in such a dangerous situation again.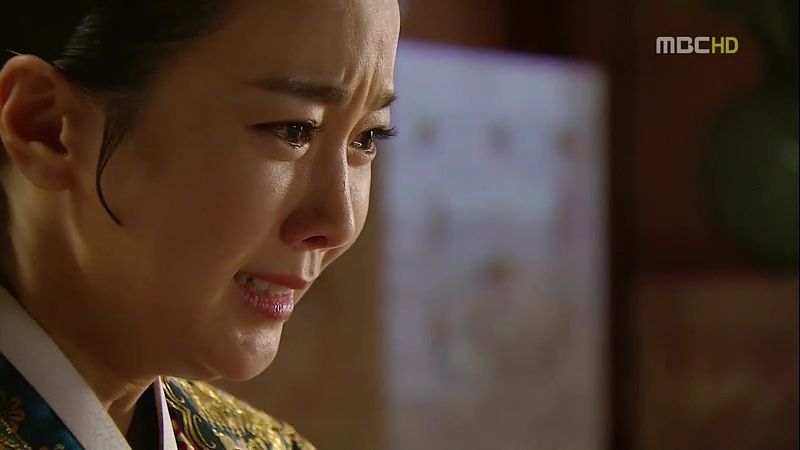 I was really shaking my head when watching the Hwon-Bo Kyung scene today, when he warned her to stay away. There was so much chemistry between Kim Soo Hyun and Kim Min Seo it made me sad the same frisson of energy couldn't be transferred over to the OTP interactions. I can live with second lead shipping, but shipping the hero with the resident witch is clearly NOT a viable or sane proposition. At this point I don't need Han Ga In to magically become a good actress, all I ask for her to wake up a little. She's so low-energy onscreen that she sucks the charisma out of a scene. Though with Kim Soo Hyun emitting fireballs of acting passion, it does even out when they are together. Funnily enough, their acting reminds me of him being the brightly burning sun and her being the cold soft moonlight. An apt observation if ever there was one for this drama.