Yay, my favorite TW-director is back with a new drama! Director Winnie (Qu You Ning), after most recently helming the critically acclaimed ratings success In Time with You starring Ariel Lin and Bolin Chen, has been tapped to adapt popular modern C-novel Tiny Time 1.0 by writer Guo Jing Ming. The extremely good looking large cast assembled in Shanghai this week for a filming kick off party, despite the drama already been filming for the past month. I sneaked a peek at the footage shown and it looks really good. Starring Peter Ho, Ivy Chen, Li Yi Feng, Kiton Jiang, Kimi Qiao (reuniting him with Feng Feng from when they got their start in the same music competition in Anhui in '08), and Andrea Chen (formerly Jassie when she played Maggie in ITWY), the story is billed as a very frank and honest look at twenty-somethings living in Shanghai and dealing with both romantic, professional, and personal struggles.
Ivy finds herself in a love triangle with her boyfriend played by Li Yi Feng and her boss played by Peter Ho. Oh ho, I foresee lots of messy crying forthcoming. Though with Director Winnie at the helm, and a story that has a huge following for being well-written and captures the authentic flavor of the current generation of Chinese youth, this drama will probably be a C-version of ITWY except with a larger cast of interwoven love stories. Ivy and the other three female leads are four friends from college that have transitioned to professional life and trying to figure things out. Now I'm tempted to read the novel, which sounds like the perfect Summer reading when I head off on my vacation next week.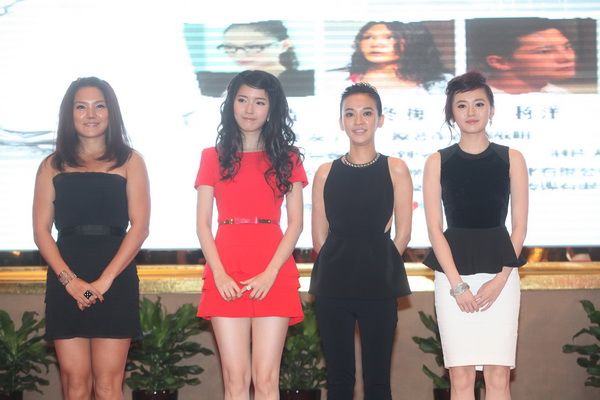 Ladies, you can at least try not to look so awkward together. You are supposed to be playing good friends since college? Sigh, you all need to go out and watch Magic Mike together and that'll smash some barriers.
I think my Feng Feng is trying to work his way through the entire fleet of excellent Taiwan actresses. In his short acting career, he's already romanced Annie Chen, Ariel Lin, Janine Chang, and now he's adding Ivy to the collection. Boy has a seriously awesome agent.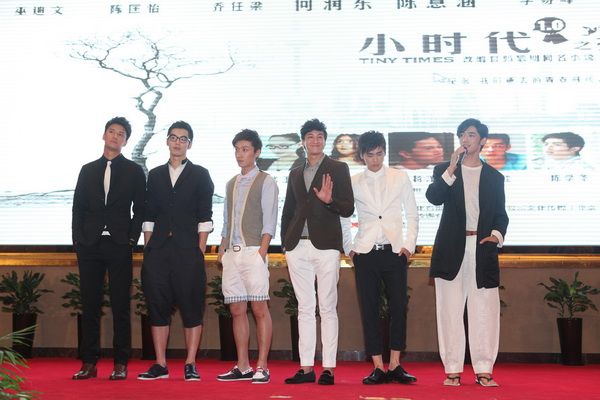 Only one guy is dressed appropriately. Only one guess as to which one I'm talking about. The rest are all epic PANTS FAIL. The guy with the white palazzo pants needs his own special level of fail, especially since he paired it with flip flops to a media meet and greet.
Have a look at the entire sprawling cast. Quite a lot of pretty, yes?