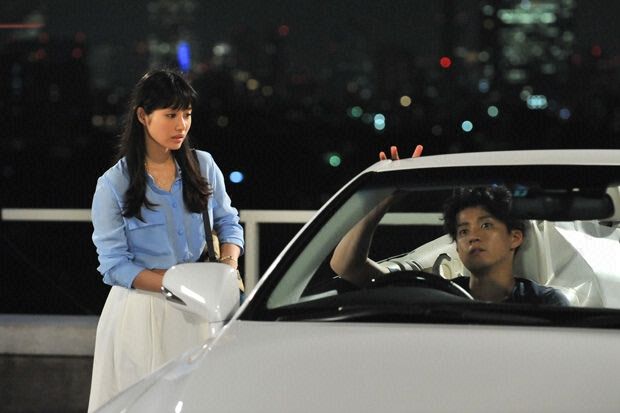 I almost wanted to rage/quit Rich Man, Poor Woman this week. That is how much episode 6 pissed me off royally. But then I calmed myself back down and took out my frustrations on the screenwriter rather than the drama itself which I still love. Episode 6 felt like a super long filler episode with enough story for 10 minutes stretched into 50, with emphasis on people and situations I would love to see less of. Asahina and Makoto? OMG, shoot me now. Hyuga and Yoko? My eyes rolled all the way into my forehead, and then refused to come back down. The problem isn't that I don't like second leads, because if done right they can easily steal my heart and the show. In RMPW I simple could care less about the Asahina siblings, the brother being a moron in trying to take down Hyuga by taking down a company that he partially owns (buh?), and the latter seems like a decent girl with solid culinary aspirations, but as a romantic rival to the heroine she's all sorts of annoying.
The Japanese audience appears to be tuning out big time, as episode 6 hit a giant low in dropping below 10 in ratings (terrible for a Getsuku). I think this story swims with Hyuga and Makoto, and treads water with the personal file project, and sinks with the sibling machinations, the brother with Next Innovation domination and the sister with winning Hyuga's heart. Unlike Miss Rose episode 3 which was all sorts of awesome I eschewed sleep despite being supremely jet lagged in order to recap it, episode 6 of RMPW is leaving me cold with inspiration to recap. I'll probably end up doing it, but oy won't the screenwriter cut a Koala a break and quit wasting my time and gimme MOAR Hyuga and Makoto? Though truth be told, what little interaction they had in episode 6 was Adorable as usual with a capital A.
Written preview for episode 7:
Next Innovation receives an order to cease operations. Asahina, Hyuga, and Yamagami stay at the office, and under the threat of bankruptcy, in the discussions of how to obtain the necessary funds even Hyuga has lost his usual arrogance. At that time, Asahina tells Hyuga that his confession of feelings for Makoto was rejected by her.
The employees who have been told to take an extended vacation return to the office. Makoto goes to Hyuga's office , and the first words that reach her when she opens the door is "lying woman". Makoto realizes that Hyuga is talking about her not answering the phone and she apologizes to him. But Hyuga then remembers that when Makoto returned his call, he was embracing Yoko, so he acts awkward with her.
Makoto tells Hyuga that he may have a lot of enemies, but he also has a lot of allies like herself. Even if she's just exaggerating, she wants to reassure him at this time. Hearing this, Hyuga is comforted and he decides to sell all his shares and use the cash as compensation to the 500,000 people whose personal data was leaked.
Hyuga tells Asahina about his plans and Asahina apologizes for doubting his methods before. Hyuga has the support of Asahina and he vows to rebuild the company. At that time, Makoto receives the notice from a large pharmaceutical company that she has been offered employment. She's ecstatic about the sudden job offer, but sad that she will need to leave Hyuga's side. Later in the night when she is alone with Hyuga, she confesses that she wants to stay by his side and work with him. Hyuga responds……..