What a marvelous wondrous episode of Rich Man, Poor Woman (though after this episode the title might need to be changed to Poor Man, Pretty Woman). I complained that the plot barely moved forward in episode 6, and honestly the same could be said for this episode 8. This episode was a scant two days in RMPW time, and involved Hyuga leaving Next Innovation. That was it. But you know what? What happened was a monumental emotional plot progression in terms of Hyuga learning about Asahina's role in his ousting, Makoto picking Hyuga above all else (squeeeee), and Hyuga closing one professional door and hopefully opening another. I loved every minute of this episode, which was so suffused with emotional poignancy and intensity that sometimes I had to remind myself to breathe.
I felt that episode 8 really paid off the entire Hyuga-Asahina-Next Innovation business story. I worried it would feel really overwrought for Asahina to turn evil and push Hyuga out, but when it happened, I felt this feeling of catharsis like it was all meant to be. I wanted Hyuga out of there, even if it meant he lost everything, because the NI that existed today no longer fits this Hyuga. It was a creation of Hyuga-Asahina from the days when the former was a socially awkward tech geek and the latter a capable manager. Now Hyuga doesn't need an Asahina around to manage his professional ideas, and Asahina is also ready to tackle his own challenges rather than piggyback on Hyuga. I hate how it all happened, but I'm looking forward to Hyuga-Makoto forming some even more awesome, like a Next Creation.
Episode 8 recap:
Hyuga quits Next Innovation and the media follows him out of the press conference asking for his reasons. The NI employees bar the media and allow Hyuga to leave the press conference. Makoto watches the press conference on an outdoor screen with tears in her eyes.
Hyuga purposefully walks through the NI offices, not looking at anyone, and barges into Asahina's office. Asahina sits there with his back to Hyuga, and then raises his hands to clap and congratulate Hyuga for a job well done. Hyuga asks in shock whether Asahina orchestrated all of this?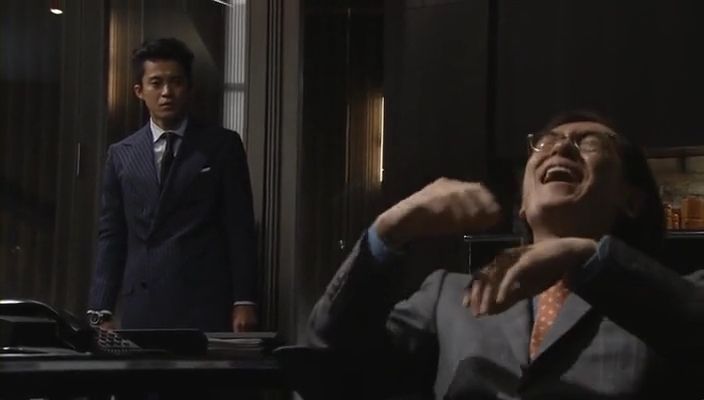 Asahina pauses for a moment before bursting into maniacal laughter. He's just remembered that this was indeed all his doing. He found a talented kid who wasn't suitable for big company life, then nurtured and supported him to use him to make a boatload of money. Asahina confesses that he did plan this from the very beginning, though he's started to reflect a bit recently. Reflect on what? You being an insecure asshat? Yeah, that must be really tough to deal with.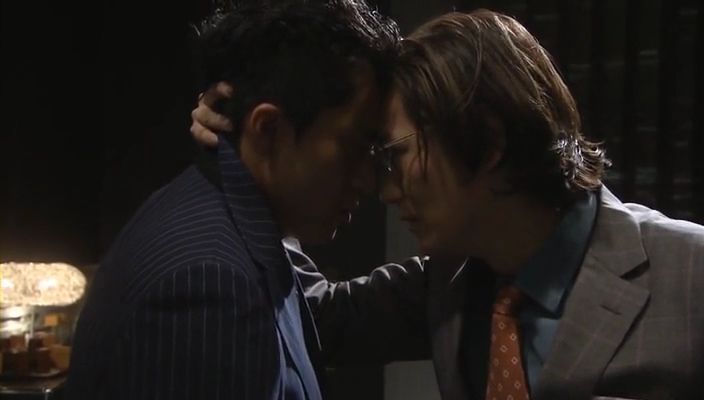 He's been coddling that kid too much and that caused Hyuga to corrupt from within. Asahina claims that he was the one who made Hyuga Toru. Dream on, loser! Back to Makoto, her S-tel job offer envelope falls on the ground and she looks between it and the news report on Hyuga's resignation. She picks up the envelope and walks into the S-tel building.
Hyuga sits with Yamagami who does the math and shows that Hyuga's shares used as collateral for the loan have been bought up by Asahina and Yamagami, and the rest of Hyuga's net worth has been used as compensation for the victims that had their personal info leaked. This leaves Hyuga will 1.5 million yen remaining in his bank account (which is equivalent to a little less than $20,000 USD). Yamagami realizes this makes Hyuga pretty much destitute, and he can't believe this is happening.
Hyuga asks when Asahina started down this path, but Yamagami doesn't know. He knows that Asahina has been snapping up Hyuga's shares since the beginning and now he owns 40% of NI stock. Hyuga asks if Asahina was the one who leaked the personal files but Yamagami says there is no proof of that. Yamagami asks Hyuga to sign away his rights to the personal file project but Hyuga refuses.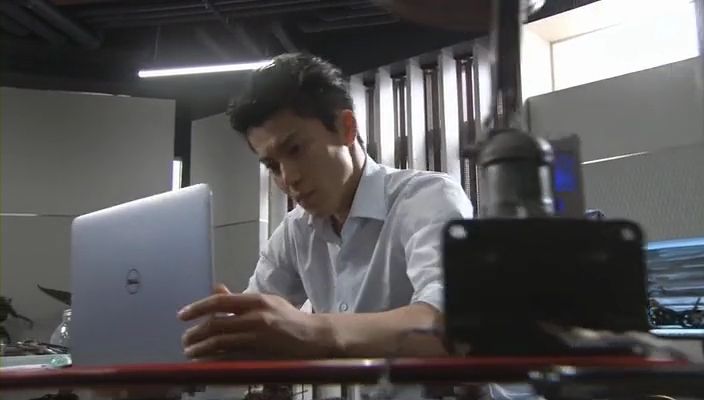 Hyuga returns to his office and finds that he's been locked out of his access to the personal file project. His attempts to access the files remotely triggers an automatic deletion of the files. Hyuga sits there trying to process everything and he ends up smashing all the computers on the ground.
Everyone is on pins and needles when Hyuga finally walks out to get a cup of coffee. Hyuga breaks the ice and voices what everyone wants to know – why he suddenly quit? Hyuga claims he wants to start a new company and take the personal file project with him. Asahina arrives and says this is just like Hyuga Toru – NI has grown too big and too bureaucratic, so Hyuga is going to start over again. Hyuga grips his coffee cup so hard he bends the edge but says nothing.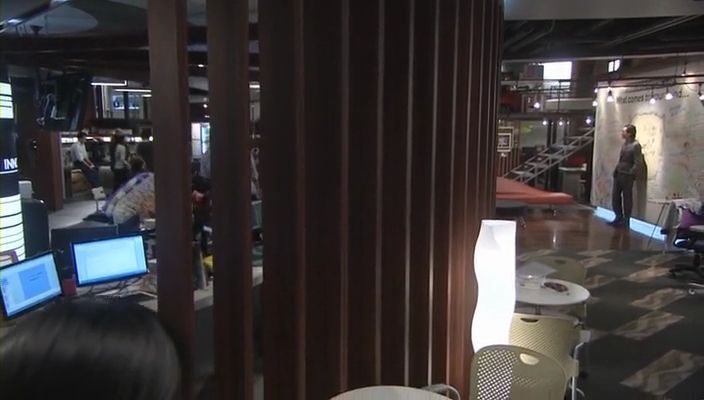 Asahina stands before the NI employees and announces that he's taking over the task of leading the company now and trusts they will follow him to accomplish great things. Hyuga says nothing and we see a great juxtaposition of Asahina standing before the original NI wall with Hyuga all the way on the other side leaning against the coffee table, the two of them now facing such a huge divide. The camera pulls back and we see Makoto is there to witness this moment, and she looks very sad. She stares at Hyuga as he sips his coffee.
Hyuga finishes packing up his office as he throws things into a box. Makoto tentatively enters and he asks what she wants? Makoto expresses shock for his sudden resignation but Hyuga makes no move to explain. She offers to help but he declines, asking if she went to the pharmaceutical company? She says yes, smiling that the company is first rate and as a student she's getting a great opportunity. They discussed her job with them, and Hyuga smiles and says it's all good then.
Most of the NI employees have all jumped ship, discussing how Asahina was always the right person to lead NI and Hyuga was the wrong choice from the beginning since he lacked common sense and manners. Yasuoka and the other two engineers sneak into the conference room and discuss whether they should or follow Hyuga who is taking the personal file project with him.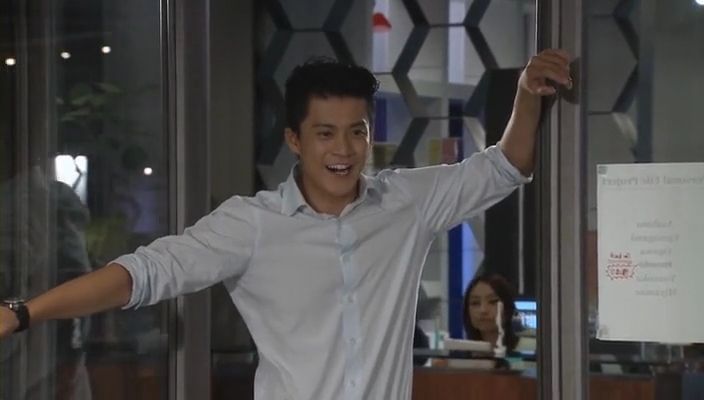 Hyuga suddenly opens the door and tells them to follow him, giving them a brilliant smile. Makoto walks by and Hyuga grabs her and pulls her into the conference room in a headlock (LOL), claiming she's also coming (with Makoto all confused since she said no such thing). Yasuoka asks if Makoto wasn't going to accept the job with the pharmaceutical company but Hyuga silences her and says she's declined the position and coming with him.
He smiles and says he needs people with talent to come with him on the personal file project. The two engineers are willing to go but Yasuoka will only go if Hyuga can correctly call out his name. Everyone stares intently waiting for Hyuga to say his name, and Hyuga tries hard but calls him Yamaoka. Poor Yasuoka says he's not coming but then says he was kidding and will be tagging along. They suggest a farewell party for Hyuga and plan to announce their departure alongside him at the same time.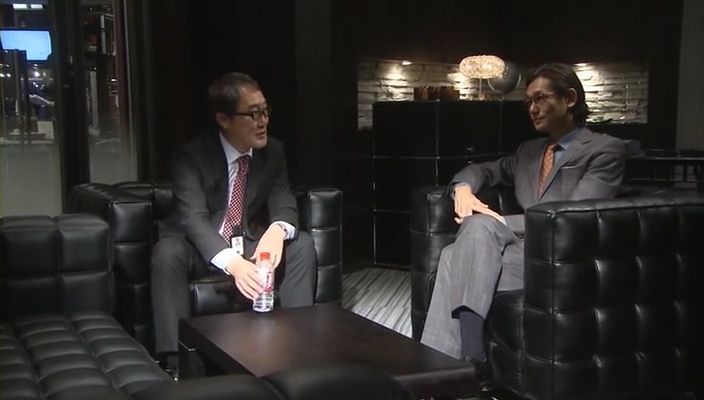 Yamagami sits with Asahina and asks why Asahina isn't refuting Hyuga's announcement that he's taking the personal file project with him? Asahina wants to keep this ace in the hole, plus he doesn't care what Hyuga says as long as Hyuga leaves without a fuss. Yamagami asks whether the company will fall into disarray once Hyuga leaves, but Asahina says he is capable of leading. Yamagami points out that Asahina was the one who called Hyuga the engine of the company.
Makoto meets with Yoko to order a catered meal for the farewell party for Hyuga. Yoko thinks its not appropriate at at time like this but Makoto reveals that Hyuga is leaving to start a new company and will be taking people along with him. Yoko remembers Asahina telling her to give up on Hyuga. Yoko says to herself that even if Hyuga isn't at the company, she can still see him. Makoto is envious that Yoko can express her feelings so openly.
Yasuoka and Makoto prepare the slideshow about the history of Next Innovation to show at the farewell party. When Yasuoka asks another employee to come with them, she calls herself a member of the cat faction and will be staying since she doesn't follow people. Yasuoka tells Makoto that the employees have split into dog and cat factions, the former following Hyuga to leave and the latter staying put.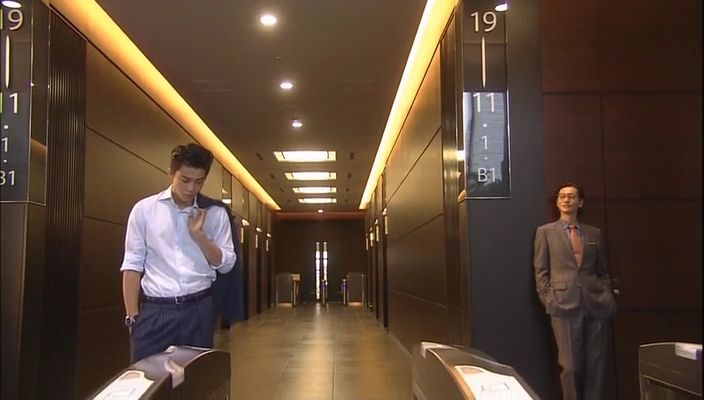 Hyuga walks out not carrying any of his belongings and leaves. He has to be reminded to return tomorrow afternoon for the farewell party. As Hyuga gets to the building lobby, he hears Asahina asking why he didn't take his stuff? Hyuga realized he doesn't need anything. Asahina compliments him on being as clean and thorough as always. As Hyuga swipes out, Asahina asks for his name badge back and Hyuga turns around and tosses it to him before walking away.
Yoko asks her sous chef to help prepare the catered meal for the farewell party, and Nogi's response makes her laugh since he sounds slightly jealous. Yoko and her restaurant side story continues to be so boring that fungus is starting to grow on it.
Makoto is watching her friend Haruka play ball and witnesses an altercation on the field. Haruka walks over and asks if this will be Makoto's last time wearing this interview suit? Makoto asks how Haruka will feel if someone she trusted changed their behavior, thinking back to Asahina betraying Hyuga. Haruka points out that it could be due to one person unwittingly hurting the other.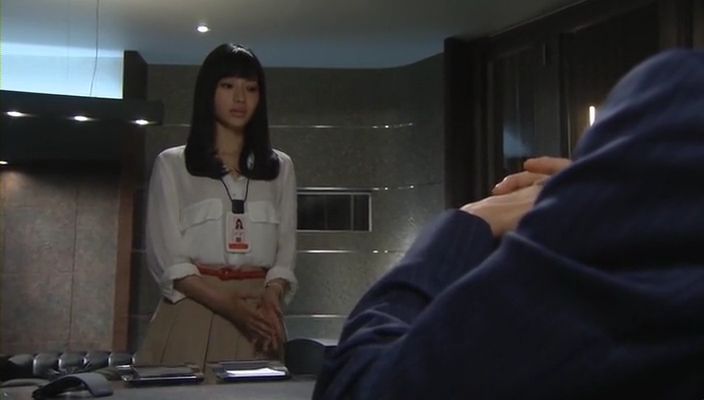 Yasuoka is preparing for the farewell party and turns the speakers up really loud accidentally. Yamagami comes out to yell at him, and Yasuoka sighs that without Hyuga he has nothing to do. Yamagami helps Yasuoka hang up the projector screen and then looks up at Hyuga's empty office. Makoto goes to see Asahina since this is her last day of internship with the company. Asahina apologizes for the company being in such disarray during her stay. Asahina asks if Makoto is willing to stay and work for NI, asking her to consider a full time offer with the company. Makoto doesn't answer him.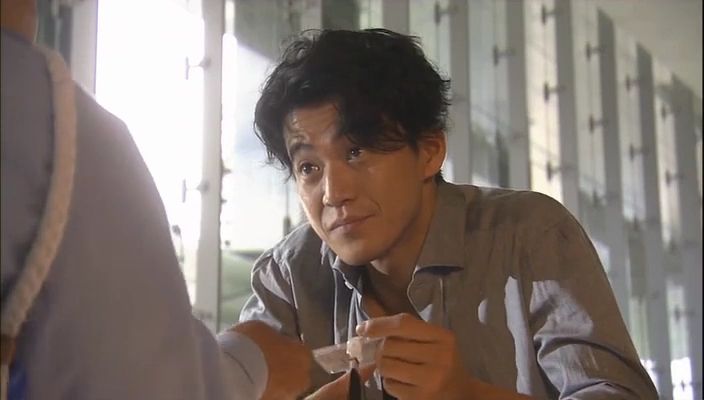 Hyuga walks into the NI building and needs to go to the building security to get signed in, and Yasuoka has put Hyuga's name on the visitor's list. The guard hands him a visitor's badge and asks how this happened?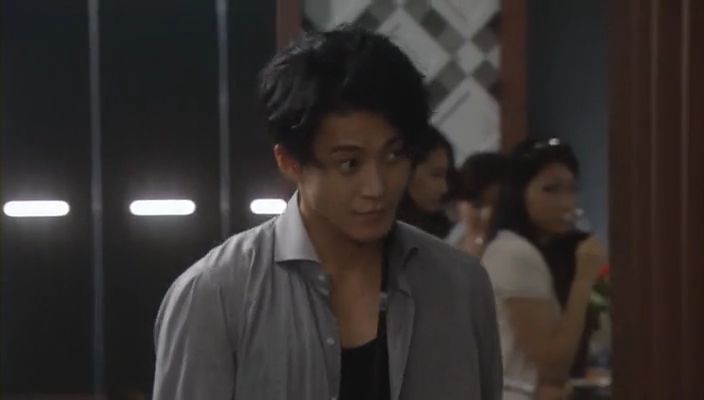 Makoto waits by the elevator for Hyuga to arrive as the employees are enjoying the meal but still gossiping about why he quit the company (fired or he has other plans). Hyuga arrives and is ushered inside by Yasuoka before Makoto can speak with him.
The lights dim and the slide show begins on the history of Next Innovation, and it's a really wonderfully poignant walk down memory lane. It shows young Hyuga and Asahina starting out and then adding Tono and more employees and growing even bigger. Hyuga watches this all and its clear he's really affected by it.
Yoko offers him a juice while he drinks to compose himself. When the video gets to Asahina, the employees wonder why Asahina isn't here? Yoko and Makoto watch the video of Asahina and Hyuga, with Makoto believing the two men are bound together by very strong bonds. Yoko loses her smile and walks away, knowing about Asahina's betrayal.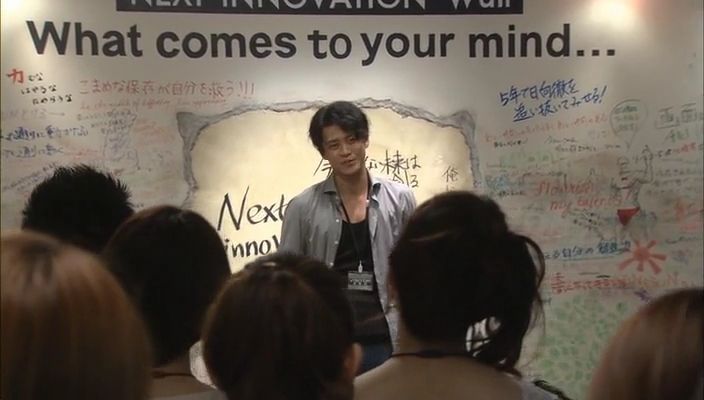 The slide show ends and Hyuga is asked to go up and make a speech. Hyuga walks up to the front and starts by saying that eight years ago, he was someone who was covered in barbs and didn't know any social graces. He didn't know how to interact with people or remember their names, and then he chuckles that he still doesn't know people's names. He grew the company bigger and bigger not knowing how big it could get, and now he's leaving.
To be honest, he never expected this. But since it happened, he expects the future will be even more exciting. The personal file project may be daunting, but it will be vastly rewarding. He couldn't have gotten to this point by himself. He needed Yamagami to always nag him, and then Hyuga's voice breaks before he says that he received the support and help from a lot of people.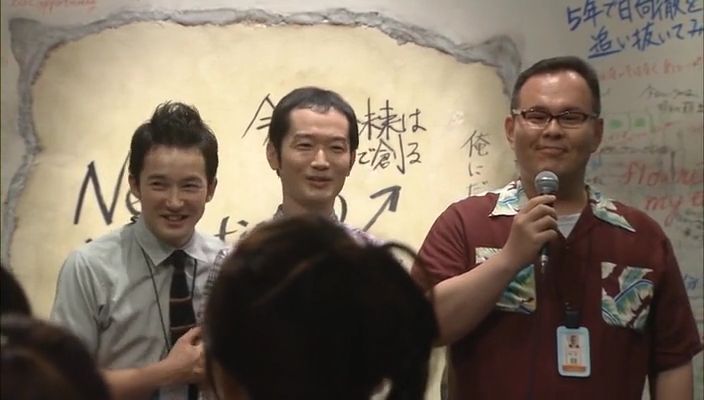 He looks at the picture of himself with Asahina and composes himself before saying that it was because he had Asahina. He feels confident in handing off NI to Asahina. Hyuga ends his speech and goes to sit down. Yasuoka grabs the microphone and calls up the three engineers up to make an announcement.
Before the three of them could announce that they are following Hyuga to work on the personal file project, the television turns on and Asahina holds a news conference announcing that NI is partnering with JI Technology on the personal file project. Asahina announces that Hyuga has given up all his NI shares and no longer has any rights to the personal file project.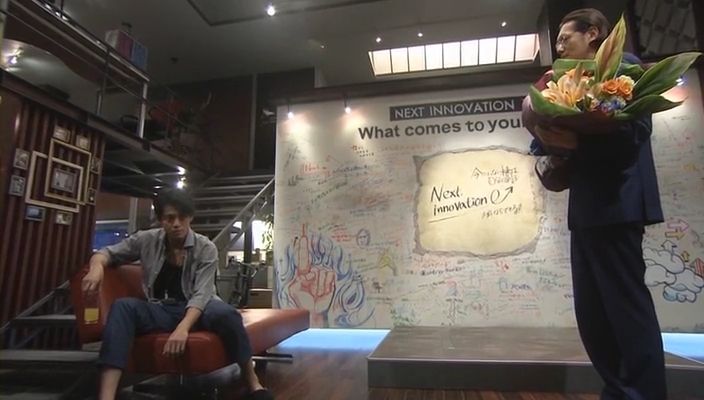 Everyone realizes that Hyuga is completely destitute and has no money of his own to work on the personal file project. Asahina arrives with flowers and thanks Hyuga for helping him get Board approval for the personal file project and to garner the partnership with JI Tech. Asahina thanks Hyuga for all he's done and hands him a bouquet of flowers. GRAWR I WANT TO STAB ASAHINA WITH A SPORK RIGHT NOW.
Hyuga stands up and walks out, pausing to wait for the three employees to follow him. The two engineers apologize and back out. Hyuga calls out Yasuoka's name and the poor guy cries and says he can't go with Hyuga anymore. Asahina asks if Hyuga is trying to take employees, which is so not Hyuga's style. Hyuga is arrogant and a loner, so has Hyuga turned into a loser without Asahina?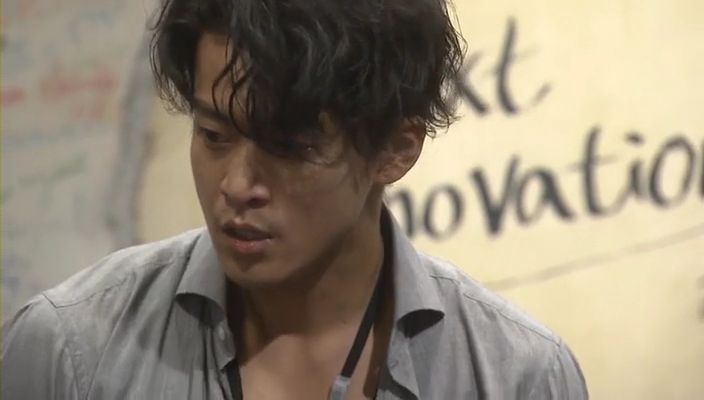 Hyuga smashes the flowers and screams that NI is HIS company. He created everything, built up everything, every little detail from the design of the office to the furniture was selected by him so everyone could best do their jobs. He asks if they are proud to be working at NI? If so, its all because of what he put in, so why does he have to leave? He was the one who made this company!
Makoto watches all of this with tears streaming down her face. Hyuga stops yelling and Asahina tells him to stop embarrassing himself now and just leave before Asahina has someone drag him out. Hyuga turns and sees Makoto crying and he takes a deep breath. He grabs a computer and throws it on the NI wall, leaving a nick on the words. He tells Asahina not to come ask him for the fee to pay for repairs, he can't afford it.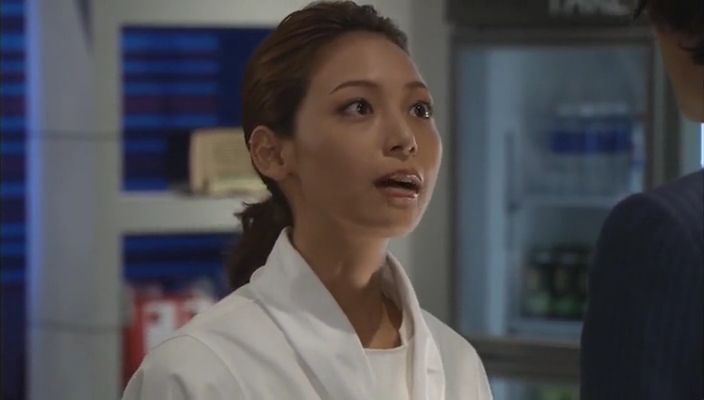 Hyuga walks away and Asahina apologizes to the rest of the employees for Hyuga ruining the mood. Asahina tells Yoko to bring some more alcohol and Yoko gives her brother a huge-ass satisfying slap on the face. Okay, Yoko, that slap has redeemed you for whatever shit you annoyed me with in the first 7 episodes. Yoko says she'll get the alcohol because that's the job she was hired to do.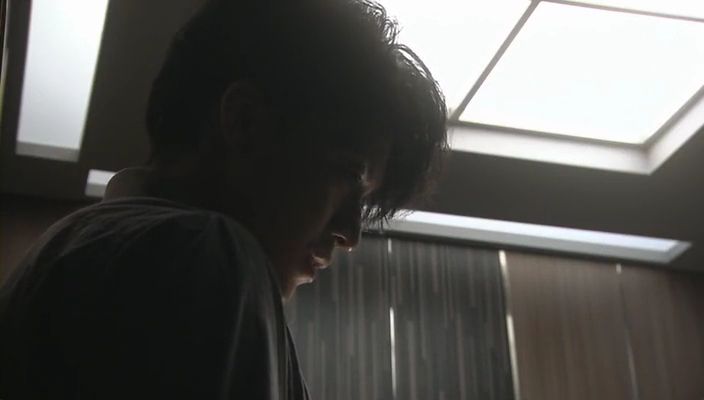 Hyuga gets into the elevator and turns around to slump against the wall. Makoto races to the elevator bank and stops Hyuga's elevator door from closing. Hyuga says, with his head down, that the person he doesn't want the most to see him like this is her. He forcibly closes the elevator door on Makoto.
She presses the button to summon another elevator and then races towards the stairwell rather than wait. Asahina arrives and points out that it's a 25 floor run down. Makoto asks why Asahina destroyed something so precious? Wasn't he the one who treasured Hyuga the most? Asahina smiles, saying he would get angry if anyone else said this, but Makoto is just so sincere.
Asahina says that if Makoto goes now, she'll suffer. The elevator door opens and Makoto races towards it. Asahina grabs her hand and asks her not to go. Makoto says she won't work for him, smiling to say that she likes Hyuga. She thanks him for all he did for her in the past. The door closes, leading Asahina slumped against the door, asking himself "so both of them are gone?"
Makoto rushes down to the parking garage and finds Hyuga on his bike ready to leave. She runs towards him and darts in front of his bike. She tells him that she wants to go with him. She doesn't care about what he said that she needs to put herself first. Even if it's a mistake, she doesn't care and won't ever come to regret it.
Makoto says she's ended all her alternatives – she's turned down both the pharmaceutical company and Asahina's job offer. And then she laughs so awkwardly to lessen the heavy mood of the moment. Hyuga pauses before telling her to get on.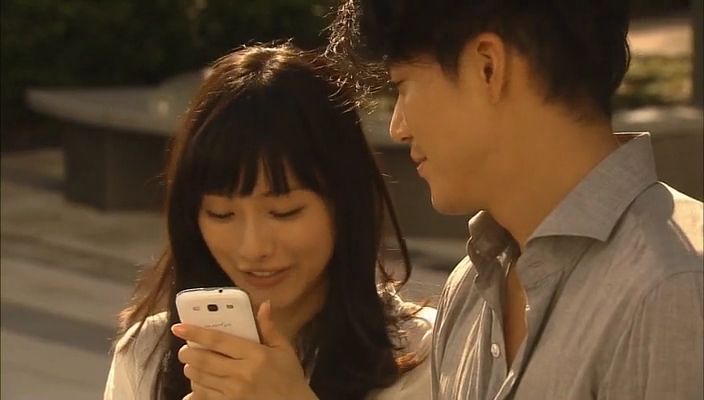 As Hyuga and Makoko pull out of the building, he stops the bike to allow some kids to cross the street. Hyuga turns to look up at the building and Makoto notices. She gets off the bike and tells him that she wants to take a picture to commemorate today – it's not a day of endings but a day of beginnings.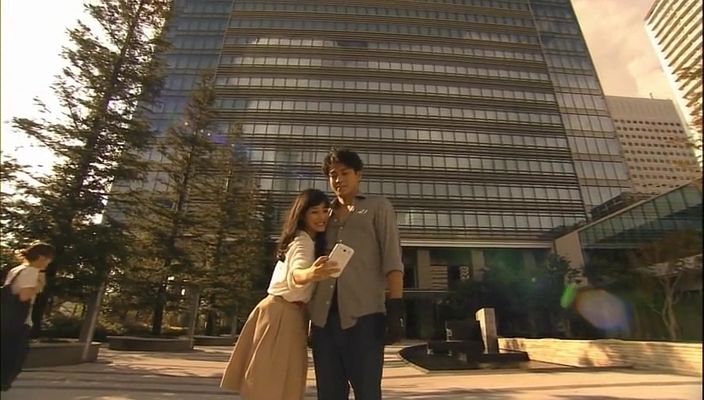 Makoto drags a reluctant Hyuga off his bike. He takes off his helmet and then takes her helmet off. They stand in front of the building and Makoto uses her cell phone to take a selca. She smiles at how nice the picture turned out.
They walk back to the bike and Hyuga turns to look at the building again, staring calmly as he says "this building was once my everything." Makoto replies "I know." Hyuga smirks and puts on his helmet before putting on Makoto's helmet.
He gets on his bike and pulls her arms tightly around his waist, and then they're off. Makoto smiles as the wind whips through her helmet, and even Hyuga's eyes under the helmet appear to have his sparkle back.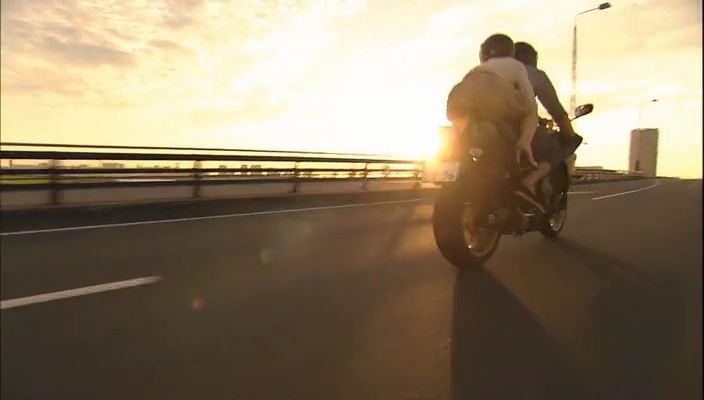 Thoughts of Mine:
Excuse me while I scrape my jaw off the flower. Wowsers, that was indeed forty-some minutes of breakneck entertainment that rocketed my emotions from depression to elation like a rubber band being played. Bravo to the writer for really taking Hyuga through all the stages of dealing with the unthinkable betrayal of Asahina that resulted in him having nothing and needing to start over again. He went from shell-shocked to disbelieving to wry to stoic to teary and finally to all-out fury. Oguri Shun pretty much nailed every tiny emotional twist and turn in this episode, and really I can watch him just angst all day long. And clearly so can Makoto.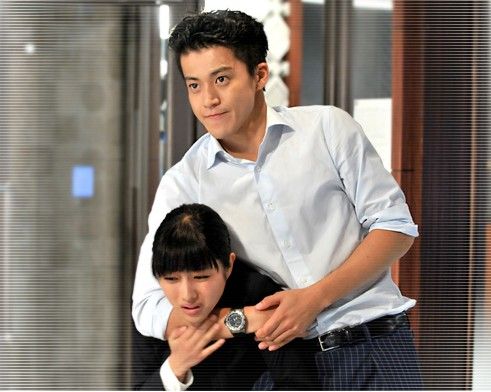 Who else clapped like a trained seal during the final sequence of this episode? When Makoto chased after Hyuga, announced she was following him (and his dreams) and then two of them paused for a picture break before riding off into the sunset – yeah, that was sheer perfection. What might come across as maudlin on paper was instead heartfelt and activated all my smile buttons when I watched it. Makoto might like Hyuga, but she's not following him because of just that. She's following him because he inspires her, both personally in her own life, as well as inspires her on a grander scale with his visionary perceptive ability. I like that she didn't choose him because of pure emotional connection, but because she wants to start her career with him. I dig that and totally support her.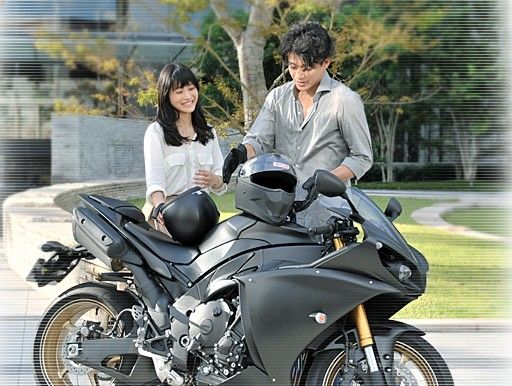 Asahina was all sorts of icky and repulsive in this episode, but I'm thrilled that it's now clear to everyone just what a loathsome toad he is. Yoko's slap was awesome and sooooooo well-deserved. I wish we could all line up and play a game of Slap-An-Asahina (which might include Yoko somewhere down the line if she ever pull any tricks the way her brother has done). I don't fault Yasuoka and the other two engineers for electing to stay with NI, and really I want to see Hyuga with only Makoto by his side as he forges another path in life. Will it be the personal file project? I don't necessarily think it needs to be. Why not let NI-JI Tech have it and find himself another grand undertaking to tackle. I also hope the story turns back to Hyuga finding his mother and not let that plot point slide. For now, RMPW has returned to my good graces totally and completely.