Nice Guy is becoming quite a nerve wracking watching experience. I wonder if the drama is just going to keep building and building the nervous tension and draining emotional developments and wait until the very end before giving us some release. This works well when I marathon tense melodramas, but watching it week-to-week is already giving me serious heartburn. I find it difficult to watch Maru hung up on Jae Hee, even if I know he's not "in love" with her anymore, but he can't seem to just forget about her yet. From a psychological perspective that makes sense, because Maru strikes me as a man with a one-track mind, and disengaging himself from a now destroyed lifelong dream to be with Jae Hee takes time. He didn't give up on her in prison, he only recently discovered her true nature and it's not easy to break free of a relationship that really is a mutually dependent one for most of their lives. We want to see Maru succeed not because we like him much (likely no one does), but because Eun Gi loves him and we love Eun Gi. Hence I end up watching this drama wanting to throw things at Maru and Jae Hee, but at the same time hoping for a happy ending for him and Eun Gi. At the end of the day, it's just so complicated.
Episode 7 recap:
A quick refresher of what happened at the end of episode 6: Jae Hee is trying on wedding dresses and gets a call from her horrible brother who has just been released from jail; Jae Gil and Choco tell Maru that Jae Hee's brother is back and stole Maru's cell phone to call Jae Hee; Eun Gi is handed a framed graduation picture of Jae Hee and Maru.
Maru runs into the room and finds it completely ransacked. After Maru leaves, Jae Gil and Choco discuss her crush on him, which she insists is totally not a bother to Jae Gil. Jae Gil chews her out for telling Maru about Jae Hee's brother, but Choco insists she was upset because Jae Gil was beat up. Jae Gil tells Choco to move on since he's never going to like her.
Maru uses Jae Gil's phone and calls his own cell phone and agrees to meet with Jae Hee's brother, claiming he'll reveal Jae Hee's location to him. Jae Gil tells Maru to stop bothering with this and call the police. Jae Hee's interview with the media has moved outside but she's still terribly rattled from the call and can't concentrate.
Maru walks out of the house to head to meet Jae Hee's brother and sees Eun Gi outside. Eun Gi promptly hides the picture from his view. Maru stares at her and gives her a slight smile while she stands rooted there like a deer in headlights. She flashes back to Maru's meeting with Jae Hee at the company lobby, and also Jae Hee's warning to her about Maru's intentions.
Maru asks how the union negotiations went and she glosses over it. She asks if he's headed somewhere and he explains he's going to meet someone. Maru notices something is off about her and touches her forehead and cheek, asking if she's feeling sick? He asks if there is anything she intended to tell him but she says no. He tells her to get some rest and she hurries him off to his meeting. Maru tells her to that he'll buy her some medicine on his way back.
As soon as Maru walks away, Eun Gi collapses on the ground and quickly opens up a file envelope on the investigation Joon Ha did for her. She reads the report that confirms Maru was the man who saved her life on the place and later got accused of extorting money from Jae Hee.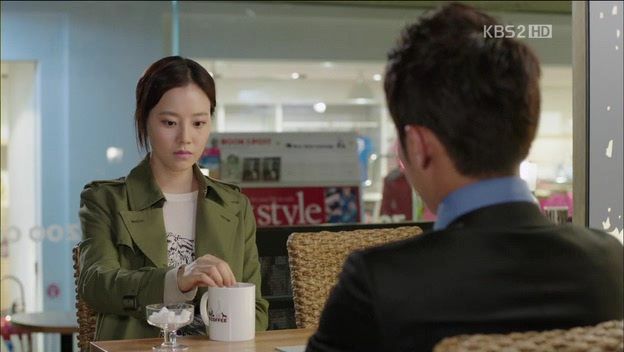 Eun Gi sits with Joon Ha at a coffee shop to discuss Maru. Joon Ha confirms Maru's connection with Jae Hee, and reveals that Maru killed a man before and spent time in jail. He notices Eun Gi is totally zoned out when she keeps putting sugar into her coffee and drinking it.
Jae Hee's brother greets Maru after many years and chides Maru for being so rude to an elder when Maru doesn't return the greeting or shake his hand. Maru tells him to stop looking for Jae Hee since she's dead. The brother scoffs at that since he must've just talked to a dead person then. Maru asks for his phone back and the brother returns it, saying he memorized Jae Hee's number already. The brother knows that Jae Hee was the one who killed that man and Maru covered for her, which is what he always does for her.
Jae Hee's brother offers to include Maru's payback from Jae Hee into what he's planning to extort for her. The brother says he's getting revenge on behalf of his mom, and warns him that Jae Hee is an even more evil opponent than Maru can ever imagine. The brother says he's not even able to go up against her. Maru threatens the brother to leave Jae Hee alone, revealing that he's killed before so he's not afraid of doing it again.
Eun Gi asks Joon Ha to tell her everything he knows about Maru. Joon Ha says the most important thing is that Maru is using Eun Gi. She takes it in stride and says she doesn't care, she still likes him.  Eun Gi asks if there is anything more? Eun Gi says none of this means anything. Eun Gi warns Joon Ha not to do anything to Maru.
Joon Ha asks the Chairman to keep his promise and bring Eun Gi back now that she solved the labor problem, otherwise Joon Ha will quit. Joon Ho is so worried about Eun Gi that he runs to the Chairman and asks him to bring Eun Gi back otherwise they might lose her forever. Joon Ha reveals that he thinks Eun Gi has gone insane.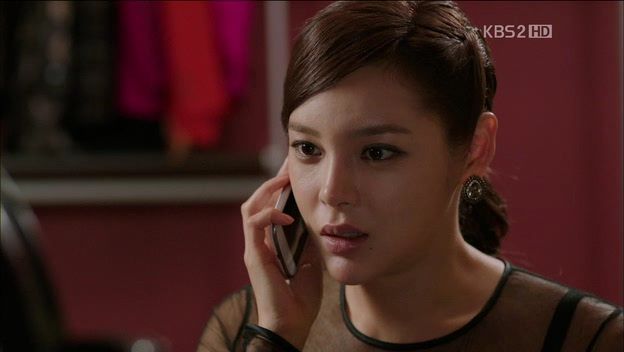 Jae Hee furiously calls Maru under the assumption that he roped her brother into his revenge plans against her. I hope she gets brain cancer from too much cell phone use. In fact, my new past time is thinking of ways Jae Hee can accidentally die when doing the most mundane things. Maru does not clear up her mistaken assumption.
The Chairman asks Jae Hee to bring Eun Gi back from the home of the "friend" she is staying with. He tells Jae Hee that she needs to act like a concerned parent. He tells Jae Hee to do anything to get rid of Maru. She asks if she can use those thugs the investigator knows.
In Eun Gi's mind, she flashes back to the conversation with Maru in the car where he warned her to beware that he had ulterior motives towards her. She remembers Maru saying that he has a mountain he wants to climb, so what if he ends up using her as his staircase? Eun Gi walks back to Maru's place with a bag of beer and sees him outside. She asks "handsome" to drink with her but he thinks she's gone crazy since she's sick. Eun Gi persuades him to go drinking and they sit down on a bluff to drink and gaze out over the night lights.
Maru worries about Eun Gi and takes her beer away from her to drink himself. He tells her that some of the alcohol from all she drank last night is still in her body. Eun Gi looks out onto Seoul below and asks Maru how many people live there? Down there is someone who will one day be married to her, and another person who he will one day marry.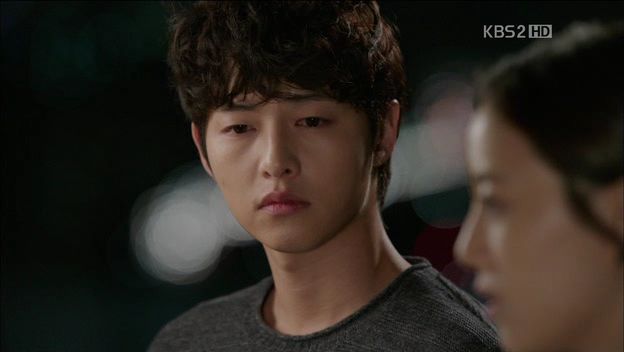 Eun Gi tells Maru to be sure to send her a wedding invitation if he gets married. She might not be able to attend but she'll send money. He stares at her and she laughs bitterly, wondering if he actually thought he could marry her? Eun Gi says that they need to stop now and break up. She lies that she finds him beneath her and she was merely indulging in some sowing of her passionate oats before returning to her world. She claims that all her previous guys, some wouldn't take the break up smartly and kept trying to dragging it on. Eun Gi thought this might last at least a month, but her feelings have changed faster than she expected. Maru silently accepts the break up.
Eun Gi asks if this is hard for Maru to accept or understand? Maru says its not hard to understand or accept. Eun Gi steels herself and claims she's happy that he has some pride and won't cling on to her. Eun Gi stumbles down the slope and runs into Jae Hee who is here to retrieve her. Eun Gi is so drunk that she passes out on the ground.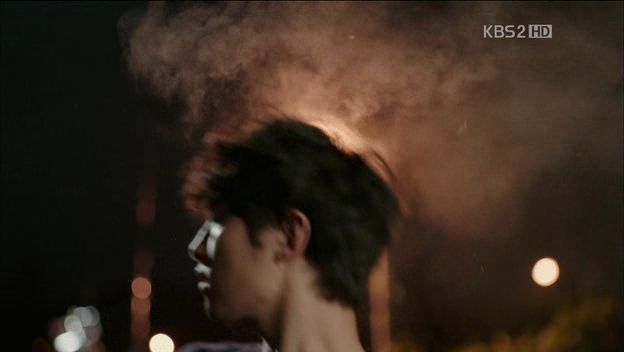 Maru walks back to his house and is ambushed outside.
After Maru is beaten to a pulp, the thugs call Jae Hee and the phone is placed next to Maru's ear. Jae Hee talks with him while she drives a passed out Eun Gi home. She tells him to sign the papers placed in front of him, which gives him property in the US and plane tickets for him and Choco. This is his one and only chance, as long as he leaves Eun Gi and promises never to see her again. This is on orders of the Chairman.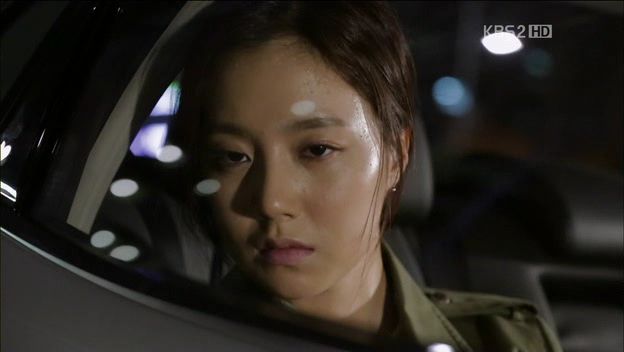 Eun Gi stirs and overhears part of this conversation. Jae Hee threatens that if he doesn't sign, the next one who gets hurt might be someone very precious to Maru. We do not see Maru sign the papers.
Jae Gil takes Choco to Anmyungdo (oh god, the ominous TK2H flashback) as requested by Maru, clearly so Choco doesn't see how he's been worked over by Jae Hee's thugs. Jae Gil once again tells Choco that he's not interested in her as a woman. I am also not interested in either of you as characters in this drama.
Eun Gi is at home resting while Jae Hee watches over her. She pretended to be asleep until Jae Hee left the room. The Chairman finds out about the hanky panky going on between Jae Hee and lawyer Ahn and is understandably pissed. Oh hells yeah! He calls Joon Ha in to plan for a way to punish them both. He finds out Joon Ha and Eun Gi already knew but wanted to not upset him with this information. The Chairman has some chest pains thinking about this and orders Joon Ha to keep it a secret that he knows. He tells Joon Ha to use all the legal loopholes to construct a trap for lawyer Ahn and Jae Hee. He wants them in jail for at least 30 years. That is the only way he can die in peace. That is the only way he can hand Eun Gi to Joon Ha peacefully and pass on.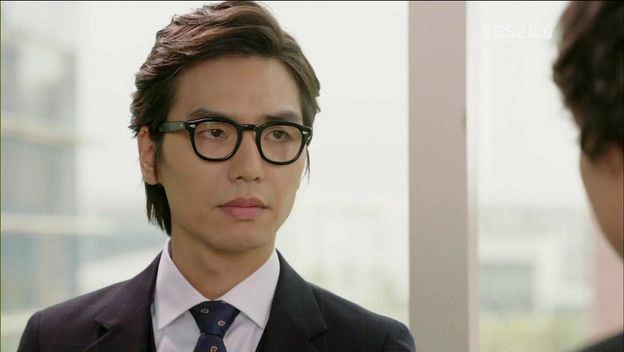 The investigator calls lawyer Ahn and reveals that the Chairman saw pictures from the CCTV cameras outside the house and knows about his dalliance with Jae Hee. The nosy neighborhood ahjumma who handed the picture to Eun Gi comes by with food for Maru and Choco. She leaves it outside when no one answers her summons, though she sees Maru's shoes outside.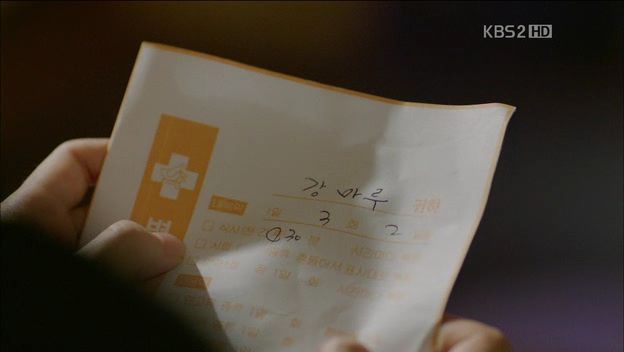 Eun Gi sits in her room and looks at a bag of prescription medicine. Maru had gone to get it for her since he thought she was sick and handed to her before they parted that night. Despite breaking up, he still made sure to tell her to take the medicine and get well.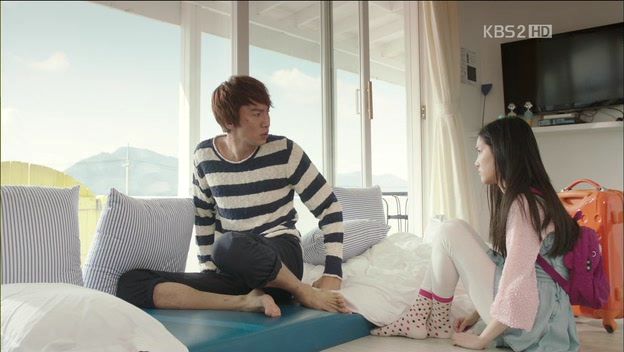 Choco is getting worried since Maru hasn't been answering the phone and she wants to go back to Seoul. Jae Gil tries to stop her and lies that Maru is away on a trip with a lady friend but Choco doesn't buy it since Maru always answers her calls because he worries it might be a medical emergency.
Eun Gi has made up her mind and tries to leave only to find her room has been locked. Jae Hee comes to deliver food and tells Eun Gi that she is being locked up per the Chairman's orders. Eun Gi asks how Jae Hee could have thugs beat up Maru like that, revealing she heard the conversation in the car. Jae Hee claims she did it all for Eun Gi's sake. Oh shut the hell up, bitch! Jae Hee tells Eun Gi to end things before it goes any further now that she knows what the Chairman is capable of doing. Eun Gi realizes this means Maru didn't sign the papers.
After Jae Hee leaves Eun Gi's room, she gets a call from her brother again, this time asking to meet. The brother reveals that Maru is still loyal to Jae Hee, having threatened him if he dared to get near Jae Hee. This leaves Jae Hee reeling since she thought Maru was working with her brother to bring her down.
Eun Gi finds a way to escape her home confinement by making a bed sheet rope and climbing out the window into the pouring rain. She drives over to Maru's house and runs out of the car shoeless. Eun Gi knocks on his door and asks to see him. Back at the Seo house, we see Jae Hee making a lunchbox and packing it up.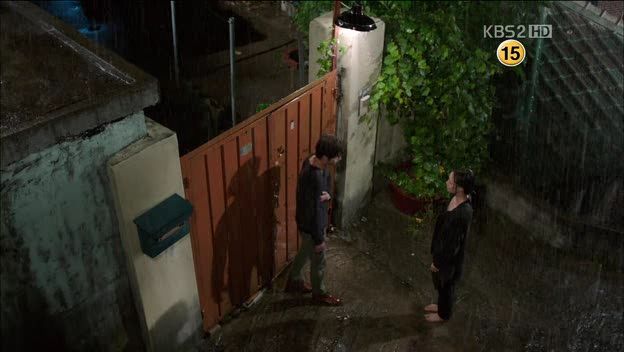 For the longest time the door doesn't open and Eun Gi is about to walk away when Maru walks out, his one eye completely swollen shut and his face still bruised.
Eun Gi faces him and confesses that he was her first kiss, and he is the first man she's ever fallen in love with. Since she met him, she's dared to dream about a life together, where he will say that he loves her and they can make a family together, have kids and grow old. She asks if that is even possible?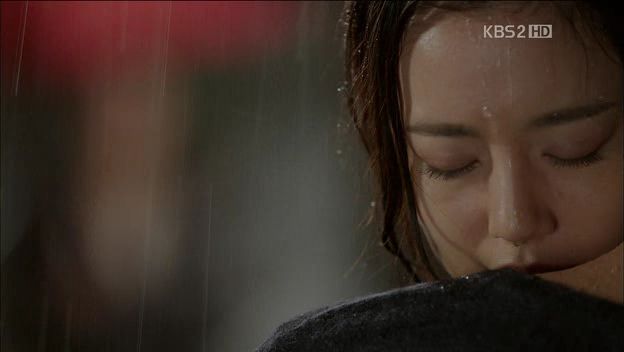 Maru is silent through this entire confession, only staring at Eun Gi with his one good eye. He finally steps towards Eun Gi, and then pulls her in for a hug. His hand tentatively encircles her, like he's not sure of what he's doing.
Maru's face goes from sad to cold and angry when he looks up and sees Jae Hee standing behind Eun Gi, holding an umbrella in the rain. Jae Hee stares in shock at seeing Maru and Eun Gi embracing.
Thoughts of Mine:
In this episode, Jae Hee's brother referred to Maru as Jae Hee's well trained dog in the way Maru still defends Jae Hee and tries to protect her from the even greater evil that is her brother. That actually makes so much sense if we see Maru as an abused dog. His unconditional love for Jae Hee was like that of a dog with its owner, and once Jae Hee started abusing Maru's love repeatedly its going to take some time for Maru to fully disengage himself from her much like an abused pet still longs for the return of the owner's affections. It's visceral and deeply ingrained, and therefore that much harder to cut off. What I loved about this episode is seeing that Maru is taking steps to cut Jae Hee off. When Eun Gi asked to end things, he accepted it with resignation even knowing it might end his ability to thwart Jae Hee's plans. His care for Eun Gi is growing slowly but steadily, and even she can see it.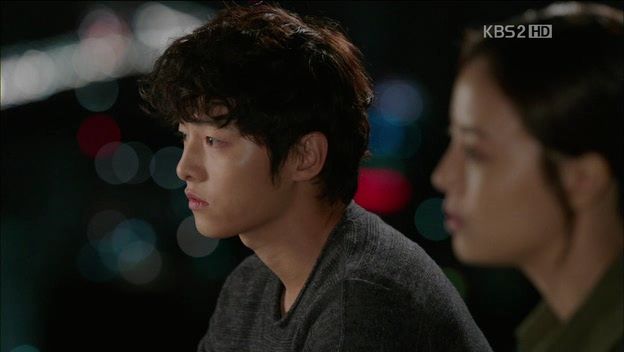 I think the biggest leap of faith this drama asks us to take is accepting how much and how fast Eun Gi has fallen for Maru. I believe it since she's a closed off girl starving for affection. Part of me appreciated that her reaction to discovering Maru's deception was to maintain calm and collect more information, and then rationalize it in her head. But part of me wanted her to smack him around a bit for using her so ruthlessly when she had done nothing to him. I guess my wish was heard because Maru did get the crap beat out of him today, and if that didn't wake him up to Jae Hee's utter ruthlessness, I don't know what else he needs to learn about her before cutting her off like a rotting appendage. It might hurt, but better do it fast now before it infects the rest of his body. The preview for episode 8 worries me a bit, only in the sense that it makes me nervous as to what might happen. But so far every episode of NG has been intense and no holds barred and that's exactly what I signed up for.