Episode 10 of Nice Guy marks the midway point of this drama, and feels rather lightweight as a standalone episode in a drama full of tension-filled and taut moments. Nevertheless, this episode was critical in setting up multiple arcs that will surely be delved into in the second half, but overall I'm still left unsure of where it's all headed. Of a few things I am certain: Maru is completely totally unequivocally over Jae Hee, Eun Gi really lost her memory and is pretty much a kid in an adult body, and Jae Hee is still willing to do anything to keep her and Eun Seok on top of Tae San Group. In the past, every interaction between Eun Gi and Maru was thrumming with sharp emotional awareness, but now it's morphed into something tender and tremulous. Despite Maru being dismissive and cold to Eun Gi, it's she who haunts his memory and he can't help but involve himself in her life. He may have gotten close to her because of Jae Hee, but what kept him fascinated with her was always the very essence of Eun Gi, a porcupine concealing a marshmallow underneath.
Eun Gi always had the emotional understanding of a child. She wants something, she goes after it, consequences and practical consideration be-damned. It's what could be termed selfish, because that is how we describe the basic urges that children cannot control but as an adult we are expected to. But Eun Gi was so stunted she never learned to do so, she merely suppressed that part of her. So the memory-less Eun Gi has reverted back to where her cognitive abilities now match her emotional state, and this time she can relearn life without having the spectre of a broken childhood and a demanding father looming over her. It is faced with this Eun Gi that Maru has to finally acknowledge that he still cares, because she makes him care. He cannot help but care about her, because he's already let her into his shell of a heart, and now if he has the courage, maybe they can walk forward together even if the ending is destined to be filled with pain. But at least he has her, and she has him, and they are not so lost anymore.
Episode 10 recap:
Maru finally meets up with Eun Gi after nearly a year since the car accident in the tunnel, but while new and not-improved Maru has turned from woman swindler to financial swindler, new Eun Gi has lost her memory and has had to relearn the basics of speech and reading. Maru is clearly affected by seeing Eun Gi this way, but she reveals her childlike happiness at meeting and recognizing Kang Maru, the man in her camera.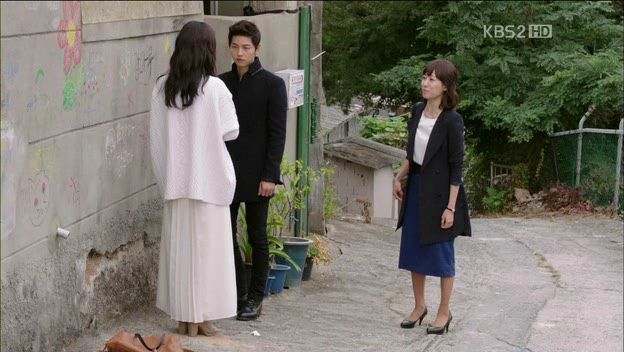 Eun Gi's secretary finds them standing before the scribble wall and chides Eun Gi for walking away when she was supposed to stay put. Secretary says hello to Maru, having met him before at the hospital that time he got hurt trying to retrieve Eun Gi's doll. Eun Gi happily tells her unni that she found Kang Maru and she recognized him.
Eun Gi walks through Maru's courtyard and calls out the correct names of household items, clearly having learned those facts again. Eun Gi's secretary explains what happened – Eun Gi lost her memory along with language comprehension so she was hidden away to recover both physically and mentally, otherwise Tae San Group's current acting head Han Jae Hee will make Eun Gi's life a misery since Eun Gi is a threat to her position at the company. Eun Gi can't tell direction and even needs to count with her fingers now.
Secretary reveals that she doesn't think the Chairman died of his illness, and she suspects Han Jae Hee may have been involved. Maru listens to this quietly and continues to observe Eun Gi. She walks around touching everything and tells her secretary that she has been here before and if given some time she'll remember everything. Maru asks why him? Secretary explains that he is the only person Eun Gi trusted and someone she loves.
Maru scoffs, saying that they projected the relationship based on taking a few pictures together. He dismisses them, saying he doesn't have time for this. Secretary says they aren't just wasting his time, they are here to see him for a reason. She asks Maru to help Eun Gi regain her memory.
Maru walks over to Eun Gi, who is sitting down with her head in her lap, trying to remember. He grabs her arm rather forcefully and gets her to look up at him. Maru tells her that she's got the wrong person. He tells her that they were never in love with each other and she needs to leave. He doesn't have free time to get involved in their battle for power. Secretary says its not a battle for power, its to return Eun Gi to her rightful place.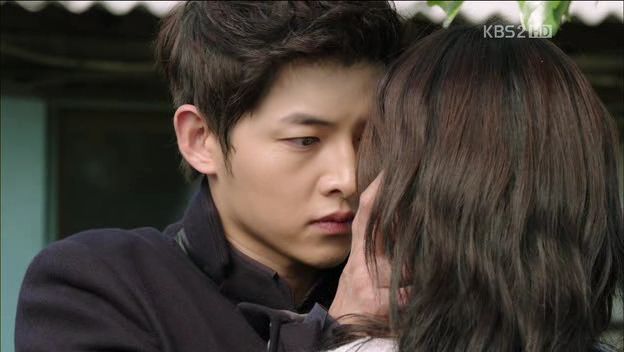 As Maru and Eun Gi stand up, suddenly Jae Hee's brother walks into the courtyard. He recognizes the Secretary as the person he passed earlier. Eun Gi is standing with her back to him and before she can turn around, Maru grabs her face and pulls her towards him and concealing her face from Jae Hee's brother.
Jae Hee's brother is here to talk with Maru and notices that Maru's with a girl. To get rid of him, Maru pulls Eun Gi into a tight embrace and keeps her face nestled in his neck away from Jae Hee's brother's view. Jae Hee's brother scoffs that he ought to get them a room. The brother tsk tsks at Maru being so openly cuddling a girl with people around and takes the hint, saying he'll come back later. As he walks out he wonders why the Secretary lady is just standing there impolitely watching.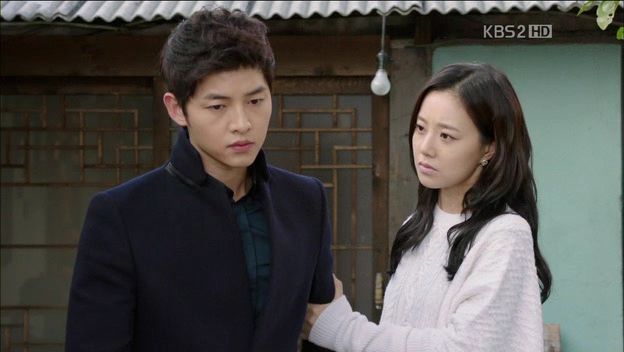 After Jae Hee's brother leaves, Maru immediately pushes Eun Gi away and tells the Secretary to wait here for 30 minutes before leaving. Eun Gi asks if they used banmal before, and decides she'll use banmal with him going forward. Eun Gi grabs his arm and asks if he's ashamed of her because she's lost her memory? She tells him that she will regain her memory soon, she knows it. She vows to work even harder. Maru claims he doesn't care since their relationship merely consisted of taking a few pictures and knowing each other for a short period of time.
Eun Gi touches her heart and says that she remembers him, her heart remembers him. Maru brushes her aside and leaves, telling the Secretary to write a novel with Eun Gi if they have so much free time on their hands. Secretary grumbles about what a rude bastard Kang Maru turned out to be. Maru walks down his neighborhood and pauses midway before continuing along, clearly not as cavalier about Eun Gi as he is pretending to be.
Secretary helps Eun Gi down the neighborhood, telling her that it was wrong of them to come and the guy is not who they thought he was. Eun Gi doesn't agree, saying over and over that she remembers him. We see Jae Hee's brother isn't as stupid as he looks, having noticed something off in the courtyard and he follows Secretary and Eun Gi while holding a missing person's flyer of Eun Gi.
Jae Hee is in a meeting with the Board and there are people who are still waiting for Eun Gi tor return and she faces opposition in making decisions. During the presentation on a Jeju project that Eun Gi was in charge of that started 3 years ago, Jae Hee halts the project and moves something else onto that piece of land. Jae He gets fed up and proposes that Eun Gi be stripped of her position in absentia.
Jae Hee's brother follows them all the way to where Eun Gi is being stashed and he records a video of her outside the house. He calls lawyer Ahn from outside where Eun Gi is staying. Eun Gi stands outside holding her heart, still hurting from Maru's cold response to her. But she is sure he is lying about their feelings for each other.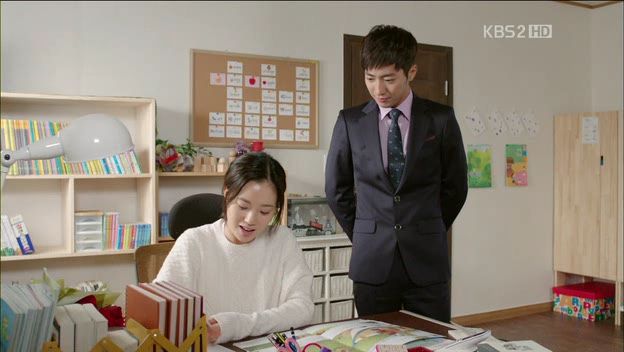 Eun Gi sits in her room practicing writing, with lesson plans around her that a child learning hangul would be using. Joon Ha arrives bearing roses and Eun Gi happily accepts them to use. Eun Gi asks if it's true that pre-memory loss her was considered a genius? Joon Ha confirms that she was quite a child prodigy, and once she gets her memory back, he has a lot to tell her after she gets well.
She vows to work hard and asks Joon Ha if she can return to being who she was before? Joon Ha assures her that she can do it. Eun Gi looks up and we see on the wall are taped the names Seo Eun Gi and Kang Maru, which Joon Ha also notices.
Maru is out drinking with the product engineer he is trying to convince to sell him corporate secrets. The man is reluctant to do something bad, but in the end hands over the USB drive containing the secret documents. Maru scoffs at the man's reluctance to be bad, he's so broken and jaded that he thinks the world is just a shit hole where God doesn't even care. He doesn't believe in a God because a God who cares who never allow the world to become like this. Maru tells the man that he might hear on the news one day that Kang Maru got his just desserts and died, then he can believe there is a God.
After Maru leaves, he gets a call from a doctor to come quickly to the hospital because of Choco's medical condition. He rushes over and finds out the doctor used the ruse to summon him, otherwise he would never come. The doctor tells Maru that he has subtle bleeding in the brain that started after the car accident and has continued since little by little. He knows Maru must be experiencing headaches and retching these days, symptoms of the brain injury. The doctor tells Maru to check into the hospital and schedule a day for surgery, but he declines, pushing it off until he finishes what he needs to do. Maru asks if he needs surgery and we find out that the doctor was Maru's medical school classmate. Maru knows that the chances of death if 20% if untreated and with his luck he'll be in that percentage. He tells the doctor to give him painkillers.
Jae Hee helps dress Eun Seok after his bath and asks him about his writing in the diary that he misses his Eun Gi noona. Jae Hee reminds her son that Eun Gi didn't like him and always chastised him, but Eun Seok says that she is still his noona. He asks why his mother doesn't miss her? Because she is a snake woman with no heart? Jae Hee lies that she also misses Eun Gi, then tells Eun Seok that if Eun Gi returns it will mean trouble for her and Eun Seok. She tells her son not to miss Eun Gi anymore or hope that she comes back. Jae Hee vows that she will protect everything for Eun Seok. Eun Gi  Eun Gi writes in her diary that she met with Maru today, the man she loves, but he lied and claimed that he didn't love her.
Maru comes home to find Jae Gil waiting for him outside. Jae Gil asks if Maru is coming back after swindling orphans and widows. Maru asks where Choco is and Jae Gil reveals that Choco ran away and never wants anything from Maru anymore. She doesn't want his dirty money and left. Maru rages at Jae Gil for not stopping her, but Jae Gil says he ought to have helped her pack. Jae Gil's outburst is so sudden that Maru takes a swing at him, which shocks both of them.
Before Maru just sold his body, now he's sold his soul. How can Choco ever spend his money? If it was him, would he spend it? Today Choco went to the home of that student whose dad Maru swindled and she gave him the money Maru earned for her.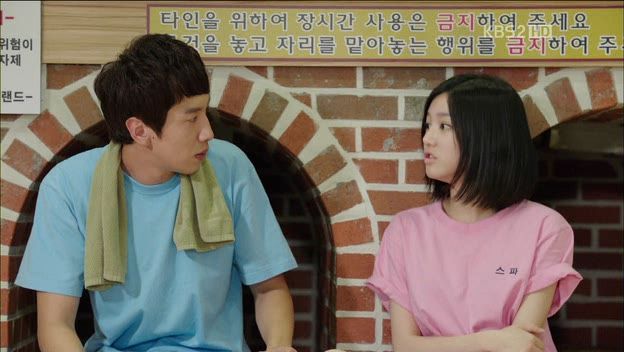 Jae Gil meets up with Choco at the jjimjalbang and she asks how her oppa is doing? Choco reveals that she hopes her disappearance will force her brother to finally snap out of it and live a proper life. Jae Gil tells Choco that even if the entire world berates Maru, she cannot say that about him or refuse to see him.
Maru sits in the courtyard and finds a note left by Eun Gi. In the note, she tells him that she will work hard to regain her memory so he needs to wait for her. Eun Gi sits in her room writing in a notebook. Maru lays down on the table and stares at the stars.
Jae Hee's brother meets with lawyer Ahn and reveals he knows the whereabouts of the missing Tae San Group heir. He shows lawyer Ahn the video recording and says he knows how dangerous Eun Gi is to Jae Hee's current position at Tae San. He doesn't just want some money to reveal her location.
Jae Hee meets with her lackey who reports on what Jae Hee instructed him to do – distribute a report from Eun Gi spying on the Board members. Some who are loyal to Eun Gi feel betrayed, others are suspicious and think this looks like a set up. The lackey gets a call from Joon Ha and Jae Hee tells him to answer. Joon Ha asks to meet with him?
Joon Ha is in Eun Gi's office and he's surprised to see Jae Hee walk in to meet with him. She tells him she sent the other guy to run an errand. Joon Ha asks if Jae Hee removed Eun Gi's hard drive which contained a report on the Board members and then handed it to the Board? She did it to remove Eun Gi, right? Jae Hee says a company representative should trust her Board. Joon Ha screams that it wasn't Eun Gi, it was the Chairman who did it when he was alive and he emailed it to Eun Gi. She in turn deleted it immediately. How did a deleted file suddenly get resurrected. Jae Hee reminds him that she kept him around despite knowing he will betray her at anytime because she keeps her enemies close. She walks close like she's trying to seduce even him and says Joon Ha is as dangerous as his father turned out to be. She reminds him that she is the owner of Tae San, not one of the minions who turn out to betray their masters.
Maru is sleeping on the table outside and he dreams about his conversation with Eun Gi at the beach, leading into the moment in the tunnel where they sped towards each other in their cars. Maru wakes up in shock as the dream cuts off at the moment seemingly before impact.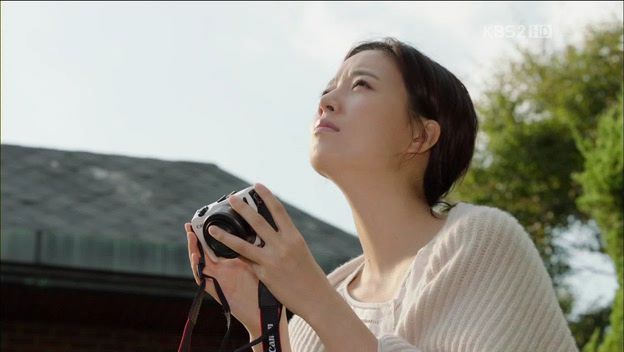 Eun Gi sits in the courtyard and scrolls through her camera looking once again at pictures of Maru in Aomori. She names things such as the sky, the clouds, her name Seo Eun Gi, his name Kang Maru. The doorbell rings and a man calls out that he's sent here by Kang Maru. Eun Gi opens the door for him and its Jae Hee's brother.
Eun Gi greets him warmly and he lies that he was sent by Maru who has something to say to her so asked him to pick Eun Gi up. Eun Gi happy goes to change and leave with him. She runs into the house and takes out all her clothes to pick the right outfit. Jae Hee's brother muses that it was so easy to lure Eun Gi out.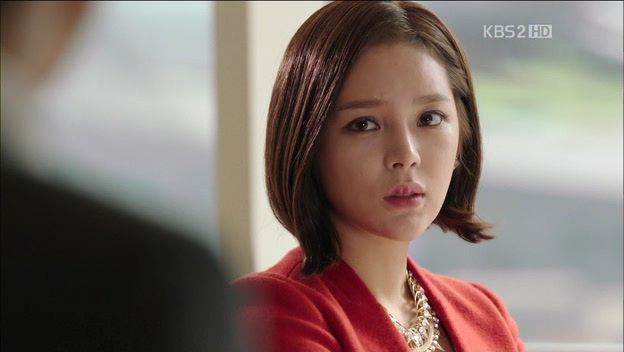 Lawyer Ahn meets with Jae Hee but doesn't reveals that her brother knows where Eun Gi is and knows that Eun Gi's existence is a threat to Jae Hee. We see Jae Hee's brother asks if he'll get a mansion if he makes it so that Eun Gi can never return to Tae San? Lawyer Ahn can tell Jae Hee is stressed and that her proposal to strip missing Eun Gi's position at Tae San isn't being accepted easily by the Board. Jae Hee muses that nothing in her life is easy, yet she has managed to overcome every problem and look at where she is standing now. She wonders how far she will go to preserve her position, how much Han Jae Hee can do?
Jae Hee's brother is driving Eun Gi somewhere and sees her smiling happily. He asks if she's that happy to see Maru, and what their relationship is? Eun Gi smiles and says they are in love with each other. He wonders what she sees in him, calling Maru ugly. Eun Gi adorably says he's much better looking that ahjusshi here. To shut her up he hands her a drink and Eun Gi happily accepts.
Eun Gi's secretary comes to find Maru asking if Eun Gi is here. Eun Gi left a note saying that a miracle has happened and Maru came to pick her up to talk to her. Maru says he never sent anyone for her and the Secretary starts to freak out. They realize the person who took her away also knows Maru. He flashes back to Jae Hee's brother in the courtyard that day. Maru tries to call Jae Hee's brother but can't find out where he is because the phone is turned off. Secretary reveals that Eun Gi's cell phone has a GPS tracking device turned on so Maru sets off to find her.
Maru drives frantically using his cell phone GPS to track Eun Gi's cell phone, and he is genuinely booking it to find Eun Gi. Jae Hee's brother pulls into a rest stop to take a toilet break, and then checks out the nudie magazines in the convenience store and wonders if he ought to sell Eun Gi to a brothel to get rid of her? Maru follows the signal and pulls into a rest stop and looks around for Eun Gi. Jae Hee's brother returns to the car notices he's being tracked and turns Eun Gi's cell phone off, and we see that she's sleeping soundly in his car.
As Jae Hee's brother pulls out of the rest stop, his car drives past Maru who spots Eun Gi in the front seat. Maru jumps back into his car and speed off after them. He swerves in and out of the lanes trying to look for the car.
Maru finally spots the car pulling off into the countryside and he follows. He manages to pull up alongside and finally cuts the car off and forces Jae Hee's brother to stop.
Maru gets out of the car and stands before it, which is when Eun Gi wakes up and smiles when she sees Maru standing there. He looks furious as he stands there.
Thoughts of Mine:
This episode was really a study in the little details rather than big plot leaps. Much of what happened was slow and measured, such as Eun Gi absorbing her meeting with Maru, staring at him like she wants to etch his face into her memory filled with empty spaces. The way Maru's eyes swallowed her up when he first saw her, how his eyes followed her every move in the courtyard. I think its impossible to deny that Eun Gi means something to Maru, whether that is love, guilt, a combination of both, or purely that they are connected in ways they cannot ignore. In the end when he went looking for it, it's with the same urgency that he took off after Choco and he used to do with Jae Hee. Despite all his verbal assertions to the contrary, he is someone important in Eun Gi's life, as she is someone important in his. Will the rest of the drama be about Maru protecting Eun Gi from Jae Hee's machinations, we'll have to wait and see. I have a feeling she'll get her memory back before the end.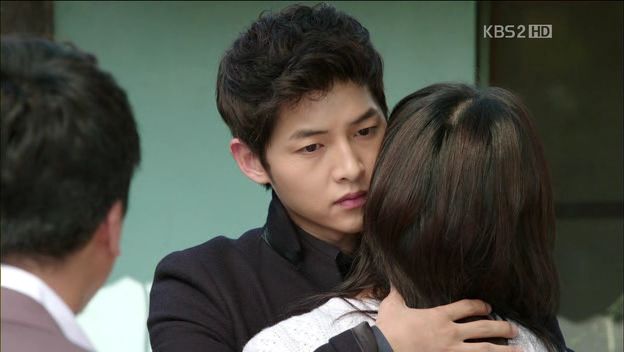 Jae Hee now bores me, when before she was at least entertaining to hate on. I really don't get much from a woman who has a single-minded desire to preserve her own position in life at the exclusion of anything else. She had a rough childhood, no one is discounting that, but she also had Maru in her life, an unconditional loving protector. In all aspects, Jae Hee is a fully formed adult, who can think critically and has the capacity to make decisions knowing the consequences. Pre-memory loss Eun Gi was always a half-baked work product, intellectually smart but emotionally stunted, without even one positive reinforcement growing up to help her develop proper coping mechanisms. Which is why I find her journey fascinating, because either she's going to finally become a whole person this second time around, or she'll get pulled under by forces she is not equipped to deal with. On the other hand, Jae Hee has made her bed and I'm no longer interested in seeing how she lays in it. To hear her son Eun Seok school her was pretty satisfying, because Eun Gi is his sister and no matter how she treats him he still misses her. Jae Hee has lost her humanity, but thank god she hasn't contaminated her son yet.
Part of me loves watching Maru step up and try and protect Eun Gi, because that last scene of this episode where he is simmering with anger watching Jae Hee's brother abduct Eun Gi, that made my toes curl with giddiness. But the other part of me worries that we're going down much too conventional territory, where the anti-hero turns into the hero for the love of a good woman, or something like that. I'm sure its not that straightforward, and I'm hoping that Maru's bad deeds will come bite him in the ass and he'll have to account for those before he can earn his happy ending. But in the meantime, I would love to see him finally acknowledge that he's not completely dead inside and reach out and grab Eun Gi's hand, the hand that was always held out waiting for him. Nice Guy has turned out to be a drama that hits me harder than it ought to on writing alone, where the sum is greater than its individual parts.