It's raining Rich Man, Poor Woman goodies here. Not that I'm complaining, what with the dearth of K-dramas these days having at least a J-dorama to look forward to helps fill the void. Yes, technically its just a two-hour SP, but I'm choosing to believe that it reduces RMPW to everything that is good about it while discarding all the filler. The RMPW SP official website is open and the first official stills have been posted. It shows Hyuga and Makoto still being the swooniest couple ever, with the forehead touch and running through Times Square hand in hand. The synopsis has been released and the SP will focus on three segments – Hyuga and Makoto running into each other in New York City, Asahina leaving prison and going MIA and Hyuga finding him, and Makoto returning to Japan for a one-week trial living arrangement with Hyuga. It's weird how time and a great ending washes away all the bad memories of Asahina's betrayal, and the fact that he did his prison time and paid his penance, because I'm looking forward to him repairing his friendship and professional partnership with Hyuga. I still don't know if Asahina was ever genuinely interested in Makoto, or he was just afraid she would take Hyuga away from him so he jumped the gun and betrayed Hyuga as a way to prove that he didn't matter.
I totally felt a strong subtext flowing through the two guys friendship that Asahina cared for Hyuga's opinion and validation so much it veered towards the romantic love seeking approval. If the dorama had went there, it would have added so much more weight to Asahina's flip out and decision to throw Hyuga under a bus. Anyhoo, that's all in the past now and the dorama moves forward with the two men learning to forgive and move on, as well as the crazy cute couple of Hyuga and Makoto trying out a different living arrangement to test their compatibility. Below are more official and unofficial stills of the cast filming in New York City, plus a fan sighting of Oguri Shun dining at a Chinese restaurant in Chinatown. LOL, if I went out to eat and happened to look up and find myself sitting next to Shun, I just might Hulk out and launch myself at him. Or not. But I will definitely whip out that camera phone and snap a bajillion pictures of him. There is something so ridiculously handsome about Oguri Shun which is validated in all the BTS pictures which show that he really is just that tall and just that good looking in real life as he is on the screen. I wonder if Yamada Yu made the trip to NYC to keep an eye on her hubby? Heh.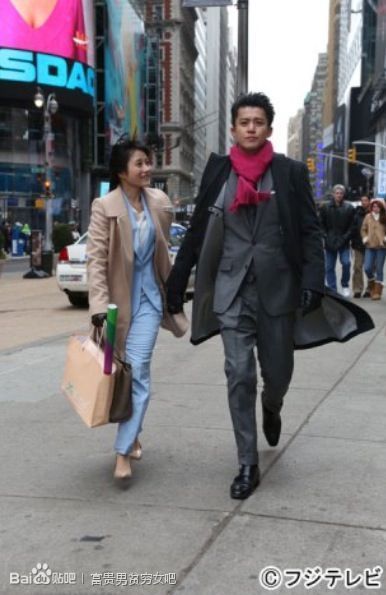 More BTS pictures.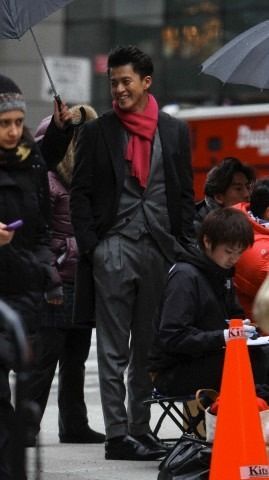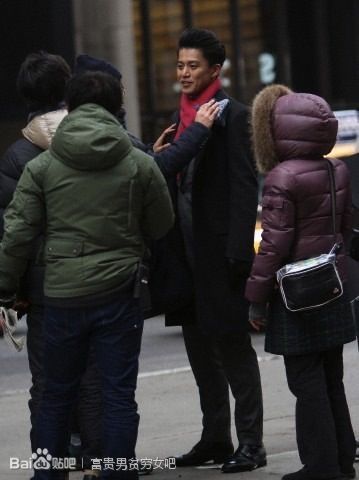 The RMPW cast and crew was spotted dining at a restaurant in Chinatown. I love the angle of the picture taker, someone just having a meal and then suddenly spotting a god in the form of Oguri Shun sitting 4 feet away and documenting it.