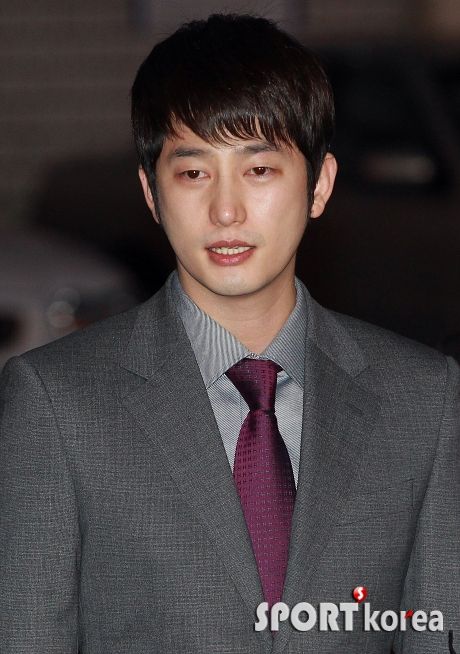 If ever there was a public appearance by a celebrity who looks like death warmed over, that would be Park Shi Hoo being photographed as he went to the police station yesterday for his second interview. This summons was not for him alone, both A and K were also summoned and appeared as well. All three were summoned to undergo a lie detector test, which in South Korea carries the same general legal and reliability weight as it does most everywhere else in the world – it's acknowledged as being highly subjective and not reliable in a court of law, but may be used in court with certain limitations. The police have resorted to a lie detector test since there is such a wide divide between Park Shi Hoo's version of what happened that night (mutual attraction, consensual sexual intercourse) and A's version of what happened that night (passed out drunk, woke up confused about how she ended up sleeping with Park Shi Hoo, did not consent or want sex with him). Not to mention the conflicting text messages abounding in the media, some of which bolster A's allegation while others imply Park Shi Hoo was being targeted. The media was once again camped outside the police station and Park Shi Hoo arrived wearing an austere grey suit and looking utterly haggard with red-rimmed eyes. Once again he respectfully bowed to the media and apologized for this situation and hopes it will all be cleared up soon. Initial police reports have the lie detector tests registering such diametrically opposite responses from Park Shi Hoo and A that the police had to end the morning session so everyone could take a break for lunch before resuming. The lie detector test interview concluded in the mid-afternoon and everyone involved made a quick departure shortly thereafter. Police have said the results will be released on March 17th.
Rape spans the gamut from horrifically violent (most recent high-profile case involving the girl in India who was gang raped on the bus, with the alleged rapists penetrating her with a steel bar and ripping her intestines out in the process – yes this is gruesome and hard to read, but as a human being we need to acknowledge that brutality of a sexual dominant nature does happen way too often against women who are physically weaker by men who are naturally stronger), to leaving-no-traces and is hard-to-prosecute, such as marital rape (wife wants to sleep, husband forces intercourse against her will). A rape victim also can react in a myriad of ways, from being confused and unsure if she was raped if there was alcohol or other substances involved, to being ashamed and not wanting to report it, to being traumatized and afraid of seeking justice because the rapist might be someone in a position of power in her life. This lie detector test session is fine and all, but its not going to shed any definitive light on this situation, especially if Park Shi Hoo genuinely does not believe he raped A and A genuinely believes she never consented to sex with Park Shi Hoo.
Rape is a crime that does not require intent – some crimes requires intent, such as murder which indicates it was pre-meditated, while manslaughter does not require intent – a man does not need to know he is raping a woman or be planning to rape a woman, rape can be established because the sexual intercourse was non-consensual from the standpoint of a woman. And yes, I know that men can be raped as well, but its such a minute percentage of rape cases since human anatomy makes it harder for a man to argue non-consent when his male organ's ability to participate in sexual intercourse indicates arousal and implied consent. I hope the police keep going with their investigation and then issue a dismissal or indictment forthwith. This investigation has been dragging on way too long and that is a disservice to the victim – whether that victim turns out to be Park Shi Hoo who was set up and then maligned and persecuted by the media, or the victim is A who was raped after she went out drinking and passed out drunk.