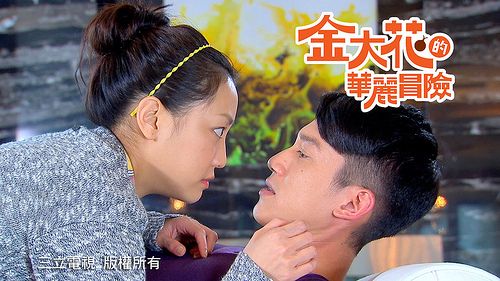 Being addicted to King Flower is like constantly waiting for the other shoe to drop. I don't trust SETTV to be using Terry to pull up the ratings (and episode 16's rating took an quantum leap and almost broke 2, making it the second highest rated episode to date) while secretly padding the way for an inevitable Guan Jun-Da Hua ending. That's not just a bait-and-switch, its like clinging onto a sinking ship and pulling us all down with it. If I had any self-control I'd check out now and come back in a few weeks when the drama ends up to see if I need to throw some tables or instead can gush freely about how my ship sailed to the ends of the happy earth and beyond. The previews for episode 17 are awesome, but everyone and their mother is voicing the same concern I have – is Guan Jun claiming to be siblings with Da Hua really his way of letting her be free to figure out who she really loves, or is it a sneaky gesture to make himself seem like a noble idiot and have Da Hua feel bad for him.
KF currently has the inglorious victory of being the only live-aired TW-drama I've watched where I am actually more into the story towards the end. I get bored and check out of every single TW-drama I've watched live in the last few years as it all loses momentum by having no compelling narrative to generate conflict and angst. Some manage to redeem itself by the last episode (Office Girls, Drunken to Love You) but for the most part the second half are throwaways. Not here in KF, where the second half has been so satisfying and frustrating that it's generating tons of fan chatter and discussion about the if and whats to come. I love that Terry set things right and back to its original place. He said in episode 12 to Da Hua that "when a person gets plastic surgery, what changes is more than just the outside." Da Hua didn't understand him then, saying that she's still the same person inside. But now both of them have to confront the reality that their time together has changed them irrevocably.
Written preview for episode 17:
Ever since Da Hua and Terry finished their substitute princess masquerade, both ought to have returned to their original lives seamlessly. But the kiss before parting has only deepened the emotional ties between them. After Da Hua goes home, she is constantly unsettled by all the memories swirling in her brain. This feeling of wanting to see him but afraid it'll be awkward, Da Hua has no choice but to face Terry when they meet to get Grey Bear back. Who knew that this one meeting will only lead to the feelings between them getting even warmer……..
Guan Jun sees Da Hua is back but she is constantly worrying about Terry, which leaves him feeling unhappy. After Da Hua resumes her own identity, he keeps hearing others around him discussing how Da Hua and Terry might have fallen in love during their time constantly together. He has no choice but to be suspicious. When he sees with his own eyes how carefully protective Terry is of Da Hua, will he rush forward to lay claim his own love for Da Hua? Or will he choose to step aside?
After Da Hua's masquerade as Liang Yen is revealed to the world, the media descends to probe into Da Hua's personal life. Guan Jun is very sensitive about him being an adopted son and that also becomes of interest to the media. Who could have expected Guan Jun to announce to the world that he and Da Hua are just siblings to each other?! Is he angry at Da Hua for being close to Terry? Or has he seen through Da Hua's feelings?
Previews for episode 17:
"Falling in love with someone who couldn't possibly love me back."
Da Li: These past few days Maserati is not around all day long, are you secretly thinking about him!
Ah Xi: Jin Da Li!
Terry: How can you (I) be so foolish, falling in love with someone who could not possibly love you back? Da Hua!
"What is your relationship?"
Guan Jun: I've been thinking lately…….what can I give you?……….what do you like about me?…….have you seriously asked yourself that?
Da Hua: Guan Jun oppa, didn't you say you liked me?
Reporter: Did Ouyang Tai give you NT2 million to pretend to be Du Liang Yen?
Jin Mom: What are you saying! Get out!
Guan Jun: Are you guys done?
Reporter: Mr. Lin Guan Jun, what is your relationship to Jin Da Hua?
Guan Jun: Brother and sister relationship. Since we were kids until adults, we only have sibling affection for each other. Nothing else. Is that enough?