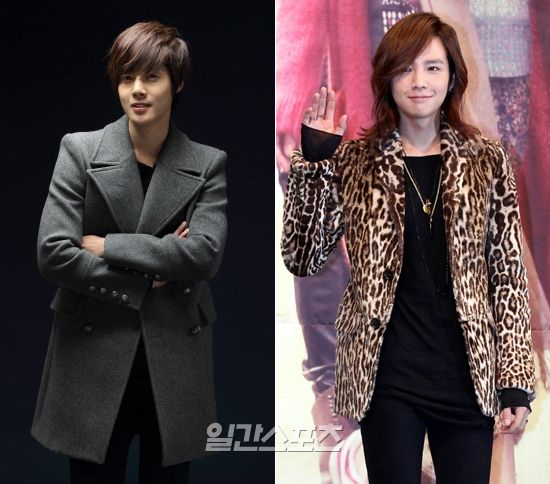 I hope Kim Hyun Joong fans won't get their knickers all in a twist with this news, and Jang Geun Seok fans shouldn't get overly excited either. This might be a win-win situation for both guys or a potential lose-lose. It all depends on trying to parse through official announcements and the real behind the scenes story. Kim Hyun Joong had one K-drama shelved mid-filming with City Conquest, and KBS just announced that the time slot that was originally given to his Age of Feeling will now go to the manhwa-adaptation Beautiful Man instead. You remember I wrote about how MBC was considering Beautiful Man for its own time slot, but recently seemed to be having second thoughts and had instead given that slot away to Miss Korea. I actually thought Jang Geun Seok's drama wouldn't see the light of day until early 2014, if ever, but looks like the fates are smiling upon the project. Age of Feeling has been filming since mid-August and was scheduled to have an extensive overseas shoot in China. Which has been in the works since the drama is supposedly set in the 1930s Shanghai. The official announcement is that Age of Feeling can't secure all the permits to film in China during the next few weeks what with the Mid-Autumn Festival coming up followed by a ten-day national holiday in China. The drama swap is therefore mutually agreed upon by KBS and Age of Feeling rather than a strong arming tactic.
But ya'll know there is more to every story and apparently Keyeast, Kim Hyun Joong's agency which is also co-producing this drama, is actually keen to give up the time slot because there is a 600 lb gorilla it's going up against – the SBS alien-and-actress drama Man From the Stars with Kim Soo Hyun and A-list movie star Jeon Ji Hyun's first return to television in 13 years. Not to mention Kim Soo Hyun is also a Keyeast artist, so having those two guys compete for ratings is like Keyeast slapping itself on both cheeks. Though if you asked me, Man From the Stars already sounds like formidable competition with its less typical concept and proven chemistry between the two leads who did Thieves together. Let's also not forget Kim Soo Hyun's current hot streak – drama ratings winner in 2012 with The Moon Embraces the Sun for which he also won a Baeksang, current CF darling, and movie box office lucky charm with Thieves and Covertly, Grandly. With KBS doing this switcheroo, Beautiful Man will now premiere in late November, going up against the tail end of Heirs or The Inheritors with Lee Min Ho and then getting the brunt of head on competition with Man From the Stars, not to mention the black horse drama over on MBC Miss Korea. Age of Feeling will now air after Beautiful Man in January 2014.
I don't think it's overly cautious for KBS to fear going up against Man From the Stars. That drama may continue SBS's current ratings win in the Wed-Thurs category, and perhaps it's better to sacrifice the niche manhwa drama Beautiful Man rather than the big-budget overseas shoot heavy Age of Feeling. Jang Geun Seok might raise eyebrows as the titular Beautiful Man out to conquer women, but he's got nice company in the always decent Lee Jang Woo joining him as the second male lead. The female lead is reportedly movie actress Han Ye Ri but she hasn't confirmed yet. I hope she joins to bring some legit cred to this drama. With this news, expect Beautiful Man to kick start filming soon.