The Wu Zun not-so-shocking news reveals enters its second day in Taiwan as he held a press conference for the release of his new self-help book and promptly revealed he was about to be a dad again any day now. Like, for realz. His wife is expecting baby number 2 in days, this time a bouncing little baby boy mini-me Zun. This is likely the real reason he confessed to the long swirling rumors about his personal life since it's a lot harder to hide yet another baby considering he already failed miserably at hiding baby number 1. When I say hide, that really doesn't describe the cover up. His wife and daughter openly lived in his family's massive mansion in Brunei with his parents as well as his older brother's family. This was totally done normally and no attempt was made to hide anything. Except anytime he was asked about it, he said the baby girl was his brother's daughter and refused to comment on the identity of the woman who he has now admitted is his wife and long time love of 18 years. I don't think Wu Zun did anything wrong or all that weird considering HK superstar Andy Lau hid his fan-turned-girlfriend-wife Carol Chu after being together 24 years and only admitted to their marriage after she had their baby girl last year. Anyways, I have to say Wu Zun appears to have it all – a thriving movie career after using Fahrenheit and TW idol dramas as a launching board, his own successful businesses up the wazoo, and now a wife and soon to be two matching pair of kids. No wonder the man looks so blissful and content even when dealing with this "scandalous confession." Every time I look at Wu Zun I'm amazed that he's so genetically blessed as to be born this good looking because he has the ideal male face that most Asian stars going under the knife aspire to. Don't believe me, check out some post-PS pics of male stars and you'll notice the trend is looking more and more like his criteria of pretty boy looks. Of course God is fair and he can't act his way out of a paper bag. I still like him well enough though, he tries hard and by all accounts is a great guy and his closer aged former Fahrenheit boys Jiro Wang and Calvin Chen are still all close to him. I don't think there was any ill will when he left Fahrenheit in 2011, now confirmed to be the same time his daughter was born. This guy has his priorities straight and its too bad the only thing he didn't do was come clean from the start like Ethan Ruan proudly parades his honey boo boo Tiffany Hsu around since his debut.
Wu Zun's romance with his now wife is actually so boring and ordinary that it's pretty cute. They met when they were 16 years old, and now they are both 34 years old so they have been together 18 years now. They got engaged in 2007, and the rumors spread in Taiwan when a Brunei exchange student told the tabloids about it and said the engagement was open news in Brunei. Then in 2009 rumors spread again in Taiwan that Wu Zun married his long time girlfriend, but he denied it though the marriage certificate in Brunei was seen. Then in 2011 came the rumors of his having a baby daughter, and now in 2013 he's having a baby son and finally admitted to the marriage. All in all, those two took their time and appeared to have built the foundation for a solid marriage and family, so I'm happy for him and now I want to see pictures of his daughter and future baby son! His wife is pretty as well so their kids are bound to be gorgeous.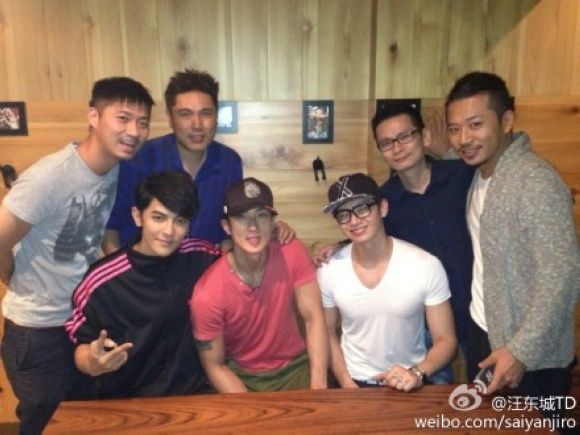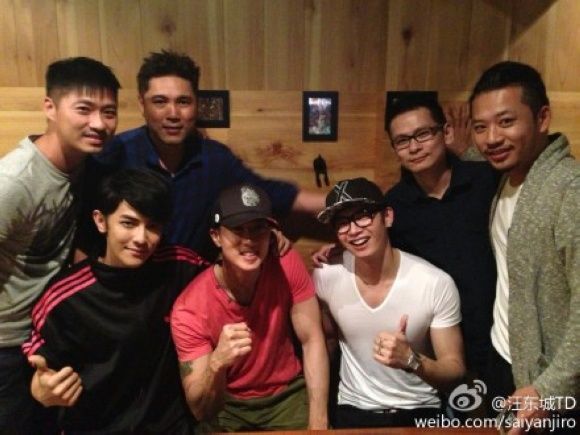 I love how the boys of Fahrenheit are still so genuinely close. Jiro posted selcas of the getogether over the weekend before the Wu Zun posted his marriage admission. This is the outing that was caught by the tabloids. Jiro Wang later posted a note on his Weibo about how he was there ALL THE WAY for Wu Zun is just the bromance thing that warms my heart.
I can do with a mini-reunion of Fahrenheit right about now.
To end on a sweet note, Wu Zun posted this picture of his sleeping daughter holding his hand. Awwww to infinity. He wrote that he is his daughter's number 1 fan.