Drama crack has arrived! I've been waiting and waiting, like a thirsty traveler in the desert waiting to quench my drama soul with something that captivates me both mind and heart. With episode 6 of Marry Him If You Dare (Mirae's Choice), this drama is officially drama crack for me. Expect lots and lots of posts from here until it ends, complete with previews and spoilers and whatever goodies I can get my hands on. As the ratings keep dropping, conversely my love keeps increasing. The roads are endless for the four leads to take, but my heart knows the end is clear for everyone involved. The myriad conversations in this episode was excellent, both in throwing future Mi Rae's objective into question as well as bring Shin and Mi Rae closer together. It has been awhile since I've come across an OTP this adult in interaction with each other. I worried that their first meeting being so contentious we would see Mi Rae and Shin bicker their way towards love, but that's not true at all. They are falling in love through spending time together, sharing their fears and dreams, opening themselves up by revealing candid and raw emotions that doesn't feel too fast or unwarranted.
Forget that Se Joo seems like a pale washed out version of Shin when I stack them up against each other, acting and camera presence, what is revealed so undeniably in this episode is that Se Joo and Yoo Kyung are replicas of what Shin and Mi Rae share. When Se Joo is with Mi Rae he's just putting on a poor VJ act, but the real Se Joo encompasses his arrogant and cold chaebol side. Even theoretically there is no viable romance between him and Mi Rae when both are keeping something from each other. Future Mi Rae can prevent events from happen if she meddles, but love is something that is outside her control. I can't believe she would even do this because it feels so futile. If she and Kim Shin fell in love in the original time line during her hospital stay (which can't have been that long), how could she expect her younger self to avoid falling for him again? This drama hits everything out of the park for me, from the deft toddling of the romance narrative blended into the network and workplace situations, the characters are all transforming before our eyes and showing us that choice is indeed a very powerful weapon. Shin and Mi Rae are making their own futures and I'm 100% onboard the redux of their journey.
Episode 6 recap: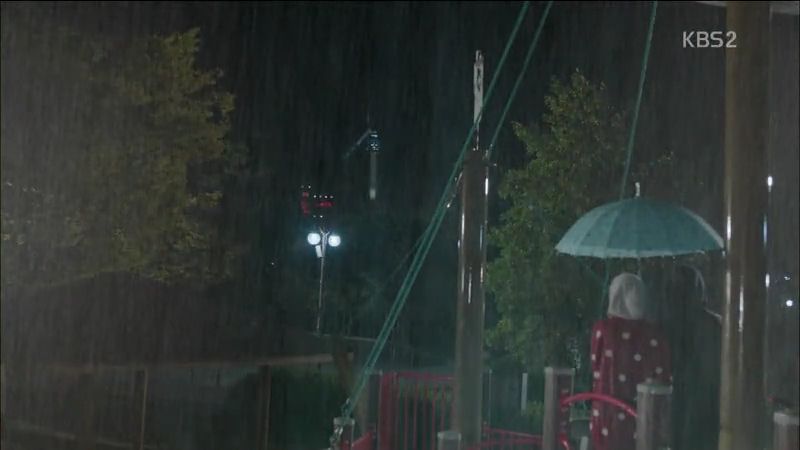 Future Mi Rae directs Kim Shin, Mi Rae, and Oppa outside and shows them the awe inspiring scene of lightening striking the Namsan Tower. Miranda also looks outside and the scene confirms what future Mi Rae told her that something incredible could be seen. Shin is dumbstruck and asks future Mi Rae if she knew beforehand?
Future Mi Rae gets a call from Oppa and Mi Rae who wished she told them in advance so they could shoot it. Future Mi Rae tells them about a subway fire two days from now at 7 am. A man in a red hat will set a fire that will kill over 100 people. This is an exclusive and they should go shoot it. Mi Rae screams into the phone, calling future Mi Rae crazy for telling them to shoot a scene when people are going to die.
Shin shakes his head and says he doesn't believe in fortune telling or seeing the future. And even if future Mi Rae is right, this involves people's lives! Even if he's a newscaster or desperately wants to make money, the important thing is stopping this incident from happening, not going there to report it. Could I love you even more Shin? No wonder Mi Rae can't help falling for you. Shin asks if future Mi Rae thinks he's been so warped by news and money that he will build his career on people's lives being at stake? Future Mi Rae looks very disturbed as if Shin's words is opening her eyes to who he is.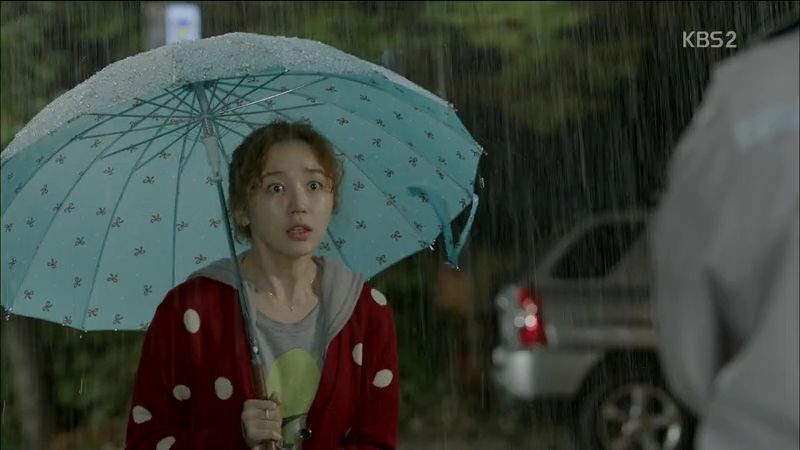 Mi Rae goes to the cops to report the future subway terror incident and is laughed out of there as being drunk and crazy. Oppa calls PD Lee and tells him to go to the subway station to review CCTV footage for a man in a red hat. PD Lee sees footage of a man tossing flammable liquid in the subway but his face is obscured.
The Morning Team gathers in the video room to discuss what to do next. Shin wants to go catch the dude in the act but Mi Rae offers to go since Shin has an image to protect. She's so feisty and plans to bite the dude but Oppa refuses. The senior writer calls her family to warn them against taking the subway that day.
Se Joo drops a video tape on the ground and suggests they use the show for a morning broadcast from the subway station. Se Joo calls Yoo Kyung and asks her to use her aegyo to beg the station head to let them broadcast from there.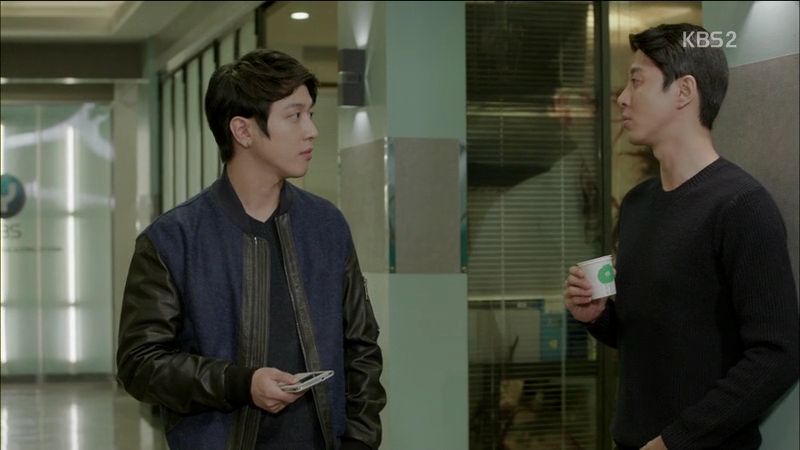 Shin stops Se Joo and says the idea is good but impractical. A subway station has too many people and the subway head won't agree. Oppa pokes his head out and says they are running out of time so any idea needs to be tried. Se Joo gets a text from his minion that it's all been arranged with the subway. Yoo Kyung practices her aegyo and then goes in to ask for the favor and is told the arrangements have already been made.
Shin gets a call from Yoo Kyung that it's all arranged and she doesn't know how. Shin asks Se Joo if he did anything but Oppa doesn't care as long as they can do it. Oppa orders the team to fan out, saving lives is the priority, the program comes second.
As everyone is fanning out, Shin asks Se Joo just how powerful of a backer does he have? Se Joo defuses the inquiry with a joke and says their program now can garner high ratings. Shin chides him about mentioning ratings when people's lives are at stake. Se Joo sighs and tells Shin that this is still a business network and saving people's lives may be important, but the network's bottom line is still about ratings. Se Joo, dude, you are totally losing me here.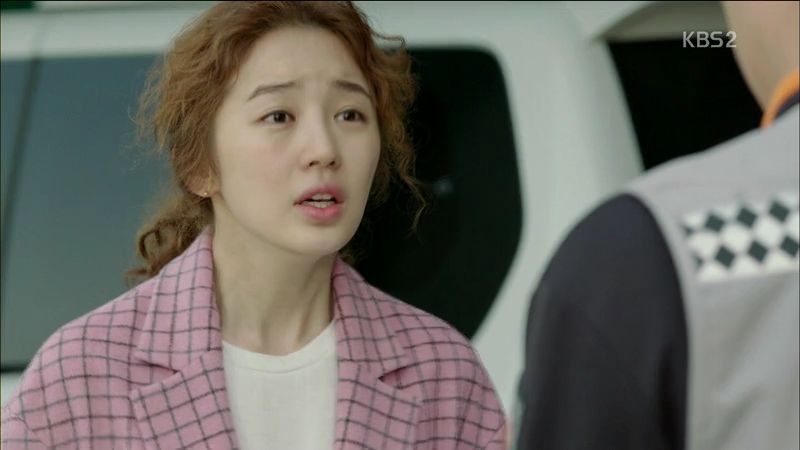 Se Joo is with Yoo Kyung scoping out the subway station and he tells her about the prediction that a fire will happen. The two writers are sent to see if fire trucks will be willing to be parked outside the station. The PDs are checking out the station and seeing how many fire extinguishing equipment is inside. They hold up a lighter to a sprinkler to see how quickly they can activate it.
Oppa and Shin are discussing what to say on the program. Shin thinks they should tell the truth that future Mi Rae told them about a terror attack. Otherwise how to explain the coincidence that they are filming the subway station preparing for a fire drill and then a real fire happened and everyone was prepared to put it out. Oppa says if they tell the truth, it will never be aired. Shin says lying to the audience is wrong.
Oppa is fed up and tells Shin to stop making it difficult for them. Because of Shin they are all going to be sent down to the countryside soon. And here he is spouting high and mighty principles. Oppa storms off and tells Shin to live with his principles and stop pushing it on everyone else. Shin sighs and relents, telling Oppa he'll do the broadcast from the station. Oppa's great idea is for Shin to be a rider on the subway and casually arrive when the fire happens and he can report on it. Shin refuses the lie that he coincidentally took the subway there, the rest he can go along with. Oppa agrees.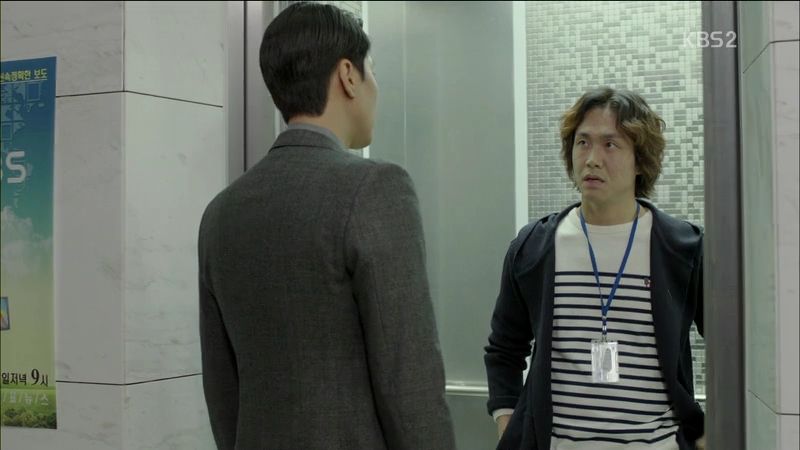 Oppa asks if Shin wants anything else and he asks for Mi Rae to accompany him. Oppa wants him to take the senior writer but Shin says she needs to modify the script as the scene happens and the other junior VJs are all busy. Oppa asks why Shin specifically wants Mi Rae, and Shin asks Oppa why he specifically refuses to let him take Mi Rae? LOL, boys boys boys, let the girl talk. Right on cue, Mi Rae arrives and wants to go with Shin.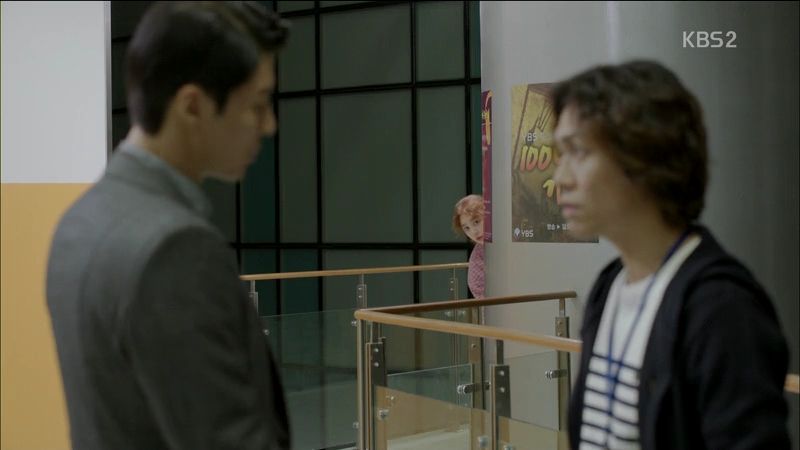 Oppa tries to use to Team Leader authority but both Mi Rae and Shin says that she is learning from him. He's overruled and Shin takes Mi Rae to scope out the subway station a day early.
As Shin and Mi Rae walk around the station, Shin confesses that he's really weak at times. A part of him wishes there really is a fire so they report it, and maybe he won't be sent down to the countryside where he can't even be an anchor. So even in the most preposterous of possibilities, he's grasping at this straw. He call himself as pathetic as a beggar, thinking of himself at a time like this.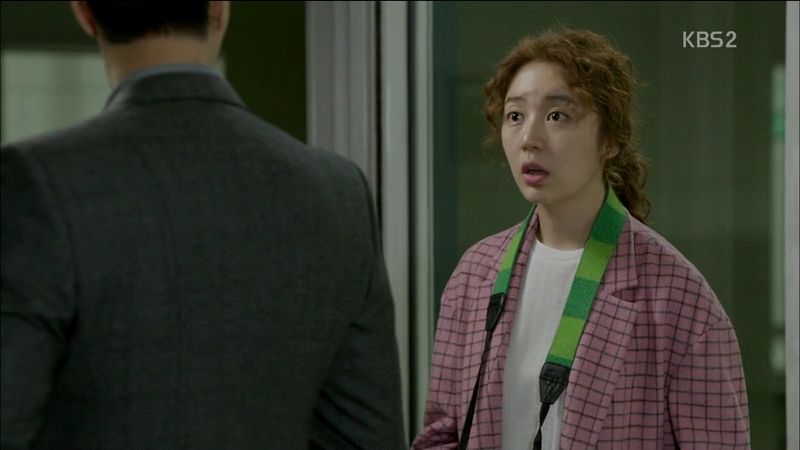 Mi Rae consoles him that if he's sent away the entire program can't go on. Mi Rae can see through what he's doing – if this is a chance to save the show for everyone, Shin's willing to relax his principles and come to the subway to do the show live and help catch the perp. Shin gruffly refuses to admit he's relaxed his principles. Mi Rae asks why he's always pretending to be the bad guy, always pushing people away. To keep people away he's put in so much effort to keep up his prickly front.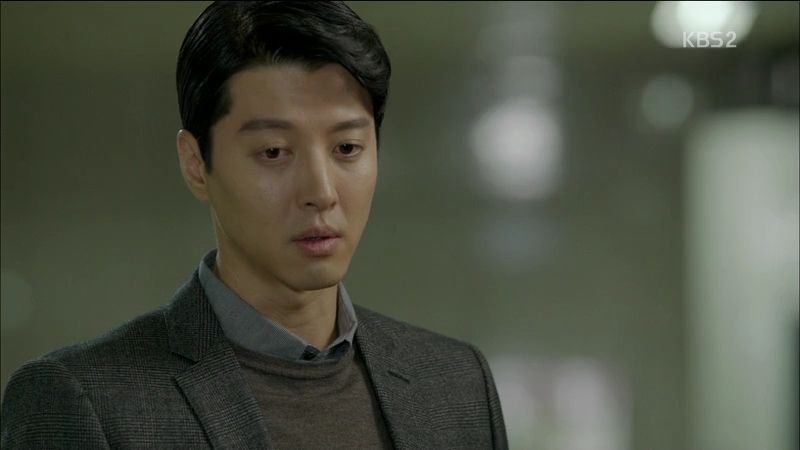 Shin says getting close to others only complicates things since he's not going to use his connection or relationship with them to ask for help. It makes things harder for him and affects his principles. Mi Rae asks why he's close to Yoo Kyung then? Shin says she's very direct and refreshing. Mi Rae gets jealous and kneels down before an open door to take pictures and shoots Shin a pouty look.
Shin comes over and asks why she's so close to Park Se Joo then? Ahahahaha, LOL these two are peas in the same pod indeed. Mi Rae says the exact same answer – because he's direct and refreshing. Shin asks if she's dating Se Joo? Mi Rae turns and asks if he wishes she was dating Se Joo? Shin can't tell the truth so he says yes, she and Se Joo are very suited for each other. Mi Rae looks hurt and asks why he wanted to bring her along when the senior writer could do just as well? Shin can't answer and Mi Rae presses on if he does this for anyone – takes them around the network and gives them lessons and play basketball? Oh god I hope not, that would make wuri Shin a player extraordinaire.
Shin finally says that Mi Rae is special. She looks shocked and Shin asks if that was what she wanted to hear? Sorry but he is helping because she's so terrible at this that he wants to train her as quickly as possible. Ugh, would it kill you to tell her the truth! Mi Rae turns to the door and almost steps off the platform but Shin grabs her and pulls her back. He stares and finally tells her that he's never done this with anyone before. Mi Rae smiles and wipes her tears away and then toddles off after him. Guh, I love these two so so so much.
Future Mi Rae tries calling Mi Rae and can't get through, so she calls Oppa and finds out that Mi Rae is with Kim Shin right now. She gets a call from Miranda but she cuts her off since she's rushing to find Mi Rae and Shin. Miranda looks annoyed but I could care less.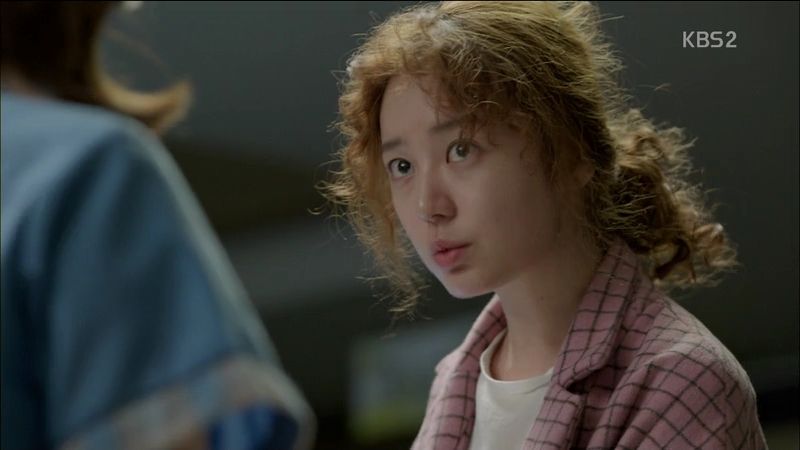 Future Mi Rae finds Mi Rae in the control room and asks why she wants to go with Shin to the subway tomorrow. Mi Rae wants to help and would feel guilty because she knows what will happen and didn't help. Future Mi Rae is fine with the helping but says she needs to be with Se Joo and not spending more time with Shin.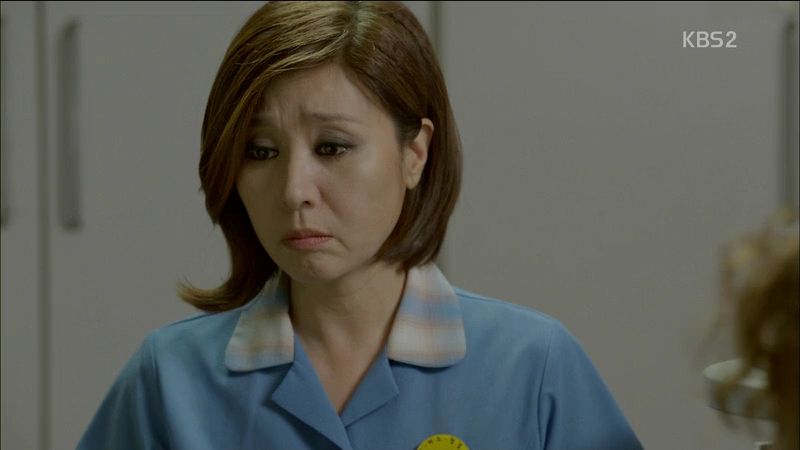 Mi Rae asks if she married Shin now, would their lives still be ruined? Good question. Future Mi Rae says yes, she is Mi Rae in the future. Mi Rae says no, she is not the same as future Mi Rae. She is brave and resolute, her personality has changed because of future Mi Rae. But future Mi Rae insists that Kim Shin's personality hasn't changed so even if Mi Rae is different their lives would still be ruined together. Ugh, shut the fuck up, witch.
Mi Rae says Kim Shin has changed, in the past he would have never lowered his principles to do this program. Nor would he step up to do it in lieu of putting his colleagues in danger. Future Mi Rae looks surprised and thought Kim Shin was being forced to go. Mi Rae says yes, the Kim Shin who always thought he was right is now willing to bend to the level of others. This is a huge change already.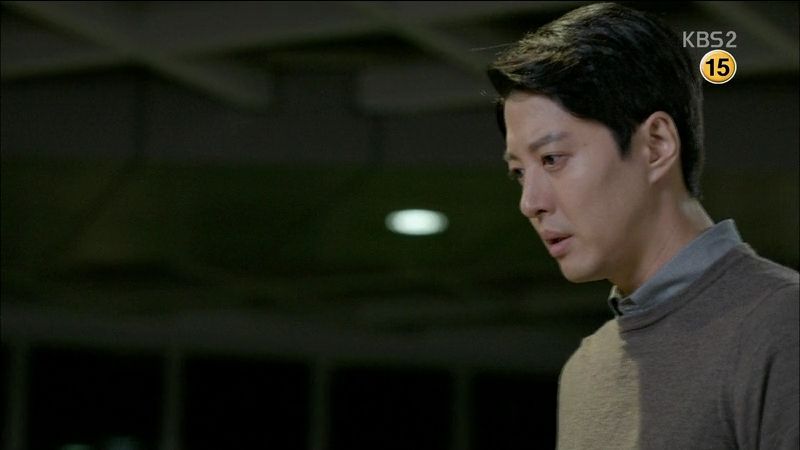 Shin is walking around muttering about how ridiculous it is to do a program based on a future prediction? But then he remembers how his colleagues all think his way has made their lives harder at the network. He thinks that as long as the fire happens tomorrow, then the program will be validated. But he then chides himself for being crazy as to want a fire to happen and slaps himself a few times. He is so confused.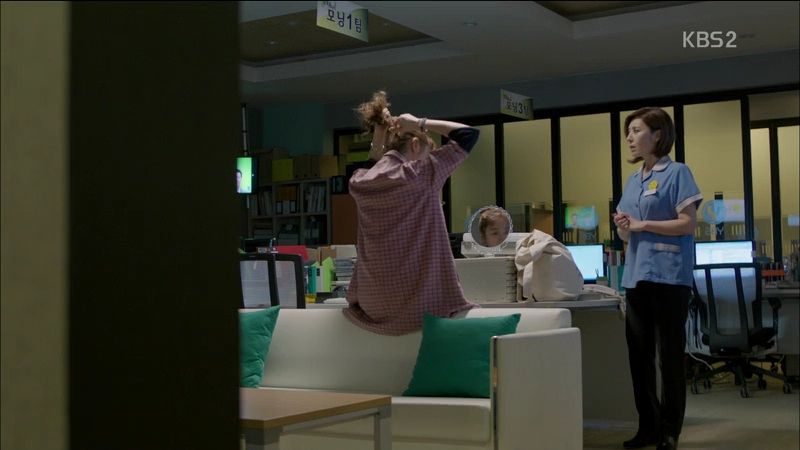 Oppa is on the roof telling himself that all he wants to do is save lives, forget about pretending to do a good program. But then he thinks he can do both. Mi Rae gets ready to head out and future Mi Rae tells her to be super careful. Mi Rae is very confident and tells her not to worry and leaves. The two PDs are in the station getting confirmation from the head that the sprinklers have recently been checked. Turns out that perp is one of the maintenance workers and he turns off the sprinklers and then puts on a red hat.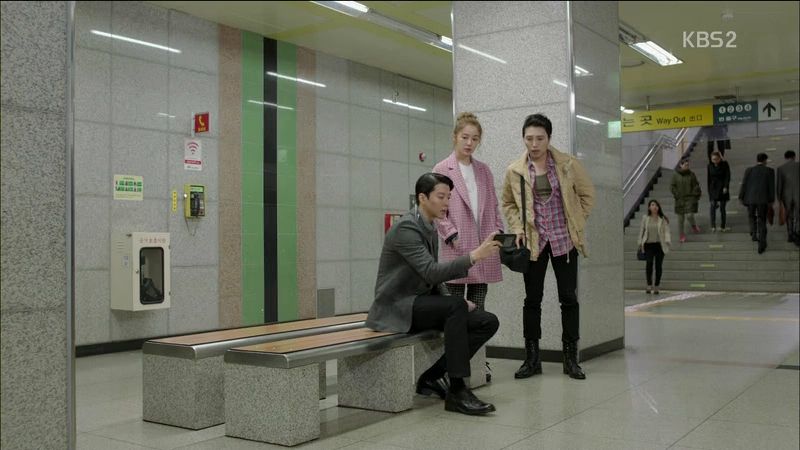 It's morning time and the young pretty boy news anchor that replaced Shin for the prime time broadcast is doing the Morning Show. He lies that Shin is late today because he's taking the subway to work so he's filling in. Shin watches it from the subway with Mi Rae and is upset the program isn't telling the truth about where he is. Oppa is in the control room and future Mi Rae walks inside.
The program staff is telling passengers to turn back because there is a fire drill happening today. Yoo Kyung and Se Joo are together with the station staff and the firefighters. They are on the lookout for someone with a red hat. Oppa radios Shin, who is on the subway with Mi Rae. Future Mi Rae flashes back to watching the news on the morning of the terror attack and hearing that the fire started in the subway car.
Shin and Mi Rae prepare to get off and he reminds her that if something happens, they need to save lives first and not broadcast. The guy with the red hat gets on the same subway car with Shin and Mi Rae and she spots him and alerts Shin. Future Mi Rae tells Oppa that the fire happened IN the subway car and not at the subway station, which throws their plans in disarray since they were prepared for the fire in the station.
The red hat perp takes out a bottle of flammable liquid and douses the subway car. Oppa tells Yoo Kyung and Se Joo and they scramble to react. Oppa says Shin and Mi Rae as well as the subway passengers are all in danger. The passengers start running away and the perp lights the fire. Shin uses his body to shield Mi Rae.
The perp runs off and Shin runs after him. He tells Mi Rae to run for safety with the rest of the passengers. But Mi Rae grabs her cell phone and runs after Shin to film him chasing the perp. The train pulls into the station and the frantic passengers rush out. Oppa turns on the camera and finds it recording from the ground of the subway car with no Mi Rae or Shin in sight.
The Morning Team sees passengers running out and hears the fire fighters say that the water supply has been turned off in the subway station so they can't access it. Se Joo asks where the water supply box is and runs off. Oppa calls Mi Rae and gets a hold of her and sees that she's running out of the subway while filming.
Shin keeps chasing the perp while Mi Rae is running behind them. The young news anchor can't read the hastily re-written cue cards properly about the fire in the subway and hilariously tries to turn his head to read it and mouth the words. Se Joo is let into the water tank room but finds it locked. Yoo Kyung finds him and has brought someone with the key. They walk in and find it's been chained.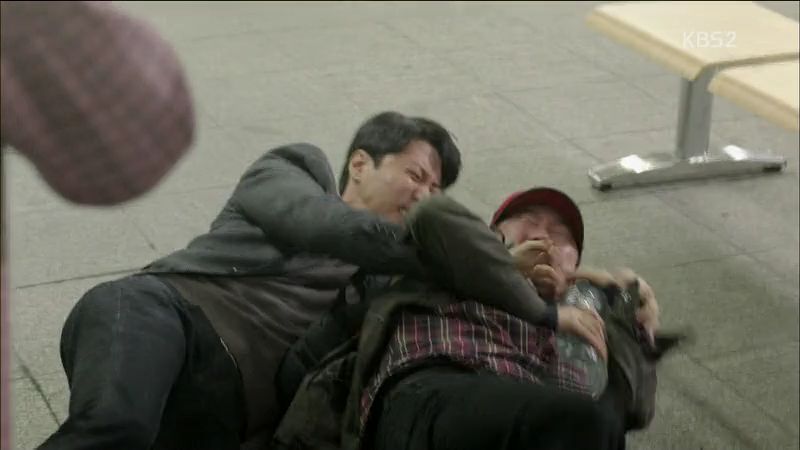 The perp is finally cornered by Shin and they start to tussle on the ground while Mi Rae is filming. Oppa tells the news anchor to start reporting. The footage is aired live of Shin trying to restrain the perp. The news anchor is so incompetent he reports it like he's calling a boxing match, which pisses off Oppa in the control room.
Shin finally notices Mi Rae recording and he tells her to stop. The perp warns them to stop recording and pushes them away, which causes an electronic billboard to fall on Mi Rae. Shin goes to help but she says she's okay and tosses her phone at Shin and tells him to not let the perp get away. Shin promises to come back for her.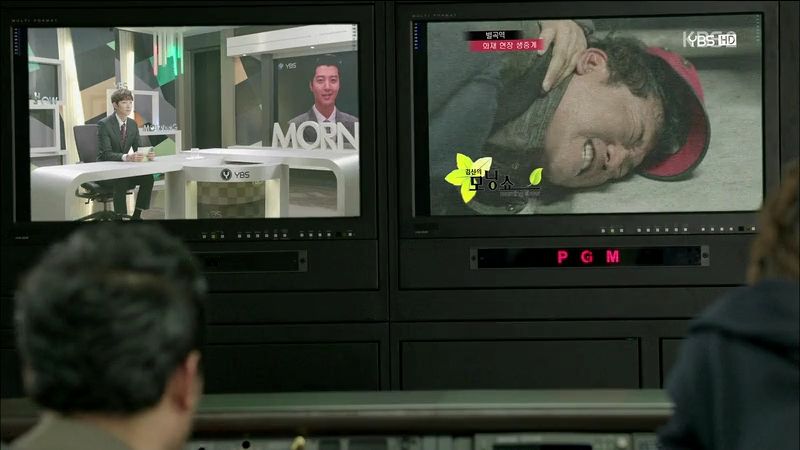 Se Joo and Yoo Kyung try to cut the chains on the water tank. Shin finally corners the perp and records his face and tells him this is a live broadcast and the entire nation is watching him. The perp threatens to immolate himself and Shin at the same time, but the authorities sneak up behind him and apprehend him. Shin takes a deep breath and runs back for Mi Rae.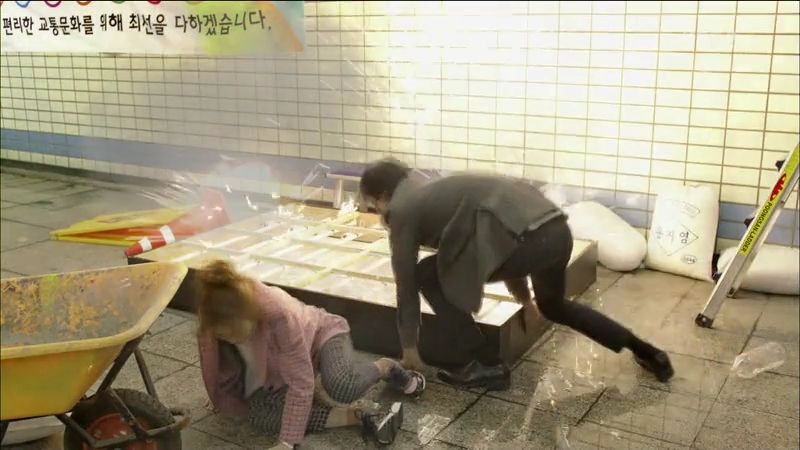 Mi Rae is so scared pinned under the billboard which is starting to rain sparks on her. Shin returns and lifts the billboard and tells her to quickly pull herself free. Se Joo and Yoo Kyung unchain the tank and unlock the water control valve.
Shin pulls Mi Rae to safety right as the billboard catches fire. Suddenly the sprinklers turn on above them and douses the fire. Se Joo runs out looking for Mi Rae. Mi Rae and Shin sit on the ground staring at each other and at the water coming down on them. They both smile in relief.
Se Joo runs down into the station and stops when he sees Mi Rae and Shin sitting across from each other. Yoo Kyung runs down behind him and also sees this. She stops Se Joo from bothering them since he can see that they are fine. Shin and Mi Rae just came back from the edge of death and right now the time belongs to the two of them. There is no room for Se Joo and Yoo Kyung to interrupt right now. Awwww Yoo Kyung, you rock.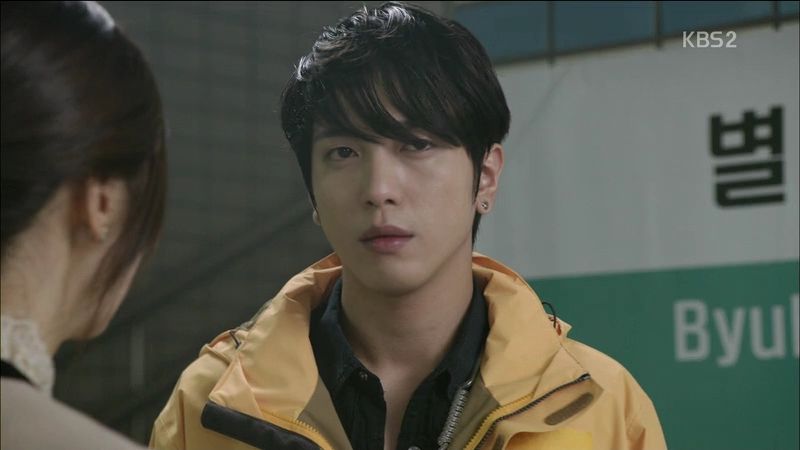 Se Joo nods and then walks away, with Yoo Kyung looking at him with concern.
Mi Rae and Shin smile and stare at each other. He apologizes for putting her in danger. Mi Rae says she wanted to come. Shin realized something right now, which is what Mi Rae can't die. She can never die. He smiles and wipes the water from her eyes while Mi Rae processes what he just said.
Oppa calls Shin's phone and he answers and puts her on the video feed to assure Oppa that she is fine. Future Mi Rae looks relieved as well. It's the final segment of the show and Mi Rae and Shin both get up. Mi Rae holds Shin's phone and films him doing the broadcast live.
Shin tells the viewers the truth, that the program got a tip that a fire would break out in the subway with over 100 deaths. They orchestrated this program to save lives, but their plans may have caused even more danger. The perp changed the location of the fire to the subway car instead but thankfully no one was hurt.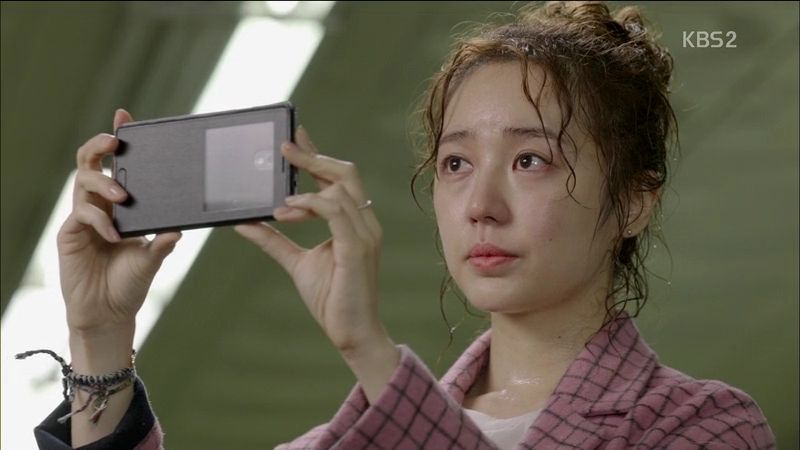 Shin says "The future. Fate. It is something scary and beyond what we can prepare for. But the future can change because of a sudden decision. The future is not determined. Your choice determines the future." Mi Rae holds the camera phone and looks very touched by Shin as he says this. Future Mi Rae also watches this broadcast. Can we have a minute here to absorb the powerful symbolism of this scene – while future Mi Rae schemes to end Shin's news anchor career, here is present Mi Rae literally holding the camera (the device that transforms Shin into an anchor) in her hands and letting Shin be the man in front of the camera that audiences deserve to see, honest and courageous.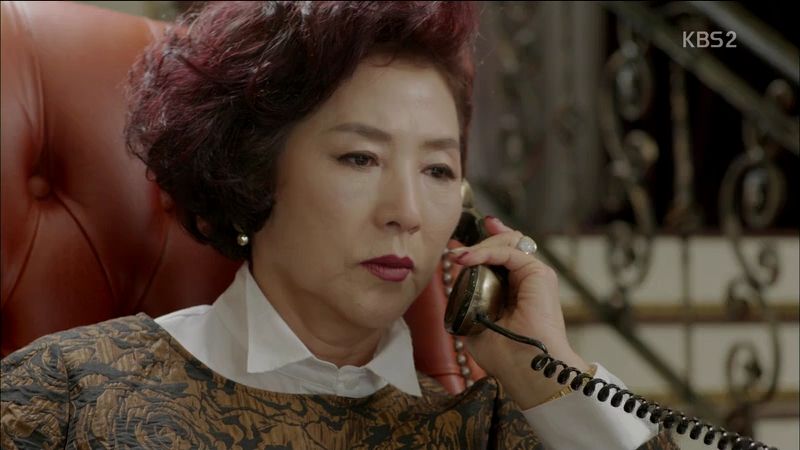 Miranda watches the news and hears that Shin's broadcast and statements have caused a groundswell of audience reaction all supporting his principles and courage. Turns out no one died in this incident. Miranda quietly calls off suspending the Morning Show and sending all the staff to the countryside.
The Morning Show team gathers for a celebratory dinner and PD Lee is the first to toast Shin and thank him for keeping them from being sent to the countryside. He apologizes for what he said before. Shin pours him a drink back for working hard which shocks everyone that Shin would commend others. Senior writer Bae says today's dinner should be called "Kim Shin's change" and the staff joke about when he started being so annoying when he was a kid? Mi Rae gestures for Shin to smile at the ribbing and he forces a pained grin for her.
Shin tells Oppa that he's forgiven him for changing the opening of today's show. Writer Bae laughs that in the past, Shin would have punched out Oppa already for defying his orders. Mi Rae asks where Se Joo and Yoo Kyung went? Writer Bae says Yoo Kyung went to the birthday bash for a CEO's grandson and Se Joo said he would be here later. Writer Bae reveals Yoo Kyung went to university to make connections and that is how she's now invited to VIP events.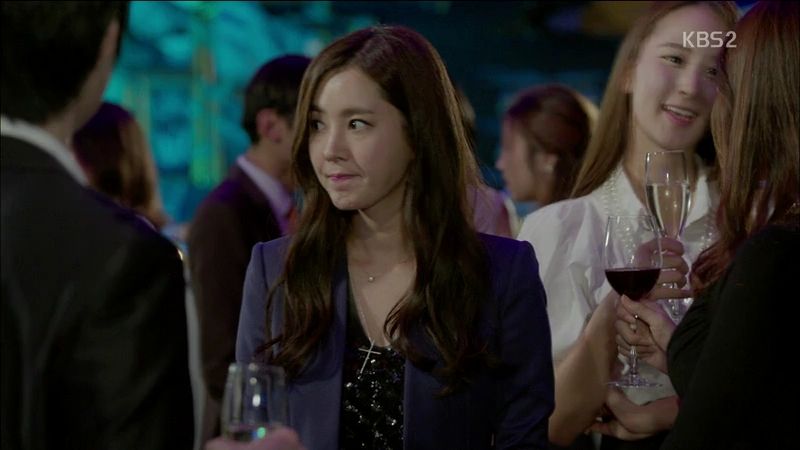 Yoo Kyung arrives at the night club for the birthday bash holding her invitation. She walks inside to see all the young and rich lounging around. She goes to greet a female news anchor who asks why she is here. This is the news anchor that used to be Shin's co-anchor and he derided on air was out there to marry a chaebol.
The lights go down and the birthday boy arrives on stage to cut his cake. Yoo Kyung is clapping until she realizes everyone is waving and singing a song for him. The guy walks over to shake everyone's hand. Yoo Kyung grimaces and thinks to herself whether this guy thinks he's a movie star, even Obama wouldn't have a party like this. I love this girl more and more.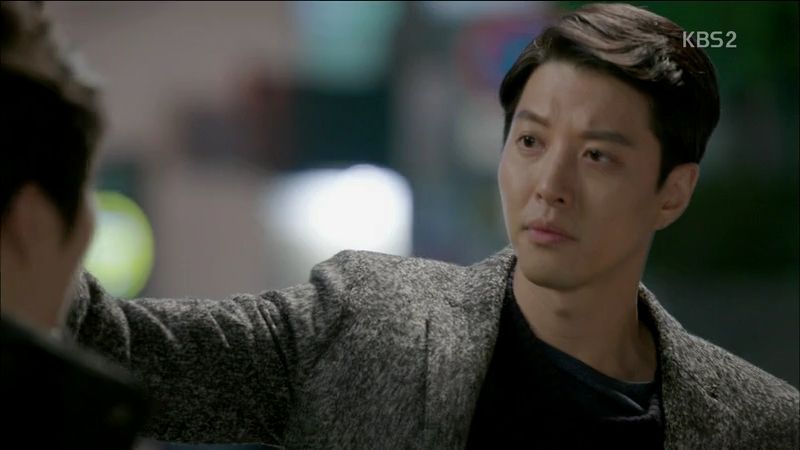 PD Lee sends Mi Rae out to find another place for their second gathering. Shin sees her and follows. A bouncer grabs Mi Rae outside a club and tries to drag her inside. She tries to get away but the guy is persistent. Shin walks up and pulls the guy's hand off Mi Rae and chastises him for speaking all wrong, correcting his pronunciation and diction.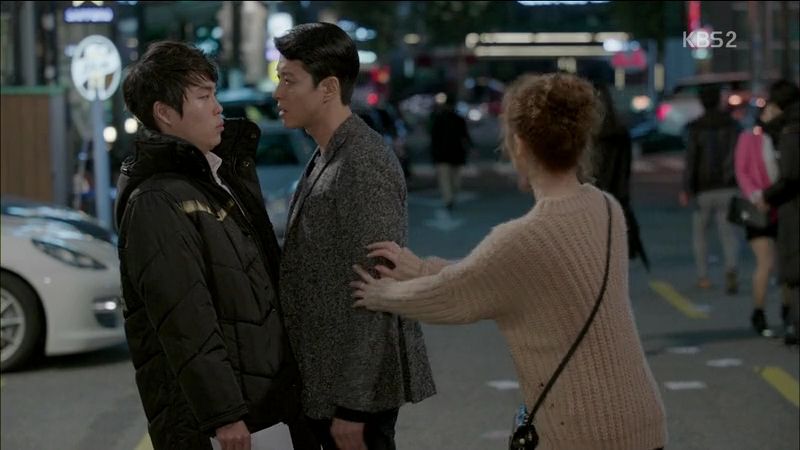 Shin pulls Mi Rae off and the bouncer yells at Shin for daring to correct him  and starts cursing. Mi Rae tells Shin they should just leave. Shin heads back and gets all up in the guy's face and tells him that he is not looking down on the bouncer today. The bouncer has a legit job and is working hard at it, Shin thinks that is very commendable for someone so young. But he needs to be careful and not use such language and upset others. The bouncer stammers a yes.
Shin and Mi Rae walk away and he pauses and asks her if he did well back there. She smiles and gives him two thumbs up and says he did well. Shin nods and says he'll go with her to find another bar for the group, keeping her company. As they walk, Mi Rae rubs her hands because its cold and he asks if her hand injury is okay? Mi Rae is fine but Shin is upset at himself for not yelling louder for her to get away. Mi Rae asks why he wants her to go away and Shin says he doesn't because he'll think about her.
Mi Rae notices their hands are very close as they walk and scoffs at what he said. Shin looks down at their hands and then just takes her hand. Shin puts it in his pocket and says he won't think about her anymore now. Shin smiles and just walks off with Mi Rae's hand in his hand and in his pocket.
Future Mi Rae walks behind them and sees this scene.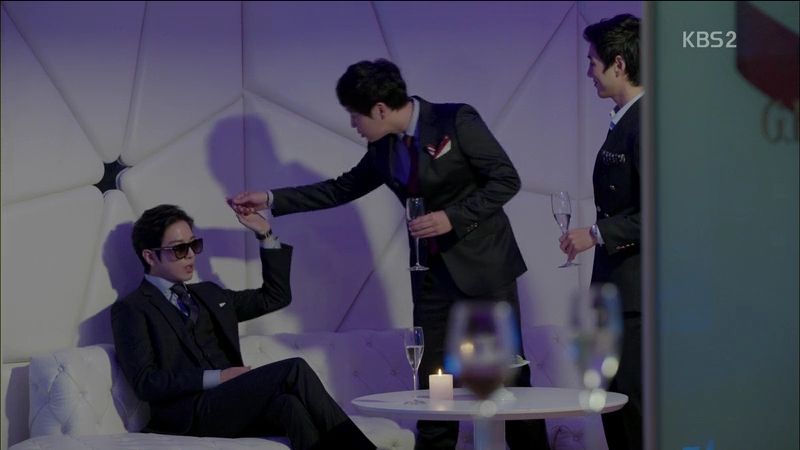 Yoo Kyung sees Se Joo at the VIP party but he's wearing sunglasses and a suit. Dude, a guy who wears glasses indoor AND at night is a total douchebag, no matter the occasion. The rich friends even ask him why he's wearing glasses in the dark. Se Joo doesn't want to be recognized, which makes it less stupid a reason to wear the sunglasses.
Se Joo stands up and sees Yoo Kyung staring at him looking very upset. They walk towards each other and she takes off his sunglasses. Se Joo stares at her and HOMG this is a hot scene. These two need to make out soon. Yoo Kyung calls him the next Chairman of the Group and Se Joo doesn't deny it.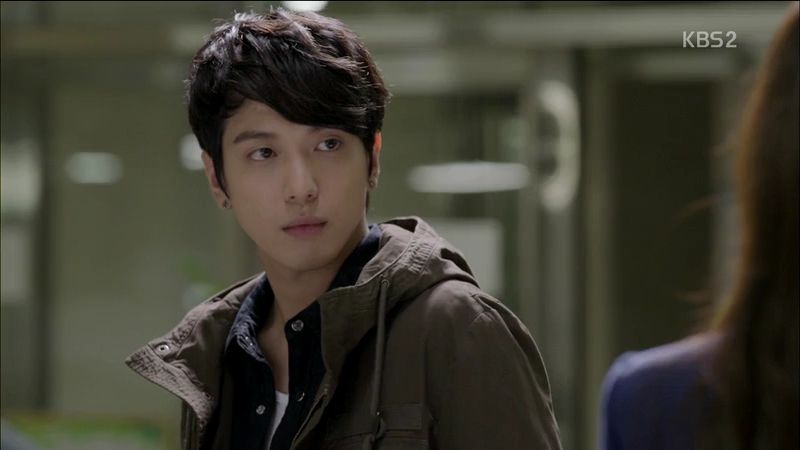 Se Joo has changed back to his regular day clothes and walks out to his car with Yoo Kyung waiting for him. He opens the door for her to get in but she doesn't, instead asking if he's not going to give a speech. Se Joo says they need to go to the team gathering. Yoo Kyung doesn't think he belongs with them at the Morning Team, this is all just his disguise. Se Joo apologizes for lying but he doesn't want to be like his grandmother and wants to understand the industry he's going to be managing.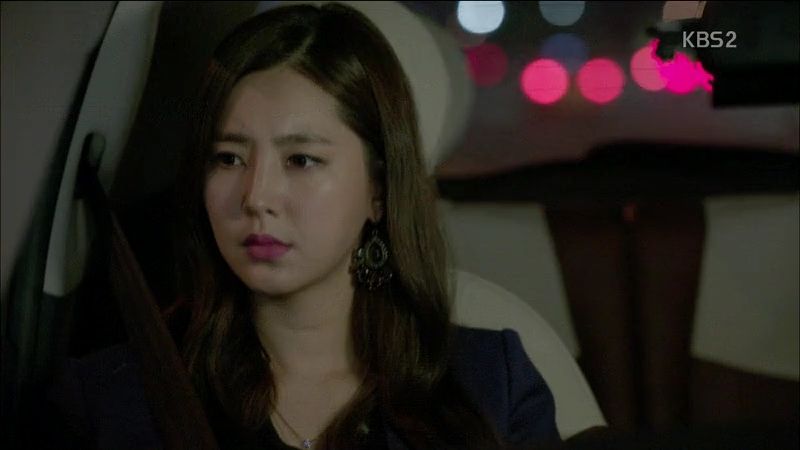 Yoo Kyung says she's not going to reveal the truth since she wants to keep her job. Se Joo smiles and tells her that nothing will happen to her, he's merely asking that she keep his secret for him. He specifically asks Yoo Kyung to keep the truth from Mi Rae. If she knew the truth then she would run away. She's too innocent. Yoo Kyung asks why his chaebol status matters. Se Joo explains too many women have approached him because of his money. Se Joo drives Yoo Kyung back to the studio and she stares at him in the silent drive.
They pull up and Se Joo calls the team to let them know that they are on their way. Se Joo can tell Yoo Kyung isn't in a good mood and asks again that she keep his secret. Yoo Kyung forces a light smile and teases that she wants to speak to a chaebol in banmal, so she'll keep his secret if they keep speaking in banmal. He agrees and there are back being friendly with each other.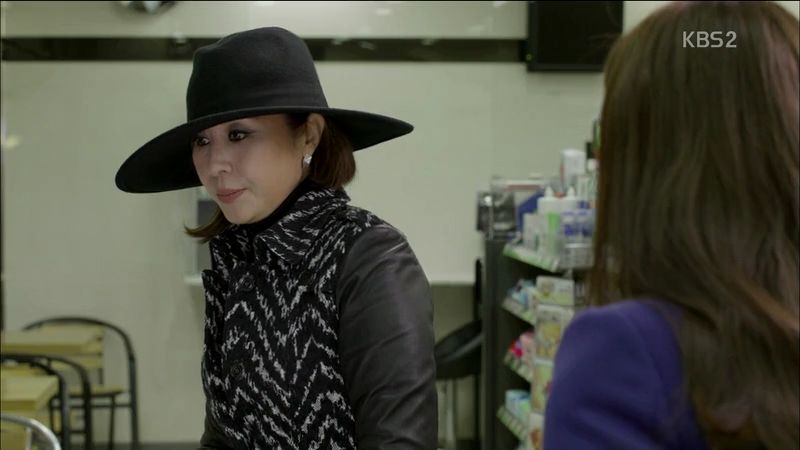 Se Joo goes to join the team first and Yoo Kyung fairly has to catch herself with the knowledge that Park Se Joo is the next owner of YBS. She goes to buy gum and sadly asks the cashier if chaebols also chew gum? As she's walking out, she bumps into future Mi Rae who drops her bag. Future Mi Rae recognizes Yoo Kyung, who remembers her as the fortune teller who predicted Kim Shin would be all over. Yoo Kyung picks up Mi Rae's journal and asks why she has something belonging to Na Mi Rae? Future Mi Rae says her name is also Na Mi Rae and then runs off with the journal.
Se Joo walks into the network and sees Mi Rae on the phone. She notices him and gestures for him to join her on the bench. He walks over and sits down. She finishes the call and turns to greet him. He asks if her injury is all better and she assures him she is. Mi Rae thanks him for turning on the sprinklers in the subway because everyone is talking about it.
Se Joo says he's all achy because he was running around to save someone and yelling for help. He asks her to massage a bit and she agrees. Shin arrives at that moment and spots Se Joo and Mi Rae happily chatting on the bench. He stops himself from going over.
Thoughts of Mine:
I LOVE THIS DRAMA! Okay, now that is out of the way, I was in no way expecting episode 6 to be this level of awesome. Setting aside the preposterousness of the entire broadcast from the subway station, because that requires the same level of suspension of disbelief as future Mi Rae taking a rickety elevator time machine to the past. A semblance of reality this drama does not have, but as a fictional contemplation of choice and destiny it has done a great job of setting up the stakes and then slowly moving everyone through the minefield. The events moving the plot forward may be silly, but I love how all the characters are thinking and behaving. When I connect with the characters is when I love a drama, and I've finally connected with Mi Rae and have long ago fallen in love with Shin, so the light bulb flipped on for the OTP today and it's going to be a fast train towards angst and hope from here on out. For 5 episodes, future Mi Rae has been calling the shots and present Mi Rae mostly feels reactive, though she does stand up for herself here and there. She's still spazzy at times, clueless in others, and rather half-heartedly going through the motions of what future Mi Rae has set up for her. Her heart isn't into seducing Se Joo, and she can't keep herself away from Kim Shin, and in the back of her mind is that dire warning of future Mi Rae that picking Shin means a lifetime of misery. I don't blame her for having doubts and hesitation. So far she's doing all the rational things in the face of so much unknown, but that also makes her devoid of the strength of choice we love in our strong heroines. The ladies who say "I love him and I'll fight for that right to love!"
That finally changed in this episode when present Mi Rae finally turned the tables on future Mi Rae. There is no way future Mi Rae will know that if this Mi Rae marries Kim Shin, their life will be a disaster together. Shin has already changed, and so has she. This happened because of future Mi Rae's meddling, but the changes in their outlook will affect the decisions they make. The Kim Shin who supposedly won't compromise on principles already has, so what's to say he won't yet again compromise if faced with the same hard choice in the future that resulted in Mi Rae's life of hard work and toil. Her words gave future Mi Rae pause, and I wonder yet again if there is more she's not telling us. Future Mi Rae seems so insistent on changing Shin's future as a news anchor as well as getting Mi Rae to end up with a rich guy, preferably Se Joo. Is this inconsistency in writing, or has the writer planned more reveals down the line? I felt like it's taken 6 episodes for the two Mi Raes to start resembling each other a bit more, for so long I felt like watching two completely unrelated individuals interact. While much could have changed future Mi Rae's personality, I couldn't see even a common core between the two versions. Now I do, because if future Mi Rae has the balls to undertake a danger time travel endeavor, it makes sense present Mi Rae would dare to marry Kim Shin in this time line as well even knowing the stakes.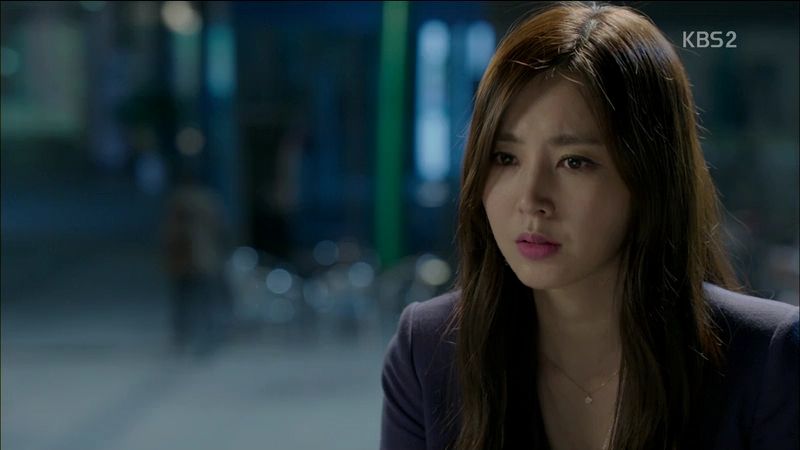 I was basically squeeing through every single Shin-Mi Rae scene in this episode. They keep building on their relationship in revealing their feelings and thoughts, with nary an ulterior motive or hidden agenda. Just two adults, attracted to each other, doing the clumsy and not-so-clumsy dance to spend time together. The entire Morning Show can tell as well, and poor Oppa can't even do anything about it. I would feel bad for Se Joo but Mi Rae really isn't doing anything to lead him on other than making one attempt to hang out to ascertain her feelings. And I think she's ascertained it pretty thoroughly, with the way she almost started crying when Shin refused to admit he was purposely spending time with her. And when he did, her beaming smile was so delightful to see, because who can argue with the way a heart just blossoms when interest is reciprocated. Shin is such a complicated character and I'm of the mind that the screenwriter is madly in love with him the way she writes his scenes complete with self-doubt and struggle. He's not perfect, but he's layered and self-aware. He's chosen to be difficult in the past to stay true to himself, but is capable of change when he is faced with tough choices. They way he put the lives of people above ratings contrasts with Se Joo's candid admission that ratings is what matters around the network. Both are right, but Shin's attitude is what makes him at risk for professional career suicide anytime down the line.
Se Joo and Yoo Kyung are also turning out to be a very compelling couple for me to root for. I actually like that their falling in love process has been upended because of future Mi Rae. Yoo Kyung got to meet VJ Se Joo first before learning he was chaebol Se Joo, and Se Joo saw Yoo Kyung's entire persona and not just her good side. This is how a relationship has a chance to succeed, by being built on solid foundation as opposed to fantasies and expectation. Se Joo thinks night swimming Mi Rae is independent and free-spirited? But that isn't who she really is, part of her is afraid of taking risks and only recently took that big step forward. If Se Joo told Mi Rae his real identity, and she revealed that she knew it all along, then this pairing would have a chance of being possible. As is, the ship has already sailed for Mi Rae and Shin, and I want Se Joo to get confirmation that he's not getting a chance so that he can focus on more important issues at hand, namely his ridiculous grandmother and her incompetent running of the network. Of the four leads, Se Joo has the least stakes for me, all he needs to do is learn some ground level insights about the network to take it over someday. Yoo Kyung sells her femininity for a shot at reporting, Mi Rae has one shot at a late stage in life to make it as a screenwriter, and one wrong move by Shin means his anchor career can be tanked at any time. What intrigues me the most aside from the delicious romance to come is the thought that these four are now intertwined in this time line and therefore can do something awesome at the network that was not possible in future Mi Rae's time. That might make all her time travel meddling worth it in the end.