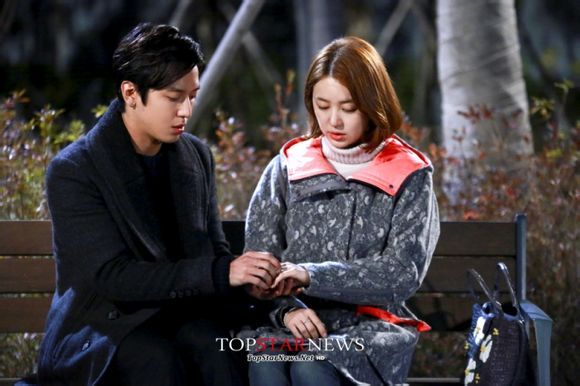 What the #!@& is going on here?!?! Has Marry Him If You Dare actually gone insane? I doubt it since episode 13 was sensible albeit romance-deprived, but then why do we need to see Park Se Joo take his ridiculous and completely one-sided feelings for Mi Rae all the way to the end and propose to her and waste everyone's time with this nonsense? if she accepts him despite having zero romantic feelings for him and crying/moping/missing Shin all day long, then she's a hopeless moron and I'm done with her. If she turns him down, that's just prolonging Se Joo's determination to win Mi Rae against all rational and emotional better judgment. She told you no, dude. Many times. In plain Korean. Since Se Joo went to Yoo Kyung's house and it's the same house used by KBS to film Nice Guy, post-accident Seo Eun Gi could tell when Kang Maru was being mean to her and rejected her. And she had the mental capacity of a kid during the arc! If Se Joo is going to run YBS, I fear for the future of the network and Shin needs to bolt for NTN now. Forgot his life going down the drain in the future because of his own pride and stubbornness, his career is wasted at a network run by a guy who cannot get it through his thick skull that GIRL DOES NOT LOVE YOU BACK.
Mi Rae doesn't hate Se Joo and definitely appreciates him as a good friend, but that does not mean she would marry him or that he even should ask her. This entire proposal scene is so dumbass I can't even. Even if she said yes it's not love! I was able to gloss over the possibility at the end of episode 13 when Se Joo put his hand in his pocket because prior to that Mi Rae and Shin was pretty much communicating by gestures and telepathy and showing their OTP mind meld to the world. If I flashback to the scene prior to when Se Joo decided to bring a ring to the party, it was when he watched Mi Rae sob her guts out over Shin and then took her on a walk with some vanilla latter and a confession that he needs her because she understands his lonely soul. Somewhere along the way, this drama became a chore in thinking without any commensurate satisfaction in feeling. I want that happy feel so bad, and if Lie to Me proved anything it was that dramas that made viewers drunk on love is satisfying even if it makes zero rational sense. Sometimes there is too much sense and too little sensibility. Here's to hoping Mi Rae tells Se Joo to go see a shrink for his fixation on her and hands him back the ring with a pat on the head. I can't even feel sorry for Se Joo's heartbreak because he's been bringing on himself since episode 6.
The only time Mi Rae looks happy in the stills above is before Se Joo whips out the ring. Afterwards she looks like death warmed over and when Se Joo is hugging her he's basically hugging a human shaped log. In case anyone forgot, the OTP in this drama is Shin and Mi Rae. They actually look happy and madly in love in the stills even if its all future Mi Rae's flashback scenes. If Se Joo needs a lesson in how to spot when a girl likes you back, he should study these pictures and realize Mi Rae never looks at him like that. EVER.