The two leads of In A Good Way the adorable Lego Lee and Kristen Jen joined the other two currently airing SETTV idol dramas at the network headquarters this week for a celebration of the success of the three dramas. The other two are Deja Vu airing on Sunday nights with Mandy Wei, Yao Yuan Hao, and Jenna Wang and the daily drama Love Family with Chris Wang and Serena Fang. Deja Vu is dreadful but if it floats your boat then enjoy, but Love Family is actually quite sweet and lovely except leading lady Serena Fang annoys me. I find SETTV's daily dramas are actually all watchable (some more than others, but the two best ones in recent years are Inborn Pair and Two Fathers) but the cast is usually hit-and-miss. If Love Family has a different leading lady I'd be all over it. Back to the celebration event – I had only eyes for my babies Lego and Kirsten, and looks like they had eyes only for each other. At one point the other five leads were doing a media event and you see Kirsten and Lego off to the side talking, giggling, and totally oblivious that they were supposed to be participating. Lego did what Taiwan leading men are wont to do which is promise to do something if ratings broke a certain number, and he better start getting ready for freezing temperatures because he said that the leads of IAGW would ride their motorcycles from SETTV headquarters to the filming site topless if ratings broke 3. LOL forever and ever. Someone has gotten really addicted to taking his shirt off, what with going almost fully naked in two separate scenes in episode 1 alone. He clarified that he meant only the male leads, and somewhere Jay Shih and Steven Sun are giving him the middle finger and getting ready to jump him when he heads back to filming. Hot on the heels of this celebration media event, the head of SETTV drama production gave an interview where he discussed the future of Taiwanese dramas and included the breaking news that the success of IAGW has led the network to plan for a full length movie with the entire same cast scheduled for 2014. 
The network did this movie follow-up after The Fierce Wife which ended up having an opening ending which segued into the movie. If this means IAGW the drama has an open ending just to make a movie version I'm pretty pissed, but it needn't be with this story since the couples could get their happy endings and all the classmates reuniting years later for a reunion for the movie plot. I don't know anymore details about the movie other than the network wants to spend all its budget on the production values which is a good thing. I think? I would prefer no movie and just focusing on doing a perfect drama but it's not anything I can control so for now I'll keeping enjoying IAGW without worrying too much.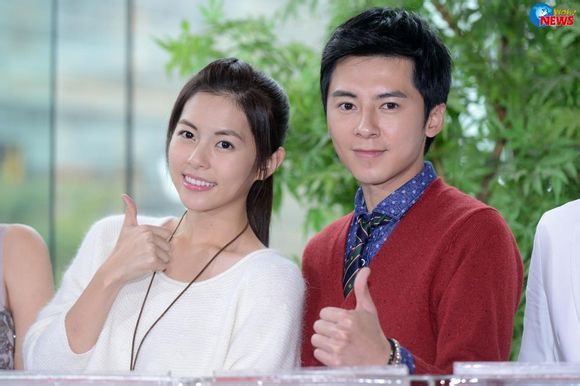 This event did produce a tiny bit of cold water splashed on all the RongYi shippers. Kirsten admitted that she found Lego very good looking and he was constantly shooting eye sparks at her. She was pretty giggly about how all the fans are really rooting for them to become a couple outside of the drama, and then Lego responded that he's not considering that right now and wants to focus on the filming. Apparently Kirsten acted all mock upset and hit him a few times on the shoulder about how he was so cold. I actually think that's just Lego's personality. He never ever bothers with media or fan attention and does what he wants. Poor Kirsten is going to have to go pout in the corner now.