As the one and only Chun Song Yi would say "sawwwry" for this recap being late. Of course it was because of Lunar New Year and not because there was a precipitous dip in quality leading me to abruptly drop my Miss Korea recaps. This drama continues to bring me unbridled joy even as it leaves me anxious for any future obstacles that may emerge for Ji Young and Hyung Joon. I feel like these two constantly take one step forward with the possibility of two steps back. The 15 roses judging fix got taken care off the most practical of ways by countering misconduct with a group protest led by Hyung Joon and with the approval of Madam Ma. I like how she never had a knee jerk reaction to any problem and assesses the situation using both her wits and her experience. That doesn't mean she's robotic and I loved her heels off chewing out of Madam Yang for funding the blatant misconduct. Madam Ma is so seasoned she understands that even stacked decks and some favortism is to be expected but to completely rearrange the power structure in the organization is untenable. The core element of all the woes thrown at our leads is the reality that the powerful will always try to screw the little guys over. Team Vivi's company is the little guy trying to compete with the big established cosmetics companies with a breakthrough product and reality says it would never work.
Ji Young is the upstart beauty queen wannabe who has no connections or wealthy backer. Jae Hee has a presidential candidate dad breathing down her neck. Teacher Jang is at the mercy of his loan shark boss and a job breaking bones when he dreams about movies and a sweeter kind of existence. While the Miss Korea pageant dream may seem narrowly tailored and on paper wouldn't resonate with the great majority of people watching the drama, the writing has deftly made the challenges faced by the contestants and the people around them universal themes of struggle. Yoon stands out in this drama as a second lead with not a lot of screen time but his life is blessed to be above the fray. Therefore what he desires is Ji Young because he can get anything and anyone but her. Even Hyung Joon peddles to Yoon early on and has capitulated to him now. I think the promise to leave Ji Young is void because Yoon isn't holding his end of the bargain either, but more importantly all three of them are openly confronting this rather novel love triangle. We have two people in love with each other and open about it, and a third blatantly trying to break them up and not even being sheepish about it. I think Ji Young is going to make it to the top-3 of Miss Korea not just because the drama requires it but because looks and talent-wise she is earning it. Of course, when her devoted boyfriend is washing her hair for her, Ji Young probably can relax just a bit and enjoy the sweet skinship after overcoming yet another hurdle.
Episode 14 recap:
The MC hands the final rose to Ji Young but then gets a different cue from his ear piece and pulls it back to then hand to the girl next to her. It's Miss Gangwando Jin and she accepts it with a smirk. The dress rehearsal for the pre-recorded segment of the pageant wraps up and all of the Miss Seoul handlers are freaking out in the audience. Ji Young's face falls. Madam Yang pretends to be upset along with Madam Ma but then secretly smiles because her Sun Young got a rose.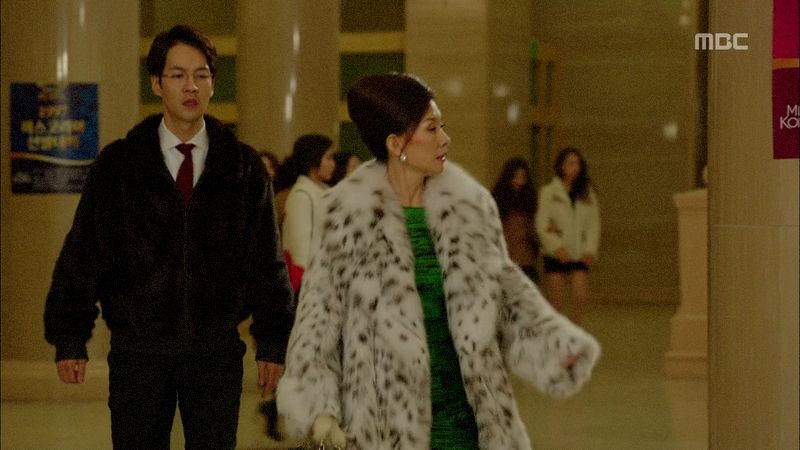 As everyone files out Director Yoon urges Madam Ma to do something right away. Madam Yang cackles to herself that Madam Ma's era is over and her time has come. Madam Ma sees her and yells at her to stay right there! Madam Yang runs off and Madam Ma kicks off her heels and chases after her barefoot.
Madam Ma catches up to Madam Yang in the parking garage and points out that only Madam Yang's girl from the Miss Seoul group got a rose. Madam Yang tries to act like it was random and means nothing though she keeps sneaking glances in her trunk. Madam Ma takes out a portrait from the trunk and throws it on the ground, telling Madam Yang that she still has no taste when it comes to art. Madam Yang starts crying and yelling that the picture cost $50,000! Madam Ma can't believe Madam Yang would have bought that sleazy artist judge's art as a bribe.
Hyung Joon sees other handlers accosting the sleazy artist who tried to get them to buy his painting for votes. The other handlers are accusing him of taking their money but their girls didn't get a rose either. Hyung Joon goes to talk with them while Teacher Jang chases after the artist.
The artist runs off and we get a hilarious montage of Teacher Jang chasing the guy all through the auditorium until he finally captures him.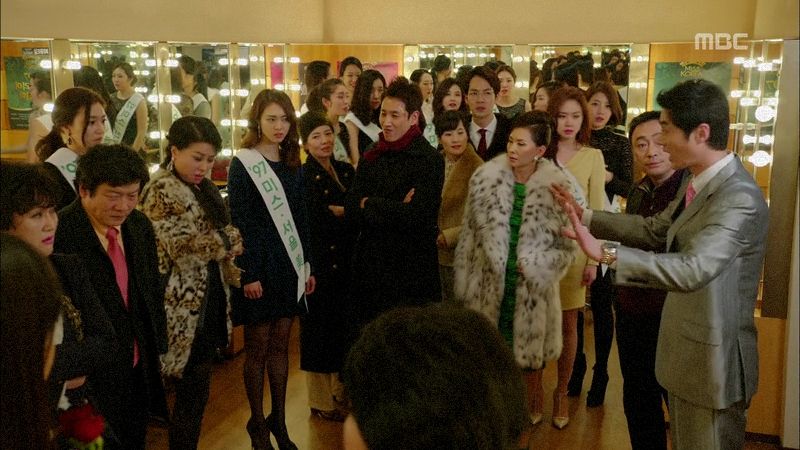 All the contestants file backstage and are met by their handlers and everyone who didn't get a rose is upset at the clear implication that the top-15 has been decided and its the girls who got roses. When the director arrives Hyung Joon speaks up and says the filming for the pre-recorded portion of the pageant can't continue unless the judges are switched and voting is redone. A lot of other handlers back Hyung Joon as well and then Teacher Jang arrives with the sleazy artist who confessed to selling votes for people who bought his painting. The director has no choice but to address their concerns.
The contestants wait in a room while their handlers work things out with the pageant organizers. Ji Young vows to trust in her Oppa.
Hyung Joon speaks for the group and says the pageant can either change judges or make public the scoring sheets. Madam Ma joins with the rest of the handlers and her influential reach assures the organizers have to capitulate otherwise the recording can't continue.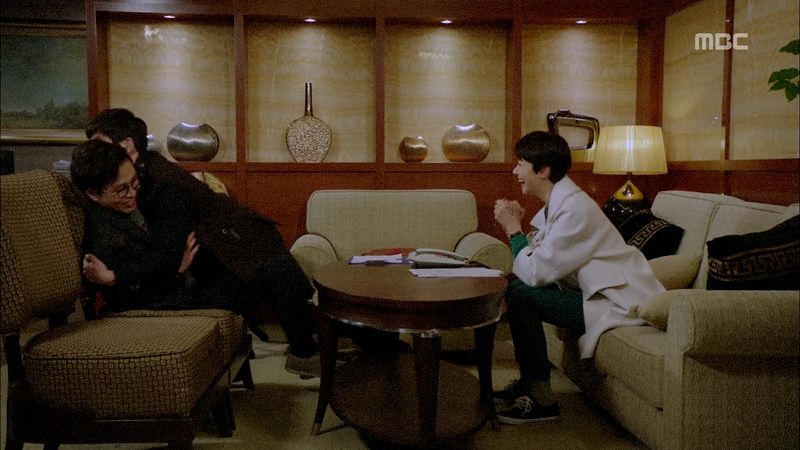 The Vivi team is scrambling to buy the raw materials such as silicone and emulsifier that have been cut off by their suppliers. Dr. Ko and Kang Woo meet with dead ends but Heung Sam manages to buy some from a shuttered cosmetics company and its enough to restart their manufacturing line and get them through the pageant.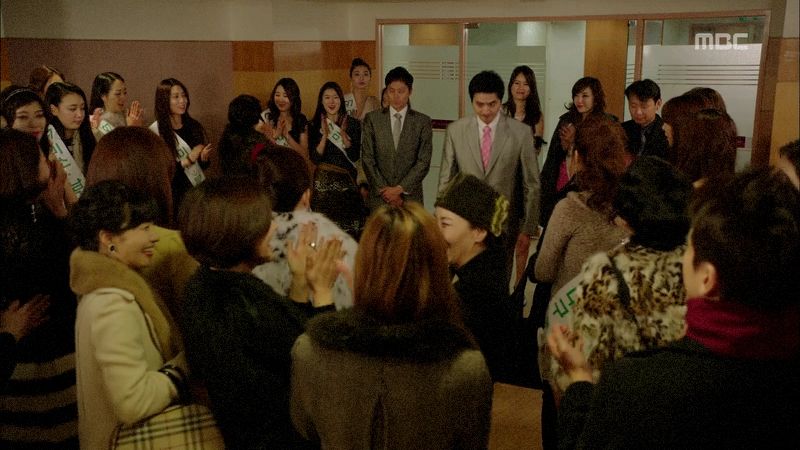 After conferring internally, the pageant organizers have decided to change the judges and the top-15 will be revealed the day before the pageant. During the actual recording today the roses will be handed to the 15 girls who have worked the hardest.
The recording begins for the pre-recorded portions of the pageant such as the introduction and the dances. The girls are introduced dressed like cheerleaders and Sun Young purposely trips so the camera is trained on her while Soo Jung isn't even shown onscreen. Jae Hee and Ji Young make their entrance together and they are really adorable. I love Ji Young's two low side braids look.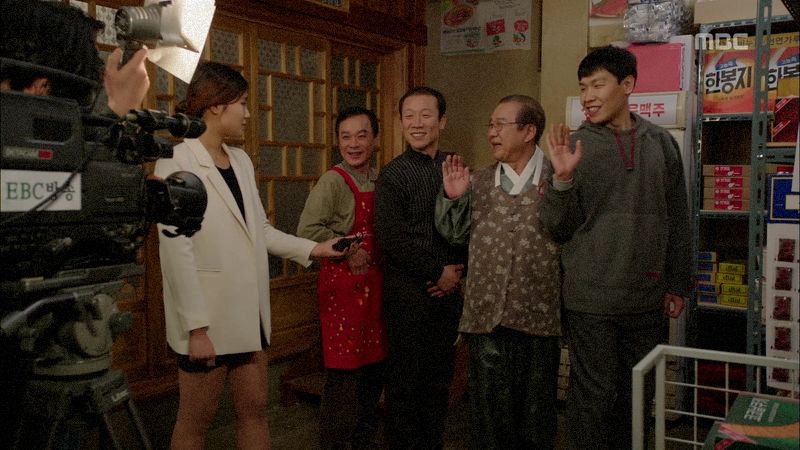 The girls are practicing their dancing backstage when Ji Young gets distracted by the TV playing a recording of her family introduction. Her Mom says he's the dad who is as nice as a mom, Uncle is the uncle who is like a dad, Grandpa is an angel of a grandpa, and Oppa says he's very handsome. Ji Young smiles as her family says their greetings directly to her. Mom ends with a promise to have a birthday dinner for Ji Young when the pageant is over because her birthday is the day of the pageant.
Grandpa suddenly veers off script and asks the pageant to cut the swimsuit portion of the competition and replace it with a hanbok portion. The rest of the family have to drag him off and its adorable. Teacher Jang confirms from Hyung Joon that Ji Young's birthday is on the 20th of this month and the day of the pageant. Teacher Jang mutters a hope that her tears that day are from happiness and not from drowning in a sea of sadness.
The dance portion starts and the girls are split into three groups. The first group has Sun Young and Soo Jung. Their outfits would be okay if it wasn't paired with silver gloves with tassels, LOL, not to mention their dancing is majorly cheesy. Madam Ma notices that Soo Jung seems off in her dancing.
The second group is led by Jae Hee and its more like a jazzercize performance though Jae Hee is much better than she was during practice. She's still a tad stiff but at least she can sing and dance at the same time.
The final group has Ji Young in the center and their dance is the sexiest one of the lot. It also gets the best audience feedback, especially from the two guys Teacher Jang and Hyung Joon. After the dance finishes Teacher Jang and Hyung Joon give her a standing ovation accompanied by rousing cheers.
I love Hyung Joon's "that's my girl!" proud look and Ji Young's "yeah, I hit that hard" confidence.
The next group dance is a pageant cheer routine scored to "Hey Mickey". Teacher Jang continues to be supremely entertained at the eye candy. Even Director Yoon finds himself nodding to the catchy music as he watches.
The performance switches to "Barbie Girl" with the forming of the pyramid ending the performance. Ji Young is at the bottom center while Jae Hee is the top of the pyramid though Ji Young smiles broadly and endures the five girls on top of her.
The contestants are all passed out on the bus ride home but we see a sleeping Ji Young holding a rose because she got one for working so hard. Dr. Ko is at the hotel to greet Ji Young and gives her a hug for working so hard. She tells Ji Young that the rose is good luck and she'll make the top-15. She apologizes for not being at the recording today because the factory restarted production today and their new product will be released around the new year. Hyung Joon and Teacher Jang arrive and Dr. Ko wants to grab a bite to eat. There is discussion of what is open right now to buy food and a bit of awkwardness over who will go buy food. Dr. Ko tells Hyung Joon to keep a tired Ji Young company and then heads out with Teacher Jang following.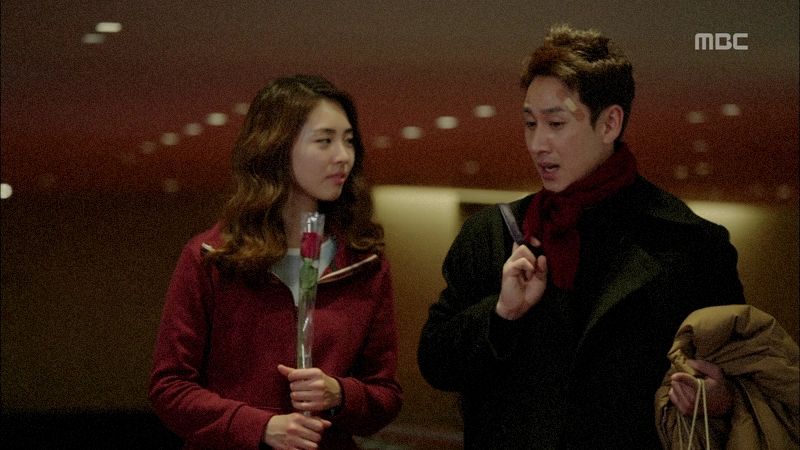 Ji Young feels like today is a dream and asks if the Popularity award will be the night the pre-recorded portion is broadcast. Hyung Joon confirms it and assures her that if she wins then she'll definitely place in the top 3 of Miss Korea since the judges have to take into account the people's preference. He asks if Ji Young wants to go to sleep when she yawns and Ji Young gives him a look and says she's too tired to wash up.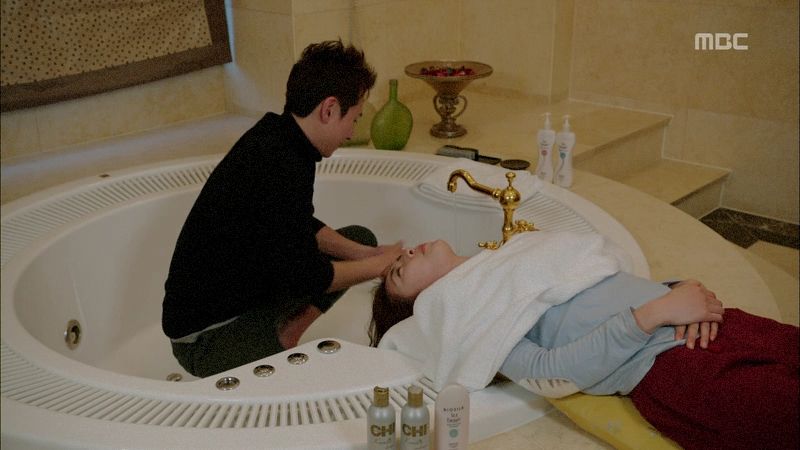 Ji Young lays her head down over a bathtub as Hyung Joon gets into the tub to wash her hair. Okay, this is definitely new skinship. Hyung Joon chides her for not taking care of herself but Ji Young wants to talk about the time she used the Vivi brand lotion instead of cleanser and went to sleep and woke up with a face full of streaky make up. She called to complain and he urged her to stop smoking and going clubing. Hyung Joon is surprised to know that customer was Ji Young but she's annoyed he talked to a random customer like she was his girlfriend. Hyung Joon corrects her and says as company president he treats all customers as girlfriends and he makes products to take care of their skin.
Hyung Joon gets down to washing Ji Young's hair and asks if she remembered watching Out of Africa with him when they were still in school? She wanted him to wash her hair but he wouldn't back then because it was embarrassing. But now her wish has come true ten years later.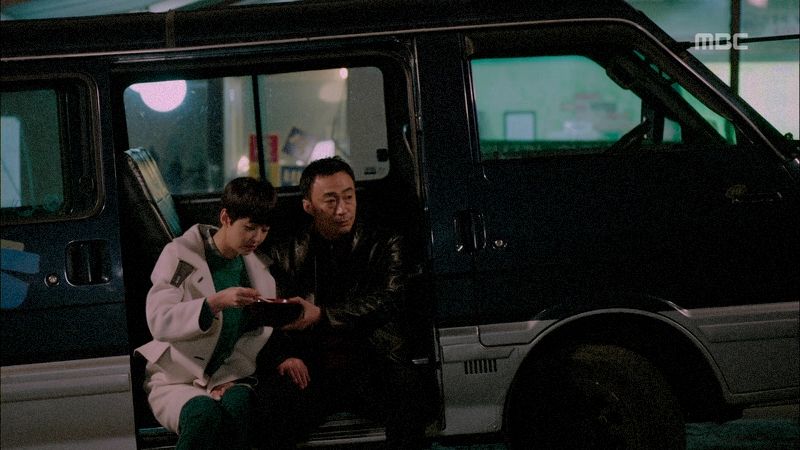 Teacher Jang pulls up outside a market and goes in to buy some food. He picked up some kimbap to take back but a bowl of udon soup for Dr. Ko because she likes soup. He puts the udon on top of a box of shoes and tells Dr. Ko to eat and heads to the front seat. He hands her a pair of chopsticks and she just stares at him and sighs. She tells him to either buy two bowls or share this bowl with her. He can't drive when she eats it anyways. He keeps declining so she keeps making excuses not to eat alone. He finally gets upset and yells at why she's not eating and she gives him an aegyo look and says "let's eat together." Heh. He sits down and they share the bowl together. They are so sweet.
Hyung Joon and Ji Young are waiting in the suite and wondering where Dr. Ko and Teacher Jang are? Ji Young gets a call from Yoon and tells him that she's with Hyung Joon right now. Yoon arrives at the suite and Hyung Joon opens the door for him. When he sees Ji Young drying her hair behind him, Yoon asks if Hyung Joon still intends to keep his promise? Hyung Joon pulls Yoon inside to talk and hears that Yoon won't be part of the new judge panel because he doesn't want to cause any impropriety with Ji Young nor was he the type to give her high scores because of their connection. Ji Young is fine without his help.
Hyung Joon shows off the suite as Ji Young's base camp and Yoon laughs that Hyung Joon is going overboard isn't he? But he only has a few days left before the pageant. These past few days Yoon went behind the scenes as a judge and realized that beauty wasn't something one was born with but instead was created by money. Hyung Joon doesn't have the power to create a beauty. Hyung Joon warns Yoon to stop speaking of this in front of Ji Young. Yoon wants the two of them to face reality.
Yoon directly tells Ji Young and Hyung Joon that they are of no use to each other. Hyung Joon pulls Ji Young up and says she doesn't need to listen to this. Ji Young challenges Yoon to try and steal her heart. She'll show him that there are difficult things in life that Yoon oppa can't have go his way. Yoon smiles and takes that as Ji Young giving him a chance. He knows Ji Young must be nervous because the judging from the first round will be redone and snarks to Hyung Joon to take care of her.
The contestants all gather to read the new list of judges and Ji Young smiles to see that the stacked judging line up has indeed been changed. The Vivi team arrive at the suite with their first batch of completed Vivi creams and happily view their hard work. Hyung Joon wants to bring the product to Yoon since he invested and tells Heung Sam to make sure they get more raw materials.
Hyung Joon hands a tube of the Vivi cream to Yoon and shows him as an investor. Yoon's face falls as he's surprised that the product has been produced so quickly. Hyung Joon wonders if Yoon shouldn't be happier since he's an investor in the company. Yoon quickly feigns happiness. Hyung Joon had to work fast in order to also keep pace with the Miss Korea pageant.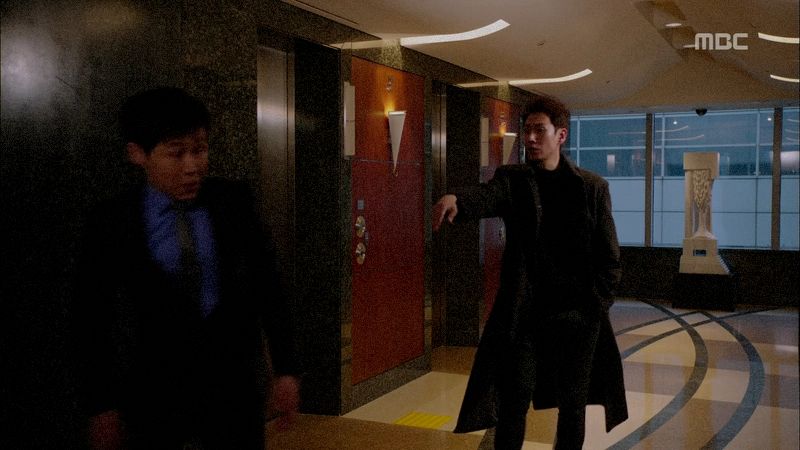 Hyung Joon runs into the owner of the raw materials supplier in the lobby of Yoon's company and urges the guy to sell to Vivi again. The guy reveals he also needs money and can't get a loan from the bank, and then quickly leaves before agreeing to sell raw materials to Vivi.
It's election day and the Miss Korea contestants gather to watch the news of the election and the result is Jae Hee's dad lost.
Jae Hee goes to see her dad and he asks her one more time to stop with the Miss Korea pageant. Jae Hee's silence is his answer. He wants her to wait another 5 years when he's up to run again. At that time whether he wins or loses he will publicly acknowledge that she is his daughter. Director Yoon rushes to tell Madam Ma that Jae Hee is missing from the hotel.
Kang Woo reveals the good news to the Vivi team that they have received 500 orders for Vivi cream and the ones placed for sale has immediately sold out. Dr. Ko knew their product was good and the public reaction confirms it despite the lack of publicity.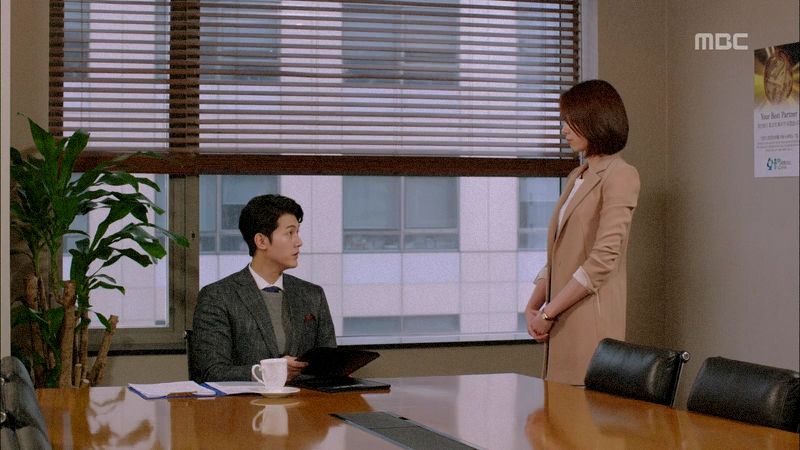 The truth is Yoon has been buying all the products to keep the existence of the Vivi cream from the public. If it's been launched once then later when he sells the right to Bada or another company he won't get as high of a sale price. Grrrrrr. He also wants to start buying up all the outstanding Vivi debt markers and then start pressuring them to repay the debt. He intends for Vivi to go out of business as quickly as possibly. Hyung Joon is also on top of their debt markers and wants to use any of their money to repay the debt first.
Madam Ma is pacing in her office and gets an update from Director Yoon that Jae Hee is still MIA and all communications avenues are not working. He worries that if she doesn't come back tonight then it's over for her when the pageant finds out.
Tonight is the preliminary program for the Miss Korea pageant and Ji Young's family is gathered around the TV watching. They cheer when Ji Young's picture flashes across the screen and everyone takes credit for how pretty she is. Mom tears up at the ignominy of her wearing an elevator girl uniform all these years.
Teacher Jang walks up to Dr. Ko in the hotel suite and hands her bag and leaves without a word. She takes out a box from the bag and opens it to find the shoes he bought for her. She puts it on with a smile and it fits perfectly.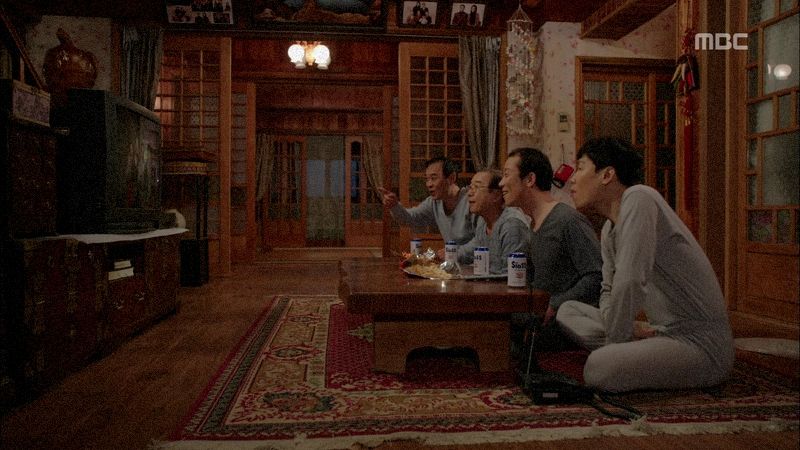 Ji Young's family continue to enjoy the program and are making sure it's being recorded. The phone lines are now open for the popularity vote and Oppa immediately grabs the phone to dial in their support for Ji Young. Uncle confirms that winners of the popularity vote always make it to the top-3 Jin Seon Mi of Miss Korea.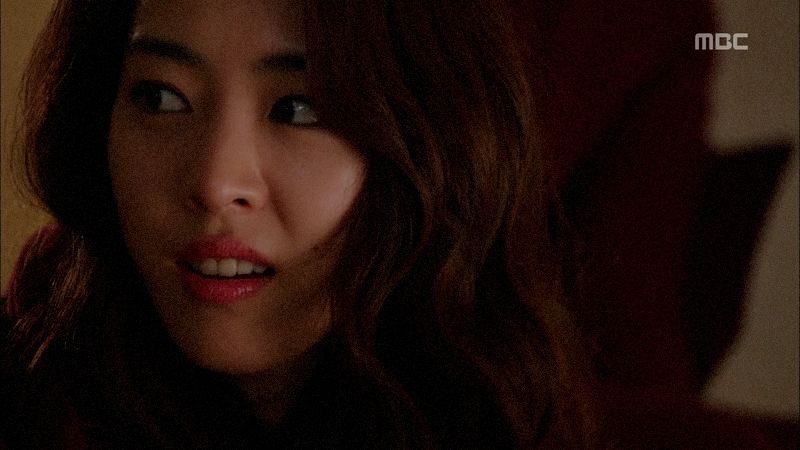 The contestants are all gathered to watch it as well and Ji Young takes out her cell phone to dial a vote for herself. She thinks she's being sneaky but a quick look around shows all the girls doing the same thing and dialing votes for themselves.
Director Yoon is directing all the staff at Queen's Beauty Salon to dial their votes for Jae Hee. Madam Yang is at a jjimjalbang and has all the ahjummas their dialing for Sun Young. Hyung Joon is with the Vivi team and they are all dialing for Ji Young.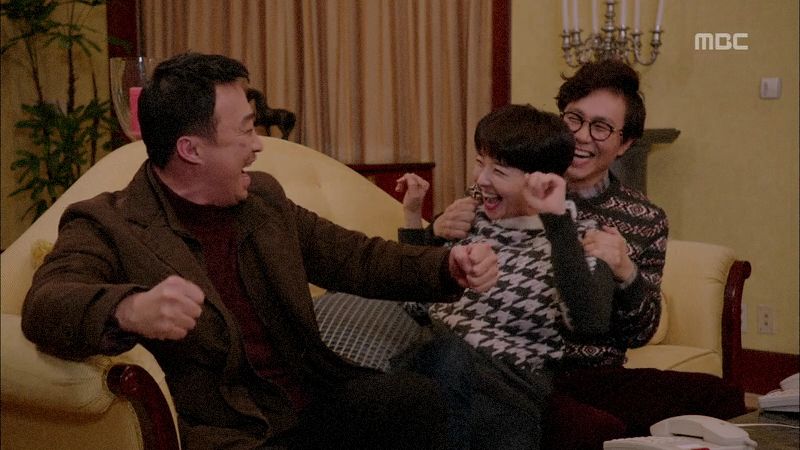 The phone lines close and the results are immediately announced – the contestant with the most votes is Jae Hee and second place is Ji Young. The Vivi team is silent when they hear this……and then break out in cheers over getting second place! I love their jubilant celebrating, which gives Teacher Jang and Dr. Ko a reason to hug.
The contestants all disperse while Ji Young sits there smiling over getting second place. Jae Hee walks through the street and watches her first place win on the TV.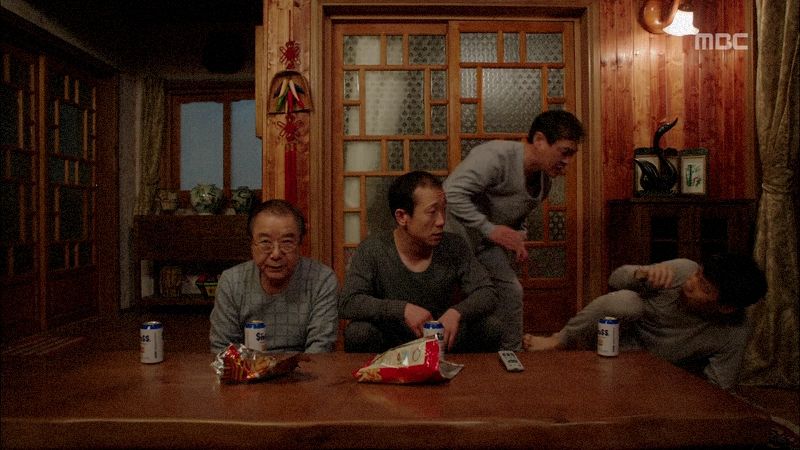 Ji Young's family is freaking out over Ji Young getting second place. Mom cries that his daughter is getting closer and may wear the crown on her birthday. He cries that her mom would be watching in Heaven. The family discuss whether Ji Young is turning 25 or 26 this year and hear that she's turning 26 and her birthday is the day of the pageant. Oppa brings up the pageant age cut off being 25 but the other men beat him up and say that the pageant already verified she's eligible and she's 25 until her birthday is over.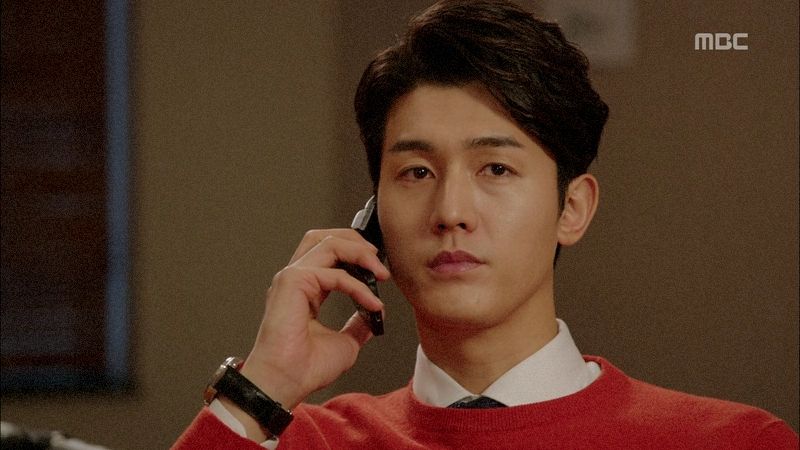 Yoon sits in his office and says "I'm sorry, Hyung Joon" before making a call. Awww Yoon, can I punch you in the face and then say "I'm sorry", too?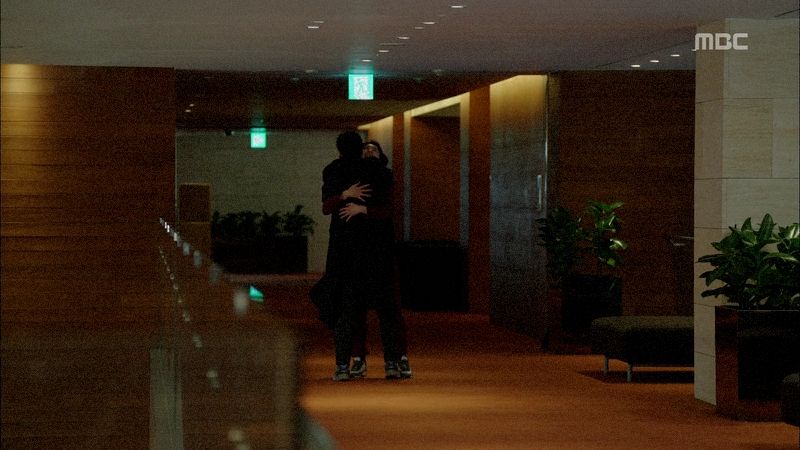 Hyung Joon and Ji Young run towards each other and gleefully embrace. Ji Young thinks today feels like a dream and what if it disappears tomorrow? Hyung Joon assures her it won't and instead tomorrow will be even better. Ji Young vows she'll be Miss Korea Jin!
Thoughts of Mine:
That Yoon, he really hasn't a chance of winning Ji Young's heart but damn if he's ballsy enough to try whether it be straight out or underhanded. He's raising the stakes for our OTP when they are already facing so much, but in truth his corporate raider attitude towards Vivi isn't any different than what another soulless faceless M&A honcho wouldn't try to do. The issue is that it's personal for Yoon, he doesn't want to just make money on his Vivi investment, he wants to ruin Hyung Joon and break him up with Ji Young. That's like hiding a walk off home run in his first at bat, not unprecedented but he better have some juice behind that ambitious effort. I'm relieved Hyung Joon doesn't seem that clueless about Yoon's intentions and with his smarts I hope be bought caught onto Yoon's few tiny slip ups as well as running into his supplier at the same office lobby. Hyung Joon is resourceful enough, and has the supporting Vivi team by his side, that once he knows what Yoon is up to then I'm not worried that he can't think of a solution to counter this sabotage. The problem is that Hyung Joon is so invested in Ji Young winning for Ji Young's sake and not for Vivi that he's too quick to accept Yoon's offer without thinking what Yoon is really offering when he's made it clear he's out to win Ji Young. I don't hate Yoon because he's not a cookie cutter villain and his open declaration of pursuit does make it fair game. It also made it even better when Ji Young sneers at his attention because she's not scared of being tempted by what Yoon has to offer. She's such a girl of my heart.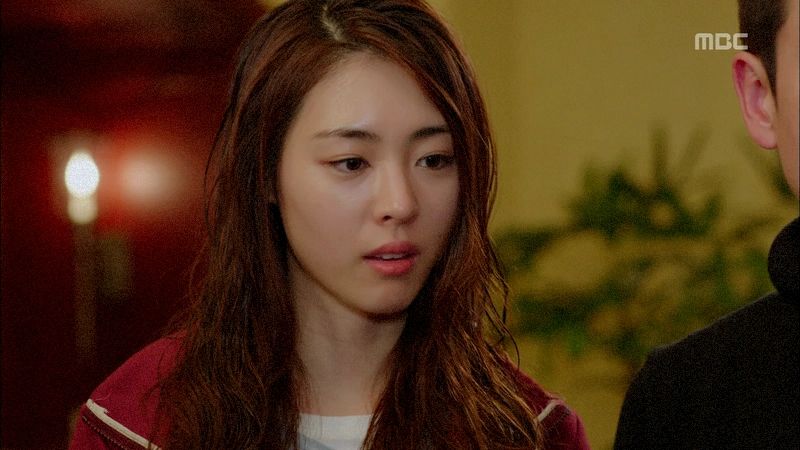 This drama has done such a marvelous job of humanizing not just the so-called good guys but also the competitors that stand in the way. Yes, there are shady douchebags like Ji Young's old boss, Kang Woo's brother at Bada, and the wheeling dealing pageant organizers. But even then they are simply looking out for their own interested and wielding power because it makes them feel better about their own lot in life. I kinda want the Miss Korea pageant to be taken down a notch by the end as well even if its the means to an end for Ji Young and Hyung Joon. I respect how much Madam Ma has invested in this legacy but it's still a bit sad that her goal in life is to mint future generations of herself. I love her for having balls of steel but wish it weren't so fixated on this one endeavor. She can probably be a CEO of a major company selling something that would revolutionize the beauty industry, perhaps joining forces with Vivi to sell the Vivi cream isn't that far-fetched. I think she sees in Ji Young a lot of herself and that is why she helps her out even if she isn't aligned with her. Ji Young is that rare leading lady possessing beauty and guts all wrapped in common sense. She's not book smart but she's damn street smart. I appreciate that her journey to Miss Korea is really all her hard work and determination. She eschewed the boob job, she picked the harder route by working with Vivi instead of Madam Ma, and she never tries to undermine her competition. She's at the end of the line in terms of kick starting her future prospects but I have an inkling that this drama will show us that her journey may end up being much more important than whether she wins the title or not. Looks like her birthday being the day of the pageant and she'll turn 26 and therefore past the cut off age will come into play later on, as will Jae Hee's birth secret also impacting her beauty queen dreams. We have six more episodes to see if everyone gets an ending that will validate how awesome this drama has been thus far.