Empress Ki has officially gone cray cray with just 8-episodes left in its airing. That it managed to be good initially was quite a feat considering the insane amounts of historical distortion. Then the titular future Empress Ki played by Ha Ji Won managed to have a believable first love with Joo Jin Mo's King Wang Yoo of Goryeo, followed by an understandable shift of her life path to align with Ji Chang Wook's Yuan Emperor Ta Hwan and grew to care for him as well. There was scary nemesis Prime Minister Yeon Chul, fun to hate Empress Tanasiri, Tal Tal being smexy and stealing any scene he was in, and lots of great supporting characters that all served a narrative purpose and was nicely acted. Ha Ji Won's Seung Nyang even bore a son for each of her husbands and there was this great anticipation for her to learn that her firstborn baby Star (Byul) was in fact not dead but had been swiped by Tanasiri and was now growing up under her nose as the Yuan Crown Prince Maha.
The big bads were dispatched about ten episodes ago and this drama promptly look a precipitous decline in sense and entertainment. I'm only writing about it now because I feel soooooo bad for Joo Jin Mo for playing such a marginalized leading man role and I really want him to die an epic death now. Flaming arrows, anyone? The biggest clunker for this drama was creating a second round of the same palace and political conflicts and having neither end of the romance stand up. Seung Nyang and Wang Yoo have been apart for ten years and pretty much is just a past memory of love, while Seung Nyang never fell madly in love with Ta Hwan and merely grew to care for him and support him. The worst part is the mixed up baby plot line has remained under wraps from the three main leads for the last 20-episodes and now Prince Maha grew up to be an angry jackass and blames his real daddy Wang Yoo for the death of his fake mommy Tanasiri. It's so painful to watch with no payoff and more manufactured angst. Sigh, just enjoy the latest round of pretty.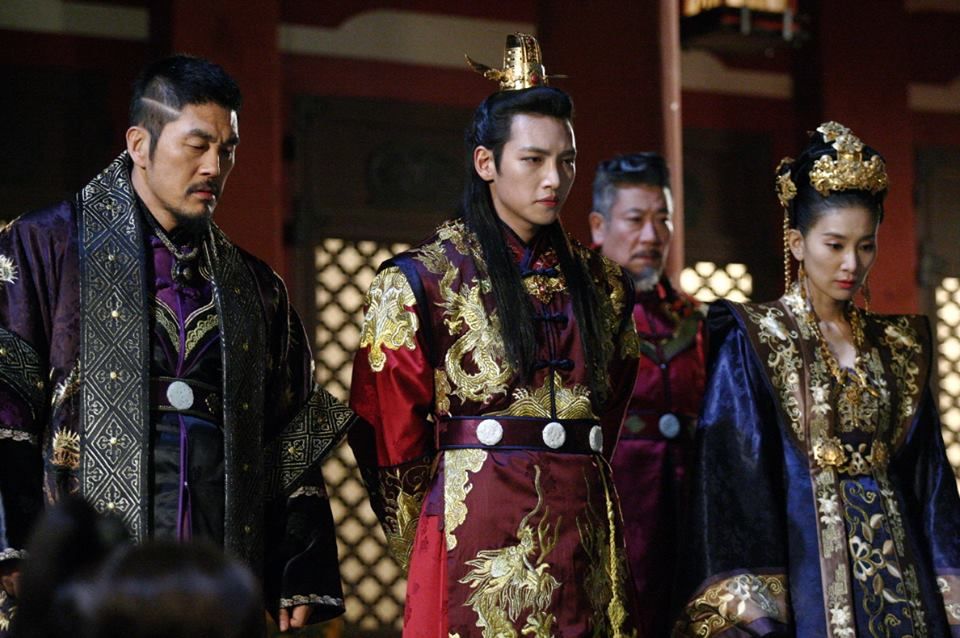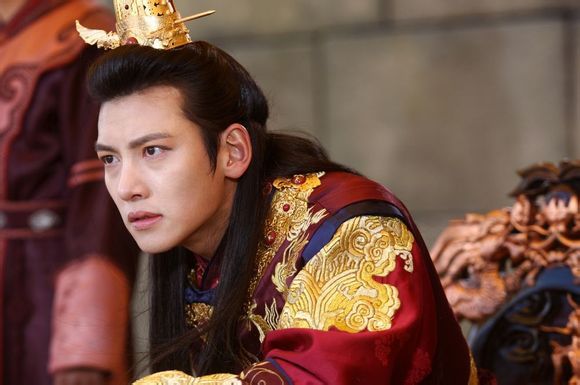 This so-called love triangle is like the opposite of how well Ha Ji Won has done in her previous love triangle dramas such as Damo and What Happened in Bali, where both ends of the stick stood up on its own emotional merits. Here we get a first love with Wang Yoo that ends abruptly due to revenge, then a second love with Ta Hwan that feels more companionship and care without any genuine frisson of romance. It's pretty weaksauce either way and at this point Seung Nyang would do better to jettison all the men around her and be a Queen Seondeok type of ruler all on her own.  I don't know how this screenwriting duo sustained Giant for all 60 episodes and kept it humming along on while it's tanking so majorly here.