Kai Ko has been Taiwan entertainment's wunderkind Golden Boy for the last three years since he burst out of anonymity at the young age of 20 years old with the starring role in writer-director Gidden's autobiographical movie You are the Apple of My Eye. Kai actually played Giddens (with even his same name in the movie) and the success of the movie rocketed him on a steep climb towards stardom. I'll have to rack my brains to remember a newbie debuting to such critical and box office acclaim as Kai, winning the Best New Actor trophy at the Golden Horse Awards just after turning 21 years old. Then his 2 year relationship with top songstress Elva Hsiao was basically the shock and gossip generator akin to Justin Beiber dating Beyonce, not to mention he was churning out even more box office topping movies and raking in the endorsement deals left and right. That really makes his fall into the abyss after the confirmation of his drug bust arrest in Beijing all the more shocking for his fans and casual entertainment readers alike.
I like Kai for his potential and unique boy-next-door-appeal that's hard to describe and plenty of movie reviewers have tried to explain why he's just got this movie star quality and real acting chops. It looks like his problems may be limited to career killing and not more jail time, with his arrest only for drug use (testing positive for pot) and not being found with any actual drugs on him, so he may be free after serving the 14-days administrative jail time. Jackie Chan's son Jaycee Chan is in hotter water for being the owner of the luxury condo where a party was going on that night when the police raided and found nearly 100 grams of marijuana in a file cabinet. In China for having illegal drugs over 50 grams (under 50 grams can be explained as personal use) is considered intent to distribute and carries a penalty on the light side involving a 3-5 year jail term and on the serious side is the firing squad death penalty. I'm not joking, China actually executes drug dealers though obviously the authorities save that for actual dealers and not someone like Jaycee caught with a few bags of weed he was sharing with party pals.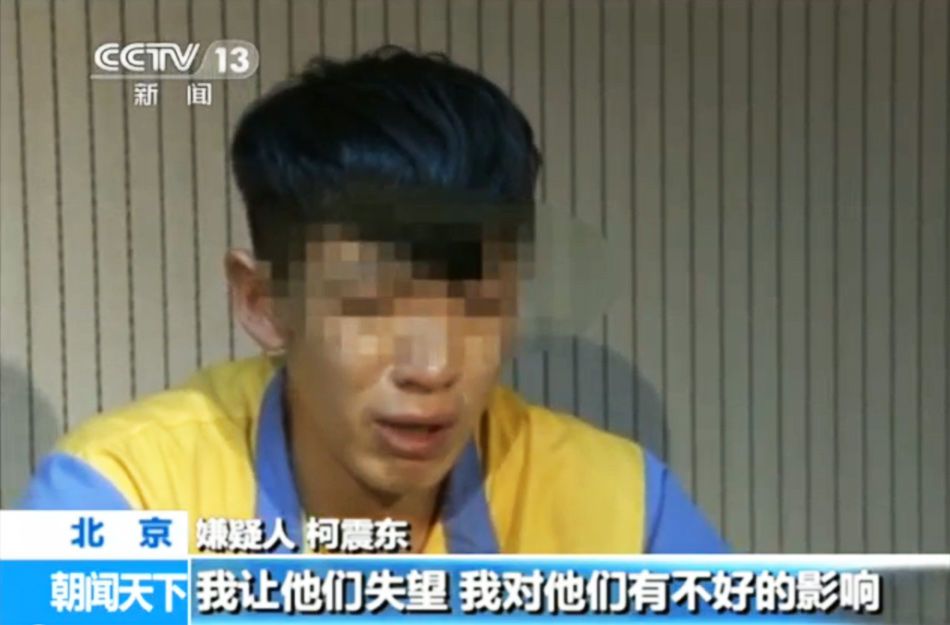 The Beijing authorities released an interrogation video of Kai where he was asked about how he feels after being busted. Kai pretty much cried his way through a public shaming apology.
I did something wrong and I'm worried about so many things. But I know my family and friends are even more worried than I am. My heart hurts so much and I want to apologize to them. I disappointed them and I am a bad influence for them. I am presenting a bad example to the young people in society. I hope to tell them all that I am very heartbroken. Since this happened I am very regretful, I am also very sorry to everyone who supported me, who liked me, who knew me. I want to tell them that I'm very sorry that I was the worst model and influence. I made a huge mistake. To my family and friends, because they have always supported me the most, and those who loved me, that is why I am so heartbroken over this matter.

我做錯事,我也擔心很多事情,但是我相信我的家人還有朋友一定比我還要擔心,我的心很痛,所以我想向他們說抱歉,我讓他們失望,我對他們有不好的影響,對社會上的年輕人有(造成)一些認知上的錯誤,希望真的可以跟他們說,我非常難過。事情發生以後到現在,其實就是非常後悔,我也非常抱歉對所有支持我,或是喜歡我,甚至是認識我的人,跟他們說,我真的很抱歉,我做了最壞的示範,最壞的影響,犯了很大的錯誤,還有我的家人跟朋友,因為他們一直是最支持我的人,跟最愛我的人,所以這件事情上面,我很難過。
Kai and Jaycee are but the most high profile celebrity drug bust catches by the Chinese authorities in the last few months since the government decided to crack down on drug use. Apparently drug arrests in China have increased 35% in the last few months year over year and in Beijing alone the city has arrested over 7,800 drug users in the last two months. Anecdotal stories from foreign residents and visitors in Beijing have claimed that vice cops have arrived at nightclubs and locked in the entire place and forced everyone present to give a urine sample and it has to test clean before the club goer can leave. Yeesh, big brother carries a big stick, yo. The police that busted the private party at Jaycee's residence also made everyone give a urine sample and it was the positive test that got Kai Ko arrested (along with a few other non-famous party guests).
All of Kai's endorsement deals are quickly scrambling to cut ties with him and rumors have it that his agency submitted a leave of absence to his university with plans to ship Kai off to serve his mandatory military service immediately after he's released from administrative detention. That is a great idea actually. Kai has to serve anyways and this would be an ideal kill two birds with one stone. He will reportedly be deported from China after he is released and the authorities may ban him from entering China for two years which will mean he can't promote or film any movies there. Kai's agency released a long tearful statement admitting he made a mistake and broke the law and he will accept whatever punishment comes his way. The agency also takes responsibility as Kai's elders in not teaching him to behave upstanding and being a good role model for society.
All of Kai's famous friends have come out berating him for doing this but also adding that he's a great hardworking young man and giving him support to stand up again after this massive personal failure. Kai filmed a celebrity anti-drug use campaign for the Taiwan education authority last year that has now been quickly taken down by the government since it would be so hypocritical to watch him smile at the camera and announce "I don't do drugs, and neither should you!" The TW-media is reporting that since Kai was charged with drug use in China, the Taiwan authorities have a right to additional levy its own punishment on him. The punishment in Taiwan for a first time drug use offense includes mandatory confinement in a drug treatment facility and Kai may be sent there before he is shipped off to military service.
Jaycee's in bigger trouble than Kai since the bags of pot found at the residence belonged to him. There is currently no further update on what punishment will come his way after he is released next week. Jackie Chan was famously quoted in 2009 when he was an anti-drug ambassador in China that he taught his son well and if his son ever broke the law he would call the cops himself and send the kid to jail. During the interrogation, Jaycee admitted he started smoking pot since 2006 when he legally tried it in a trip to Amsterdam where it's legal. He thought it wouldn't be addictive but found that he couldn't quit so continued to smoke back in China but only in his private residence or with friends. Kai told the cops that he started less than 2 years ago and it was through Jaycee's introduction when they were hanging out. Apparently this bust also caught two additional party goers at Jaycee's residence but neither are celebrities. But word on the street is that the other two unidentified arrests have even more powerful backgrounds than either Jaycee or Kai which is why their names have not been released to the media.