It was a great summer for Lee Jun Ki as his sageuk drama Joseon Gunman was the top-rated prime time drama for its time slot. Overall the ratings were down to the low teens or high single digits across all the networks but this summer did see three solid dramas in the Wed-Thurs offering. JG was up against It's Okay, It's Love and Fated to Love You, creating not just solid competition but diversity in genre choices for the audience. JG offered old-fashion sageuk action and romance, IOIL challenged the difficult subject matter of mental illness with a mature appeal, and FLTY remade a popular TW-drama attempting to freshen up the rom-com. JG was the most consistently satisfying for me throughout its run but IOIL will likely stick longer in my memory with some truly incredible acting and storytelling moments.
Part of the reason television ratings as a whole have fallen in domestic Korean ratings is due to the rise in online streaming of dramas. For overseas audiences streaming might be the only option to watch a K-drama and in China all the major K-dramas have been properly licensed to one of the top Chinese streaming portals. Summer remains the peak season for online drama, movie, and variety show watching since kids are out of school and the Chinese media has released a list of the top-10 streamed K-dramas over this 2014 summer season. Joseon Gunman was the runaway (by far) top viewed K-drama at over 318 million hits as of September 1st. Coming in second is FTLY with 172 million hits followed by IOIL with 169 million views. To get an idea of how big and lucrative the Chinese market is, the entire population of South Korea is currently slightly over 50 million people.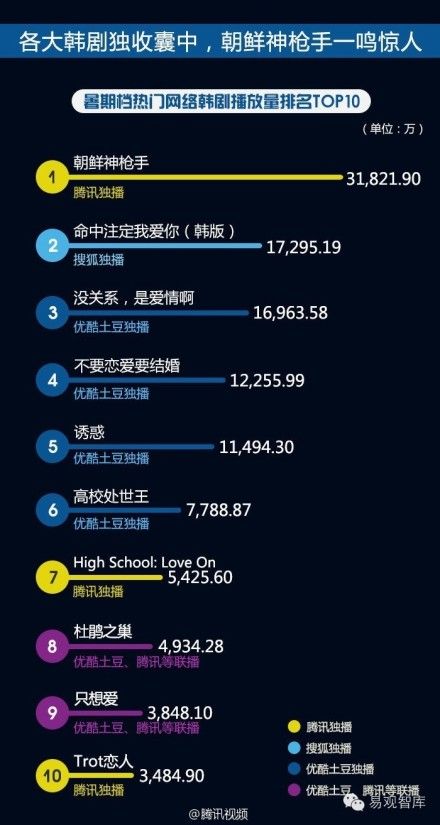 K-drama summer streaming views on top four Chinese portals QQ, Tudou, Youku, and Sohu as of September 1st.
1. Joseon Gunman – 318 million views
2. Fated to Love You – 172 million views
3. It's Okay, It's Love – 169 million views
4. Marriage Not Dating – 120 million views
5. Temptation – 115 million views
6. High School King of Savvy – 78 million views
7. Hi School: Love On – 54 million views
8. Two Mothers – 49 million
9. Only Love – 39 million views
10. Trot Lovers – 35 million views
Lee Jun Ki usually does one K-drama a year and since his return from military service three years ago hasn't done a K-movie yet despite his career start as a movie actor. His agency has revealed that Lee Jun Ki has been inundated with movie and drama offers from China all summer long and he's sincerely looking through it all to decide whether to accept a cross-border project. The list above was compiled in early September but I check today on QQ and JG is about to break 400 million views which is impressive of itself but even moreso considering its a sageuk which isn't as popular in China as modern dramas like the two biggest hits of last year Heirs and You From Another Star.