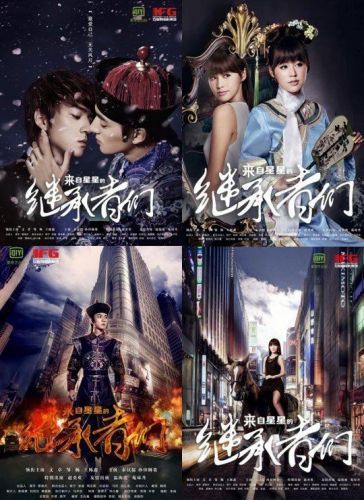 This post is by no means recommending anyone watch Heirs From Another Star, a webisode C-drama that mashes together the titles from two of the most popular K-dramas of last year in Heirs and You From Another Star but plotwise doesn't really have anything to do with either drama. Smart marketing move if any because in the short month since it premiered on Chinese video streaming portal iQiyi the drama has been viewed over 70 million times and has raked in unending fascination in terms of viewer interest.
Now the online drama is heading back to Korea where it got its inspiration as the production has finished dubbing all 10 episodes in Korean and is fielding a bidding war for the online airing rights. I actually watched all 10 episodes when it premiered, it's like brainless crack, once I started watching I literally couldn't stop. I was riveted by the skimpy production values, how bad all the actors were (though male lead Wen Zhuo is easy on the eyes), and what a silly inoffensive watch this turned out to be. All episodes are available online so watch it below without subs if you're curious, frankly subs aren't even needed for this hot mess.
Sure the majority of C-netizen commentary is of the shock and awe variety – shock that something this silly and bad can actually exist, awe that the Chinese production company actually had the gall to make it in the first place. But even within the acknowledgment of this drama's sheer silliness is how easy it is to power through and whole thing and feel rather amused by the end of it.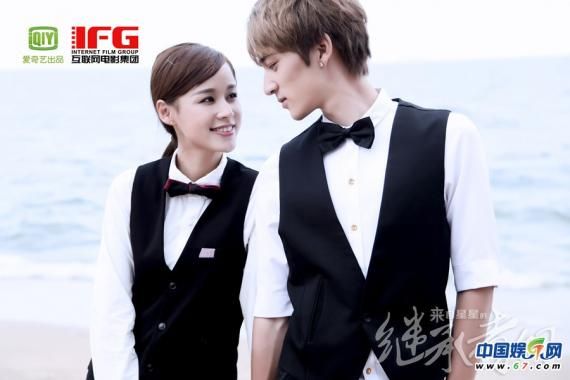 The entire drama can be summarized in three succinct paragraphs. Emperor Yongzheng's third son Prince Hongshi marries Baekjae Princess Yi Meng Xue (the insanely wrong historical era co-mingling is a creative license so go with it). Meng Xue's dim childhood sweetheart wants to stop the marriage but fails and ends up committing suicide due to a broken heart. Meng Xue and Prince Hongshi fall in love but their romance is cut short when an assassination attempt on Prince Hongshi leaves Meng Xue dead and him falling through a wormhole in time. Prince Hongshi wakes up in the year 2014 in the body of college student chaebol heir Lin Jun Hao. Jun Hao is engaged to chaebol heiress Zhong Meng Di who is the reincarnation of his dead princess wife Meng Xue.
The two meet in a random car accident and proceed to fall in love again in the modern world while attending college together. The funny is watching staid Prince Hongshi acting prim and proper as Jun Hao, not to mention all his mad wuxia skills that he unleashes in the modern world. Meng Di's current male best friend was the childhood friend from the past life and once again he's not fated to win her heart. A funny side character is Princess Meng Xue's "maid" who followed her from Baekjae to the Qing dynasty is played by a guy (the maid was the "ugliest woman in all of Baekjae" before the Princess took her in), and the maid has been reincarnated as Jun Hao's man servant in the modern world. The annoying second female lead likes Jun Hao and even fakes a pregnancy to win his heart but her plot fails.
Jun Hao saves Meng Di's family empire from a hostile take over and tries to sever their romantic ties because he knows he's going back to the past eventually. She convinces him to give their love a chance and they pledge their troth to each other before a ray of light whisks Jun Hao back to the Qing into the body of Prince Hongshi. He goes back to his father Emperor Yongzheng where he learns that his older brother prince was behind the assassination attempt, but their father knew all along and plans to bury the truth because he was going to pass the throne to the ruthless prince who is better suited to run the country. He sentences Prince Hongshi to death in order to avoid future strife and Hongshi accepts the imperial decree. Meng Di believes the Jun Hao will come back to her and she glimpses him on the tarmac before she gets on a helicopter and the title reads "end of season 1".
Episode 1:
Episode 2:
Episode 3:
Episode 4:
Episode 5:
Episode 6:
Episode 7:
Episode 8:
Episode 9:
Episode 10: